Contact


Webmail Letters


News Tips


Search Sitnews


Copyright Info


Archives
Today's News


Alaska


Ketchikan


Top Stories


U.S. News


U.S. Politics


Stock Watch


Personal Finance


Science News


US Education News


Parenting News


Seniors News


Medical News


Health News


Fitness


Offbeat News


Online Auction News


Today In History


Product Recalls


Obituaries
Quick News Search


Alaska


Ketchikan


SE Alaska


Alaska News Links
Columns - Articles


Dave Kiffer


Parnassus Reviews


Fish Factor


Chemical Eye On...


Bob Ciminel


Rob Holston


More Columnists
Ketchikan


Our Troops
Historical Ketchikan


June Allen


Dave Kiffer


Louise B. Harrington
Recognition


Match of the Month


Asset Builders
Kid's Corner


Bob Morgan
Ketchikan Arts & Events


Ketchikan Museums


KTN Public Libraryt


Parks & Recreation


Chamber
Lifestyles


Home & Garden


Food & Drink


Arts & Culture


Book Reviews


Movie Reviews


Celebrity Gossip
On the Web


Cool Sites


Webmaster Tips


Virus Warnings
Sports


Ketchikan Links


Top Sports News
Public Records


FAA Accident Reports


NTSB Accident Reports


Court Calendar


Court Records Search


Wanted: Absconders


Sex Offender Reg.


Public Notices
Weather, Webcams


Today's Forecast


KTN Weather Data


AK Weather Map


Ketchikan Webcam


SE AK Webcams


Alaska Webcams


AK Earthquakes


Earthquakes
TV Guide


Ketchikan
Ketchikan Phone Book


Yellow Pages


White Pages
Employment


Employment
Government Links


Local Government


State & National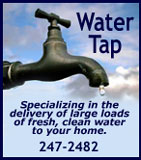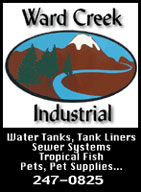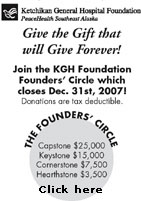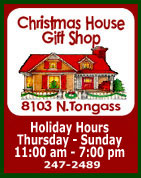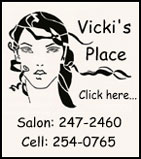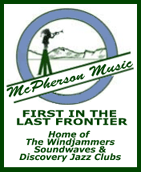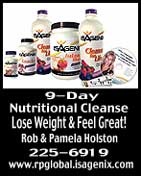 Friday
January 18, 2008



Front Street USA
Ketchikan's Front St. on a recent sunny day with Deer Mountain in the background.
Front Page Photo by Carl Thompson

Alaska: Ferry System Fix Proposed - Representative Peggy Wilson of Wrangell, Representative Paul Seaton of Homer, and Representative Gabrielle LeDoux of Kodiak have introduced legislation to create an Alaska Marine Highway Authority. House Bill 294 will transfer the responsibility for the management, operations, construction and facilities maintenance of the state's marine highway system from the Department of Transportation and Public Facilities to a new exclusive state agency.

The Alaska Marine Highway System (AMHS) has been transporting people, vehicles and other goods throughout coastal Alaska since the mid-1960s. They operate in the context of an intermodal transportation network. "The state is spending more money and getting less service. This is unacceptable and we have to make significant changes to the entire system. We don't have to work harder, we have to work smarter. We don't have to spend more money, we have to spend it more wisely," said Rep. Wilson.

"In the last five years, we have seen a gradual degradation of services from the AMHS," said Rep. Seaton. He points to the fact that we still do not have a 2008 summer schedule published yet, which is particularly problematic since no one can plan or buy tickets until the schedule is published. "This is detrimental to our burgeoning tourist industry," said Seaton.

Of the top ten locations that people visit in Alaska covered by the ferry system in part are Anchorage, Mat-Su/Denali, Fairbanks, Valdez, the Kenai Peninsula, Juneau, Sitka, and Ketchikan.


"I want to make sure the system works for the benefit of the many Alaskans and visitors who use the AMHS. The present course is leading towards disaster," said Rep. LeDoux.

All three legislators say that the intent of this legislation is to create a dialogue between all users of the marine system to improve and support the economic vitality of our coastal communities by increasing the accessibility and mobility of people and freight. "We need stabilization and capitalization for a new fleet of vessels to replace our aging 'blue canoes,'" said Wilson.

"What is missing from both DOT/PF and AMHS is resolve and a vision of where the marine highways should be in the next 20 years. We're determined to focus attention on our marine highways and be an advocate to ensure the people, businesses and communities served by the marine highways have a stronger voice in the legislature," said Wilson.

This bill will first be heard in the House Transportation Committee. - More...
Friday AM - January 18, 2008

Alaska Science: Hubbard Glacier refuses to fade away By NED ROZELL - As you read this, a rogue glacier is again threatening a small town.

Hubbard Glacier crept to within a football-field distance of ramming into Gilbert Point last June, and some scientists say that a spring 2008 closure of Russell Fiord "may be eminent." Roman Motyka, a research professor with the University of Alaska Southeast and the Geophysical Institute at the University of Alaska Fairbanks, gives Hubbard a 50-50 chance of plugging the entrance to Russell Fiord this spring.

Russell Glacier north of Yakutat crept to within 100 yards of Gilbert Point in June of 2007.
George Kalli took this photo in May 2007.

Hubbard Glacier dips its tongue into salt water about 40 miles north of Yakutat, Alaska, home to about 600 people. Fed by fields of ice so immense that the glacier will rumble forward regardless of how warm the planet gets in the near future, Hubbard Glacier made headlines in 2002 when it bulldozed gravel into Gilbert Point, pinching off Russell Fiord's link to the sea and creating the largest glacier-dammed lake in the world. Before the gravel dam broke, water within the lake rose more than eight inches each day and threatened to spill into a world-class steelhead stream near Yakutat.

Hubbard Glacier has been thickening and advancing since scientists first measured it in 1895. After the glacier dammed the fiord in 1986, the new Russell Lake rose 83 feet above sea level before the ice-and-gravel dam broke. In 2002, Russell Lake reached 49 feet above sea level before the dam burst and the water rejoined the ocean with a flood 30 percent greater than the largest measured flow of the Mississippi River at Baton Rouge.

If the plug of Hubbard Glacier again holds fast against Gilbert Point (as old river channels say it last did in about 1860), rainfall and glacial melt would fill Russell Lake until it reaches about 132 feet above sea level. Then, the water would spill over into an old channel of the Situk River, and flow from the river to the Gulf of Alaska. The Situk, now a clear-running stream with the highest population of wild steelhead in Alaska and possibly the world, would become a glacial stream that could be as large as the lower Snake River in Idaho.

More than 80 percent of Yakutat's commercial and recreation fishing economies depend upon fish in the Situk River, according to information provided by the city and borough of Yakutat. Scientists including George Kalli of the U.S. Army Corps of Engineers in Anchorage estimate that a flood from Russell Lake could reduce steelhead populations in the Situk for perhaps 50 years. - More...
Friday AM - January 18, 2008

Alaska: Grounded Fishing Vessel's Damage Assessed; Transit Plan Developed - continue a unified response to the fishing vessel (F/V) Dolphin, which ran aground 30 miles southwest of Wrangell early Wednesday morning.

The F/V Dolphin was damaged near the area of the number two and four fuel tanks. Water was been found in the number two and four fuel tanks and monitored. The Southeast Alaska Petroleum Resource Organization (SEAPRO) responded and placed a spill containment boom around the vessel.

The Coast Guard Cutter Anthony Petit monitors the motor vessel (MV) Dolphin. The Dolphin ran aground early Wednesday morning 30 miles southwest of Wrangell off Zarembo Island, but refloated after sunrise.
Photograph courtesy USCG

A damage assessment was made Wednesday night, and an attempt to move the vessel to Ketchikan for repairs may happen as early as Friday. Temporary repairs to the vessel were completed Thursday afternoon and will be tested prior to the vessel's departure to ensure a safe transit to Ketchikan. The transit plan for the vessel will be reviewed and approved by the Unified Command prior to the vessel's departure. State and Federal resource agencies will review proposed potential places of refuge listed in the transit plan as part of the Unified Command's review process.

Coast Guard Cutter Anthony Petit is no longer on scene. A Coast Guard inspector was enroute Thursday to inspect repairs while the Southeast Alaska Petroleum Resource Organization (SEAPRO) continued to coordinate temporary repairs. - More...
Friday AM - January 18, 2008

Alaska: LOCAL MARINERS TO RECEIVE PUBLIC SERVICE AWARD - Captain Phil Taylor and the crew of the Alaska Marine Highway vessel Columbia will be presented the Coast Guard Meritorious Public Service Award in Juneau this morning for their role in assisting in the rescue of passengers aboard the cruise ship Empress of the North on May 14, 2007.

The Coast Guard Meritorious Public Service Award is the second highest award the Coast Guard can present for unusual courage in the advancement of Coast Guard missions (search & rescue).

"The efforts of Captain Taylor and Columbia's crew will long serve as an example of true selflessness and heroism to many people for years to come," said Leo von Scheben, Commissioner, DOT&PF. - More...
Friday AM - January 18, 2008




Ketchikan

Ketchikan Police Report
AK Troopers Daily Dispatch
Today's Forecast
Satellite
Today's Weather Images
Marine Forecasts
Ketchikan Weather Data
Current AK Weather Map

CLASSIFIEDS

Publish ad
Please select the proper category before posting.




CLASSIFIEDS' CATEGORIES

Announcements and
Help Wanted
For Sale / Free Stuff
Garage Sales
Homes / Apts/ Property
Pets
Wanted
Lost & Found
Local Services
Publish your ad

Front Page Archives
January 2008

| | | | | | | |
| --- | --- | --- | --- | --- | --- | --- |
| S | M | T | W | T | F | S |
| | 31 | 01 | 02 | 03 | 04 | 05 |
| 06 | 07 | 08 | 09 | 10 | 11 | 12 |
| 13 | 14 | 15 | 16 | 17 | 18 | 19 |
| 20 | 21 | 22 | 23 | 24 | 25 | 26 |
| 27 | 28 | 29 | 30 | 31 | | |

More Front Page Archives

Viewpoints
Opinions/Letters
Basic Rules

Dock Vendor Ammendments pro's & con's By Sid Browne - I am writing this letter in response to the article "Rate Hikes" in the Ketchikan Daily News 01/17/08, in the end of the article after even more bad news of higher moorage fees, with fuel prices running wild, it seems boat owners are not only getting pounded by our strong southeast winds but by the forces of politics and fiscal dilemmas. Though the "rate hikes" probably will help the the city complete very much needed improvements in their facilities such as Bar Harbor 2,3,4 and Hole in the wall. After that storm passes, I go check the boats buckle down the hatches all is almost well. Then you find another storm on the agenda after "Rate Hikes" and they label this storm, "Dock Vendor Amendments". Now like every storm there will be highs and lows, this one is no different. - More...
Friday AM - January 18, 2008

Fairness in sharing the bounty of a resource By Rep. Gabrielle LeDoux - There is always the good news and the bad news. The good news is that sky rocketing fuel prices are driving up the price per barrel of oil. The bad news is that Alaskans are paying more at the pump, more to heat their homes, more to pay their utility bills. The price of goods and services keep going up because of fuel costs. That carton of milk costs more because the gas to run the delivery truck costs more. - More...
Friday AM - January 18, 2008

Stopping Speeders By Vicki O'Brien - Like Aftan, this matter of speeders zipping up and down our residential streets has plagued me for quite a while. I live on Jackson Street, one of the main uphill thoroughfares in town, and while I love this neighborhood, my family and I are considering moving - one of our reasons being safety. - More...
Friday AM - January 18, 2008

Marion Jones By Sandra Rusin McCray - This letter is in response to the letter by Mr. Mike Sawyer; Executive Director of "I will Never Use Tobacco". Mr. Sawyer I beg to differ with you as to why Marion Jones was convicted. From everything that has been published and broadcasted, Marion Jones was convicted and sentenced to six months in jail for lying to Federal Investigators about her steroid use, as well as her false denial of her involvement in a check fraud scheme that was orchestrated by her former husband Tim Montgomery. - More...
Friday AM - January 18, 2008

FLUORESCENT BULBS By Mary Hemli - I am also one of the people who cares about the enviroment. I changed my light bulb when they said that the fluorescent bulbs were better. It did cut my electric bill about three dollars and I was glad. I want to inform everyone that down south they are making special arangements to get rid of them because you can't put them in the land fill. They have MERCURY in them. - More...
Friday AM - January 18, 2008

Invest in the Alaska Marine Highway Ferries By Michael Moyer - Revising the schedule of Alaska Marine Highway to one ferry per week between Bellingham and Southeast shows complete disregard for the people of Southeast Alaska. The purpose of the Marine Highway system is to provide for efficient, economical, safe, and reliable transportation between the coastal communities of Alaska. The reason for the Ferries is to improve communication between our peoples, develop economic ties between state communities and the lower 48, and allow Alaskans the opportunity to travel within our state and to the outside year-round. - More...
Wednesday - January 16, 2008

Downtown Suggestions By Jackie Williams - My suggestions and opinion regarding Ketchikan's downtown area are: - More...
Wednesday - January 16, 2008

How do you stop speeders? By Aftan Zink - This is an open letter to anyone who might have an idea about how to change the speed limit on my street. I live on Baranof Avenue - a speedway for most vehicles. I've seen the city bus, police cars, and new and old drivers alike speed past my house. Granted, they are probably driving 25 miles per hour; yet, on a road that is used mainly by pedestrians under the age of 12, this is too fast. Reducing the speed limit to 15 would not make a difference to drivers reaching their destination, it will however, make a difference between life and death. - More...
Wednesday - January 16, 2008

Early morning noise By Marie-Jeanne Cadle - Please, please, please to the well meaning individuals who honk at the kids at the Forest Park bus stop before 8:45am. I am asking nicely. Please do not honk. I live next to the bus stop. - More...
Wednesday - January 16, 2008

Bus Stop Benches By Cindi Davis - I think it is important to realize that the benches were not removed in response to homelessness. They were removed in response to inappropriate behavior. This isn't a drive against the homeless, but an attempt to restore the library parking lot and bus stop to the public family-friendly area it should be. - More...
Wednesday - January 16, 2008

KETCHIKAN: OUR TOWN HAS A FUTURE AS OUR BRAND by Ken Bylund - The Ketchikan Daily News [KDN] January 12-13 2008 weekend edition had a great editorial 'TOWARD GROWTH'; it starts and ends with the warning that we as a town are experiencing a steady decline but centers on hopes that we as a community need to come up with new industries and new ways of creating jobs in old ones. I love this editorial; it is smack on target... and then back to reading 'THE UPSIDE' by Adrian J. Slywotzky who spent his life researching business success stories and failings. Here's the deal; we learn and think in analogies [Jeff Hawkins - On Intelligence], by comparing this with that, and if our town can be compared to a business, well... we are the Kodak Brownies and Polaroid Film industry in a world of Canon Digital and SanDisk. - More...
Monday - January 14, 2008

Alaska Marine Highway By Paula Peterson - I was born and raised in S.E. Alaska. I am 51 years old, so I've seen a few things during my life. One of the things that I have seen is how important the Alaska State Ferry System is to S.E. Alaska. Alaska is vast and complex when it comes to public transportation and so the Alaska State Ferry System was formed to address the complexity of public transportation in S.E. - More...
Monday - January 14, 2008

Library By Robert McRoberts - In a recent conversation the other day about the library, beside the facts of road grade, parking, access to bussing and walking. what I would like to know is who is using the library? With the internet, is the usage less than ever before? Is the fact that we are losing people in our community not making an impact on usage? - More...
Monday - January 14, 2008

American Injustice for Marion Jones By Mike Sawyer - I continue to be amazed at how our country differentiates between steroids and tobacco. - More...
Monday - January 14, 2008

Road Rage/ Intimidation/ Women By Carol Christoffel - I have read Mr. Hansen's concerns and I am quite sure that he is not among the macho drivers that I referred to. However, may I remind Mr. Hansen that the original Lady described having a hard time in a very difficult snow storm managing her car while being tailgated by a truck, who then gave her a vulgar gesture after forcing her to the side of the road. - More...
Monday - January 14, 2008

More Letters/Viewpoints
Webmail your letter or
Email Your Letter To: editor@sitnews.us

---

E-mail your news tips, news
releases & photos to:
editor@sitnews.us

SitNews
Stories in the News
©1999 - 2008
Ketchikan, Alaska

M.C. Kauffman, Webmaster/Editor, &
Graphic Designer
webmaster@sitnews.us

In Memory of SitNews' first editor,
Dick Kauffman
1932-2007

Locally owned & operated.
Online since 1999

Articles & photographs that appear in SitNews are protected by copyright and may not be reprinted or distributed without written permission from and payment of required fees to the proper sources.