Contact


Webmail Letters


News Tips


Search Sitnews


Copyright Info


Archives
Today's News


Alaska


Ketchikan


Top Stories


U.S. News


U.S. Politics


Stock Watch


Personal Finance


Science News


US Education News


Parenting News


Seniors News


Medical News


Health News


Fitness


Offbeat News


Online Auction News


Today In History


Product Recalls


Obituaries
Quick News Search


Alaska


Ketchikan


SE Alaska


Alaska News Links
Columns - Articles


Dave Kiffer


Parnassus Reviews


Fish Factor


Chemical Eye On...


Bob Ciminel


Rob Holston


More Columnists
Ketchikan


Our Troops
Historical Ketchikan


June Allen


Dave Kiffer


Louise B. Harrington
Recognition


Match of the Month


Asset Builders
Kid's Corner


Bob Morgan
Ketchikan Arts & Events


Ketchikan Museums


KTN Public Libraryt


Parks & Recreation


Chamber
Lifestyles


Home & Garden


Food & Drink


Arts & Culture


Book Reviews


Movie Reviews


Celebrity Gossip
On the Web


Cool Sites


Webmaster Tips


Virus Warnings
Sports


Ketchikan Links


Top Sports News
Public Records


FAA Accident Reports


NTSB Accident Reports


Court Calendar


Court Records Search


Wanted: Absconders


Sex Offender Reg.


Public Notices
Weather, Webcams


Today's Forecast


KTN Weather Data


AK Weather Map


Ketchikan Webcam


SE AK Webcams


Alaska Webcams


AK Earthquakes


Earthquakes
TV Guide


Ketchikan
Ketchikan Phone Book


Yellow Pages


White Pages
Employment


Employment
Government Links


Local Government


State & National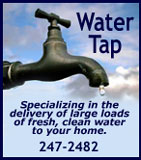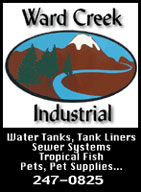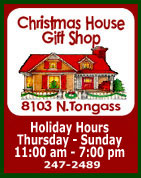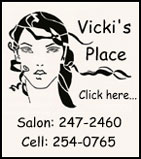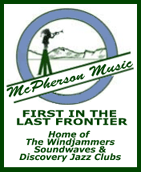 Wednesday
February 06, 2008



Bad 'Hair' Day
Common Merganser
Front Page Photo by Cindy Balzer

National: No Presidential Nominees After 24 States Vote on Super Tuesday; McCain takes lead in Republican contest, Democratic race still very close By MICHELLE AUSTEIN - When parties in 24 states scheduled primaries and caucuses for February 5 -- the most races ever on a single day in a primary election season -- most political experts said the parties' nominees would be certain by the end of the day.

The experts were wrong: After a record number of Americans voted on Super Tuesday, there is still no presumptive presidential nominee for either party, and the final delegate count still is being tallied.

All Democratic races and many Republican contests award delegates to the national convention by proportional representation. A candidate must win the support of a majority of convention delegates to become the party nominee.

On the Republican side, Arizona Senator John McCain's strong showing in delegate-rich states helped him gain a large lead in delegates, but he still does not have enough delegates to claim his party's nomination.

Because strong second-place finishers can win as many delegates as the top-placed candidate in a proportional race and because larger states award more delegates, the candidate who wins the most states might not come away with the most delegates. For instance, even though Illinois Senator Barack Obama won the Democratic popular vote in at least 13 of 24 states, New York Senator Hillary Clinton won the vote in the more populous Super Tuesday states, giving her an edge in terms of total delegates.

SURPRISE IN THE REPUBLICAN RACE

After recent primaries, the Republican race seemed to be a two-person contest between McCain and former Massachusetts Governor Mitt Romney. As polls anticipated, McCain won the most states and will receive significantly more delegates than any other Republican candidate.

McCain won states in many parts of the country: New England, where he won every state voting except Massachusetts; the Midwest with Oklahoma and Missouri; and the West, including his home state of Arizona. He also picked up wins in the most populous states -- Illinois, New York, New Jersey and California. The Republican races in New York and New Jersey award all their delegates to the winner, giving McCain a large advantage in total delegates.

"Tonight I think we must get used to the idea that we are the Republican Party front-runner for the nomination," McCain told his supporters in Phoenix.

Romney earned victories in two states where he once had lived, Utah and Massachusetts. Some other Romney wins included the rural states of North Dakota, Montana and Alaska.

However, what political pundits expected to be a two-person race turned out to be a three-person contest with former Arkansas Governor Mike Huckabee winning five states, all in the South.

"Today people across this country are saying that, yes, we heard what the pundits said," Huckabee told his supporters. "But this is our vote, not theirs."

DEMOCRATS SPLIT STATES, DELEGATES

The race between Clinton and Obama continues to be tight after a Super Tuesday in which both candidates won states and delegates across the country.

It might take days to determine accurately how many delegates each earned. But, with proportional representation in all Democratic contests, neither candidate is likely to receive a windfall in total delegates as a result of the February 5 contests. - More...
Wednesday - February 06, 2008

Alaska: Federal Jury Convicts Anchorage Man in the First Sex Trafficking Trial in Alaska - A federal jury in Anchorage, Alaska, returned guilty verdicts late yesterday on 28 counts charging Don Arthur Webster, Jr., 51, also known as "Jerry Starr," with sex trafficking of minors and adults, as well as drug trafficking offenses, Assistant Attorney General Alice S. Fisher of the Criminal Division and U.S. Attorney Nelson P. Cohen of the District of Alaska announced today.

This case is the first sex trafficking trial in the District of Alaska. Webster was tried before Senior U.S. District Court Judge H. Russel Holland on charges arising from Webster's operation of sham escort businesses that were fronts for prostitution in the Anchorage area. After hearing testimony for 11 days, the jury found Webster guilty on two counts of sex trafficking of a minor to engage in a commercial sex act; nine counts of sex trafficking of adults by force, fraud, or coercion; two counts of distributing crack cocaine to a pregnant woman; four counts of distributing crack cocaine to individuals under the age of 21; and eight counts of distributing crack cocaine. Webster was also convicted of one count of possessing crack cocaine with intent to distribute it, one count of maintaining premises for the purpose of manufacturing and distributing crack cocaine, and one count of manufacturing crack cocaine.

The evidence at trial established that Webster would target women who were homeless, in low-paying jobs, or runaways and invite them to work for his purported "escort services" -"Foxy Roxies," "Sunshine Girls," "American Beauties," "Kotton Kandy," "Tiffani's," "Tickle Your Fancy," and "Lickety Split"-businesses where an individual would supposedly pay for another person's "time and company." In fact, these escort services were fronts for Webster's illegal prostitution business. In exchange for money from clients who called the escort services' phone lines, Webster would provide adult women and underage girls to engage in sex acts. The prostitution business operated on an "out call" basis, meaning that the females would meet the caller at his residence or at a hotel paid for by the caller. The caller would pay a fixed hourly rate plus a transportation fee to have sex with the female who would meet him, but would pay additional money in exchange for sex acts or drugs which Webster provided.

The youngest victim testified that she was 13 when she began engaging in commercial sex acts for Webster and that she continued to do so for two years. The other minor who was similarly victimized was 17 years old.

The evidence also established that the women were required to give Webster all of the money they earned. When they returned from a "date," they would receive an "issue," which was approximately a gram of crack cocaine. In their testimony, the victims described going on up to ten dates per day, every day, with no days off. They would work up to five days in a row without sleeping. All of the victims testified that they were addicted to crack cocaine when they were involved with the prostitution business. - More...
Wednesday - February 06, 2008

Alaska: Habitat Division to Return to Department of Fish and Game - Alaska Governor Sarah Palin announced Tuesday the Habitat Division will be returning to the Alaska Department of Fish and Game.

The decision to return habitat permitting functions to the Department of Fish and Game acknowledges that the responsibilities of Habitat Division are better aligned with the overall mission and structure of the Department of Fish and Game.

After an extensive review, Governor Palin, Natural Resources Commissioner Tom Irwin and Fish and Game Commissioner Denby Lloyd concluded that the Office of Habitat Management and Permitting has done an outstanding job of fulfilling their statutory responsibilities under the Department of Natural Resources.

However, the move is expected to improve communications and avoid duplication of efforts while allowing Habitat Division to operate in the same manner it has at DNR to encourage responsible development and protect Alaska's resources. - More...
Wednesday - February 06, 2008

Recognition

Ketchikan: Asset Builder of the Month: Larry Mestas - The PATCHWorks' "Asset Builder" for the month of January is a person that has gone about his job as a custodian at Ketchikan High School for the past six years in a quiet, competent and dedicated manner. He enjoys what he does and it shows said Karen Eakes, Director of PATCHWorks in Ketchikan.

Ty Gass, Larry Mestas, Sarah Ring and Doug Fredrickson
Photo courtesy PATCHWorks

Larry Mestas, was nominated and selected as an "Asset Builder" by a student who has observed for quite awhile the positive manner in which he interacts and supports students at Kayhi said Eakes. According to the nominator, Mestas "has a smile and fun manner that makes students feel at home and look forward to seeing him in the hallways. He is always available to help a frustrated student with a jammed locker, with a friendly smile and a joke or two. - Not only does he do his job well, but he does it with a positive and genuine concern for students."

Mestas was surprised with his award on Friday, January 25th, at lunchtime in the Commons with a large percentage of the student body in attendance said Eakes. "The loud applause and cheering made it quite clear that he is greatly appreciated by the students and staff," she said. In addition to his duties as a custodian, and his total dedication to students and staff, he also supported a school-wide fundraising effort.

"To emphasize the importance of reading, Mestas posed on a motorcycle reading a book. He was photographed and posters were made with the caption "Read to Ride. Ride to Read." Larry autographed the posters with the message "Keep it clean!" and they were sold to students, staff and the public as a fundraiser called the Larry Mestas Lunch Duty Vocational Scholarship. It garnered funds to help send a Kayhi graduate to further vocational training," said Eakes. - More...
Wednesday - February 06, 2008





PODCASTING
Podcasting is a form of audio broadcasting on the Internet.

Listen to audio replays of public meetings any time, any where.

01/16/08 - Ketchikan City Council Special Meeting - Brokerage Services Proposals for the Sale of the Telecommunications Division - Falkenberg Capital Corporation and Alpina Capital, LLC -- 86.2 MB (1 hour 34 minutes)- Published 02/01/08

01/25/08 -Ketchikan Transportation Projects Update - The Assembly met in the City Council Chambers to listen to a Presentation by Malcolm Menzies Southeast Alaska Regional Director of the Alaska Department of Transportation and Public Facilities. Mr. Menzies presented an update, took public comment and answered questions from the public on projects in the Ketchikan area -- addressing highways, the airport access, etc. -- 96MB (1hour 44 minutes) Published 02/02/08

Watch for more podcasts on SitNews.



Ketchikan

Ketchikan Police Report
AK Troopers Daily Dispatch
Today's Forecast
Satellite
Today's Weather Images
Marine Forecasts
Ketchikan Weather Data
Current AK Weather Map

CLASSIFIEDS

Publish ad
Please select the proper category before posting.




CLASSIFIEDS' CATEGORIES

Announcements and
Help Wanted
For Sale / Free Stuff
Garage Sales
Homes / Apts/ Property
Pets
Wanted
Lost & Found
Local Services
Publish your ad

More Front Page Archives

Viewpoints
Opinions/Letters
Basic Rules

Halibut fishing news By Drew Mathews - This year there will be a few changes in the halibut fishing regulations. The regulations have not been printed yet, but they are coming soon. - More...
Wednesday PM - February 06, 2008

KGB Property Taxes By Dan McQueen - Once again I get to the mailbox, sort through my mail and what do I find? A KGB Property Tax notice telling me that once again after doing nothing to my property the value of my house has gone up another $10,000.00. - More...
Wednesday PM - February 06, 2008

SALE OF KPU PHONE: Speak UP By Charles Edwardson - I have written one or two commentaries about this subject. I do not claim to know everything about this issue, but one thing I do know is that I am disappointed that I do not hear from the phone department employees. I heard there is an obscure website for KPU employees -- this is not enough. Have things got so bad that adults cannot express their opinions in public about a subject that will effect their lives to a degree that will alter their very existence for a number of years to come. Everyone is whispering about this subject yet no one will voice their opinion publicly, I have spoken to a number of you guys face to face you all have very pertinent opinions but seam hesitant to express your opinions to the city council members on a one to one basis. - More...
Wednesday PM - February 06, 2008

Wanna Bet? By Aftan Zink - Oh Mark, Mark, Mark. I assure you that the best speedway in town is Baranof Ave. The conditions here are marvelous: a downhill approach from the Buren stop sign where the race usually begins, and not another stop sign until you hit Carlana. Wow, you can REALLY get some speed either way you go. - More...
Wednesday PM - February 06, 2008

Walden Point road on Annette Island By Bonna Booth - My concerns with the Walden Point road on Annette Island project and the State wanting to get involved has been a little troubling and confusing at best when in perspective with the many other subjects of DOT. - More...
Monday PM - February 04, 2008

Let's talk trash By Robert McRoberts - We're always complaining about the trash being dumped all over the place. But only one has giving a solution to stopping it by placing dumpsters around. Sure you can put up cameras but people will just dump in other places. I will tell you exactly what the problem is and how we could have fixed it. problem: The city owns and operates the garbage dump. Do you think they care if people dump trash in the Borough? If they did then the dump would be open later in the day and on Sundays. - More...
Monday PM - February 04, 2008

Election gamble By Tim Utz - A couple informational points I would like to share. Being Ron Paul support is so much first time voting and caucus, including me, many mistakes are being made by supporters that do not reflect on the actual support. - More...
Monday PM - February 04, 2008

Ferry System By Mike Moyer - Thank you Mr. Smeltzer for your comments on the Alaska Marine Highway system. Yes it is wonderful, and we want it to stay. It's important. That's why all of us need to speak out in favor of funding our ferries. Without that the system, we'll be cut to the bone and the money spent on other projects. We will be left on the beach wondering where our ferries went. - More...
Monday PM - February 04, 2008

Price of Fuel By Chuck Moon - I know that I drive my wife nuts talking about the price of fuel, be it home heating oil, gas for the boat, or truck -- but here goes the rant. I myself am tired of seeing oil and natural gas produced within the state sent south to be refined then delivered back to us for double transit costs. Worse yet, we buy oil from countries who in turn use that very money to sponsor terrorism. - More...
Sunday - February 03, 2008

Minimum wage effort launched By Sen. Kim Elton - Sometimes we mean well, but we mean well without oomph. So it is with the gap between the cost of living in Alaska and our stagnant Alaska minimum wage. - More...
Sunday - February 03, 2008

Theme town By James J. Schenk - Ketchikan, maybe a true paradise? Have you been to the lower 48 states, for work or pleasure lately? I have and I do not take leaving my home in Ketchikan lightly. For years now wherever I have roamed and that has been substantial as a traveling I.B.E.W. wireman, my heart always has been with the little town I grew up in. Every clear evening wherever I am and no matter what is happening in my life if I find myself away from Ketchikan, I search the clear night sky for the big dipper. From southern Tennessee, to recently Maui Hawaii, I have found our state flag in the night sky, this has always given me hope that I will be able to return to my home in Ketchikan the one place on Earth that I Love. - More...
Sunday - February 03, 2008

Forest Service Roads By Mike Moyer - We need to remind the U.S. Forest Service that when the people of the Territory of Alaska made the decision to become the State of Alaska the Federal Government agreed with us to maintain cabins in the Tongass National Forest for the use of Alaskans in their traditional use of their surrounding wilderness. Now the Feds are slowly and quietly closing cabins and tearing them down because they say they can't afford to deal with their maintenance. They are violating a promise made to the people of Alaska. - More...
Sunday - February 03, 2008

Keep Ketchikan Clean By Marie-Jeanne Cadle - I remember growing up in Washington state with litter all along the highways and roadways. I also remember Washington's 'Keep Washington Green' campaign and how successful it was. Granted nothing is perfect and some people will always be thoughtless or selfish and will continue to litter without regard or respect for anyone other than themselves, but overall the 'Keep Washington Green' campaign was a success. It reminded us of what should have been common sense: take pride in where you live and respect others by keeping the state clean and we will all benefit. - More...
Sunday - February 03, 2008

Ferry System By Stephen Smeltzer - I'm not sure what all the controversy over the ferry system is all about. The ferry's were set up as a highway between the larger towns especially for Southeast. They were fun to ride in the 60's and 70's, and had some of the best food in their dining rooms. While doing sports at Kayhi, we took several ferry trips to other towns for meets, and the basketball players flew. - More...
Sunday - February 03, 2008

Super Tuesday: Think before you vote By Mike Isaac - In any normal Republican primary Mitt Romney would win or he would be tied up at this point in the game with the only other Republican Ron Paul. But this is not a normal year, the ruling class and media are pushing hard for John McCain a man who is more liberal than Hillery Clinton. Then there is this Huckabee guy from Hope, Arkansas who wants to give illegal aliens tax dollars to pay for college, and seems to be in this race at this point for the purpose of keeping a Mormon out of the White House. - More...
Sunday - February 03, 2008

More Letters/Viewpoints
Webmail your letter or
Email Your Letter To: editor@sitnews.us

---

E-mail your news tips, news
releases & photos to:
editor@sitnews.us

SitNews
Stories in the News
©1999 - 2008
Ketchikan, Alaska

M.C. Kauffman, Webmaster/Editor, &
Graphic Designer
webmaster@sitnews.us

In Memory of SitNews' first editor,
Dick Kauffman
1932-2007

Locally owned & operated.
Online since 1999

Articles & photographs that appear in SitNews are protected by copyright and may not be reprinted or distributed without written permission from and payment of required fees to the proper sources.