Public Opinion Poll
The General Services Administration, landlord of the downtown Federal Building, plans to paint the structure this summer. Should GSA go with the original, historic white; or retain the "pink salmon" color?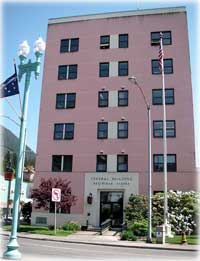 Federal Building
File Photo by Dick Kauffman
Ketchikan Federal Building Added to National Register of Historic Places - To some locals it is the "Big Pink."
The workers within its walls often call it the "Pepto (Bismo) Palace." - Read this archived story by DAVE KIFFER...
Ketchikan

Ketchikan Police Report


AK Troopers Daily Dispatch


Today's Forecast


Satellite


Today's Weather Images


Marine Forecasts


Ketchikan Weather Data


Current AK Weather Map
CLASSIFIEDS

Publish ad
Please select the proper category before posting.
CLASSIFIEDS' CATEGORIES

Announcements and
Help Wanted


For Sale / Free Stuff


Garage Sales


Homes / Apts/ Property


Pets


Wanted


Lost & Found


Local Services


Publish your ad

More Front Page Archives
Viewpoints
Opinions/Letters

Basic Rules

KVRS Rocks! By Melissa Ausman -On Sunday March 23, around dinner time, a young girl went missing in the woods behind Bear Valley. This area leads to mile after mile of dense dark forested land. She had played behind the house for years, without ever a problem. Not this night. After looking and calling for her to no avail, her dad called the State Troopers and Ketchikan Volunteer Rescue Squad. When I came upon the scene, it was scary. A great deal of people had gathered, walkie talkies and flashlights in hand. Search dog ready to roll. They were all gathered around the KVRS mobile unit. It's a large panel type van, filled with computers, gps systems and more. On top of this van is mounted two large poles with bright bright lights on top. People were searching under cars, between houses, before getting their search instructions and heading off into the woods. Every minute seemed so long. After several hours, YEAH!! she was found, safe and sound, although cold and scared she put up a brave front. - More...
Tuesday PM - April 01, 2008

Bristol Bay is burned out By Cindy Roque - When a lightbulb is burned out in our homes, we change it - and things are bright once again. I'm afraid some of the brightness of Bristol Bay has burned out and it's all in the face of the economic & energy crisis that has silently sneaked up upon us and is holding us captive. Our communities are blowing away in the cold wind around us as life long residents of Bristol Bay are migrating out of the Bay. - More...
Tuesday PM - April 01, 2008

Alaska Marine Highway By Elma Schiel - Our family of eight (included three generations) visited Alaska in May-June of 2003. We traveled by plane, train and ferry. We had a fantastic experience and hope someday to be able to return. - More...
Tuesday PM - April 01, 2008

Seward's Purchase of Alaska By Rudy McGillvray - I just love correcting writers. The "Purchase of Alaska" was NOT for the territory itself. Russia didn't OWN Alaska: what they sold was "Rights of Governance" to the United States, and no one, except an educated few understand that point. What Russia had in Alaska was colonies, (some of them stil exist today), and she sold us the right to govern those colonies for the 7.2 million dollars the U.S. paid for them. - More...
Tuesday PM - April 01, 2008

Federal Building By Barbara Morgan - I am glad that the Federal Building is going to be painted again as it now looks like a spawned out salmon. However, I do not really like either the original white or salmon pink options. - More...
Tuesday PM - April 01, 2008

Teens & Alcohol By Brenda (Zwieg) Benson - This is about my nephew -- a good kid from a good family that made a bad decision one night. We are also parents and are involved through Girl Scouts and other oraganizations with kids in our own community. We would like his story to be a learning tool so other teens will think twice before drinking. - More...
Tuesday PM - April 01, 2008

RE: Various Medical Economics Responses By Joel Galli - I'm glad to see there are those out there with a pulse and who actually care about some of the real issues in the upcoming elections and I'm pleased to be a part of the healthy debate here on SitNews. If you missed the premise of this response, I encourage you to read Mr. Harmon's and Mr. Neckameyer's March 15 opinion responses to one I wrote not long ago regarding universal health care. The scope of issues has since grown and I will now respond to all of the items raised by these two gentlemen. - More...
Tuesday PM - April 01, 2008

Ketchikan Youth Initiative Scores Big! By Nancy Coggins - When recently talking on the phone with an older female family friend in North Carolina, she was complaining about the teenagers who are into drugs and other destructive behavioral activities. So I told her about the Ketchikan Youth Initiative (KYI) and its goal to renovate a vacant building [the Water Warehouse (WW)] to benefit teenagers. In this plan, the teenagers would be its leaders, and we adults, their mentors. Our aim, I explained, is to provide a safe place for teenagers not only to hang out but also to get a chance to run a small business like an ice cream or a gift shop. The whole idea gave her a lot of hope for America's teenagers. - More...
Sunday - March 30, 2008

Squeezin' out a big bucket o' savings By Sen. Kim Elton - As we begin, I agree it is not irrational to believe giving a lot of money to politicians is like giving a credit card to your teen before they head to Vegas on a class trip. - More...
Sunday - March 30, 2008

School budget process By Charles Edwardson - I guess my last rambling letter missed the mark appealing to the public to attend and comment on the Ketchikan school budget process. Only one guy commented and apparently the budget is perfect so none of us has any room to complain. Good job school board and borough budget committee. You have passed a perfect budget that needs no public comment or participation. The public trusts you completely and has no qualms about how things are running. Microsoft could take some pointers from this budget committee and the school board. - More...
Sunday - March 30

March for Babies By Janie Odgers - The March of Dimes March for Babies (WalkAmerica) has taken Ketchikan by storm! Over a long weekend ladies from around Ketchikan gathered at the Ted Ferry Civic Center for the annual Scrap-A-Thon organized by Heather Borch. They raised $3,520.00! - More...
Thursday PM - March 27, 2008

Bridge, No Bridge By Angela Garton - I just wanted to say a brief thank you to Dan Williams for expressing so clearly some common sense about that bridge. I have lived in Ketchikan for 22 out of my 23 years. My dad worked at the airport for many years so I spent quite a bit of time traveling on the ferries back and forth to visit dad's work. - More...
Thursday PM - March 27, 2008

School budget process By Charles Edwardson - I am afraid this letter will be too late for the budget comment period for the district on March 26, 2008, never the less I urge the people who have time to participate in this process to express your opinions. - More...
Tuesday PM - March 25, 2008

Rev. Wright's viewpoint of America is wrong By Patty Alsup - I consider Rev.Wright's speech just a speech & not a sermon. The speech did not address religious ideals it appears to promote only hate for white people & for America. If this is the type of speeches he promotes then it is no wonder the African American population can not forget Slavery or Racism! People need to remember that Slavery is an unfortunate history. But that is what it is .. "History"! A War was fought to also abolish Slavery... Slavery is not now. - More...
Tuesday PM - March 25, 2008

Hillary's wild stories and ... Lies! By Mark Neckameyer - The crazy stories Hillary has been telling make no sense. We all have seen people with no "resume" make up tales of war heroism or athletic accomplishments but Hillary has had a stellar career; top corporate attorney, First Lady, U.S. Senator and more. So why the crazy tales? Here are a few examples; - More...
Tuesday PM - March 25, 2008

Thank you Ketchikan! By Angie Olson - I am so proud to call Ketchikan my home! My friends and I decided to put together a community Easter egg hunt out at Ward Lake, the support we received was amazing!! - More...
Monday PM - March 24, 2008

The Bridge By Chuck Saunders - The first time I ever heard of "the bridge" was when it hit national news due to the cost. Having visited Ketchikan several times now, I think I understand the need for "the bridge". - More...
Monday PM - March 24, 2008

Behavioral Health Services By Camielle Call - I am the most recent director of Gateway Center for Human Services, having tendered my resignation on or about March 1 of this year. It is important for me to clarify some issues associated with this position and with recent SitNews letters and the Ketchikan Daily News of March 8 - 9. - More...
Saturday - March 22, 2008

Infestation of Local Faith Groups By George Miller - There a several local churches downtown who could be listed as part of the 'infestation of non-profits' -- at least in the eyes of those who might belittle faith along with everything else. It is a proven fact, practiced by even the faithless rich, that generosity brings financial health -- and that the opposite is also true. Those who support groups that are doing good for our community are doing themselves a favor. - More...
Saturday - March 22, 2008

Petition to the MIC Council to apply Due Process By Steven G. Booth - A Petition to the MIC Council to apply Due Process states: We, the undersigned Members of the Metlakatla Indian Community (MIC), do hereby in signing this petition affirm that every Member should have a basic right to due process of MIC laws and procedures when faced with charges against us in MIC remedial forums. When MIC Council violated Mayor John A. Scudero, Jr. s due process rights on February 6, 2008, the Council set (or continued to set) a precedent for the type of treatment any Member can expect at all MIC remedial forums, including tribal government. - More...
Saturday - March 22, 2008

Non-Profits By Debra Pomeroy-Dundas - In response to Jay Jones' letter, I also have to protest with Ms. Antonsen! Not only is this non-profit agency, Community Connections, an asset to Ketchikan and the many people they help, they are part of the out lined communities, providing respite care and PCA services! They also employee people in other communities. - More...
Saturday - March 22, 2008

The Bridge By Forrest Mackie - I had a thought outside the box! I heard it said once that it would be cheaper to build an airport on this side that we could drive to than build a bridge. - More...
Saturday - March 22, 2008

Stimulus Loan By Judith Green - Thank you, RK Rice, for your thoughts about the Stimulus Loan which is being offered to citizens by our Federal Government. - More...
Saturday - March 22, 2008

More Letters/Viewpoints


Webmail your letter or


Email Your Letter To: editor@sitnews.us