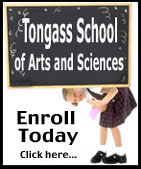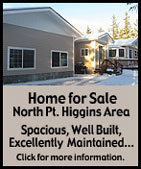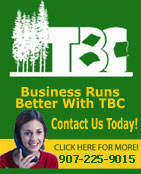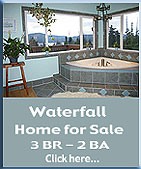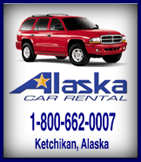 Contact


Webmail Letters


News Tips


Search Sitnews


Copyright Info


Archives
Today's News


Alaska


Ketchikan


Top Stories


U.S. News


U.S. Politics


Stock Watch


Personal Finance


Science News


US Education News


Parenting News


Seniors News


Medical News


Health News


Fitness


Offbeat News


Online Auction News


Today In History


Product Recalls


Obituaries
Quick News Search


Alaska


Ketchikan


SE Alaska


Alaska News Links
Columns - Articles


Dave Kiffer


Parnassus Reviews


Fish Factor


Chemical Eye On...


Bob Ciminel


Rob Holston


More Columnists
Ketchikan


Our Troops
Historical Ketchikan


June Allen


Dave Kiffer


Louise B. Harrington
Recognition


Match of the Month


Asset Builders
Ketchikan Arts & Events


Ketchikan Museums


KTN Public Library


Parks & Recreation


Chamber
Lifestyles


Home & Garden


Food & Drink


Arts & Culture


Book Reviews


Movie Reviews


Celebrity Gossip
On the Web


Cool Sites


Webmaster Tips


Virus Warnings
Sports


Ketchikan Links


Top Sports News
Public Records


FAA Accident Reports


NTSB Accident Reports


Court Calendar


Court Records Search


Wanted: Absconders


Sex Offender Reg.


Public Notices
Weather, Webcams


Today's Forecast


KTN Weather Data


AK Weather Map


Ketchikan Webcam


SE AK Webcams


Alaska Webcams


AK Earthquakes


Earthquakes
TV Guide


Ketchikan
Ketchikan Phone Book


Yellow Pages


White Pages
Employment


Employment
Government Links


Local Government


State & National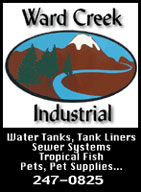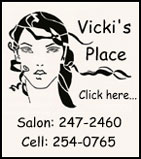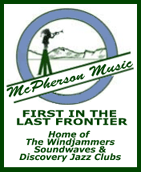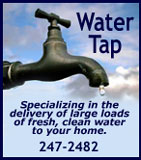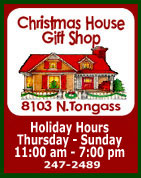 Sunday - Monday
March 30 - 31, 2008



Seven Ketchikan musicians awarded music scholarships
L to R: Gunnar Keizer, Louise Bryant, Niles Corporon, Sy Hovik (on drums),
April Souza, Trapper Bishop, and Leslie Snodderly.




Alaska: SEWARD'S DAY MARCH 30:
Celebrating the Alaska Purchase By JUNE ALLEN - It was at the end of March 1867 that the sale of Russia's possessions on the far northwest shoulder of North America was negotiated. It was a curious transaction in that the sellers didn't particularly want to sell and the buyers were not all that interested

Secretary of State
William H. Seward
Photo courtesy Library of Congress

in purchasing such a huge, seemingly worthless chunk of real estate. And even at the successful end of the negotiations between representatives of the two nations, the United States Senate approved the purchase of Alaska by only a single vote! It was the popular and powerful Senator Charles Sumner of Massachusetts who eased the passage of the treaty allowing the sale - and who also suggested that the nameless frozen properties in the North Pacific be named "Alaska." - More...
Monday - March 31, 2008

Ketchikan: Ketchikan Tlingit & Haida Community Council Elect Members - On March 20, 2008 elections were held for eight delegates for the Ketchikan Tlingit & Haida Community Council. Elected council members include Holly Churchill, Helene Simpson, Merle Hawkins, Robert Sanderson Jr., Barbara Fields, Sue Pickrell, Martha Johnson and Bonnie Newman.

On March 27, 2008 the council elected as President Barbara L. Fields, Vice President, Robert Sanderson Jr., Treasurer, Helene Simpson and Secretary, Bonnie Newman. The local council thanked Andre "Skip" LeCornu and Roberta Hull for their years of service and expressed appreciation to those individuals who ran this year.

"I am excited to serve as the Tlingit & Haida local chapter president," stated Barbara Fields. "The local chapter has been gathering momentum over the past few years, and I look forward to working with council members and with T&H citizens." - More...
Monday - March 31, 2008

Ketchikan: Seven Ketchikan musicians awarded music scholarships - Seven enthusiastic young Ketchikan musicians are recipients of Sam Pitcher Music Scholarships for 2008. The Sam Pitcher Memorial Scholarship Fund Advisory Committee awarded $500 scholarships to each of the following students: 7th grader Leslie Snodderly, 8th grader Sy Hovik, freshmen Louise Bryant and Gunnar Keizer, sophomore Niles Corporon, and seniors Trapper Bishop and April Souza. They comprise a diverse group of ages and musical areas of interest. All hope to improve their abilities, expose themselves to new challenges, and further their music education this summer at The Sitka Fine Arts Camp. - More...
Sunday - March 30, 2008

Alaska: Ferry Matanuska conducts successful docking test in Prince Rupert; Safety concerns had closed Prince Rupert dock - The crew aboard the Alaska Marine Highway System (AMHS) ferry Matanuska successfully moored at the BC Ferries docking facility today.

AMHS officials tested the facility after learning late Thursday that Prince Rupert city officials closed its dock after an engineers' report deemed it unsafe.

"We're extremely pleased that Matanuska and now the Taku can tie up in Prince Rupert and lessen any potential scheduling conflicts for our passengers," said Dennis Hardy, Deputy Commissioner of Marine Operations. "Certainly, we appreciate the invaluable cooperation exhibited by the BC Ferries leadership and staff."

"Obviously, there may be some schedule adjustments, but we'll do the best we can to accommodate our very patient passengers," said Hardy.

The Alaska Marine Highway System announced Friday the cancellation of two sailings aboard the vessel Taku, north and southbound, between Skagway and Prince Rupert, British Columbia (BC), Canada.

The Taku made all scheduled stops between Skagway and Ketchikan but did not carry passengers or vehicles between Ketchikan and Prince Rupert Saturday and back to Ketchikan Sunday, March 30.

"We received notification [Thursday] from Prince Rupert city officials that they closed their city-owned ferry docking facility," said Dennis Hardy, Deputy Commissioner of Marine Operations for the Alaska Department of Transportation and Public Facilities (DOT & PF).

Prince Rupert officials closed its facility after an engineer's report concluded that its dock poses an unacceptable level of safety risk.

"We had safety concerns, so we repeatedly asked city officials for a thorough engineers' report," Hardy said.

AMHS officials began plans at that time to determine the feasibility of mooring its ferries at the BC Ferries dock adjacent to the Prince Rupert dock. Officials with BC Ferries authorized AMHS to use its dock.

"The plan calls for mooring the Matanuska at the BC Ferries location at 3 a.m. Sunday," said Hardy. "We want to know with 100 percent certainty that our vessels can dock their safely. We're sending a professional engineer and a shore side maintenance supervisor to analyze the situation and determine if our ships can moor there safely and lessen any impacts on scheduling."

After learning of the situation and its potential effects to the AMHS movement of people and goods, DOT & PF Commissioner Leo von Scheben expressed his commitment to providing safe travel aboard AMHS ferries. - More...
Sunday- March 30, 2008

Alaska: Governor Calls 30-Day AGIA Special Session - Governor Sarah Palin announced Friday that AGIA findings will be presented to lawmakers the week of May 19. She also called the Legislature into a 30-day special session on June 3. The Executive Proclamation calls for legislators to review "any action taken by the commissioner of natural resources and the commissioner of revenue" under AGIA.

"This schedule is extremely aggressive," Governor Palin pointed out, in explaining the basis behind the dates selected. "Our plan is to complete the findings by the week of May 19, allow legislators time to read and absorb the materials, provide public gasline team briefings in Anchorage, and then move to special session in Juneau where they have requested to meet."

The commissioners would give notice of their findings to the legislature the week of May 19, and if they recommend awarding the proposed license, the legislature would then have 60 days to approve issuance of the license. The gasline team's schedule includes briefings in Anchorage ­ May 28, 29 and 30 ­ on the commissioners' findings for legislators and the public. - More...
Sunday - March 30, 2008

Alaska: Senate Passes Operating Budget, Privacy and Public Safety Bills - More legislation to save, protect and build came out of the Alaska Senate last week. The operating budget bill moved out of the Senate and the Legislature is on track to meeting its adjournment date of April 13th.

Operating Budget ­ The Alaska Senate passed the state's FY 09 operating budget, House Bill 310, after a thorough and complete review of all the spending increases proposed by the Palin administration.

The Senate started its review by applying the following three principals to the FY 09 spending plan:

No new state positions unless absolutely necessary
Refrain from backfilling the loss of federal funds with state general funds
Curb expansion of existing programs without sound justification

By applying these principals the Senate crafted a spending plan that curbs the growth of state government by $208 million and saves as much of the budget surplus as possible and:

Reduces Governor Palin's proposed operating budget increase from 17 percent to 11.5 percent
Slashes the number of new state government positions in the Palin administration's proposed budget by half from 305 to 157
Turned away the expansion of state programs proposed by the Palin administration for a savings of $40 million

The FY 09 operating budget uses $4.2 billion in general fund revenue. The operating budget now goes back to the House for concurrence. If the House declines to concur with the Senate's changes a joint conference committee will be appointed to come up with compromise legislation. - More...
Sunday - March 30, 2008

Alaska: Investigation into Alaska Ranger sinking convened - The Marine Board of Investigation into the Alaska Ranger convened Friday in the Shishaldin Room of the Grand Aleutian Hotel in Dutch Harbor.

The Capt. Michael Rand, USCG, and Mr. Liam LaRue, NTSB, from the board gave statements as to the purpose of the investigation, their authority to conduct the investigation and the scope. The recorder Lt. j.g. William Fitzgerald, Coast Guard Sector Anchorage, swore in the board.

Trawl deck of the Alaska Warrior, another Fishing Company of Alaska vessel.
The crew of the Alaska Warrior responded to the Alaska Ranger casualty and recovered several of the crew.
Official Coast Guard photo by Petty Officer Sara Francis

The first witness called was Capt. Scott Krey, master of the fishing vessel Alaska Warrior. The board questioned Krey for over an hour about the operations onboard the vessel, the material condition of the vessel, the safety measures and drills conducted onboard, and his experiences during the response to the sinking of the Alaska Ranger and the rescue of its crew.

Krey said, "When we arrived on scene there were flashing lights everywhere - strobes, life rafts, individuals." Krey stated that the helicopter was on scene pulling people out of the water and he recognized that the considerable sail area on the life rafts was causing them to be pushed south by the northwest winds. He said there were 10 people in the first raft and 12 in the second.

The board recessed to tour the Alaska Warrior with Krey as a guide. The board toured the bridge, processing plant (factory), engineering space, rudder room and trawl deck of the vessel.

Upon reconvening the board had additional questions for Krey and then called the Alaska Warriors First Mate Raymond Falante. Falante was directly responsible for pulling Alaska Ranger crewmembers from the water to safety. He detailed his experiences from time served on the Alaska Ranger and currently on the Alaska Warrior.

Falante made special mention of the Coast Guard crews by saying "I take my hat off to the Coast Guard." He also stated that the life sling the crew of the Alaska Warrior used was an excellent tool to recover the crew.

First Engineer James Madruga was then questioned about the material condition of the ship and the events of the sinking and rescue. Madruga detailed the sinking and his rescue by the Coast Guard. He was next to Byron Carrillo in the water. When the helicopter arrived the swimmer was deployed into the water to rescue the survivors. The swimmer reached Madruga first. Madruga told the swimmer to take Carrillo up to the helicopter before him. He thought Carrillo was colder and in worse shape. After Carrillo was put into the basket and the hecliopter crew had begun the hoist the swimmer returned for Madruga. The swimmer put Madruga into the basket and he was hoisted up to the helicopter.

"When I got up to the chopper I asked them where was the guy they brought up before me?" said Madruga. The crew and the survivors responded that he was it. No other man had been brought up after the swimmer was deployed.

The Coast Guard has convened an administrative investigation into the loss of an individual from the basket during the rescue. It has not been determined who that individual was or why they fell from the basket. - More...




Public Opinion Poll

The General Services Administration, landlord of the downtown Federal Building, plans to paint the structure this summer. Should GSA go with the original, historic white; or retain the "pink salmon" color?

Federal Building
File Photo by Dick Kauffman

Ketchikan Federal Building Added to National Register of Historic Places - To some locals it is the "Big Pink."

The workers within its walls often call it the "Pepto (Bismo) Palace." - Read this archived story by DAVE KIFFER...

Ketchikan

Ketchikan Police Report
AK Troopers Daily Dispatch
Today's Forecast
Satellite
Today's Weather Images
Marine Forecasts
Ketchikan Weather Data
Current AK Weather Map

CLASSIFIEDS

Publish ad
Please select the proper category before posting.




CLASSIFIEDS' CATEGORIES

Announcements and
Help Wanted
For Sale / Free Stuff
Garage Sales
Homes / Apts/ Property
Pets
Wanted
Lost & Found
Local Services
Publish your ad

More Front Page Archives

Viewpoints
Opinions/Letters
Basic Rules

Ketchikan Youth Initiative Scores Big! By Nancy Coggins - When recently talking on the phone with an older female family friend in North Carolina, she was complaining about the teenagers who are into drugs and other destructive behavioral activities. So I told her about the Ketchikan Youth Initiative (KYI) and its goal to renovate a vacant building [the Water Warehouse (WW)] to benefit teenagers. In this plan, the teenagers would be its leaders, and we adults, their mentors. Our aim, I explained, is to provide a safe place for teenagers not only to hang out but also to get a chance to run a small business like an ice cream or a gift shop. The whole idea gave her a lot of hope for America's teenagers. - More...
Sunday - March 30, 2008

Squeezin' out a big bucket o' savings By Sen. Kim Elton - As we begin, I agree it is not irrational to believe giving a lot of money to politicians is like giving a credit card to your teen before they head to Vegas on a class trip. - More...
Sunday - March 30, 2008

School budget process By Charles Edwardson - I guess my last rambling letter missed the mark appealing to the public to attend and comment on the Ketchikan school budget process. Only one guy commented and apparently the budget is perfect so none of us has any room to complain. Good job school board and borough budget committee. You have passed a perfect budget that needs no public comment or participation. The public trusts you completely and has no qualms about how things are running. Microsoft could take some pointers from this budget committee and the school board. - More...
Sunday - March 30

March for Babies By Janie Odgers - The March of Dimes March for Babies (WalkAmerica) has taken Ketchikan by storm! Over a long weekend ladies from around Ketchikan gathered at the Ted Ferry Civic Center for the annual Scrap-A-Thon organized by Heather Borch. They raised $3,520.00! - More...
Thursday PM - March 27, 2008

Bridge, No Bridge By Angela Garton - I just wanted to say a brief thank you to Dan Williams for expressing so clearly some common sense about that bridge. I have lived in Ketchikan for 22 out of my 23 years. My dad worked at the airport for many years so I spent quite a bit of time traveling on the ferries back and forth to visit dad's work. - More...
Thursday PM - March 27, 2008

School budget process By Charles Edwardson - I am afraid this letter will be too late for the budget comment period for the district on March 26, 2008, never the less I urge the people who have time to participate in this process to express your opinions. - More...
Tuesday PM - March 25, 2008

Rev. Wright's viewpoint of America is wrong By Patty Alsup - I consider Rev.Wright's speech just a speech & not a sermon. The speech did not address religious ideals it appears to promote only hate for white people & for America. If this is the type of speeches he promotes then it is no wonder the African American population can not forget Slavery or Racism! People need to remember that Slavery is an unfortunate history. But that is what it is .. "History"! A War was fought to also abolish Slavery... Slavery is not now. - More...
Tuesday PM - March 25, 2008

Hillary's wild stories and ... Lies! By Mark Neckameyer - The crazy stories Hillary has been telling make no sense. We all have seen people with no "resume" make up tales of war heroism or athletic accomplishments but Hillary has had a stellar career; top corporate attorney, First Lady, U.S. Senator and more. So why the crazy tales? Here are a few examples; - More...
Tuesday PM - March 25, 2008

Thank you Ketchikan! By Angie Olson - I am so proud to call Ketchikan my home! My friends and I decided to put together a community Easter egg hunt out at Ward Lake, the support we received was amazing!! - More...
Monday PM - March 24, 2008

The Bridge By Chuck Saunders - The first time I ever heard of "the bridge" was when it hit national news due to the cost. Having visited Ketchikan several times now, I think I understand the need for "the bridge". - More...
Monday PM - March 24, 2008

Behavioral Health Services By Camielle Call - I am the most recent director of Gateway Center for Human Services, having tendered my resignation on or about March 1 of this year. It is important for me to clarify some issues associated with this position and with recent SitNews letters and the Ketchikan Daily News of March 8 - 9. - More...
Saturday - March 22, 2008

Infestation of Local Faith Groups By George Miller - There a several local churches downtown who could be listed as part of the 'infestation of non-profits' -- at least in the eyes of those who might belittle faith along with everything else. It is a proven fact, practiced by even the faithless rich, that generosity brings financial health -- and that the opposite is also true. Those who support groups that are doing good for our community are doing themselves a favor. - More...
Saturday - March 22, 2008

Petition to the MIC Council to apply Due Process By Steven G. Booth - A Petition to the MIC Council to apply Due Process states: We, the undersigned Members of the Metlakatla Indian Community (MIC), do hereby in signing this petition affirm that every Member should have a basic right to due process of MIC laws and procedures when faced with charges against us in MIC remedial forums. When MIC Council violated Mayor John A. Scudero, Jr. s due process rights on February 6, 2008, the Council set (or continued to set) a precedent for the type of treatment any Member can expect at all MIC remedial forums, including tribal government. - More...
Saturday - March 22, 2008

Non-Profits By Debra Pomeroy-Dundas - In response to Jay Jones' letter, I also have to protest with Ms. Antonsen! Not only is this non-profit agency, Community Connections, an asset to Ketchikan and the many people they help, they are part of the out lined communities, providing respite care and PCA services! They also employee people in other communities. - More...
Saturday - March 22, 2008

The Bridge By Forrest Mackie - I had a thought outside the box! I heard it said once that it would be cheaper to build an airport on this side that we could drive to than build a bridge. - More...
Saturday - March 22, 2008

Stimulus Loan By Judith Green - Thank you, RK Rice, for your thoughts about the Stimulus Loan which is being offered to citizens by our Federal Government. - More...
Saturday - March 22, 2008

More Letters/Viewpoints
Webmail your letter or
Email Your Letter To: editor@sitnews.us

---

E-mail your news tips, news
releases & photos to:
editor@sitnews.us

SitNews
Stories in the News
©1999 - 2008
Ketchikan, Alaska

M.C. Kauffman, Webmaster/Editor, &
Graphic Designer
webmaster@sitnews.us

In Memory of SitNews' first editor,
Dick Kauffman
1932-2007

Locally owned & operated.
Online since 1999

Articles & photographs that appear in SitNews are protected by copyright and may not be reprinted or redistributed without written permission from and payment of required fees to the proper sources.