Contact


Webmail Letters


News Tips


Search Sitnews


Copyright Info


Archives
Today's News


Alaska


Ketchikan


Top Stories


U.S. News


U.S. Politics


Stock Watch


Personal Finance


Science News


US Education News


Parenting News


Seniors News


Medical News


Health News


Fitness


Offbeat News


Online Auction News


Today In History


Product Recalls


Obituaries
Quick News Search


Alaska


Ketchikan


SE Alaska


Alaska News Links
Columns - Articles


Dave Kiffer


Parnassus Reviews


Fish Factor


Chemical Eye On...


Bob Ciminel


Rob Holston


More Columnists
Ketchikan


Our Troops
Historical Ketchikan


June Allen


Dave Kiffer


Louise B. Harrington
Recognition


Match of the Month


Asset Builders
Kid's Corner


Bob Morgan
Ketchikan Arts & Events


Ketchikan Museums


KTN Public Libraryt


Parks & Recreation


Chamber
Lifestyles


Home & Garden


Food & Drink


Arts & Culture


Book Reviews


Movie Reviews


Celebrity Gossip
On the Web


Cool Sites


Webmaster Tips


Virus Warnings
Sports


Ketchikan Links


Top Sports News
Public Records


FAA Accident Reports


NTSB Accident Reports


Court Calendar


Court Records Search


Wanted: Absconders


Sex Offender Reg.


Public Notices
Weather, Webcams


Today's Forecast


KTN Weather Data


AK Weather Map


Ketchikan Webcam


SE AK Webcams


Alaska Webcams


AK Earthquakes


Earthquakes
TV Guide


Ketchikan
Ketchikan Phone Book


Yellow Pages


White Pages
Employment


Employment
Government Links


Local Government


State & National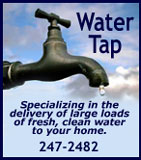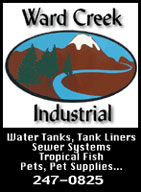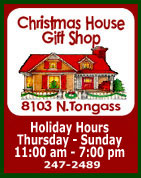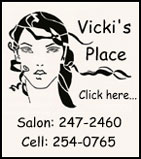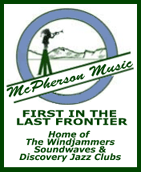 PODCASTING
Podcasting is a form of audio broadcasting on the Internet.
Listen to audio replays of public meetings any time, any where.
01/16/08 - Ketchikan City Council Special Meeting - Brokerage Services Proposals for the Sale of the Telecommunications Division - Falkenberg Capital Corporation and Alpina Capital, LLC -- 86.2 MB (1 hour 34 minutes)- Published 02/01/08
01/25/08 -Ketchikan Transportation Projects Update - The Assembly met in the City Council Chambers to listen to a Presentation by Malcolm Menzies Southeast Alaska Regional Director of the Alaska Department of Transportation and Public Facilities. Mr. Menzies presented an update, took public comment and answered questions from the public on projects in the Ketchikan area -- addressing highways, the airport access, etc. -- 96MB (1hour 44 minutes) Published 02/02/08
Watch for more podcasts on SitNews.


Thursday
February 21, 2008



Look Who's Not Coming to Dinner
Local resident Bill Bale's dog Logan appears somewhat curious as to why this hungry
eagle eating on a seal carcass at Mountain Point doesn't appear willing to share his tasty meal.
Front Page Photo by Sheila Ellington

Ketchikan: Stedman Initiates Legislative Audit of Gravina Bridge Project - Wednesday the Legislative Budget & Audit Committee directed the Legislative Audit Division to initiate an audit of the Department of Transportation's handling of the Gravina Access Project proposed for Ketchikan. The audit was requested by Senator Bert Stedman (R-Sitka) who is Co-Chair of Senate Finance Committee and a member of the committee.

"The Gravina Bridge is a top priority for the state, but has been stalled by a bureaucratic process within DOT," Senator Stedman said. "Alaskans want results, and we need assurance that this project has been administered consistent with congressional, legislative, and public intent. This audit will give the public a fresh look at how their money has been managed on this important infrastructure project."

The Gravina Access Project in Ketchikan was initiated 30 years ago to improve surface transportation between Revillagigedo Island and Gravina Island. After exhaustive study and review, the Federal Highway Administration selected a two span, 320-foot bridge as the preferred alternative. Despite the fact that the project has received substantial federal and state appropriations, bridge construction has not begun. - More...
Thursday - February 21, 2008

Ketchikan: Senator Cries Foul Over Ketchikan Borough Land Grab - Sen. Albert Kookesh (D-Angoon) is fighting the proposed annexation by the Ketchikan Gateway Borough (KGB) of more than four thousand square miles of uninhabited land lying outside its boundaries. Senator Kookesh is sponsoring Senate Joint Resolution 15, which calls for the annexation to be stopped.

"Annexation of land is a serious issue with long term consequences that can permanently affect a community," said Kookesh. "This proposed annexation was defeated more than ten years ago and I still don't see any good reason for it to go forward."

The annexation plan is deeply opposed by people living in the unorganized borough because it will take away $1.2 million in education funding and other state revenues while not delivering any level of public services in return. Senator Kookesh is also concerned about inconsistencies in the Local Boundary Commission's decision in favor of the annexation and the lack of public support on this matter.- More...
Thursday - February 21, 2008

Ketchikan: Fishing Vessel Aground; Coast Guard Working To Mitigate Pollution - The 82ft fishing vessel Westward grounded Sunday on a rocky shore in the vicinity of Point Ildefonso on the southwest side of Prince of Wales Island. Crewmembers from another fishing vessel in the area, the Confidence, rescued the stricken vessel's two crewmembers.

The F/V Westward is submerged at high tide on the banks of Prince of Wales Island. The 82-foot fishing vessel ran aground Sunday Feb. 17th. Coast Guard Marine Safety Detachment Ketchikan coordinated with the Westward's owner to manage response.
Photo by USCG

The Westward, built in 1943, has two large holes in its wooden hull, allowing it to be almost completely submerged at high tide. The vessel carried 4000 gallons of diesel, 150 gallons of lube oil and 150 gallons of hydraulic oil. Coast Guard air assets observed a 2.5NM sheen emanating from the wreck. Because the vessel was carrying 130 tons of bait herring from Ketchikan to Klawock, it is unclear whether the sheen consisted primarily of herring oil or petroleum products. - More...
Thursday - February 21, 2008

Ketchikan: Ketchikan Democrats Comment on Caucus Process & Selection of Delegates - The Ketchikan Democrats met Sunday, February 17, with a full agenda after having they reported experiencing an overwhelming response to their caucus process on February 9. The first order of business was to elect new officers since two of the officers, the Chair and Vice-Chair, are no longer Ketchikan residents.

After voting to combine the positions of Secretary and Treasurer those elected were: Chair Amos Hopkins, Vice-Chair Gerry Knasiak and Secretary/TreasurerKatie Leese. The second order of business was the selection of delegates who will attend the Delegate Convention to be held in Palmer from May 23-25, 2008.

Delegate representation is predicated on the outcome of the caucus results according to information provided by Gerry Knasiak. There will be, therefore, six Obama delegates and two Clinton delegates. - More...
Thursday - February 21, 2008

Columns - Commentary

Dave Kiffer: Let's Play: Name That Cruise Ship!!! - Royal Caribbean wants my opinion!

Well, not exactly.

My wife Charlotte wants my opinion about what Royal Caribbean should name its next cruise ship.

She thinks that I can come up with a great name for the ship(s) and then she can win a luxury cruise for two. I assume she plans to take me with her. Of course, my mother told me never to assume because. Ooops, I can't continue with that adage because this is a family website.

Anyway, Charlotte wants me to use my few remaining creative brain cells to come up with a great name. She thinks that I can think of something that hasn't occurred yet to Royal Caribbean and won't occur to the other one or two million folks who will also enter the contest. - More...
Thursday - February 21, 2008

Michael Reagan: Times Executes a Well-Timed Ambush - If John McCain weren't such a trusting soul he would have wondered why The New York Times endorsed him -- a member of the hated Republican Party -- as their (slightly) preferred candidate for the Republican presidential nomination, especially when he knew they were preparing a slanderous, largely anonymously sourced, story bound to damage his candidacy and his reputation.

The very wording of their endorsement should have been sufficient warning that eventually they'd be out to get him. He was merely the lesser of several evils facing GOP primary voters and they had at hand a weapon they believed they could use to scuttle his candidacy once he had snared the nomination and thus prevent a hated conservative from winning.

On January 25, when the bucket of sleaze was already filled and the story lying in wait, the Times editorialized: "We have strong disagreements with all the Republicans running for president. The leading candidates have no plan for getting American troops out of Iraq. They are too wedded to discredited [meaning non-socialist] economic theories and unwilling even now to break with the legacy of President Bush. We disagree with them strongly on what makes a good Supreme Court justice.

"Still, there is a choice to be made, and it is an easy one. Senator John McCain of Arizona is the only Republican who promises to end the George Bush style of governing from and on behalf of a small, angry fringe." - More...
Thursday - February 21, 2008




Ketchikan

Ketchikan Police Report
AK Troopers Daily Dispatch
Today's Forecast
Satellite
Today's Weather Images
Marine Forecasts
Ketchikan Weather Data
Current AK Weather Map

CLASSIFIEDS

Publish ad
Please select the proper category before posting.




CLASSIFIEDS' CATEGORIES

Announcements and
Help Wanted
For Sale / Free Stuff
Garage Sales
Homes / Apts/ Property
Pets
Wanted
Lost & Found
Local Services
Publish your ad

More Front Page Archives

Viewpoints
Opinions/Letters
Basic Rules

Property Tax By Beth Antonsen - According to the article in the Ketchikan Daily News the KGB assessment department was raising property tax at the most 15%. Not so. My mother's assessment went up 30%. At this rate I will have to put the fireplace back in her condo and chop some firewood, build her some window boxes so she can grow her own food and move in with her to help her with expenses. I am afraid to finish fixing my house because I won't be able to live there and afford it once the borough re-assesses that. - More...
Thursday - February 21, 2008

Borough assembly decisions By Charles Edwardson - Bronze statues, bowl factories, defunct veneer mills, defunct economic development advisory boards due to no money to run it, higher properties taxes just for the heck of it, oh! And never mind - increased funding for school activities to try to reinforce our kids' connections to this community so they may think twice about leaving this area. - More...
Thursday - February 21, 2008

Smoke Alarms By Carol Baines - Regarding smoke detectors: I think that if there are children in the dwelling, it should be against the law to remove the battery from a smoke detector, and the law should be strictly enforced. What's the point of having a smoke detector if it's going to be disabled? - More...
Thursday - February 21, 2008

City taxes and sorry service By Eileen Small - To add to the voice: I have TWO properties in K-kan and get taxed out the you-know-what on both. I have paid all my taxes on both. It wouldn't irk me so much if I saw that I got something for my money. As it stands, the city hasn't picked up my home trash in over a month because the trash truck won't come down my hill and won't sand the hill on which I live so they CAN come down it!! DUHHHHH!!!!! And just generally does less than anywhere I have ever lived for the taxes they charge!!! I know a woman whose Dad retired from the city and she tells me that 10 years ago, the streets were taken much better care of than now. Surprise, surprise! - More...
Thursday - February 21, 2008

A job VERY WELL done! Keeping up with the snow. By Bobbie McCreary - I was very impressed with the dedication shown by our governments to work on keeping our roads cleared and our paths safe to travel (as safe as they could given the conditions.) Early in our long stretch of snow and ice I saw City workers clearing sidewalks that did not pass by residences or businesses..in particular the block of Grant going uphill from the Police Station. - More...
Thursday - February 21, 2008

All neighborhoods don't receive equal services By Lou Ann Richardson - Must be nice to live on Jackson Street during heavy snow fall and have city crews come through hauling out massive amounts of snow and clearing out driveways. I've heard there's at least one city employee who lives on Jackson St., is that what it takes to get the extra effort? - More...
Thursday - February 21, 2008

Ferry system failures By Ronald Currit - This is a letter I sent to Governor Palin adding my voice to the dissension about the Ferry system.

I would like to take this opportunity to add my voice to the long list of people complaining about the ferry system. - More...
Thursday - February 21, 2008

Alaska Marine Highway By Michael Nelson - I was seriously considering taking my 6 year old daughter to Ketchikan and then out to Craig this coming summer so that she could meet friends and family. Having grown up in Ketchikan, I have been riding on the blue canoes since the days of the Wickersham, so nostalgia was driving my decision to take my daughter to Southeast on the AMHS. Yet, even before I started reading all of the letters regarding the AMHS, I did some date crunching and pricing and frankly realized that the AMHS was narrowing my window of opportunity and also pricing me right out of the trip. - More...
Thursday - February 21, 2008

More Letters/Viewpoints
Webmail your letter or
Email Your Letter To: editor@sitnews.us

---

E-mail your news tips, news
releases & photos to:
editor@sitnews.us

SitNews
Stories in the News
©1999 - 2008
Ketchikan, Alaska

M.C. Kauffman, Webmaster/Editor, &
Graphic Designer
webmaster@sitnews.us

In Memory of SitNews' first editor,
Dick Kauffman
1932-2007

Locally owned & operated.
Online since 1999

Articles & photographs that appear in SitNews are protected by copyright and may not be reprinted or distributed without written permission from and payment of required fees to the proper sources.