Contact


Webmail Letters


News Tips


Search Sitnews


Copyright Info


Archives
Today's News


Alaska


Ketchikan


Top Stories


U.S. News


U.S. Politics


Stock Watch


Personal Finance


Science News


US Education News


Parenting News


Seniors News


Medical News


Health News


Fitness


Offbeat News


Online Auction News


Today In History


Product Recalls


Obituaries
Quick News Search


Alaska


Ketchikan


SE Alaska


Alaska News Links
Columns - Articles


Dave Kiffer


Parnassus Reviews


Fish Factor


Chemical Eye On...


Bob Ciminel


Rob Holston


More Columnists
Ketchikan


Our Troops
Historical Ketchikan


June Allen


Dave Kiffer


Louise B. Harrington
Recognition


Match of the Month


Asset Builders
Kid's Corner


Bob Morgan
Ketchikan Arts & Events


Ketchikan Museums


KTN Public Libraryt


Parks & Recreation


Chamber
Lifestyles


Home & Garden


Food & Drink


Arts & Culture


Book Reviews


Movie Reviews


Celebrity Gossip
On the Web


Cool Sites


Webmaster Tips


Virus Warnings
Sports


Ketchikan Links


Top Sports News
Public Records


FAA Accident Reports


NTSB Accident Reports


Court Calendar


Court Records Search


Wanted: Absconders


Sex Offender Reg.


Public Notices
Weather, Webcams


Today's Forecast


KTN Weather Data


AK Weather Map


Ketchikan Webcam


SE AK Webcams


Alaska Webcams


AK Earthquakes


Earthquakes
TV Guide


Ketchikan
Ketchikan Phone Book


Yellow Pages


White Pages
Employment


Employment
Government Links


Local Government


State & National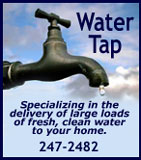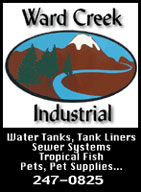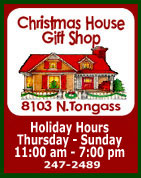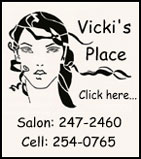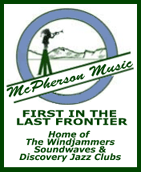 PODCASTING
Podcasting is a form of audio broadcasting on the Internet.
Listen to audio replays of public meetings any time, any where.
01/16/08 - Ketchikan City Council Special Meeting - Brokerage Services Proposals for the Sale of the Telecommunications Division - Falkenberg Capital Corporation and Alpina Capital, LLC -- 86.2 MB (1 hour 34 minutes)- Published 02/01/08
01/25/08 -Ketchikan Transportation Projects Update - The Assembly met in the City Council Chambers to listen to a Presentation by Malcolm Menzies Southeast Alaska Regional Director of the Alaska Department of Transportation and Public Facilities. Mr. Menzies presented an update, took public comment and answered questions from the public on projects in the Ketchikan area -- addressing highways, the airport access, etc. -- 96MB (1hour 44 minutes) Published 02/02/08
Watch for more podcasts on SitNews.


Sunday
February 10, 2008



North Tongass View
Front Page Photo by Bill Meck

Alaska: 2007 Population for Alaska Released; Southeast region continued to have largest overall population decline - Alaska's statewide population increased 7.9 percent, or 49,454 people, from 2000 to 2007, based on new population estimates released Friday by the Alaska Department of Labor and Workforce Development.

Alaska's growth was slightly faster than the 6.9 percent increase for the United States as a whole during the seven-year period. (Unless otherwise indicated, all population estimates have a reference date of July 1. The 2007 estimates are provisional.)

The number of people living in Alaska climbed from 627,533 in 2000 to 676,987 in 2007 (See Table 1). Alaska's average annual rate of population change was 1.1 percent during the 2000-2007 period and 0.9 percent for the 2006-2007 period. Alaska is still the 47th most populous state, and is larger than North Dakota, Vermont, the District of Columbia and Wyoming.

Currently, growth in Alaska as a whole is primarily through natural increase. From 2000 to 2007, Alaska's natural increase (births minus deaths) added 50,486 people, while net-migration (in-migration minus out-migration) accounted for a loss of 1,032 people. During the 2006-2007 period, Alaska added 7,756 people through natural increase and lost 1,727 people to net out-migration.

In the early 1990s, Alaska added an average of 8,100 people each year through natural increase. A gradual decline in births and a gradual increase in deaths - both tied to an aging population - have resulted in a slowdown in natural increase to about 7,300 people a year.

When international and domestic migration are considered separately, the loss of 1,727 migrants between 2006 and 2007 breaks down to a gain of 602 international migrants and a loss of 2,329 domestic migrants. Thus, international migration is currently compensating for some of the outward domestic migration. About 70,000 people now migrate to and from Alaska each year. In- and out-migration are nearly equal at about 35,000.

"It is important to note that, because our estimates are for resident population, any troops deployed overseas are counted as being in Alaska in our estimates," said Greg Williams, state demographer. "This means that the populations for the Fairbanks North Star Borough and the Municipality of Anchorage, where the main Alaska military bases are located, as well as other communities with a substantial National Guard presence, may be somewhat lower than these estimates indicate, depending on the current deployment of military and National Guard personnel."

Boroughs and Census Areas

Department of Labor population estimates have also been released for Alaska's 28 boroughs and census areas (see Table 2), as well as for 343 places located throughout the state. Unlike Table 1, which considers population change from the average annual population in 2000, Table 2 considers population change from the April 1, 2000 U.S. Census. - More...
Sunday PM - February 10, 2008

Fish Factor: Barents Sea snow crab could foil market, Deadliest Catch?, & Labels are misleading By LAINE WELCH - It's an invasive species problem that Alaska would love to have. Millions of snow crab are on the march in the Barents Sea and no one knows how they got there or what to do with them - yet.

The Barents Sea, which straddles Norway and Russia, is the same source of all of that jumbo king crab (much of it caught illegally) that wreaked havoc on Alaska's market for the past couple of years.

But unlike king crabs, which were purposely introduced by Russia into those waters in 1966, the opilio (snow) crab is a true invasive species.Long time market analyst Ken Talley reports that no one is sure how the snow crab reached the Barents Sea. The first sightings appeared in the Russian zone in 1996.

"The most likely way, say scientists, is from ballast water in tankers that ply the waters," Talley wrote in his bi-monthly Seafood Trends newsletters.

According to Jan Sundet, a leading Norwegian scientist and crab expert, the snow crab stock is estimated at 10-12 million adults, similar to the abundance of the region's king crab.

No matter how they got there, the snow crab are spreading fast.

"They are now routinely caught by Russian and Norwegian king crab fishermen," Talley said.

The Norwegians have no interest in such a fishery at this time, Talley added. Rather, they are worried about the environmental impacts of this invasive species on their traditional fisheries. By law, fishermen are forbidden from returning any snow crab back to the Barents Sea to keep them from spreading.

The Russians, on the other hand, appear more interested, Talley said. "Currently, there are no official discussions or negotiations between Russia and Norway about a snow crab fishery," he added.

Scientists are asking for government funding for research and stock assessments on the Barents Sea snow crab. When and if the situation clarifies, a commercial fishery will develop, Talley predicts.

"Fishermen and marketers are watching the situation carefully," he said. "The impact of a fishery with huge volumes snow crab, could foil the crab market just as Barents Sea red king crab has done."

Alaska supplies only about 10 percent to the U.S. snow crab market, which purchases roughly100 million pounds per year. The bulk of the catch comes from Russia and primarily, eastern Canada.

Deadliest Catch?

Think again - It comes as a surprise that the most lethal fishery is not crabbing in the Bering Sea. Pacific Fishing magazine reports that Dungeness crabbers in the Pacific Northwest have the highest fatality rate of them all ­ 17 deaths in the past seven years. That's 50 percent higher than Bering Sea crabbers, and four times the rate of all U.S. fisheries. - More...
Sunday PM - February 10, 2008

Columns - Commentary

Dave Kiffer: Triangulate This, NAVSTAR! - I was sitting behind a car at a stop light the other day.

That in itself always seems a little exotic, because - naturally - I can remember when Ketchikan had no stop lights.

Yeah, I can hear you saying, time for a blast of nostalgic drivel about the good old days when Ketchikan was "less big city" and had no stop lights.

Those WERE the good old days, of course. Primarily because you never had to stand at the side of the road for a half an hour getting drenched because no one would stop their car - and interrupt their crucial five minute drive across town - for you.

Once upon a time, folks would stop to let a pedestrian cross, or another car go through an intersection.

Now we need a set of pretty colored light bulbs to remind us to let someone else go, but of course, I digress.

Anyway, we were stopped for the light and finally it turned green (is it just me or does the light really stay red longer when there is absolutely no cross traffic?!?).

I didn't immediately tromp on the gas because the guy ahead of me didn't move. The light remained green. He didn't budge. It never occurred to me to honk. I wasn't raised that way. - More...
Sunday PM - February 10, 2008

Preston MacDougall: Chemical Eye on the Blue Lagoon - Despite the allure of Audrey Hepburn wearing a Coco Chanel little black dress, a simplistic world where everything is in black and white doesn't excite me.

In a way, I see everything in shades of maroon and grey. Those are the colors of my alma mater, McMaster University in Canada, where I first learned about the never-ending complexities of the behavior of everyday matter when studied at the atomic level. In other words - reality chemistry.

For instance, stratospheric ozone is said to be "good" because it absorbs a lot of the sun's ultraviolet radiation that can quickly burn fair skin. I would say it is really good because I have fair skin, and UV radiation is more intense at the northern latitudes where I learned that ozone is a less stable form of the element that we'll suffocate without - apparently three's a crowd for oxygen, because ozone has one more atom than the paired atoms we breathe.

On the other hand, ground-level ozone (same molecule, different altitude) is said to be "bad" because it is one of the most harmful components of air pollution. Eager to ditch the extra oxygen atom, lung tissue gets damaged, or oxidized, when we breathe even low concentrations of ozone for an extended period. - More...
Sunday PM - February 10, 2008




Ketchikan

Ketchikan Police Report
AK Troopers Daily Dispatch
Today's Forecast
Satellite
Today's Weather Images
Marine Forecasts
Ketchikan Weather Data
Current AK Weather Map

CLASSIFIEDS

Publish ad
Please select the proper category before posting.




CLASSIFIEDS' CATEGORIES

Announcements and
Help Wanted
For Sale / Free Stuff
Garage Sales
Homes / Apts/ Property
Pets
Wanted
Lost & Found
Local Services
Publish your ad

More Front Page Archives

Viewpoints
Opinions/Letters
Basic Rules

Property Taxes - ver. 2008 By Hunter Davis - Last year, about this time frame, I received a property tax assessment that raised my property taxes 57%. I appealed, obviously made a mistake by letting an assessor actually see my house, and got my assessment, based on an actual inspection, lowered. So that the assessment was only about a 45% increase. - More...
Sunday PM - February 10, 2008

Art Work or Water? By Betty Constuble - Please tell me WHY our city fathers choose to spend so much money on art for downtown -- for the tourists -- instead of fixing our drinking water. - More..
Sunday PM - February 10, 2008

So Where Is The Social Outrage? By Kelly T Nicolello - Another child has died as a result of fire and all I hear is the sound of silence! My kids are grown and on their own, if they were here I'd hug them and let them know I loved them one more time. If this child had died as a result of someone carelessly leaving a loaded weapon where he could get it or if he died at the hands of a drunk driver someone would be going to jail. It seems other issues like second hand smoke around children, saving the trees at Russian Jack Park and deciding where kids play little league get more social community activism than a child dying in a fire. - More....
Sunday PM - February 10, 2008

Growing Pains of Change By Steven G. Booth - In dealing with the affairs of tribal government, there should never be a reason to be threatening or rude. We all have our differences and our own opinions and goals for the future of our community, and that is the beauty of the democratic system. If anyone has to use underhanded tactics, threats, disrespect, illegal activities and promoting hate to achieve their goals, then in these things what you sow is what you will reap. The goals are or should be a common ones, and that is to understanding how to combine our culture with the success of economic development, to bring organizational structure, loyalty and employee development, and to develop the MIC of the future into a community that is outstanding and accountable to all its members. These things should be common goals for us, and the means to achieving these goals are to allow our differences and make debate and compromise our strength. There is no place for the common good of our community to have threatening or disrespect for our brothers and sisters who are all in this together. We are a proud people who will show the world our resolve and unity in our community. For the people who express their hate and not their debate, we as a community shall say "we do not know you and away from us you evil doer". - More...
Sunday PM - February 10, 2008

Voting rights, 2008 edition By Dan Hart - You know maybe it was just me; however, I was very disappointed in the structure our State's primaries this year. The caucus system we have going now, really does disenfranchised voters. I sincerely hope that was not the intention. - More...
Sunday PM - February 10, 2008

Recycling center at mill site? By Gerri Davis - Like Mr. McRoberts, I, too, have wondered why the old mill site has not been utilized as a recycling/ processing operation for not only Ketchikan but for all of Southeast. - More...
Sunday PM - February 10, 2008

Ferry System By Jerilyn Lester - I have been watching things go on and on about the ferry system. It was set up as our highway system between islands as the state didn't want to build roads between the islands here. We do not have another alternative as they do in Juneau. - More...
Sunday PM - February 10, 2008

Speeding in Ketchikan By Marie-Jeanne Cadle - Talk about speeders. The most common speed was 45mph in front of my house (where the speed limit is 30mph) with very few people driving slower and most accelerating judging by their engine noise. S. Tongass where I live in the Saxman/Forest Park area is a natural for higher speeds and most of the time I couldn't care less. When it gets me is during the morning school bus crunch. The Forest Park school bus stop has about 15 kids at a time over a 1 hour period and the few adults there don't seem to exert any control over the kids not their own. The kids play outside the guardrail next to the highway, they throw their balls in the highway, their dogs run in the highway and they run in the highway. - More...
Sunday PM - February 10, 2008


More Letters/Viewpoints
Webmail your letter or
Email Your Letter To: editor@sitnews.us

---

E-mail your news tips, news
releases & photos to:
editor@sitnews.us

SitNews
Stories in the News
©1999 - 2008
Ketchikan, Alaska

M.C. Kauffman, Webmaster/Editor, &
Graphic Designer
webmaster@sitnews.us

In Memory of SitNews' first editor,
Dick Kauffman
1932-2007

Locally owned & operated.
Online since 1999

Articles & photographs that appear in SitNews are protected by copyright and may not be reprinted or distributed without written permission from and payment of required fees to the proper sources.