Viewpoints
Thank you Ketchikan!
By Angie Olson
March 24, 2008
Monday PM

I am so proud to call Ketchikan my home! My friends and I decided to put together a community Easter egg hunt out at Ward Lake, the support we received was amazing!!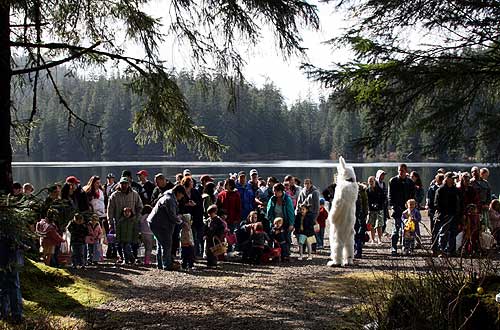 Ages 0-5 yrs. waiting for the hunt to begin.
Photo by Angie Olson.

I'd like to recognize the following businesses and individuals for their contributions which made this possible;
Credit Union 1
VFW
Ketchikan Ready Mix
Ketchikan Harley Riders
Wal Mart
Mike Smithers Pool
The Landing
Pattison and Sons Carpentry
Ketchikandies
Ketchikan H2O
Tatsuda IGA
Downtown Drug
God Father's
Annabell's
Tom Bellanich
Ellen and Stan Oaksmith IV
Mary Agostine
Sharon and Bill Kacenas
Danielle Kimberley
Mike Mullens
Heather Palmer
Dawn Jahnke
Jessica Inouye
Ashley Hubble
Jessie Hemminger
Shannon Sneller
Becky Weiss-Stulken
Daniel Weiss
Joe Stacy
Jeff Clark Jr.
Dave Vest
Dave Monrean
Wendy Walden
Chad Chatham
Cami and Dave Miles
James Inouye
Travis Olson
Niccole Ripley
Tina and Clint Zartman
It was an amazing day!!
Angie Olson
Ketchikan, AK

Received March 24, 2008 - Published March 24, 2008
Viewpoints - Opinion Letters:
Webmail Your Opinion Letter to the Editor
Note: Comments published on Viewpoints are the opinions of the writer
and do not necessarily reflect the opinions of Sitnews.
E-mail your letters & opinions to editor@sitnews.us
Your full name, city and state are required for publication.


SitNews ©2008
Stories In The News
Ketchikan, Alaska