Contact


Webmail Letters


News Tips


Search Sitnews


Copyright Info


Archives
Today's News


Alaska


Ketchikan


Top Stories


U.S. News


U.S. Politics


Stock Watch


Personal Finance


Science News


US Education News


Parenting News


Seniors News


Medical News


Health News


Fitness


Offbeat News


Online Auction News


Today In History


Product Recalls


Obituaries
Quick News Search


Alaska


Ketchikan


SE Alaska


Alaska News Links
Columns - Articles


Dave Kiffer


Parnassus Reviews


Fish Factor


Chemical Eye On...


Bob Ciminel


Rob Holston


More Columnists
Ketchikan


Our Troops
Historical Ketchikan


June Allen


Dave Kiffer


Louise B. Harrington
Recognition


Match of the Month


Asset Builders
Kid's Corner


Bob Morgan
Ketchikan Arts & Events


Ketchikan Museums


KTN Public Libraryt


Parks & Recreation


Chamber
Lifestyles


Home & Garden


Food & Drink


Arts & Culture


Book Reviews


Movie Reviews


Celebrity Gossip
On the Web


Cool Sites


Webmaster Tips


Virus Warnings
Sports


Ketchikan Links


Top Sports News
Public Records


FAA Accident Reports


NTSB Accident Reports


Court Calendar


Court Records Search


Wanted: Absconders


Sex Offender Reg.


Public Notices
Weather, Webcams


Today's Forecast


KTN Weather Data


AK Weather Map


Ketchikan Webcam


SE AK Webcams


Alaska Webcams


AK Earthquakes


Earthquakes
TV Guide


Ketchikan
Ketchikan Phone Book


Yellow Pages


White Pages
Employment


Employment
Government Links


Local Government


State & National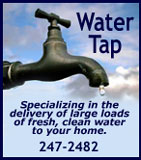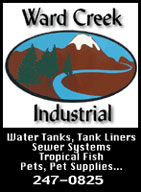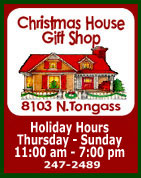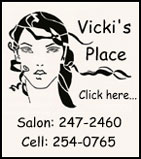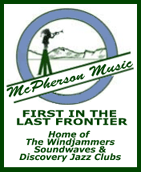 Saturday
February 23, 2008



Rally Honored Elizabeth Peratrovich's Historic Leadership
Front Page Photo by Lee Wallace

Ketchikan: Rally Honored Elizabeth Peratrovich's Historic Leadership - In honor of Elizabeth Peratrovich's historic leadership the communities of Saxman and Ketchikan organized several social and public events to commemorate Elizabeth Peratrovich Day. This year a RALLY was planned by Saxman Camp 15, in which ANB ANS members rallied with signs and banners at the corner of Jefferson and North Tongass Highway on February 15, 2008 in honor of Elizabeth Peratrovich's noble efforts. - More...
Saturday - February 23, 2008

Ketchikan: COAST GUARD SEARCHES FOR TWO UNREPORTED MARINERS - The Coast Guard announced this afternoon that a serch in underway for two unreported mariners who were transiting from Juneau to Ketchikan and have not been heard from since Wednesday.

Mike Dunn and Vern McGee left Juneau Wednesday morning aboard Dunn's 35-foot converted wooden trooler the Transition. Dunn's wife contacted the Coast Guard Friday night after not hearing from the two men since their departure. - More...
Saturday - February 23, 2008

National: Anti-poverty bill stirs blog-world controversy By LES BLUMENTHAL - It isn't a high-profile bill, but the Global Poverty Act has lit up the conservative blogosphere, and even Rush Limbaugh has gotten into the act.

Quietly approved by the House last fall with bipartisan support, the measure would require the president to develop a comprehensive strategy to help reduce extreme global poverty.

Conservative critics, including Limbaugh, Tony Perkins -- who heads the Family Research Council -- and others, claim the measure would cost U.S. taxpayers $845 billion over the next dozen or so years. They also say it would tie the United States to the United Nations Millennium Declaration, which, among other things, calls for banning "small arms and light weapons" and ratifying the Kyoto global-warming treaty, the International Criminal Court Treaty and the Convention on Biological Diversity.- More...
Saturday - February 23, 2008

National: Congress considers bill to better track child pornographers By THALIA I. LONGORIA - Mere days before her sixth birthday, Samantha Runnion was snatched from her front yard in Stanton, Calif., sexually assaulted and brutally murdered by a man who had viewed child pornography on his home computer.

"Each time he was uploading and downloading these horrible images, each of those times was an opportunity for law enforcement to identify his computer, know the location of it and investigate it, and possibly prevent a tragedy," said Samantha's mother, Erin Runnion.

Spurred by child safety advocates, Congress is considering a bill that would provide $1.05 billion over the next eight years to make it easier for authorities to track users of illegal online child pornography. - More...
Saturday - February 23, 2008

Alaska: FORMER FAIRBANKS MAYOR FOUND GUILTY OF CONSPIRACY, MISAPPLICATION OF GOVERNMENT GRANT FUNDS, MONEY LAUNDERING AND FILING FALSE TAX RETURNS - Acting United States Attorney Karen L. Loeffler announced that on February 11, 2008, that after deliberating for 5 days, a Fairbanks jury found James C. Hayes, of Fairbanks, Alaska, guilty of 16 counts of Conspiracy, Theft from a Program Receiving Federal Funds, Money Laundering and Filing False Tax Returns.

Hayes, age 62, was tried before Chief United States District Court Judge John W. Sedwick in Fairbanks.

According to Assistant United States Attorney Karen L. Loeffler, who prosecuted the case, Hayes and his wife, Murilda "Chris" Hayes were indicted on charges that they illegally diverted government funds awarded to a Fairbanks charitable organization created to aid disadvantaged Fairbanks youth. The funds were diverted for their personal use and to pay for the construction and furnishing of a Fairbanks church with which they were associated. The indictment further alleged that they committed numerous acts of money laundering to conceal the source of the diverted funds. - More...
Saturday - February 23, 2008

Alaska: Remote Alaska villages battle erosion from changing climate By TOM KIZZIA - In the Alaska village of Shaktoolik, berms of driftwood above the beach used to provide protection from the sea. But these days the storm waves travel farther, pounding into the village itself, and the "Yukon logs" are tossed around like battering rams.

Shaktoolik is the latest of a half-dozen remote Alaska villages battling drastic erosion from a changing climate. All of them face expensive options -- seawall? relocation? -- with meager resources of their own. - More...
Saturday - February 23, 2008

Alaska Science: Fifty-year-old science booklet waxes eloquent By NED ROZELL - In 1958, Paul Newman married Joanne Woodward, the U.S. launched its first satellite, Ted Williams signed with the Red Sox for $135,000, Alaska became the 49th state, and Frank Zappa graduated from a California high school.

Fifty years ago also marked the last time scientists got together all over the world for what they called an International Polar Year. As part of that effort, a renaissance man named Hugh Odishaw, who studied English literature, math, and electrical engineering, helped put together a booklet that accompanied six National Academy of Sciences posters designed to excite people about science. He did this task with enthusiasm for the International Polar Year, an event he thought was "the single most significant peaceful activity of mankind since the Renaissance and the Copernican Revolution." - More...
Saturday - February 23, 2008

Washington Calling: Recalled beef ... A good satellite ... World War I vet By LISA HOFFMAN - It's not just the meat of "downer" cattle we should be worried about infiltrating our food supply. There's little standing in the way of meat from sick pigs, sheep, goats and other animals from winding up on our plates.

Even though 143 million pounds of possibly tainted beef from ailing animals had to be recalled recently after a videotape showed workers allowing cattle too ill or weak to stand being slaughtered, at least there exist federal regulations intended to protect us from eating meat that could make us sick.- More...
Saturday - February 23, 2008

Newsmaker Interviews

Bill Steigerwald: Brian Wesbury Sees No Recession Ahead - Being an economic forecaster is as dangerous as being a weather forecaster -- the longer view you take, the harder it is to "see" the future. Nevertheless, economist Brian Wesbury must be doing something right when he looks in his crystal ball. The Wall Street Journal, where his smart and coherent op-ed pieces run frequently, named him the country's Number-One economic forecaster in 2001 and USA Today ranked him among the top 10 in 2004. Economics editor of The American Spectator magazine and a regular expert on CNBC, Wesbury is currently chief economist at First Trust Advisors L.P., a financial services firm based near Chicago. I talked to him by phone on Thursday: - More...
Saturday - February 23, 2008

Ketchikan Arts & Entertainment

Amos Hopkins: The Birth of Cool: Kim Henrickson - As this is my first freelance article writing for Sitnews, I feel that I should introduce myself. My name is Amos Hopkins and I have been a musician since the day I was born. There is only one qualification in my opinion of what makes a musician. To put it simply, a musician is one that is the maker music. Or perhaps music makes him or her. Without projecting a degree of value, music can be as simple as clapping your hands. Or it can be as complicated as sensing your body and its dimensions within space and time. The aim of this column is to feature local musicians and their work within Alaska and the Pacific Northwest. As a musician

living in this area, I have experienced that Alaska colors my life and the music I play to a hue of unimaginable saturation. The pleasure of this column is to introduce you to the musicians of this wonderful region. By reading this column you will discover the lives they live, the music they play, and get a special backstage pass to the origins of the sounds they create. In my time here I have gotten to play with many musicians. I have relished playing with all of them. But there was one in particular that I felt would be great to start with. And that is Kim Henrickson!

The Birth of Cool
Kim Henrickson

Kim Henrickson has lived here for a good while. He is a fixture of Ketchikan and a secret element within the ubiquitous woodwork of town that makes people tap their toes without knowing (a true sign of artistry). Kim is a maker of music and a player of piano. I started our interview by asking him what got him started.

"It all started when my mother bought a Chickering square grand piano for our house when I was just a kid." This is a rough translation, bare with me. "She bought it as a piece of furniture to decorate the house with more than anything!" Imagine my pleasure, in discovering that Kim's life was changed by his mother's decorating whims. Better yet, imagine his pleasure! So, Kim went on to describe his early life as a musician and how it manifested in a marching band, the epitome of blissful ridiculousness, with Kim playing the bass clarinet. I listened to all of this and was guessing that this was all terribly entertaining to him but didn't make his toes tap. Then one day Kim heard a recording of Bach's Toccata and Fugue in D minor and sat down at the old square piece of furniture to see what would happen. He banged and banged on the ivories and figured out the song. It is a strange alchemy that occurs within a person when suddenly something in their environment calls upon an inner predisposition to create things. One day you're a normal person and the next you become intoxicated by palettes of melody and rhythm. Eventually in his musical excursions, he found a piece of music that illustrated what he had been playing and promptly taught himself how to read (this is every self taught musician's distant fantasy by the way). He went on as a self-taught musician practicing classical music and being "too snooty for rock n' roll," to use his words. He said as a younger man he regretted learning to read music to some extent. - More...
Saturday - February 23, 2008




Ketchikan

Ketchikan Police Report
AK Troopers Daily Dispatch
Today's Forecast
Satellite
Today's Weather Images
Marine Forecasts
Ketchikan Weather Data
Current AK Weather Map

CLASSIFIEDS

Publish ad
Please select the proper category before posting.




CLASSIFIEDS' CATEGORIES

Announcements and
Help Wanted
For Sale / Free Stuff
Garage Sales
Homes / Apts/ Property
Pets
Wanted
Lost & Found
Local Services
Publish your ad

Front Page Archives
February 2008

| | | | | | | |
| --- | --- | --- | --- | --- | --- | --- |
| S | M | T | W | T | F | S |
| | | | | | 01 | 02 |
| 03 | 04 | 05 | 06 | 07 | 08 | 09 |
| 10 | 11 | 12 | 13 | 14 | 15 | 16 |
| 17 | 18 | 19 | 20 | 21 | 22 | 23 |
| 24 | 25 | 26 | 27 | 28 | 29 | |

More Front Page Archives

Viewpoints
Opinions/Letters
Basic Rules

Against Ketchikan Borough Land Grab: Proposed Annexation By Don Hoff Jr. - I am in total support of Sen. Albert Kookesh concerns about Ketchikan Gateway Borough attempts for annexation of 4,000 square miles of uninhabited lands. I am very concerned that annexation will cause further exploitation of all our natural resources that still belong to the Taan ta Kwaan (Sealion People) and the Saan ya Kwaan (Cape Fox People). I will not speak for the Saan ya Kwaan because it is not my place but I will speak for the Gaanax adi Clan of the Taan ta Kwaan. We object to any annexation proposals that the Ketchikan Gateway Borough Government is proposing. Annexation of these lands will have major effects on subsistence rights of our people and future land claims that are on-going and owed to us by the Federal Government for future land selections of our people. - More...
Saturday - February 23, 2008

Alternative fuel methods By Christopher Lemerond - I agree with Mr.Moon that we we need alternative methods for energy production. Biodiesel, Hydroelectric, and biomass are all good alternatives. These and other methods are the only hope for our future as humanity. The automobile companies buy off and eliminate any threat to their great empire. How long will their influence last? Will there be a day when the people stand together against pollution, rising cost of fuel, and the crippling effect they have on our wallets, and way of life? Many people struggle and worry about how they are going to pay their bills, heat their homes, and get to work this week -- just to turn around and give their hard earned dollars right back. - More....
Saturday - February 23, 2008

Legislative Audit of Gravina Bridge Project By Don Hoff Jr. - This audit is just more wasted taxpayer dollars and time for the dead proposed Gravina Island bridge project in Ketchikan. This audit will only show the citizens how much taxpayer money that has been wasted to the "bridge to no-where". Congress has put a stop to earmarked projects. What is going on now is the road to no-where, a $30 million taxpayer dollars for a road and for what? The environmental impacts on sensitive muskegs, stream crossings, wetlands, fish and wildlife should be a major concern by everybody. I would challenge anybody that these environmental concerns are being violated while being constructed. - More...
Saturday - February 23, 2008

Bridge to Nowhere By Peg Travis - Responding to Senator Stedman's letter requesting an audit of the project, I don't agree the bridge is a top state priority - or if it is - it shouldn't be. There are many higher priority issues. i.e. education, health care, senior's concerns, veteran's care and maintaining roads and existing bridges. - More...
Saturday - February 23, 2008

Barack Obama By Sam Osborne - The candidacy of Barack Obama has excited a whole new generation of previously disinterested young Americans. And though this large and swelling involvement of youth should set Democratic Party members singing Happy Days Are Here Again, a few in the ranks of the regular and older members seem averse to joining the movement and instead expect these young people to temper their idealism and switch allegiance to a candidate of their elders' choosing. - More..
Saturday - February 23, 2008

Don Young's comments By Karen Ramsey - I'm a registered Democrat who's voted for Don Young a couple of times now since residing in Alaska. A couple of comments he made while in Ketchikan recently now have me scratching my head and asking myself why on earth I would have voted for him in the past. These same comments have helped me decide to vote against him in the next election. - More...
Saturday - February 23, 2008

OF TINHORN DESPOTS AND SIMPLE THINGS By David G. Hanger - This is my last contribution to Sitnews. I am eternally grateful for the opportunity to present to you several of the interesting cases on which I have worked and my occasional opinions on other subjects, but there has come a calling, and besides the day job that calling will require all my time and energy henceforth. Grant that one old man cannot begin to clean up the mess that is Alaska politics at all levels, and accept that this old man has sense enough to know that, may it be that others restore checks and balances, integrity, and a functioning two-party (or more) system to this great state. The tinhorn despots running rampant at all levels of government in this state are becoming both inconveniently expensive and absolutely embarrassing. Good luck. - More..
Saturday - February 23, 2008

Electricity from trees By Joseph Rene DuPont - Once again I found your article on electricity from trees very interesting. - More...
Saturday - February 23, 2008

Complaints about City Workers By Linda Lingenfelter - In response to Ms. Richardson's 'bashing' City employees during the recent snowfall, the person you are pointing a finger at was one of two persons working on snow-removal that particular Sunday; - More...
Saturday - February 23, 2008

Property Tax By Beth Antonsen - According to the article in the Ketchikan Daily News the KGB assessment department was raising property tax at the most 15%. Not so. My mother's assessment went up 30%. At this rate I will have to put the fireplace back in her condo and chop some firewood, build her some window boxes so she can grow her own food and move in with her to help her with expenses. I am afraid to finish fixing my house because I won't be able to live there and afford it once the borough re-assesses that. - More...
Thursday - February 21, 2008

Borough assembly decisions By Charles Edwardson - Bronze statues, bowl factories, defunct veneer mills, defunct economic development advisory boards due to no money to run it, higher properties taxes just for the heck of it, oh! And never mind - increased funding for school activities to try to reinforce our kids' connections to this community so they may think twice about leaving this area. - More...
Thursday - February 21, 2008

Smoke Alarms By Carol Baines - Regarding smoke detectors: I think that if there are children in the dwelling, it should be against the law to remove the battery from a smoke detector, and the law should be strictly enforced. What's the point of having a smoke detector if it's going to be disabled? - More...
Thursday - February 21, 2008

City taxes and sorry service By Eileen Small - To add to the voice: I have TWO properties in K-kan and get taxed out the you-know-what on both. I have paid all my taxes on both. It wouldn't irk me so much if I saw that I got something for my money. As it stands, the city hasn't picked up my home trash in over a month because the trash truck won't come down my hill and won't sand the hill on which I live so they CAN come down it!! DUHHHHH!!!!! And just generally does less than anywhere I have ever lived for the taxes they charge!!! I know a woman whose Dad retired from the city and she tells me that 10 years ago, the streets were taken much better care of than now. Surprise, surprise! - More...
Thursday - February 21, 2008

A job VERY WELL done! Keeping up with the snow. By Bobbie McCreary - I was very impressed with the dedication shown by our governments to work on keeping our roads cleared and our paths safe to travel (as safe as they could given the conditions.) Early in our long stretch of snow and ice I saw City workers clearing sidewalks that did not pass by residences or businesses..in particular the block of Grant going uphill from the Police Station. - More...
Thursday - February 21, 2008

All neighborhoods don't receive equal services By Lou Ann Richardson - Must be nice to live on Jackson Street during heavy snow fall and have city crews come through hauling out massive amounts of snow and clearing out driveways. I've heard there's at least one city employee who lives on Jackson St., is that what it takes to get the extra effort? - More...
Thursday - February 21, 2008

Ferry system failures By Ronald Currit - This is a letter I sent to Governor Palin adding my voice to the dissension about the Ferry system.

I would like to take this opportunity to add my voice to the long list of people complaining about the ferry system. - More...
Thursday - February 21, 2008

Alaska Marine Highway By Michael Nelson - I was seriously considering taking my 6 year old daughter to Ketchikan and then out to Craig this coming summer so that she could meet friends and family. Having grown up in Ketchikan, I have been riding on the blue canoes since the days of the Wickersham, so nostalgia was driving my decision to take my daughter to Southeast on the AMHS. Yet, even before I started reading all of the letters regarding the AMHS, I did some date crunching and pricing and frankly realized that the AMHS was narrowing my window of opportunity and also pricing me right out of the trip. - More...
Thursday - February 21, 2008

More Letters/Viewpoints
Webmail your letter or
Email Your Letter To: editor@sitnews.us

---

E-mail your news tips, news
releases & photos to:
editor@sitnews.us

SitNews
Stories in the News
©1999 - 2008
Ketchikan, Alaska

M.C. Kauffman, Webmaster/Editor, &
Graphic Designer
webmaster@sitnews.us

In Memory of SitNews' first editor,
Dick Kauffman
1932-2007

Locally owned & operated.
Online since 1999

Articles & photographs that appear in SitNews are protected by copyright and may not be reprinted or distributed without written permission from and payment of required fees to the proper sources.