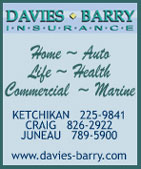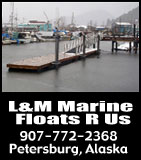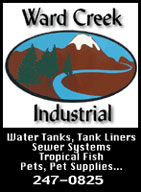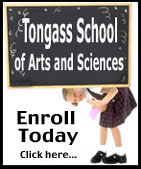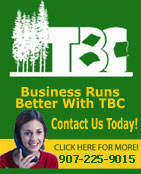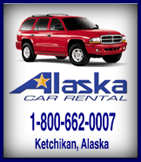 Contact


Webmail Letters


News Tips


Search Sitnews


Copyright Info


Archives
Today's News


Alaska


Ketchikan


Top Stories


U.S. News


U.S. Politics


Stock Watch


Personal Finance


Science News


US Education News


Parenting News


Seniors News


Medical News


Health News


Fitness


Offbeat News


Online Auction News


Today In History


Product Recalls


Obituaries
Quick News Search


Alaska


Ketchikan


SE Alaska


Alaska News Links
Columns - Articles


Dave Kiffer


Parnassus Reviews


Fish Factor


Chemical Eye On...


Bob Ciminel


Rob Holston


More Columnists
Ketchikan


Our Troops
Historical Ketchikan


June Allen


Dave Kiffer


Louise B. Harrington
Recognition


Match of the Month


Asset Builders
Ketchikan Arts & Events


Ketchikan Museums


KTN Public Library


Parks & Recreation


Chamber
Lifestyles


Home & Garden


Food & Drink


Arts & Culture


Book Reviews


Movie Reviews


Celebrity Gossip
On the Web


Cool Sites


Webmaster Tips


Virus Warnings
Sports


Ketchikan Links


Top Sports News
Public Records


FAA Accident Reports


NTSB Accident Reports


Court Calendar


Court Records Search


Wanted: Absconders


Sex Offender Reg.


Public Notices
Weather, Webcams


Today's Forecast


KTN Weather Data


AK Weather Map


Ketchikan Webcam


SE AK Webcams


Alaska Webcams


AK Earthquakes


Earthquakes
TV Guide


Ketchikan
Ketchikan Phone Book


Yellow Pages


White Pages
Employment


Employment
Government Links


Local Government


State & National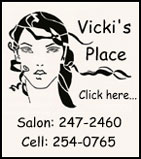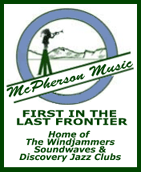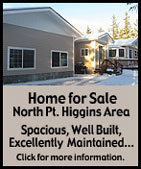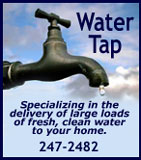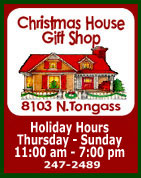 Monday
April 14, 2008



Saxman's Canada Geese
Front Page Photo by Cindy Balzer

National: IRS promises identity-theft protection in testimony to Senate By JONNA KNAPPENBERGER - Thousands of people each year send in their income taxes only to be told by the Internal Revenue Service that they have already filed.

It is not a welcome surprise. It is identity theft.

In testimony Thursday to the Senate Finance Committee, Russell George, Treasury Department inspector general for tax administration, said there are two types of taxpayer identity theft.

In one, someone files a return under a stolen name and Social Security number to steal the refund. In another scenario, someone steals a Social Security number as an employee and the income taxes are assigned to the wrong person. - More...
Monday - April 14, 2008

National: Study: Americans not making the best use of leisure hours By JANET ZIMMERMAN - Watching those endless reruns of "Friends" and "CSI" may be compromising your happiness.

So says a team of five university professors who devised a scientific method to quantify people's emotions during certain activities. What they found: Americans are not making the best use of their leisure hours.

While our standard of living has increased over the 40 years studied -- with less time spent on mundane household chores and more minutes of "neutral downtime," such as watching TV -- our happiness levels haven't. - More...
Monday - April 14, 2008

Fish Factor: King salmon crunch By LAINE WELCH - Chinook salmon lovers will face huge shortages due to big cut backs in catches. West Coast fisheries have been called off; and, driven by abundance based dictates of the U.S./Canada Pacific Salmon Treaty, chinook catches in Southeast Alaska will be cut in half to just 170,000 fish. Southeast hatcheries will add an additional 20,000-40,000 kings to the harvest.

"We dropped below a million kings for the entire North American harvest last year, so it will be interesting again this year," said market analyst Chris McDowell of the Juneau-based McDowell Group.

There are three major king salmon fisheries in North America: the west coast states of Washington, Oregon and California, B.C. Canada and all the Alaska fisheries combined.

King salmon harvests topped two million fish just a few years ago and built a huge following by upscale retailers and restaurants. When the fish started to get scarce in 2006, demand pushed dock prices for Alaska troll caught winter kings to $10 a pound.

"Part of what drove the prices so high for us in 2006 and 07 was a good deal of unmet demand from all of these strong harvests in the earlier part of the decade. The problem with unmet demand is that it only goes unmet for so long before it goes somewhere else," McDowell said.

High end markets will always pay top prices for winter kings ­ which last week were retailing at $32.95 a pound in Seattle and $26 in Juneau. - More...
Monday - April 14, 2008

Alaska: The latest word on Alaska birds by NED ROZELL - Some news from the Alaska Bird Conference, held this spring in Fairbanks:

A barred owl in Juneau. Unknown in Alaska before the late 1970s, barred owls are now the second most-abundant owl in Southeast. Photo by Paul Suchanek.

The barred owl, once a rarity in Alaska, is now one of the most common owls in Southeast Alaska. The 20-inch owl with a call that sounds like "Who cooks for me? Who cooks for you all!" is a common forest resident east of the Great Plains, but has been on the move lately. In the 20th century, the owls expanded westward and northward, with the first documented sighting near Juneau in 1978. Michelle Kissling of the U.S. Fish and Wildlife Service in Juneau reported that researchers found about 13 barred owls from 1978 to 1990, but from 2000 to the present, they found more than 100, making the barred owl the second most common owl in Southeast. The most common owl in Southeast is the northern saw-whet owl, which sounds like the owl version of a large truck backing up. - More...
Monday - April 14, 2008

Ketchikan: Arts & Events This Week - Southeast Alaska Music Festival - The Southeast Alaska Music Festival will be held this week in Ketchikan. It's Ketchikan's turn to host this exciting program for student musicians of Southeast. Many exciting events are scheduled for April 16-19th at Kayhi, with choirs, bands, jazz groups, solo and ensembles performing before judges. Students will attend clinics in all of these areas of interest. Students from across Southeast converge for three days of music, and performances are open to the public. Call 225-8250 for more info.

National Library Week brings Story Hour Special Guests. In honor of National Library Week the Ketchikan Public Library will have special guest readers during Story Hour. Police Officer Natalie White will read stories and talk about her job as a police officer beginning at 10:30 am on Wednesday, April 16th. April 17th, Veterinarian Nicole Deal will read stories and talk about his job. Lastly, Dentist Elmo Guerrero will read and talk about his work on April 18th. All ages are welcome! Call 225-8250 for more information.

Family Night. The Association for the Education of Young Children and the Public Library presents another Family Night at the Library beginning at 5:30 pm on April 17th. Come to the library for food, fun and free books. Space is limited so free tickets must be picked up in advance at the library. The theme this month is "Banking for Kids" and Sarah Griffin of First Bank will do a presentation about saving for the future. The first 60 kids will get a free piggy bank! Call 225-8250 for more info. - More...
Monday - April 14, 2008

Columns - Commentary

Tom Purcell: Tortured by Taxes - The worst week of the year is upon us, and, boy, am I miserable.

Tax Cloud
Artist Daryl Cagle, MSNBC.com
Distributed to subscribers for publication by Cagle Cartoons, Inc.

Every year, on April 15th, you see, I gut my savings account to pay the government its share of my earnings. It takes me the entire week to recover. I recover by searching the Internet for others who have suffered tax woes. - More...
Monday - April 14, 2008

Dave Kiffer: Go North!!! - So, I was minding my own business sitting in a public convenience in a large western American airport - okay, SEATAC - recently.

No, I was not using my computer. I don't travel with one because my trusty UNIVAC is not considered carry-on (although technologically it could be considered 'carrion.').

Yes, I have been thinking about getting a laptop abacus to go with my desktop one, but I just haven't made that technological leap yet.

And no, I was not using my cell phone. Even if I did have one with me, I would not bring it in to the bathroom. Some things are just private, people!!!! - More...
Monday - April 14, 2008

Deroy Murdock: More drilling, please - How much more pain must Americans endure before our masters in Washington let oil companies punch a few holes in the Alaskan tundra? Must we shiver pennilessly in the dark before we may extract new domestic petroleum deposits? Or shall we simply keep buying $111 barrels of oil from people who want us dead?

In case Congress missed the news, three U.S. airlines went broke last week. Aloha, ATA, and Skybus blamed in part unaffordable fuel as they grounded their jets. Aloha said sayonara to 1,900 employees, NBC News reports. ATA's demise destroyed 2,200 jobs, while Skybus sacked 450 workers, atop the 80,000 positions lost across the economy as unemployment spiked from 4.8 percent in February to 5.1 in March. - More...
Monday - April 14, 2008




Public Opinion Poll

The General Services Administration, landlord of the downtown Federal Building, plans to paint the structure this summer. Should GSA go with the original, historic white; or retain the "pink salmon" color?

Poll Ended
April 04, 2008

Ketchikan

Ketchikan Police Report
AK Troopers Daily Dispatch
Today's Forecast
Satellite
Today's Weather Images
Marine Forecasts
Ketchikan Weather Data
Current AK Weather Map

CLASSIFIEDS

Publish ad
Please select the proper category before posting.




CLASSIFIEDS' CATEGORIES

Announcements and
Help Wanted
For Sale / Free Stuff
Garage Sales
Homes / Apts/ Property
Pets
Wanted
Lost & Found
Local Services
Publish your ad

More Front Page Archives

Viewpoints
Opinions/Letters
Basic Rules

Helen Finney, my friend By Julie Kay Smithson - Helen Finney. Even her name evokes a smile and always the memory of those sparkling blue eyes. This vibrant and special woman was my friend. - More...
Monday PM - April 14, 2008

Streets are not safe for roaming animals By Kimberly Morton - I am writing today to express my frustration in seeing dogs get hit outside of my work. In the last month I have or others have witnessed three dogs get hit by cars by Deermount and Tongass Ave. I was driving down today when a black lab and another mix ran right out into the street and hit a car. The car of course slowed down but the dog ran away, and the car drove off. It amazes me the lack of concern for the welfare of these dogs. Hopefully the car that hit the dog called animal control, I know I did as soon as I got back into the office. - More...
Monday PM - April 14, 2008

More Hillary Clinton Tall Tales By Mark Neckameyer - This weekend Senator Clinton, in a bid to differentiate herself from supposedly elitist Senator Obama who had dissed small town folks during a San Francisco fundraiser last week, told a story about her Dad taking her to her Grandpa's house to shoot guns, target practice after church. She made herself sound like a a cross between Billy Graham's daughter and Annie Oakley. What comes next? We find out she didn't have a Grandfather? She wouldn't answer press questions today about when she last fired a gun OR went to church. Hillary certainly has been a major anti-gun person most of her public life. She enthusiastically supported aggressive gun control lobbying against firearm manufacturers throughout her husband's term in the White House so when the conversion? Didn't she obviously do this just for the sake of, to hoodwink blue collar voters in Indiana and Pennsylvania? - More...
Monday PM - April 14, 2008

Unique Opportunity By Cathy LeCompte - It struck me recently that our municipalities and elected officials of Ketchikan are presented with a unique opportunity to collaborate with two organizations who are working tirelessly in their endeavors to make Ketchikan a better place. I have had the chance to observe both groups and I have never seen, in my fifteen years of working with non profit organizations, two grassroots efforts that are so focused and well thought out. - More...
Saturday - April 12, 2008

Alaskans should not be penalized for stimulating economic growth By Governor Sarah Palin - With just a few days left in the 25th Alaska Legislature, the final actions taken by lawmakers will have a major impact on Alaska and Alaskans. HB 111, a critical bill which would lower the Business License Fee, is currently stalled. - More...
Saturday - April 12, 2008

Thank you By Dawn Uttke - Thanks to all who have made donations for Jeremy Raymond. He is still at Harborview, and the recovery process is going well. We may see his smiling face back in town within the next 6 weeks. - More...
Saturday - April 12, 2008

WMD's in Iraq By Charlotte Tanner - My conspiracy theory for the missing WMD's in Iraq is that the United States tried to "plant" them and failed. - More...
Saturday - April 12, 2008

Thank You By Tessa Hammoms - I would like to say a huge Thank You to the lady who took our dog 'Charlie" to the vet, after he was hit by a car on Saturday, April 5th. During all the chaos and tears, we never did get her name, as she was leaving as we arrived. - More...
Wednesday PM - April 09, 2008

Care for Ketchikan's Elders By Eileen Small -I truly enjoyed Shannon Guthrie's response. I believe that she is a caring provider. I agree with her comparison to buying a dozen eggs --- yet what we all must remember is that some of our elderly COULD NOT BUY A DOZEN EGGS without help. For instance my Mom cannot see or hear --- go figure. Mom has worked her entire life. She was never "on the dole". She did NOT have 8 kids by 7 men and collect government compensation for her bad behavior. She was a "Rosy the Riveter" during the war. After that she did well in the real estate and insurance businesses. - More...
Wednesday PM - April 09, 2008

Snow and the Roads By Sean "Sully" Sullivan - The whole time I lived in K-Town, I hated winter the most. Not because of the snow but because of the drivers in the snow. - More...
Wednesday PM - April 09, 2008

Where are Iraqi's WMDs? By Ken Solch - There is, if anyone would care to research it, much info to show that Iraq's WMDs were moved just before we attacked to Syria and the Bekka Valley in Lebanon. There are maps online showing the several sites that they were transferred to back then. The Russian special forces - Spetsnaz - did this with the help and complicity of Saddam's regime and his close allies in Syria. - More...
Wednesday PM - April 09, 2008

Re: Quality Care By Shannon Guthrie - I completely agree with the overall direction that Eileen Stated in the "Quality of Care for Elders". Being a Care provider myself, and having worked with the elderly for over a year, I think that it is not only important for Care providers to being competent of the job they are hired to do, but also compassionate and caring for the person/people they work with. This is what most people who enter the Health Care Field are aware of when they make the decision to become whichever profession they choose. - More...
Tuesday PM - April 08, 2008

Egg Hunt clean up By Angie Olson - There were about 7 of us that went around that day to pick up the garbage. I'm sure much was missed, but have gone back twice twice then. It may take some time, but we will be continuing our clean up efforts until the job is complete. - More...
Tuesday PM - April 08, 2008

Egg Hunt By Jim Lewis - I would like to thank the people who put the Sunday Easter Egg hunt together. Thank you. Even though I didn't have any children there it was a joy to view with beautiful weather. - More...
Tuesdy PM - April 08, 2008

Why is anyone a Democrat? By Mark Neckameyer - Every death of a valiant American soldier is a terrible tragedy. Irregardless of the ranting of Liberal Democrats who want us to surrender in Iraq now (at least that is what they say in the "I am more of a dove than you" Democrat Presidential Primaries!) it is important to keep things in perspective while remembering that freedom is not free. There were 39 combat related killings in Iraq in January. In the fair city of Detroit alone there were 35 murders in the month of January. Detroit is just one American city, about as deadly as the entire war-torn country of Iraq . Have you read lately about the adventures of Detroit's Democrat mayor? Freedom is never free. In World War 2 from 1941-1945, 450,000 American lives were lost, an average of 112,500 per year. Over the past 5 years the war on terror has claimed around 750 American lives per year, trending down now and remember, when the Muslim terrorists bombed New York on 9/11, 3,000 innocent lives were lost in just one business center. They have their evil eyes on lots more of our buildings but they have not been successful even once in the past six years. Thank you George W. Bush! - More...
Tuesday PM - April 08, 2008

Let's make use of the veneer mill scrap logs By Margaret Cloud - There are some large piles of logs at the veneer mill that are not usable for veneer. Some of these logs have already been sold or given away for fire wood. This wood is really the community's wood as it is our money that has been used for years at the site. - More...
Monday - April 07, 2008

Easter Egg Hunt By Charlotte L. Glover - I know firsthand how much work go into making successful public events and I am glad that everyone enjoyed the Easter Egg Hunt at Ward Lake coordinated by Angie Olson, but I have to express my disappointment at the mess that was left behind. - More...
Monday - April 07, 2008

More Letters/Viewpoints
Webmail your letter or
Email Your Letter To: editor@sitnews.us

---

E-mail your news tips, news
releases & photos to:
editor@sitnews.us

SitNews
Stories in the News
©1999 - 2008
Ketchikan, Alaska

M.C. Kauffman, Webmaster/Editor, &
Graphic Designer
webmaster@sitnews.us

In Memory of SitNews' first editor,
Dick Kauffman
1932-2007

Locally owned & operated.
Online since 1999

Articles & photographs that appear in SitNews are protected by copyright and may not be reprinted or redistributed without written permission from and payment of required fees to the proper sources.