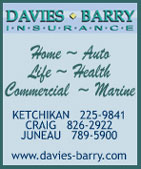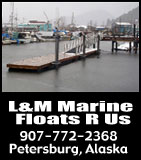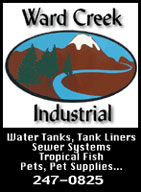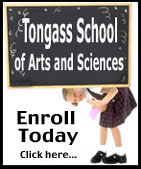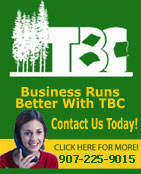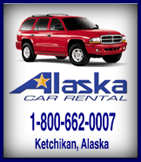 Contact


Webmail Letters


News Tips


Search Sitnews


Copyright Info


Archives
Today's News


Alaska


Ketchikan


Top Stories


U.S. News


U.S. Politics


Stock Watch


Personal Finance


Science News


US Education News


Parenting News


Seniors News


Medical News


Health News


Fitness


Offbeat News


Online Auction News


Today In History


Product Recalls


Obituaries
Quick News Search


Alaska


Ketchikan


SE Alaska


Alaska News Links
Columns - Articles


Dave Kiffer


Parnassus Reviews


Fish Factor


Chemical Eye On...


Bob Ciminel


Rob Holston


More Columnists
Ketchikan


Our Troops
Historical Ketchikan


June Allen


Dave Kiffer


Louise B. Harrington
Recognition


Match of the Month


Asset Builders
Ketchikan Arts & Events


Ketchikan Museums


KTN Public Library


Parks & Recreation


Chamber
Lifestyles


Home & Garden


Food & Drink


Arts & Culture


Book Reviews


Movie Reviews


Celebrity Gossip
On the Web


Cool Sites


Webmaster Tips


Virus Warnings
Sports


Ketchikan Links


Top Sports News
Public Records


FAA Accident Reports


NTSB Accident Reports


Court Calendar


Court Records Search


Wanted: Absconders


Sex Offender Reg.


Public Notices
Weather, Webcams


Today's Forecast


KTN Weather Data


AK Weather Map


Ketchikan Webcam


SE AK Webcams


Alaska Webcams


AK Earthquakes


Earthquakes
TV Guide


Ketchikan
Ketchikan Phone Book


Yellow Pages


White Pages
Employment


Employment
Government Links


Local Government


State & National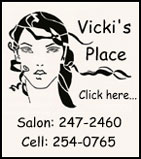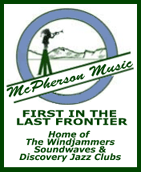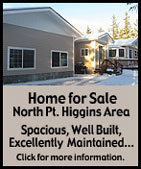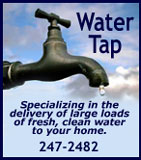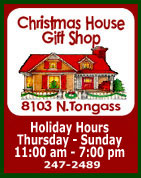 Saturday
April 12, 2008



'The Lois Anderson'
"Lois Anderson" with two boats in tow heading north in Ketchikan's rain
Saturday. Annette Island is barely visible in the background.
Front Page Photo by CARL THOMPSON

Ketchikan: UA Board of Regents heads to Ketchikan Campus - The University of Alaska Board of Regents meets in Ketchikan Thursday and Friday, April 17 & 18, to consider a host of new academic offerings, including an associate degree in playwriting at Prince William Sound Community College, a doctorate degree in natural resources and sustainability at the University of Alaska Fairbanks, and several new programs for the University of Alaska Southeast, including a pre-engineering certificate, associate degree in business, and master's of education degrees in educational leadership and mathematics.

The two-day meeting at UAS' Ketchikan Campus begins at 8 a.m. Thursday at the Ted Ferry Civic Center in Ketchikan. Public testimony is scheduled from 10:30-11:30 a.m. Thursday and again Friday from 8-9 a.m. Board members will receive tours of the Ketchikan Upper Campus and Ketchikan Tech Center, as well as a community reception at the tech center. The meeting is expected to wrap up by 3 p.m. Friday.

The meeting's academic and student affairs agenda is heavy, with seven new programs up for consideration. "This academic lineup is proof we're as strong as ever in responding to Alaska's educational and workforce needs," said UA President Mark Hamilton.

Dan Julius, the university's vice president for academic affairs, noted the proposed new programs have solid campus support and funding in place. "Most of these proposals take university resources that we already have in hand and create a certificate or degree that our students want and need," Julius said. - More...
Saturday - April 12, 2008

Ketchikan: Phytoplankton Workshop Scheduled for April 24-25 - The University of Alaska Southeast Ketchikan Fisheries Technology program is sponsoring a phytoplankton collection and monitoring workshop for shellfish growers in the region April 25-26, 2008 at the UAS Ketchikan Technical Center, located at 600 Stedman. Registration is limited to 20 participants and limited space is still available.

The two day workshop will provide training to shellfish growers on collection, sampling and identification of phytoplankton, including those species that cause harmful algal blooms. Some types of phytoplankton can cause shellfish to become toxic thus making the consumption of the shellfish dangerous. Paralytic shellfish poisoning, or red tide, is the one of primary concern in Alaska waters. Appropriately collecting, sampling and identifying these microscopic organisms can help shellfish farmers better understand bloom dynamics as they relate to shellfish production. Relatively little is known about harmful algal bloom dynamics in Southeast Alaska and increased knowledge related to blooms may provide useful information to shellfish growers and harvesters.

Two nationally recognized researchers in phytoplankton monitoring will be presenting at the workshop. Steve Morton Ph.D., is from NOAA's National Center for Coastal Ocean Science Center for Coastal Environmental Health and Biomolecular Research in Charleston, South Carolina and Vera Trainer Ph.D., is the Director of the Harmful Algal Bloom Program at NOAA's Northwest Fisheries Science Center, They will provide technical education of toxic phytoplankton identification and toxic algal cell filtering and enumeration. - More...
Saturday - April 12, 2008

Alaska: Alaska Democratic Party Calls on Sen. Stevens To Answer Questions - The Alaska Democratic Party challenged Sen. Ted Stevens yesterday to answer questions about his role in the Republican corruption scandal, and invited him to point out specific items on the Democrats website that are inaccurate or distort his record.

On Thursday, Stevens asked Mark Begich to request that the Democratic Party to take down its web site, claiming it "smears and distorts" his record. RetireTed.com reveals some of the many ways Senator Stevens, who is under federal investigation for corruption, has misused his public office.

"If anything on RetireTed.com is inaccurate, Sen. Stevens can point that out and we will correct it," said Alaska Democratic Party Chair Patti Higgins. - More...
Saturday - April 12, 2008

Alaska: Spring 2008 Revenue Forecast Released - Alaska Department of Revenue Commissioner Patrick Galvin on Firday released the FY 2008 Spring Revenue Forecast. General Purpose Unrestricted Revenue (GPUR) for FY 2008 is projected to total $8.6 billion, a state record. Unrestricted oil revenues are expected to generate $7.8 billion in FY 2008 and $6.4 billion in FY 2009, representing 91% and 90% of GPUR, respectively. Alaska's new production tax is projected to bring in about $4.9 billion, or close to 58% of the revenue total. Total unrestricted oil revenues are forecasted to be almost $80 million higher than the preliminary Spring 2008 forecast. This forecast incorporates information from the annual production tax reports for 2007, filed April 1, 2008. - More...
Saturday - April 12, 2008

Alaska: Alaska Legislature Stops Real ID Act Implementation - The Alaska Legislature approved legislation rejecting implementation of the federal Real ID Act. Lawmakers believe the federal law infringes on the fundamental right to privacy of Alaskans and would effectively bring about a national ID card system. The legislation ­SB202- opts Alaska out of REAL ID by forbidding the funding of anything that would further REAL ID compliance. SB202 is sponsored by Sen. Bill Wielechowski, D-Anchorage.

"The Real ID Act just goes too far," said Wielechowski. "It turns a driver's license into a tracking card and tells the federal government nearly everything you do from buying a gun, entering a federal facility or just taking your family to a national park. If we fail to stop the Real ID Act now, our personal privacy will be gone forever." - More...
Saturday - April 12, 2008

Alaska: Work on Omnibus Crime Bill Wraps Up - Friday the Alaska House of Representatives uinanimously passed the 2008 Omnibus Crime Bill (SB 265). This year's sweeping package of public safety measures makes a number of sound changes to the state's criminal code. It is sponsored by Sen. Lesil McGuire, R-Anchorage.

"This omnibus bill was a really efficient way to bring together all the good public safety bills that legislators were working on this session," said Senator McGuire. "I appreciate that my bill was selected to bring them together into one package. This legislation goes a long way to helping law enforcement and the judicial systems make our neighborhoods and families even safer." - More...
Saturday - April 12, 2008

Alaska: Convicted Sex Offenders, Kidnappers Required To Turn in e-mail Addresses - The Alaska Legislature passed significant legislation Thursday to protect Alaska's children from convicted sex offenders and child kidnappers that may use the internet to search for new victims. Sen. Bill Wielechowski, D-Anchorage is the prime sponsor of Senate Bill 185, a bill requiring convicted sex offenders to register their e-mail addresses, instant messaging addresses and any other internet communication identifiers with the Alaska Department of Public Safety.

"Anyone capable of abusing or kidnapping a child gives up some personal freedoms and privacy even after release from prison," said Wielechowski. "We know that the internet is the new hunting ground for sexual predators so our laws need to guard children and adults from being victimized." - More...
Saturday - April 12, 2008

Alaska: Bill Protecting Firefighters Heads to Governor - The Alaska State Senate on Friday passed House Bill (HB) 200, legislation adding disease presumption to workers' compensation claims for volunteer and professional firefighters. The bill, sponsored by Rep. Nancy Dahlstrom, R-Eagle River/Anchorage, lays out specific qualifiers including, but not limited to, health exams, tenure and level of education that must be met to qualify for the presumption when filing a workers' comp claim.

"House Bill 200 establishes a presumption in the worker's compensation program to volunteer and professional firefighters for certain types of cancer and disease," said Rep. Dahlstrom. "It is a bill that some feel is long overdue for those who selflessly respond to the emergency and health needs of our communities across the state. During the course of a regular day on the job, firefighters are routinely exposed to dangerous chemicals such as asbestos and benzene, carcinogenic substances and carbon monoxide that such puts them at a higher risk for potential illness. - More...
Saturday - April 2, 2008

Alaska: Search & Rescue Volunteers Gain Workers' Comp Coverage - The Alaska State Senate has unanimously passed House Bill (HB) 320, a measure that will protect volunteer search and rescue personnel. The bill, sponsored by House Finance Committee Co-Chair Kevin Meyer, R-Anchorage, treats search and rescue volunteers assisting the Alaska State Troopers in a mission as state employees for the purpose of providing workers' compensation. While the State of Alaska provides workers' compensation to many different types of volunteers, the brave men and women assisting the Troopers in search and rescue missions have not been covered. - More...
Saturday - April 12, 2008




Public Opinion Poll

The General Services Administration, landlord of the downtown Federal Building, plans to paint the structure this summer. Should GSA go with the original, historic white; or retain the "pink salmon" color?

Poll Ended
April 04, 2008

Federal Building
File Photo by Dick Kauffman

Ketchikan Federal Building Added to National Register of Historic Places - To some locals it is the "Big Pink."

The workers within its walls often call it the "Pepto (Bismo) Palace." - Read this archived story by DAVE KIFFER...

Ketchikan

Ketchikan Police Report
AK Troopers Daily Dispatch
Today's Forecast
Satellite
Today's Weather Images
Marine Forecasts
Ketchikan Weather Data
Current AK Weather Map

CLASSIFIEDS

Publish ad
Please select the proper category before posting.




CLASSIFIEDS' CATEGORIES

Announcements and
Help Wanted
For Sale / Free Stuff
Garage Sales
Homes / Apts/ Property
Pets
Wanted
Lost & Found
Local Services
Publish your ad

More Front Page Archives

Viewpoints
Opinions/Letters
Basic Rules

Unique Opportunity By Cathy LeCompte - It struck me recently that our municipalities and elected officials of Ketchikan are presented with a unique opportunity to collaborate with two organizations who are working tirelessly in their endeavors to make Ketchikan a better place. I have had the chance to observe both groups and I have never seen, in my fifteen years of working with non profit organizations, two grassroots efforts that are so focused and well thought out. - More...
Saturday - April 12, 2008

Alaskans should not be penalized for stimulating economic growth By Governor Sarah Palin - With just a few days left in the 25th Alaska Legislature, the final actions taken by lawmakers will have a major impact on Alaska and Alaskans. HB 111, a critical bill which would lower the Business License Fee, is currently stalled. - More...
Saturday - April 12, 2008

Thank you By Dawn Uttke - Thanks to all who have made donations for Jeremy Raymond. He is still at Harborview, and the recovery process is going well. We may see his smiling face back in town within the next 6 weeks. - More...
Saturday - April 12, 2008

WMD's in Iraq By Charlotte Tanner - My conspiracy theory for the missing WMD's in Iraq is that the United States tried to "plant" them and failed. - More...
Saturday - April 12, 2008

Thank You By Tessa Hammoms - I would like to say a huge Thank You to the lady who took our dog 'Charlie" to the vet, after he was hit by a car on Saturday, April 5th. During all the chaos and tears, we never did get her name, as she was leaving as we arrived. - More...
Wednesday PM - April 09, 2008

Care for Ketchikan's Elders By Eileen Small -I truly enjoyed Shannon Guthrie's response. I believe that she is a caring provider. I agree with her comparison to buying a dozen eggs --- yet what we all must remember is that some of our elderly COULD NOT BUY A DOZEN EGGS without help. For instance my Mom cannot see or hear --- go figure. Mom has worked her entire life. She was never "on the dole". She did NOT have 8 kids by 7 men and collect government compensation for her bad behavior. She was a "Rosy the Riveter" during the war. After that she did well in the real estate and insurance businesses. - More...
Wednesday PM - April 09, 2008

Snow and the Roads By Sean "Sully" Sullivan - The whole time I lived in K-Town, I hated winter the most. Not because of the snow but because of the drivers in the snow. - More...
Wednesday PM - April 09, 2008

Where are Iraqi's WMDs? By Ken Solch - There is, if anyone would care to research it, much info to show that Iraq's WMDs were moved just before we attacked to Syria and the Bekka Valley in Lebanon. There are maps online showing the several sites that they were transferred to back then. The Russian special forces - Spetsnaz - did this with the help and complicity of Saddam's regime and his close allies in Syria. - More...
Wednesday PM - April 09, 2008

Re: Quality Care By Shannon Guthrie - I completely agree with the overall direction that Eileen Stated in the "Quality of Care for Elders". Being a Care provider myself, and having worked with the elderly for over a year, I think that it is not only important for Care providers to being competent of the job they are hired to do, but also compassionate and caring for the person/people they work with. This is what most people who enter the Health Care Field are aware of when they make the decision to become whichever profession they choose. - More...
Tuesday PM - April 08, 2008

Egg Hunt clean up By Angie Olson - There were about 7 of us that went around that day to pick up the garbage. I'm sure much was missed, but have gone back twice twice then. It may take some time, but we will be continuing our clean up efforts until the job is complete. - More...
Tuesday PM - April 08, 2008

Egg Hunt By Jim Lewis - I would like to thank the people who put the Sunday Easter Egg hunt together. Thank you. Even though I didn't have any children there it was a joy to view with beautiful weather. - More...
Tuesdy PM - April 08, 2008

Why is anyone a Democrat? By Mark Neckameyer - Every death of a valiant American soldier is a terrible tragedy. Irregardless of the ranting of Liberal Democrats who want us to surrender in Iraq now (at least that is what they say in the "I am more of a dove than you" Democrat Presidential Primaries!) it is important to keep things in perspective while remembering that freedom is not free. There were 39 combat related killings in Iraq in January. In the fair city of Detroit alone there were 35 murders in the month of January. Detroit is just one American city, about as deadly as the entire war-torn country of Iraq . Have you read lately about the adventures of Detroit's Democrat mayor? Freedom is never free. In World War 2 from 1941-1945, 450,000 American lives were lost, an average of 112,500 per year. Over the past 5 years the war on terror has claimed around 750 American lives per year, trending down now and remember, when the Muslim terrorists bombed New York on 9/11, 3,000 innocent lives were lost in just one business center. They have their evil eyes on lots more of our buildings but they have not been successful even once in the past six years. Thank you George W. Bush! - More...
Tuesday PM - April 08, 2008

Let's make use of the veneer mill scrap logs By Margaret Cloud - There are some large piles of logs at the veneer mill that are not usable for veneer. Some of these logs have already been sold or given away for fire wood. This wood is really the community's wood as it is our money that has been used for years at the site. - More...
Monday - April 07, 2008

Easter Egg Hunt By Charlotte L. Glover - I know firsthand how much work go into making successful public events and I am glad that everyone enjoyed the Easter Egg Hunt at Ward Lake coordinated by Angie Olson, but I have to express my disappointment at the mess that was left behind. - More...
Monday - April 07, 2008

More Letters/Viewpoints
Webmail your letter or
Email Your Letter To: editor@sitnews.us

---

E-mail your news tips, news
releases & photos to:
editor@sitnews.us

SitNews
Stories in the News
©1999 - 2008
Ketchikan, Alaska

M.C. Kauffman, Webmaster/Editor, &
Graphic Designer
webmaster@sitnews.us

In Memory of SitNews' first editor,
Dick Kauffman
1932-2007

Locally owned & operated.
Online since 1999

Articles & photographs that appear in SitNews are protected by copyright and may not be reprinted or redistributed without written permission from and payment of required fees to the proper sources.