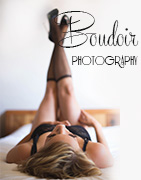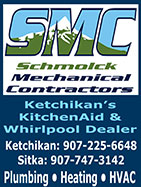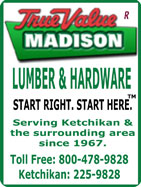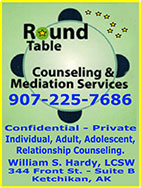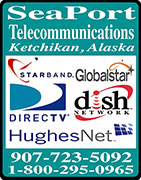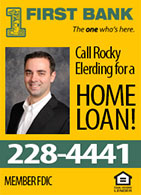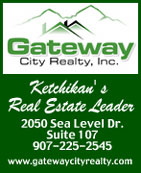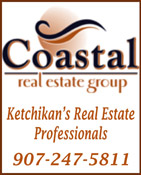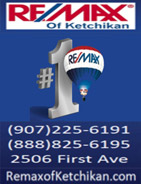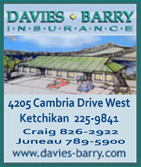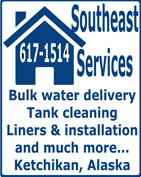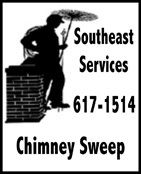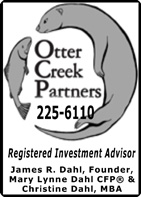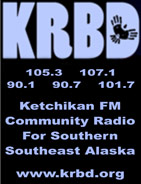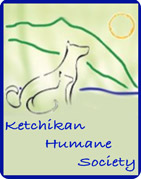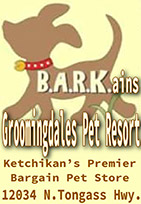 Contact


Call 617-9696


Webmail Letters


News Tips


Copyright Info


Archives
Quick News Search


Alaska


Ketchikan


SE Alaska


Alaska News Links
Columns - Articles


Dave Kiffer


Fish Factor


Money Matters
Historical Ketchikan


June Allen


Dave Kiffer


Louise B. Harrington
Ketchikan Arts & Events


Ketchikan Arts


Ketchikan Museums


KTN Public Library
Sports


Ketchikan Links
Public Records


FAA Accident Reports


NTSB Accident Reports


Court Calendar


Recent Filings & Case Dispositions


Court Records Search


Wanted: Absconders


Sex Offender Reg.


Public Notices
Weather, Webcams


Today's Forecast


KTN Weather Data


AK Weather Map


AK Weathercams


AK Earthquakes

TV Guide


Ketchikan
Ketchikan Phone Book


Yellow Pages


White Pages
Government Links


Local Government


State & National

Humpback Breaching
A local Craig fisherman had an inspiring sight when this magnificent humpback breached near him. Breaching occurs when a whale, especially a humpback, flips itself entirely out of the water, twists in midair, and lands loudly on its side.
Front Page Photo By GLENN WILBER ©2015
Click Here to express your appreciation to the photographer and select your Favorite Front Page Photo(s) of the Month
(Submit your photograph to be featured on the SitNews' front page. Email photo to editor@sitnews.us include your name and a brief photo description.)

Southeast Alaska: BC's Mount Polley Mine to Re-Open; Alaskans to British Columbia: Your Downstream Neighbors are Watching By MARY KAUFFMAN - Southeast Alaskans expressed concern for the future of their most important salmon rivers after authorities in British Columbia, Canada announced last Thursday the re-opening of Mount Polley open pit copper/gold mine in south-central British Columbia. Officials granted the Mount Polley Mine conditional approval to resume limited operations. However, concerned Alaskan say the reopening is premature because recommended engineering, operational and safety changes have not been made.

The Mount Polley open pit copper/gold mine in south-central British Columbia.
Photograph courtesy Imperial Metals Corporation

Minister of Energy and Mines Bill Bennett and Minister of Environment Mary Polak announced on July 9th that after careful evaluation, statutory decision-makers with the ministries of Energy and Mines and Environment have conditionally authorized the Mount Polley Mine Corporation to begin restricted operations.

"This conditional restricted permit to re-start operations is the first of three significant steps the company needs to continue operation and does not include the ability to discharge water off the site," said Bennett. "In the early fall, the company will need a second conditional permit to treat and discharge water in order for operations to continue. Lastly, the company must submit a long-term water treatment and discharge plan to government by June 30, 2016. The mine will not be authorized to continue to operate long-term if it fails to complete either of the last two steps."

The Mount Polley Mine Corporation estimates it will take about 30 days before it can begin production now that ministry staff have amended the company's Mines Act and Environmental Management Act permits. During restricted operations, the company expects to provide jobs for up to 220 workers.

The amended Mines Act permit authorizes the company to operate at roughly half the rate of normal operations. The tailings facility will not be utilized during the operation. Mount Polley Mine will use Springer Pit, an existing open pit on the mine site, to manage the tailings.

"I know the re-start of the mine is welcome news for the communities of Likely, Williams Lake, 100 Mile House and the families that depend on the jobs the mine provides," said Bennett.

However, Alaskans are concerned. Less than a year ago, on August 4, 2014 a breach of the tailings storage facilitydyke occurred, releasing 6.6 billion gallons of toxic waste including arsenic, lead, and nickel into salmon-producing lakes and streams of the Fraser River watershed.

In response to the collapse, during the September 2014 period, the Imperial Metals company recorded costs of $67.4 million which included $20.3 million incurred for response and recovery as well as initial rehabilitation and restoration activities of the Mount Polley mine. The $67.4 million included a $47.1 million provision for future costs related to the tailings dam breach, exclusive of estimated insurance recoveries. - More...
Monday AM - July 13, 2015

Ketchikan: Agreement Beginning of Land Exchange Process - The U.S. Forest Service-Trust Land Exchange took a another step toward becoming a reality when representatives from the Forest Service and Alaska Mental Health Trust Authority (Trust) recently signed an Agreement to Initiate (ATI).

The agreement provides a roadmap to exchange land between the Trust Land Office, which manages lands for the Alaska Mental Health Trust, and the Forest Service. The ATI is similar to a business plan and illustrates the land exchange process.

The Forest Service would take over the management of approximately 18,000 acres of Trust land adjacent to the communities of Juneau, Petersburg, Wrangell, Sitka, and Ketchikan. In exchange, up to 21,000 acres of National Forest System lands would be conveyed to the Trust.

"The signing of the Agreement to Initiate is a milestone in a lengthy 10-year discussion process," said John Morrison, Acting Executive Director for the Trust Land Office. "The administrative land exchange proposal was developed in collaboration with the Alaska Mental Health Trust Authority, Forest Service, and variety of stakeholders and communities throughout Southeast Alaska."

Although a federal land exchange can be a time-consuming and arduous process, the Tongass National Forest supervisor calls this collaborative exchange a win for all involved.

"The lands that the Trust wants to convey to us are located adjacent to several Southeast Alaska communities," Forest Supervisor Earl Stewart explained. "The transfer could allow us to increase recreational opportunities for forest users. It also could enhance and complement the use of areas that are already being managed for the public." - More...
Monday AM - July 13, 2015






Fish Factor: Massive marine debris removal project begins By LAINE WELCH - Kodiak volunteers were scrambling with front end loaders and dump trucks to ready 200,000 pounds of super sacks for the first pick up of a massive marine debris removal project that begins in Alaska this week.

The month long cleanup, which is backed by a who's who of state and federal agencies, non-profits and private businesses, will deploy a 300 foot barge and helicopters to remove thousands of tons of marine debris from some of the world's harshest and most remote coastlines.

"This is a really big deal for Alaska. We have one of the world's newest and largest barges and an airlift operation that will fly over 2,000 helicopter trips from barge to shore. It is an unprecedented effort," said Candice Bressler, Public Information Officer for the state Dept. of Environmental Conservation, lead agency for the project.

Most of the debris stems from the devastating 2011 earthquake and tsunami in Japan, which sent an estimated 1.5 million tons of flotsam and jetsam afloat in the North Pacific. Japan has donated $5 million to the coast-wide cleanup up effort.

The barge Dioskouroi (the world's 5th largest; leased by Waste Management, Inc.) will load up in Kodiak on July 15, and be towed out the next day by the M/V Billie H.
The big tug will traverse the Gulf of Alaska and proceed along the Southeast coast to British Columbia, picking up debris sacks that were cached and bundled on remote beaches over past field seasons. - More...
Monday AM - July 13, 2015

Alaska: New Report Questions Wisdom of Large Oil and Gas Tax Credits - The Alaska Independent Democratic Coalition said the new report from the Alaska Department of Revenue shows a substantial negative effect on the finances of the State of Alaska from large oil and gas tax credits. The undated report concludes that North Slope oil and gas production tax credits may be an inferior investment for Alaska compared to investing in the Constitutional Budget Reserve Fund.

Several members of the Alaska Independent Democratic Coalition have questioned the effectiveness of oil and gas tax credits for the North Slope. Currently, the state is paying out more in tax credits than what is taken in from production taxes. In an effort to balance the state budget, the Alaska Independent Democratic Coalition supported a deferment of hundreds of millions in tax credits in FY 2016. That proposal was rejected by members of the Alaska House and Senate Majority. However, Alaska Governor Bill Walker recently vetoed $200 million in oil and gas tax credit payments from the FY 2016 budget.

"The oil and gas industry is vital to our state and should be supported. But at what cost? This new report shows the stark reality that our current tax credit program is not working," said House Finance Committee member Rep. Scott Kawasaki (D-Fairbanks). "We are losing money on the credits and, as this report shows, our money could be invested in better ways."

The Alaska Independent Democratic Coalition said the Alaska Department of Revenue's new report outlines, in detail, the fiscal return on the $4 billion in oil and gas tax credits from 2009-2014 compared to similar investments in the Constitutional Budget Reserve Fund. The report's authors suggest the wealth lost due to credits is at least $900 million but could be as high as $4.9 billion depending on whether or not oil production is attributed to the tax credits. - More...
Monday AM - July 13, 2015

Southeast Alaska: REWARD INCREASES TO $7,500 FOR INFORMATION ON STELLER SEA LIONS KILLED NEAR CORDOVA - Cordova District Fishermen United has upped the reward for information leading to a conviction in the case of several deliberately killed Steller sea lions discovered near Cordova last month. The group is adding $5,000 to the $2,500 reward already offered by NOAA's Office of Law Enforcement, bringing the total reward to $7,500.

(L-R) Kate Savage (NOAA), Noah Meisenheimer (NOAA), and Lt. Matthew Keiper (US Coast Guard) collect samples from a dead Steller sea lion near Cordova, Alaska. Credit: NOAA

On June 1, NOAA Fisheries received a report of several dead marine mammals on a beach near Cordova, Alaska. With support from a District 17 US Coast Guard helicopter crew, NOAA biologists and law enforcement personnel were able to reach the remote site, where they examined several dead Steller sea lions with wounds indicating they had been intentionally killed. - More...
Monday AM - July 13, 2015

Alaska: Governor Walker Appoints Marijuana Control Board Members - Governor Bill Walker (I) announced recently his appointments to the Marijuana Control Board which was created by House Bill 123 sponsored by the Governor. The Alaska State Legislature passed the bill in April. The board is tasked with developing regulations covering aspects of marijuana cultivation, processing and commercial sale. The board will include representatives from the public health and safety sectors, industry, and rural Alaska. According to the transition language in HB123, general public seats will not be appointed until after the first terms of the initial board expire.

"I am pleased to announce these five appointees to the Marijuana Control Board," Governor Walker said. "They bring with them decades of experience in public health, business development and rural issues. With their different backgrounds and diverse skill sets, they will help shepherd in regulations for this new industry. Furthermore, we will be implementing the new board in an extremely cost-conscious way. We are utilizing existing staff to support the board and will only be hiring a small number of new positions."

The Alaska Department of Revenue estimates that tax revenues will generate between $5.1 million to $9.2 million in the first year of commercial sales. - More...
Monday AM - July 13, 2015


Columns - Commentary

DAVE KIFFER:

R.U. Smarter Than Your Toilet? - So, you are all impressed with your smart phones.

Yep, yep, yep.

Ya got your iPhone 1000s and your Super Mega Galaxies and your Hyper-Dyper Whatevers.

Tell you what, I got your "unlimited data plan" right here!!

While we have been figuring out ways to ease our daily burden ("Siri, tell we how much milk I have in my fridge and what day does it expire?") the Japanese have been working really hard to make our lives truly easier.

Ladies and Gentleman, may I present……… the Smart Toilet! - More...
Monday AM - July 13, 2015

JEFF LUND: Jeff Lund and the book of no secrets - People ask me how I find ideas for columns. There were times in California it was difficult because I didn't have time to drive an hour one way to hike or fish. I do two columns a week now, but there's usually plenty to write about. That tends to happen when, at the very least, you pass half a dozen trailheads on the way home from work.

People also ask me if I ever get nervous, or how I respond to criticism. One of the nice things about writing rather than speaking is that there is no recorded evidence of my fumbling over words or mumbling like I do when I get tired after too little sleep or too many burpees. The problem is that people read and either don't get me, or disagree because I don't have the benefit of inflection, tone or retort. This happened a lot when I wrote subjective sport columns in college.

I don't get as much criticism now, but it's probably worse because people simply don't bother to read. In college I got some people fired up enough to not only finish the column but email me and tell me what I hack I was.

It didn't bother me, because early on I learned that the point was to get them reading. Write what you know, and if someone disagrees, they still paid to read you. - More...
Monday AM - July 13, 2015




Political Cartoon: Hackers
By Rick McKee ©2015, The Augusta Chronicle
Distributed to subscribers for publication by Cagle Cartoons, Inc.




Real Time U.S. Debt Clock
http://www.usdebtclock.org/

U.S. Inflation Calculator
Easily calculate the buying power of the US dollar & inflation rate from 1913-2014

U.S. Energy Info. Admin.
Heating Oil & Propane Update

Public Service Announcements
Public Meetings & Info

KGB Animal Protection

Ketchikan Borough Assembly

Live video stream of current meeting
Archived videos
Agenda and Information Packets
Assembly Meeting Minutes
Borough Records
Calendar

Ketchikan Planning Commission

Live video stream of current meeting
Agenda, Information Packets & Minutes

Ketchikan City Council

View a Video of Meeting
Agenda & Information Packets

Ketchikan School Board

Live video stream of current meeting
Agenda & Information Packets


Gravina Access Project SEIS Alternatives Development

Gravina Access Website

Police Blotters

AK Troopers Daily Dispatch
Ketchikan Police Reports
Juneau Police Reports

Ketchikan

Jobs
Today's Forecast
Satellite
Today's Weather Images
Marine Forecasts
AK Weathercams
Ketchikan Weather Data
Current AK Weather Map




CLASSIFIEDS' CATEGORIES

Announcements
Help Wanted
Job Wanted
For Sale / Free Stuff
Garage Sales
Homes / Apts/ Property
Pets
Wanted
Lost & Found
Publish Your Ad

Front Page Archives
Letter Archives
May - July 2015

| | | | | | | |
| --- | --- | --- | --- | --- | --- | --- |
| S | M | T | W | T | F | S |
| 26 | 27 | 28 | 29 | 30 | 01 | 02 |
| 03 | 04 | 05 | 06 | 07 | 08 | 09 |
| 10 | 11 | 12 | 13 | 14 | 15 | 16 |
| 17 | 18 | 19 | 20 | 21 | 22 | 23 |
| 24 | 25 | 26 | 27 | 28 | 29 | 30 |
| 31 | 01 | 02 | 03 | 04 | 05 | 06 |
| 07 | 08 | 09 | 10 | 11 | 12 | 13 |
| 14 | 15 | 16 | 17 | 18 | 19 | 20 |
| 21 | 22 | 23 | 24 | 25 | 26 | 27 |
| 28 | 29 | 30 | 01 | 02 | 03 | 04 |
| 05 | 06 | 07 | 08 | 09 | 10 | 11 |


Viewpoints
Commentary
Opinions/Letters
Basic Rules &
Freedom of Speech

Questions, please contact the editor at editor@sitnews.us or call 617-9696
Sitnews reserves the right to edit.

Alaska leaders: Put your Xtratuffs on and walk your salmon talk By Malena Marvin - Walk up to most houses in rural Southeast Alaska, including ours, and the first thing you see is an impossibly long row of battered XtraTuff rubber boots. There are boots for the family, the friends who stopped by to chat, extras for the summer folks who came to visit or work as crew, and probably a pair or two with mysterious origins. Together, they tell a story of a certain way of life, one lived by the tidelines and on the water, and one defined by adventure and hard work outdoors. - More...
Monday PM - July 13, 2015

Tobacco Tax By Chris Elliott - Like a lot of controversial topics, being on the pro-side of a tobacco tax is much easier than being against it. Being pro-life is much easier than pro-choice. Being anti-death penalty, an environmentalist, anti-gun, pro gay marriage, a believer in climate change, and a hundred other current issues is just much easier to defend. - More...
Monday PM

Raising Ketchikan's Tobacco Tax By Donald A. Johnson - Our Tax and Spend Borough Reps. are at it again. Now they want to put a $3 tax on all packages of tobacco products. And they spout the same inane reasons for the tax that we are all tired of hearing over and over again. - More...
Wednesday PM - July 08, 2015

RE: Health Care Reform Leaving Alaska Care Far From Affordable By Joe Ashcraft - With regard to the senator's letter about Obamacare increasing costs to Alaskans, the cost of the insurance is only part of the issue; there are thousands of Alaskans and millions of Americans not covered at all, who put off health care, injury reduction, and don't have checkups because her party has people who on the state level have blocked the Medicaid expansion. Yet Senator Murkowski and her family, and all her employees have a cadillac plan funded by the taxpayer. BIA, VA, Military, all government officials, public school teachers, and indeed corporate types whose cadillac plans are funded by consumers all have good, free to them, health care paid for by taxes and purchases of such individuals and businesses as mine with under 50 employees -people who all have to pay for their own as well as paying the taxes for the others; that is if they can afford to then pay for their own. - More...
Wednesday PM

Tax Credits & Expanded Medicaid By John Suter - Perhaps a deal can be made with the legislature in allowing the oil companies to have their 200 million dollars in tax credits now in exchange for the legislature allowing the expanded Medicaid to be put in. This would be a simple trade of this for that. The legislature, oil companies, rich and powerful in the lower 48 who own the stocks of these oil companies want their 200 hundred million dollars in tax credits right now without any further delay. The working poor who could use the expanded Medicaid right now so that they can get some needed medical attention would like this deal to go through as well. - More...
Wednesday PM - July 08, 2015

"IT'S ALL GONNA GO", THE BIGGEST ROBBERY IN THE HISTORY OF THE WORLD By David G Hanger - "It's all gonna go," is a quote from our district's state senator Bert Stedman in reference to all of the budgetary reserve accounts of the state of Alaska, a total of $16 billion at the beginning of the year, now down to $10 billion, and by the end of the next legislative session down to somewhere between $3 and $4 billion. Next, the complete draining of the $55 billion Alaska Permanent Fund by 2023 or so. As such this constitutes the biggest robbery in the history of the world, tens of billions of dollars and still counting, all brought to you by the thieves, liars, and sold-out crooks you folks call the Alaska State Legislature. - More...
Sunday PM - July 05, 2015

RE: KPD & KGB: What Happened? By Bonnie J Abbott Allen - Gabriel Duckworth spoke out and it is about time someone did so! So many citizens don't want to 'Rock the Boat' so to say! Gabriel your letter was great and you have helped and given to this community for years along with your family. - More...
Sunday PM - July 05, 2015

RE: Affordable health care in Alaska By Michael Spence - I read with interest Senator Murkowski's letter in Sitnews regarding the lack of affordability of health care in Alaska. - More...
Sunday PM - July 05, 2015

Kurds and Druze Threatened By Donald A. Moskowitz - The conflicts in Syria have increased the complexity of the Middle East and exacerbated the instability in the region. Terrorists have taken advantage of the instability, and have made dramatic territorial gains in Syria and Iraq. They now threaten two minorities- Kurds and Druze. - More...
Sunday PM - July 05, 2015

Independence Day By Paul Livingston - Independence Day, July 4th , the day we celebrate the Declaration of Independence, freedom from taxation without representation and the Constitution, the document that protects We the People from our government. - More...
Sunday PM - July 05, 2015

Webmail your letter or
Email Your Letter To: editor@sitnews.us

---

Articles & photographs that appear in SitNews may be protected by copyright and may not be reprinted or redistributed without written permission from and payment of required fees to the proper sources.

E-mail your news & photos to editor@sitnews.us

Photographers choosing to submit photographs for publication to SitNews are in doing so, granting their permission for publication and for archiving. SitNews does not sell photographs. All requests for purchasing a photograph will be emailed to the photographer.

The Local Paper is now available online.
Click here for this week's printed edition.