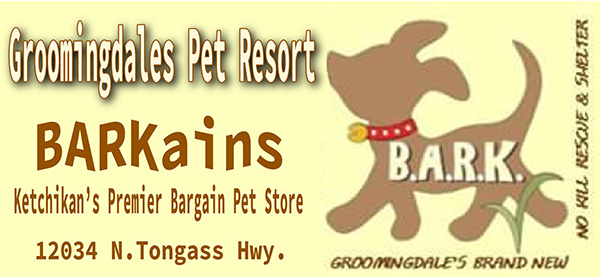 Groomingdales Pet Resort and Shelter
BARK Alaska Rescue Ketchikan
Non-profit no kill animal rescue shelter
12034 N Tongass Hwy


Ketchikan Alaska 99901
Privately Owned ~~~ Privately Operated
907-225-3647
907-617-8388
BARKains is a thrift store with donated pet related items, antiques, vintage, homemade, apparel, pet beds, collars, art, etc. We have included a basket/shelf offering free pet food for those who have fallen on hard times.
All proceeds go to B.A.R.K. animals to off set the cost of food, spays and neuters, and other medical costs.
We are accepting donations of new or gently used pet supplies or unique, one-of-a-kind items as donations (we love art and cool vintage stuff). Dust off all of those great pet toys, pet supplies, beds, pet apparel, etc. that you are no longer using. Your trash may be another pooch's treasure! Please note, consignment MAY be considered at the Pet Resort ONLY.
We would love to have your recycled treasures to fund our rescue!
Come shop at Groomingdales Pet Resort. Look for B.A.R.K. tag items throughout the store. Purchase of these reduced-cost items will assist in funding an animal in need and provide a new-to-you item for you or your pet!
Your donations can be anonymous, in your name, or in memory of a pet! This is donation YOUR Way!
Published 01/26/15