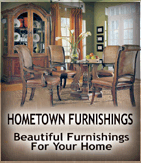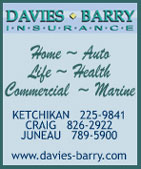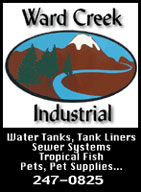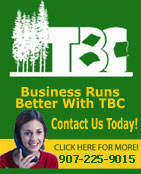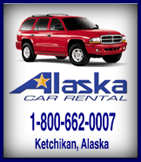 Contact


Webmail Letters


News Tips


Search Sitnews


Copyright Info


Archives
Today's News


Alaska


Ketchikan


Top Stories


U.S. News


U.S. Politics


Stock Watch


Personal Finance


Science News


US Education News


Parenting News


Seniors News


Medical News


Health News


Fitness


Offbeat News


Online Auction News


Today In History


Product Recalls


Obituaries
Quick News Search


Alaska


Ketchikan


SE Alaska


Alaska News Links
Columns - Articles


Dave Kiffer


Fish Factor


Career Success Stories


Parnassus Reviews


Chemical Eye On...


Bob Ciminel


Rob Holston


More Columnists
Ketchikan


Our Troops
Historical Ketchikan


June Allen


Dave Kiffer


Louise B. Harrington
Recognition


Match of the Month


Asset Builders
Ketchikan Arts & Events


Ketchikan Museums


KTN Public Library


Parks & Recreation


Chamber
Lifestyles


Home & Garden


Food & Drink


Arts & Culture


Book Reviews


Movie Reviews


Celebrity Gossip
On the Web


Cool Sites


Webmaster Tips


Virus Warnings
Sports


Ketchikan Links


Top Sports News
Public Records


FAA Accident Reports


NTSB Accident Reports


Court Calendar


Court Records Search


Wanted: Absconders


Sex Offender Reg.


Public Notices
Weather, Webcams


Today's Forecast


KTN Weather Data


AK Weather Map


Ketchikan Webcam


SE AK Webcams


Alaska Webcams


AK Earthquakes


Earthquakes
TV Guide


Ketchikan
Ketchikan Phone Book


Yellow Pages


White Pages
Employment


Employment
Government Links


Local Government


State & National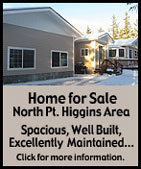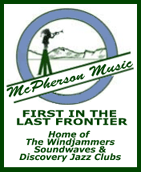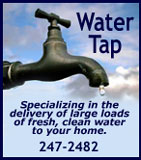 Tuesday
June 03, 2008



Heart Warming II
Ketchikan High School and Sitka teams members volunteered to work with the T-Ball team (ages 4 to 7) during a break between their games. The group posed for the photograph after the T-Ball game. Read Coach Dave Smith's letter.
Front Page Photo by Mike Houts (Kayhi Assistant Softball Coach)

Alaska: Exxon Valdez decision expected this month By ERIKA BOLSTAD and TOM KIZZIA - The U.S. Supreme Court this month is expected to issue its decision on the Exxon Valdez oil spill lawsuit, a case Alaskans have been waiting on for nearly 14 years.

The court generally issues its decisions on Mondays. The Exxon case is due out before the Supreme Court term ends June 23. Justices give no hint of their decisions until they are released.

The Supreme Court appeal, a dispute over $2.5 billion in punitive damages, is the final legal case remaining from the March 1989 spill in which the ruptured tanker Exxon Valdez dumped at least 11 million gallons of crude oil into Prince William Sound. The court is weighing the biggest punitive damages award ever upheld in federal court, and considering what punitive standards to apply in maritime cases.

"They always leave their toughest ones until last, that's what everybody always says," said Anchorage attorney David Oesting, part of the legal team representing the commercial fishermen, Alaska Natives and others who are plaintiffs in the lawsuit against the oil giant.

In Cordova, home to much of the Prince William Sound fishing fleet, fishermen are tired of the years of waiting. They're more worried about the unusually late arrival of Copper River salmon, said Jerry McCune, president of Cordova District Fishermen United. - More...
Tuesday - June 03, 2008

National: 40 years after RFK's death, questions linger By MICHAEL TAYLOR - The assassination was over in a few seconds. In a photograph, Bobby Kennedy lies on his back on a hotel pantry floor, his head cradled by a busboy in white -- a tableau that seems almost angelic were it not so brutal.

Right after winning the California primary, Robert F. Kennedy was shot early on the morning of June 5, 1968. He died less than 26 hours later, at age 42.

But questions about his assassination remain. Sirhan Sirhan, convicted of killing Kennedy 40 years ago this week in the Ambassador Hotel in Los Angeles, is living out his days in the California state prison at Corcoran. Now 64, he has never fully explained what happened that night other than to say he can't remember it.

A Palestinian, at 12 he moved with his family to Southern California. He held a series of menial jobs and had hoped to be a jockey. - More...
Tuesday - June 03, 2008

Careers

Ketchikan: Interview with Clint Shultz By DAWN RAUWOLF - Having served our country as a proud member of the United States Marine Corps, Clint Shultz well understands, and instinctually lives by, the guiding principles of honor, courage, and commitment. Because these values define the heart of his character, it is within his expectations to excel in his pursuit of higher education. Shultz attends the University of Alaska Southeast-Ketchikan where, in 2008, he graduated cum laude with his Bachelor of Liberal Arts degree with plans to go on to earn his Master's degree in Teaching. He is in his third year of working for the Ketchikan Gateway Borough School District as a para-professional in special education at Houghtaling Elementary School.

Clint Shultz
Photograph courtesy UAS Ketchkan

Shultz was raised in Unalakleet, Alaska, and graduated from high school in a class of only fifteen students. He exemplified the spirit of determination even before he decided to follow his grandfather and father in becoming a Marine. After the initial boot camp, Shultz received an additional six months of training in the firefighter academy. He then managed to complete a few college courses at the University of South Carolina after he was selected to serve as an aircraft rescue firefighter. Those freshman courses gave Shultz a taste of college life and eased the transition when he decided to continue his educational pursuits here at our Ketchikan campus.

Shultz has been diligently taking classes since 2003. He says, "It's been pretty much non-stop from the beginning. My mom and dad have always encouraged me and they knew I'd do well in education. They are both here in Ketchikan, working in education as well."

Shultz has spent the last six years as a college student, and he says, "I am excited about graduating. I like what I'm going to be." His excellent grades have earned him membership in Phi Theta Kappa, the two-year university honors society. - More...
Tuesday - June 03, 2008

Asset Builders of the Month:
Ketchikan's Boys and Girls Club
Michael Q. (staff members Chris Corrao, Megan Mix, Tony Azure- director, Kelley Ryan, Meagn Hanifin,) Eli M., Keagan H., John B., Maria B., Paul B., (front row) Bronson M., Ian W., Chance H., Bailey R., Emily C., Mollie R., Austin W., Kellie K., Pauline P., Mitchell R., and Kylee J.
Photograph courtesy PATCHWorks

Recognition

Ketchikan: Asset Builders of the Month: Ketchikan's Boys and Girls Club - PATCHWorks has presented their monthly "Asset Builder" award to Ketchikan's Boys and Girls Club and the dedicated staff that make this program/facility available to so many of Ketchikan's youth. By providing healthy after-school-hours options for school-aged children, the Boys and Girls Club is fulfilling a vital community need.

The primary goal of the Club is based on developing positive interaction by creating an atmosphere where caring, professional adults establish positive relationships with youth. This involves some of the simple but important practices of knowing children's names, regularly checking in with them about how their day is going, and actively participating and interacting with them in their learning, games and activities.

Power Hour starts the afternoon whereby for a minimum of 30 minutes students are encouraged and helped to complete their homework. Those that finish are encouraged to read. No other activity goes on during this Power Hour. Students earn points and Club Bucks by completing homework and actively participating in the curricular programs. - More...
Tuesday - June 03, 2008

Columns - Commentary

Bill Steigerwald: Big Media Ignores Young Obama's Leftist Mentors - So, asked Washington Post star political reporter Dana Milbank, are you saying Barack Obama "is a communist"?

Milbank was -- by default -- the most charismatic member of the mainstream media in attendance at America's Survival, Inc.'s provocative press conference on May 22 in Washington, D.C.

But he had not come to the basement of Ebenezer Coffee House to report fairly on the right-wing group's media event. He came to mock it.

Milbank had no intention of cooperating with America's Survival, Inc.'s attempt to goad Big Media into investigating the hard-core leftists who mentored and/or influenced Sen. Obama when he was a teenager and later when he was a community organizer in Chicago. - More...
Tuesday - June 03, 2008

Preston MacDougall: Chemical Eye on Regular Unleaded Sputnik - The price of oil is now cruising at levels that were considered unattainable when President Bush gave tax breaks to people who bought SUVs.

Congress has taken action by subsidizing renewable biofuels like grain alcohol, but only succeeded in launching the price of staple foods.

It seems to me that the sky-high price of gasoline has had an effect on Americans today that is similar to what Sputnik's overhead flight did back in October of 1957. People have been surprised by it, and feel insecure even though a beeping fuel pump does not physically threaten them. They want the government to do something that solves the problem without creating bigger ones. - More...
Tuesday - June 03, 2008

Dale McFeatters: Fantasy ball reaches base safely - The Supreme Court refused to get involved in a dispute between fantasy leagues and professional baseball, to the dismay of the major leagues, and perhaps office managers and spouses as well who have lost time and loved ones to the obsessive hobby.

This means that for-profit online fantasy leagues can use the names and statistics of professional athletes without paying a licensing fee. - More...
Tuesday - June 03, 2008

Martha Randolph Carr: Forgiveness - Holding any past event in our heart and mind that doesn't sit well with us is a design flaw meant to drive us crazy. How else to explain our unique ability to pull out yet again what happened in a long-lost childhood and relive the pain as if it were happening now. Scientists have even proven that the brain doesn't know the difference between what is actually happening and what we have chosen to drum up and it suffers the same chemical wash the first time as the 130th time we yank it back out again.

No other living creature has the ability to do that. Dogs and cats may learn to mistrust and growl at the sight of you or to come running when you get to the door but as far as we know they aren't sitting there in the living room all alone stewing over that time you cut the walk short. That's our talent and we love to do it. We know the harm it causes and we still do it. - More...
Tuesday - June 03, 2008




Public Meetings

7:00 pm - Thursday - June 5, 2008: The Ketchikan City Council will hold a regular meeting in the City Council Chambers
Download the agenda and information packets pdf (Once the agenda is downloaded to your computer, click on the various items on the agenda to download each packet of detailed information.)

Ketchikan

Ketchikan Police Report
AK Troopers Daily Dispatch
Today's Forecast
Satellite
Today's Weather Images
Marine Forecasts
Ketchikan Weather Data
Current AK Weather Map

CLASSIFIEDS

Publish ad
Please select the proper category before posting.




CLASSIFIEDS' CATEGORIES

Announcements and
Help Wanted
For Sale / Free Stuff
Garage Sales
Homes / Apts/ Property
Pets
Wanted
Lost & Found
Local Services
Publish your ad

More Front Page Archives

Viewpoints
Opinions/Letters
Basic Rules

Alaska's Personal Information Protection Act By Sen. Gene Therriault & Re. John Coghill - For the past four years we have worked together with other legislators in a true bipartisan effort to pass legislation to protect the identity of individual Alaskans. In the modern world of electronic commerce and massive databases, it is now common place to read headlines detailing the latest data breach and steps that can be taken by people to protect themselves. However, as the concern by Alaskan consumers grew, it became increasingly apparent that Alaska laws lagged behind most states when it came to personal information protection. With that in mind we set out to develop a solution to help you better protect yourself. These efforts resulted in the passage of House Bill 65 this year, and Alaska is now poised to become a leader in protecting individuals' personal information while allowing modern commerce to continue. - More...
Wednesday - June 04, 2008

Congratulations Ketchikan Assembly By Lance Mertz - I was happy to see that you stuck to your earlier decision and confirmed the lease of White Cliff for the Borough offices. Dawson says it will have the building ready in seven months and I believe them. - More...
Wednesday - June 04, 2008

RE: Noise Pollution: Continued By Savanah Stewart - There might be a shooting range in the Ketchikan city limits, but at least you know when you hear a shot ring out it's the gun range and not some lunatic shooting up your neighborhood. - More...
Wednesday - June 04, 2008

Re: One last point By Kathleen Svenson - Eileen Small's "One Last Point" letter is particularly disturbing. Not only does the comparison between adult behavior by an adult (American in Aruba) and this child ejected from Kanayama for "not fitting in" not add up, but Small's referring to the Ketchikan child as "chaffe," is really way out of line. - More...
Wednesday - June 04, 2008

Unsupervised young people By Charles Ratcliff - Obviously, the Natalee Holloway case was very tragic. But the letter specifically mentioned young people traveling out of the country. Do you not concede that young people without proper adult supervision also create a high-risk group for irresponsible behavior when they travel domestically? Every year, there are fatalities in Panama City Beach, Florida that involve unsupervised young people behaving irresponsibly. - More...
Wednesday - June 04, 2008

Downtown / Newtown by Rodney Dial - Ketchikan has come a long way since the demise of the pulp mill and it's exciting to see the improvements occurring in the downtown and Newtown areas. If I could make a suggestion to our elected officials it would be to keep a close eye on the image being communicated to our visitors, especially during the weekend nights. - More...
Monday - June 02, 2008

K-Hi/Sitka Softball Class Acts By Dave Smith - As the Iraq war drags on, and the Polar Bear count drops, I witnessed cause for hope this last Saturday afternoon. The K-Hi girls were in the midst of a several game weekend with the Sitka Wolves, and my little T-Ball team (ages 4 to 7) and I were scheduled for a game in between, while the high school girls took a break. As the girls wrapped up their game in the hot sun, I approached K-Hi head coach Joe Austin, and asked if any of his girls would like to be in the dugout or on the field with the T-ball girls? Joe asked his team, and much to my surprise I think all of them stayed. - More...
Monday - June 02, 2008

Noise Pollution: Continued By Sharon Preston - I'm happy to see my letter got some attention. I have received some calls at home in support of my view. However, some of you may have missed the main point. "The firing range within city limits and close proximity to homes is a bad idea" was my main point. The floatplanes are a whole other issue. - More...
Monday - June 02, 2008

Damen Bell-Holter By A. M. Johnson - Was not the article on Demen Bell-Holter in Saturday's issue of the Ketchikan Daily News uplifting, inspiring,gratifying and compelling? Mr. Cohen caught the spirit of this lad in words that can only encourage other like mined young persons to take it up another notch. Particularly noticed was the candor relating to his desire to succeed at every opportunity and his expectations of having to demonstrate this desire at the college level. - More...
Monday - June 02, 2008

Getting the message out By Kathleen Svenson - Expatriate Tony Hatano-Worrell, writing from half a world away, appears to have more information and to know more about the Kanayama Board deliberations leading up to the ejection of the student who had participated in all fundraising and educational activities than the student's own family knows! Is Hatano-Worrell a Kanayama Board member too? It's unclear exactly who the Kanayama Board members are; it's a kind of secret society. Apparent board members are: Ginny Clay, Jim Alguire, Gail Alguire, Ole Sullivan, Pat Perrier, Eileen Truitt, Carrie Allen, Christa Bruce, and who knows who else. Hatano-Worrell it appears. With a board that refuses to share its by-laws and which has no due process, nor policies and procedures for Ketchikan students, anything is possible after all. - More...
Monday - June 02, 2008

A Bit Harsh By Kathleen Svenson - Eileen Small's harsh criticism of a Ketchikan student who went on the Kanayama Student Exchange to Japan a few years ago was way out of line. The student simply became separated from the student's father-chaperone and the group of students in a Japanese city because the child walked out the wrong door of a shop. According to the child's father, the child was only "lost" for about a half-hour. According to the Kanayama Board it was five hours. Some people say the student was located by cell phone GPS; others say our cell phones don't work there. Who knows? This story has passed into legend as far as I'm concerned, and to dredge it up now seems peculiar at best. - More...
Monday - June 02, 2008

Reverend Pflagler Quid Pro Quo? By Mark Neckameyer - Rev. Michael Pfleger, the race baiting, rabble rousing proclaimed buddy of Rev. Wright, Louis Farrakhan and Senator Barack Obama, clearly went way over the line this week in his loudly cheered racist, anti-feminist tirade at Wright/Obama's Trinity church. He sounded every bit as terrible as any White Supremacist or Klansman ever has on the other extreme side as he mocked and belittled Hillary Clinton and the entire White race. As soon as the video got out, Obama faintly rejected the man and even Pflager made a halfhearted apology but is this enough? - More...
Monday - June 02, 2008

One last point By Eileen Small - One last point: I am sure that all parents and many young people remember the tragic mess in Aruba several years ago when a young woman on her senior trip went "missing" and still remains so -- probably dead -- today. - More...
Monday - June 02, 2008

More Letters/Viewpoints
Webmail your letter or
Email Your Letter To: editor@sitnews.us

---

E-mail your news tips, news
releases & photos to:
editor@sitnews.us

SitNews
Stories in the News
©1999 - 2008
Ketchikan, Alaska

M.C. Kauffman, Webmaster/Editor, &
Graphic Designer
webmaster@sitnews.us

In Memory of SitNews' first editor,
Dick Kauffman
1932-2007

Locally owned & operated.
Online since 1999

Articles & photographs that appear in SitNews are protected by copyright and may not be reprinted or redistributed without written permission from and payment of required fees to the proper sources.