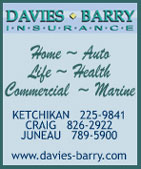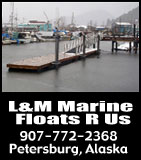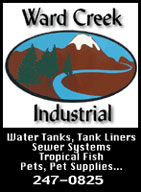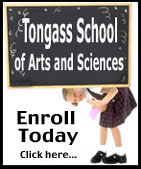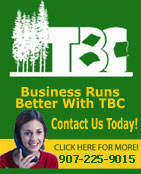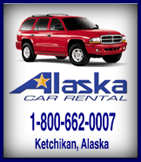 Contact


Webmail Letters


News Tips


Search Sitnews


Copyright Info


Archives
Today's News


Alaska


Ketchikan


Top Stories


U.S. News


U.S. Politics


Stock Watch


Personal Finance


Science News


US Education News


Parenting News


Seniors News


Medical News


Health News


Fitness


Offbeat News


Online Auction News


Today In History


Product Recalls


Obituaries
Quick News Search


Alaska


Ketchikan


SE Alaska


Alaska News Links
Columns - Articles


Dave Kiffer


Parnassus Reviews


Fish Factor


Chemical Eye On...


Bob Ciminel


Rob Holston


More Columnists
Ketchikan


Our Troops
Historical Ketchikan


June Allen


Dave Kiffer


Louise B. Harrington
Recognition


Match of the Month


Asset Builders
Ketchikan Arts & Events


Ketchikan Museums


KTN Public Library


Parks & Recreation


Chamber
Lifestyles


Home & Garden


Food & Drink


Arts & Culture


Book Reviews


Movie Reviews


Celebrity Gossip
On the Web


Cool Sites


Webmaster Tips


Virus Warnings
Sports


Ketchikan Links


Top Sports News
Public Records


FAA Accident Reports


NTSB Accident Reports


Court Calendar


Court Records Search


Wanted: Absconders


Sex Offender Reg.


Public Notices
Weather, Webcams


Today's Forecast


KTN Weather Data


AK Weather Map


Ketchikan Webcam


SE AK Webcams


Alaska Webcams


AK Earthquakes


Earthquakes
TV Guide


Ketchikan
Ketchikan Phone Book


Yellow Pages


White Pages
Employment


Employment
Government Links


Local Government


State & National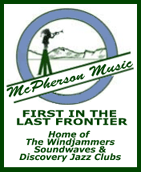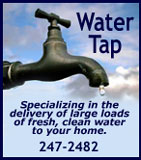 Monday
April 21, 2008



Tongass Sunset
Front Page Photo by Aubrey Lee

Ketchikan: UA Regents expand program options for students - University of Alaska students have seven new programs to choose from, following a meeting of the Board of Regents Thursday and Friday in Ketchikan.

The board approved a new associate degree in playwriting at Prince William Sound Community College in Valdez, a doctorate degree in natural resources and sustainability at the University of Alaska Fairbanks, and several new programs at the University of Alaska Southeast, including a pre-engineering certificate, associate degree in business, and master's of education degrees in educational leadership and mathematics. Most of the programs will be available starting in fall 2008.

Several of the programs provide collaborative opportunities between the campuses. For instance, the pre-engineering certificate at UAS will provide the foundational courses for students moving toward a Bachelor of Science degree at the larger campuses in Anchorage or Fairbanks. The master's degree in educational leadership will allow students to attend two intensive, six-week courses at UAS in Juneau, but also do coursework throughout the year in the students' home communities. Meanwhile, the doctorate degree in Fairbanks also provides collaborative opportunities with the University of Alaska Anchorage.

In addition to the packed academic agenda, regents toured the UAS Ketchikan facilities, including a technology center that features a simulated training program for mariners seeking U.S. Coast Guard certification. Dale Miller, an assistant professor of marine operations, provided regents the opportunity for a hands-on trial in front of a large, flat-screen simulator. As instructor, Miller can control the weather, traffic and other aspects of the simulator to put students through rigorous exercises.

Regents expressed concern about one outcome of the recent legislative session in Juneau. While grateful for nearly $8 million in increased funding for priority academic programs -- only the fourth time in 20 years the legislature has provided specific money for programs --- regents are troubled by seven separate appropriations by campus. For the last 15 years, UA has operated under a single appropriation from the state, allowing the system to jump-start high-demand programs and shift resources to where needs are greatest.

"As a body, we need to encourage the legislature to return to a single appropriation, which is in the best interest of our campuses, especially the rural campuses. The governor understands this," noted Board Chair Mary K. Hughes. "Regents serve for eight years as the trustees of public higher education in Alaska. We spend hours pouring over these budgets with our president and chancellors. The single appropriation has allowed the university to maintain programs and campuses that otherwise would have faced significant challenges." - More...
Monday - April 21, 2008

Alaska: Begich Announces Candidacy for U.S. Senate - Saying he has heard the call from Alaskans who want him to go to Washington, DC to fight for Alaska, Mark Begich announced today that he is running for the U.S. Senate. Nearly eight weeks after forming an exploratory committee that allowed him to travel the state hearing the concerns of Alaskans, Begich said the message was Alaska is facing real challenges and it's time for a change.

"I had the chance to talk one-on-one with people in communities all across this state ­ Bethel, Kotzebue, Sitka, Kenai, Fairbanks, Juneau, Soldotna, and the Mat-Su," Begich said. "I wanted to hear how Alaskans are doing, what they're concerned about, and I wanted to know if they thought it was time for a change in Washington, DC. And you know what their answer was? Yes!"

Begich made the announcement at a noon gathering at the Mountain View Community Center. Joined by his wife, Deborah, his young son, Jacob, his mother Pegge, and a number of extended family members, Begich said Alaska is an independent state, with jobs and a strong economy, but there is much work to do for all Alaskans.- More...
Monday - April 21, 2008

Alaska: Stevens Comments on Begich's Announcement to Run for Senate - U.S. Senator Ted Stevens commented on Mark Begich's announcement to run for the Senate. Stevens said, "I learned [Sunday] as I was heading back to Washington from a weekend in Alaska that Mark Begich has announced that he intends to seek the Democratic nomination to the United States Senate."

Stevens said, "As I have said before, this race will be about who has the experience, the seniority and the proven record to best serve Alaska in the U.S. Senate. As we work to build the gas line, to make sure Alaska gets an appropriate share of offshore oil revenue and continue to work for a sound economic base for our state to provide jobs and opportunities, we need proven leadership in Washington. " - More...
Monday - April 21, 2008

Alaska: OVERDUE VESSEL FOUND, COUPLE RESCUED - The Coast Guard rescued two people Sunday after they were reported overdue near Whittier.

Derbin and Susan Hobbs were aboard a 16-foot white Bay Runner that departed Whitier Saturday for a shrimp fishing trip. When they didn't return as scheduled a concerned individual notified the Coast Guard.

A HH-60 Jayhawk helicopter was launched from Air Station Kodiak just after 4 p.m. Sunday to search for an overdue vessel in Cochrane Bay. The couple, Derbin and Susan Hobbs, was located on Esther Island, north east of Whittier. The Coast Guard found the vessel and located the couple on a nearby beach. - More...
Monday - April 21, 2008

Alaska Science: Bad desert air and a glacier that licks a river By NED ROZELL - Cathy Cahill got a package in the mail last week from a desert on the other side of the world. She didn't know what was inside, but she hoped it was air samples from Baghdad. When she opened the package, she didn't believe her eyes.

Atmospheric scientist Cathy Cahill points to two recent air samples from Baghdad, one showing dust and the other fine trapped particles from burned diesel fuel.
Photo by Ned Rozell

"I've never seen that much dust (on a slide used for air sampling)," she said. "There's so much that it's flaking off."

Cahill, who works at the Geophysical Institute at UAF, studies air quality in Alaska and all over the world. In November, Pam Clark of the Army Research Lab in Adelphi, Maryland, asked Cahill if she could deploy a few air samplers at Army camps in Iraq, as part of an Army program to study the air in places where military members are stationed. Cahill enlisted a few soldiers to help her, and she is now sampling the air around the clock at two sites in Baghdad.

Her first batch of samples came to Alaska in the form of eight transparent slides that captured things floating in the air. The slides fit inside an instrument that uses a pump to suck in air and trap different-size particles on different slides. The slides she received are all filthy, from coarse reddish-yellow dust to fine black material.

"The black is usually diesel from generators, trucks, and other stuff along those lines, Cahill said. Most of the sizes (of particles) I'm dealing with here are things that get in people's lungs."

Cahill was preparing to send some of the samples on her desk to the University of Arizona in Tucson so that scientists can look for biological material in the air that soldiers are breathing in Baghdad. She said sands often carry with them fungi and bacteria that can make people ill. She will also send a portion of the samples to Lawrence Berkeley National Laboratory in California to see the precise composition of the gunk on the slides. From her initial samples, Cahill thinks she can tell the days when dust storms struck.

"Looking at the color of the strips, they look an awful lot like the air I've seen from Beijing," she said. "They don't look like anything we'd get in Alaska." - More...
Monday - April 21, 2008




Obituaries

Beverly Ann Howe-Merrill - Beverly Ann Howe-Merrill passed away on April 6th, 2008 in Ava, Missouri at the home of her parents Charles and Betty Howe. She was born in Clinton, OK on September 20, 1960 and lived in Ava from 1960 to 1975 when the family moved to Tallahassee, FL. She graduated from Lincoln High School there in 1978. - More...
Monday - April 17, 2008

Dorothy 'Doris' R. Elerding - Former Ketchikan resident Dorothy "Doris" R. Elerding, 80, died on April 12, 2008, in Burien, Wash. - More...
Thursday - April 17, 2008

Public Meetings

Borough Assembly Meeting - Monday, April 21st at 5:30 pm in the City Council Chambers
Agenda & Information Packets

Ketchikan School Board Regular Meeting -- Wednesday, April 23, 2008 at 6:00 pm in the City Council Chambers.
Download agenda & information packets (pdf)

Ketchikan

Ketchikan Police Report (Updated)
AK Troopers Daily Dispatch
Today's Forecast
Satellite
Today's Weather Images
Marine Forecasts
Ketchikan Weather Data
Current AK Weather Map

CLASSIFIEDS

Publish ad
Please select the proper category before posting.




CLASSIFIEDS' CATEGORIES

Announcements and
Help Wanted
For Sale / Free Stuff
Garage Sales
Homes / Apts/ Property
Pets
Wanted
Lost & Found
Local Services
Publish your ad

Front Page Archives
April 2008

| | | | | | | |
| --- | --- | --- | --- | --- | --- | --- |
| S | M | T | W | T | F | S |
| 30 | 31 | 01 | 02 | 03 | 04 | 05 |
| 06 | 07 | 08 | 09 | 10 | 11 | 12 |
| 13 | 14 | 15 | 16 | 17 | 18 | 19 |
| 20 | 21 | 22 | 23 | 24 | 25 | 26 |
| 27 | 28 | 29 | 30 | | | |

More Front Page Archives

Viewpoints
Opinions/Letters
Basic Rules

Shoencliff #2 By Charles Edwardson - Whoever coined that phrase should be commended for their astute observations. Most of us can just about bet a six-pack that this coined phrase will come true. The public expressed much of this same doubtful sentiment with the other, less than successful endeavors the borough has undertaken in the past six or seven years. The public expresses their concerns and the assembly just goes about their business any way regardless of public opinion. Their record should speak for itself. - More...
Monday PM - April 21, 2008

Knowledge Is A Good Thing By Terri-Lee Gould - I have to disagree with Mr. Johnson and Ms. Ortiz about the Ketchikan Daily News story printed earlier last week on the front page of said newspaper. In my opinion the Daily News provided a valuable community service by alerting the community about this dangerous person. - More...
Monday - April 21, 2008

Empathy and a referral is in order By Cecelia Johnson - In regard to the offensive "front page article" in KTN Daily News. Although offensive, more importantly, is getting proper help for this individual who has been identified as having a medical problem in the weekend newspaper. - More..
Monday - April 21, 2008

Thank You By Melissa Jourdain - I just wanted to thank your for publishing such a beautiful article about the four men who lost their lives in the helicopter crash on Tuesday, April 15th. Michael Seward was part of our family; he was my husband Darin's best friend of nearly 30 years and Michael was a part of every milestone in our lives. - More...
Monday - April 21, 2008

Bestiality By Teri Holderman - I want to say how appalled and embarrassed I am. The decision to publish the article on bestiality on the front page of the paper was an extreme lack in judgment. - More...
Monday - April 21, 2008

Don't need to air such dirty laundry By Michael Patrick Moyer - Give us a break! I don't care how much anyone thinks it's needed that we publicize decadent behavior in order to alert others to its existence. When I went to pick up my daughters from ballet they immediately asked me if I had read the paper that day. How much crap are you willing to print in order to sell a paper? - More...
Monday - April 21, 2008

Real ID Act By Frank W. Turney - When it comes the the Senate Bill (202) not to fund any money towards the so-called Real ID Act of 2005 in Congress with no debate on our 4th amendment rights and HJR19 resolution that passed the house 33-1 and SB 202 17-3, the real KUDOS goes to the Ron Paul Coalition, Fairbanks/Northpole and Delta. They really made the difference. Over 98 percent of testimony, e-mails, phone calls POM came from Fairbanks. - More...
Monday - April 21, 2008

New attitude and positive philosophy needed By Billy Johnson - Instead of building million dollar soccer fields and dreams of moving to lower level competition . . . . maybe it's time to bring in a younger, more hungry coaching staff and philosophy to the Kayhi soccer program. - More...
Thursday PM - April 17, 2008

Schoencliff Debacle #2 By Jackie Williams - Once again, we are being offered the Schoencliff Center, or that is my opinion after reading the Introduction in the proposal from Dawson Construction to remodel the more than 75-year-old building. The mention of tenants; of other groups or agencies that have invested much time and energy, sounds just like Schoencliff Center. The collection of property tax that makes it seem like KGB will have an offset in costs, I believe will be paid by the KGB through rental fees - More...
Thursday PM - April 17, 2008

Covenant Players By George R. Pasley - A small troupe from Covenant Players has been in Ketchikan this week and will be performing at the Presbyterian Church on Sunday. - More...
Thursday PM - April 17, 2008

Attitude makes a big difference By Jerry Cegelske - "Attitude Makes The Difference!" I recently read a bumper sticker on the side of a van that had that statement on it. - More...
Thursday PM - April 17, 2008

Shocking News By Ken Lewis - Being 8-year college credits short of having a Masters Degree in aberrant behavior will not prevent me from chiming in on the recent front page article regarding animal husbandry? Or what ever higher educated folks call it! - More...
Thursday PM - April 17, 2008

Bestiality By A. M. Johnson - How often would it be that Al Johnson would agree with Ms. Ortiz (Ketchikan Daily News, Lt to the editor-Bestiality 4/16/08)? My wife and I too, were dumbfounded that a family newspaper would print tabloid crap at best, on not only the front page, but continue the detail for several columns on interior pages. This from a paper that proclaims anonymity for local police reports involving charges far less than those on this case. Yet here every available detail including the perp's name on such a distasteful subject. - More...
Thursday PM - April 17, 2008

Gravina Island Bridge By Stephanie Scott - I travel to Ketchikan from time to time, so I was surprised to hear Mayor Weinstein complain on the radio recently about how difficult it is for elders and those with physical disabilities (he mentioned crutches ) to get to and from the airport in Ketchikan. I am surprised that he doesn't know that you can drive your car to the airport on Gravina Island, or that you can be picked up and driven - thus avoiding lugging luggage and oneself up or down all those airport ramps and steps. Ketchikan has good cab, bus, and airport shuttle service. It has an excellent airport ferry. It has a superb water taxi. Gosh, if you are a passenger, and if you do not live on one of those Ketchikan "roads" that are really walkways, you can actually board a vehicle at your home and stay seated until it's time to step into the lobby of the airport. - More...
Thursday PM - April 17, 2008

Thank You By Shannon Nelson - I would also like to thank Angie Olson for the Easter Egg Hunt at Ward Lake. I am sorry I missed it but saw the pictures and I am looking forward to next year's hunt with my grandson. -- More...
Thursday PM - April 17, 2008

More Letters/Viewpoints
Webmail your letter or
Email Your Letter To: editor@sitnews.us

---

E-mail your news tips, news
releases & photos to:
editor@sitnews.us

SitNews
Stories in the News
©1999 - 2008
Ketchikan, Alaska

M.C. Kauffman, Webmaster/Editor, &
Graphic Designer
webmaster@sitnews.us

In Memory of SitNews' first editor,
Dick Kauffman
1932-2007

Locally owned & operated.
Online since 1999

Articles & photographs that appear in SitNews are protected by copyright and may not be reprinted or redistributed without written permission from and payment of required fees to the proper sources.