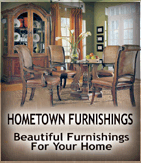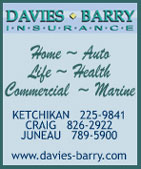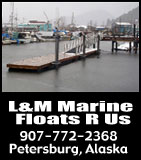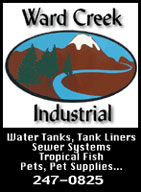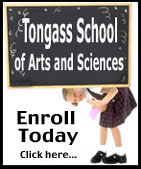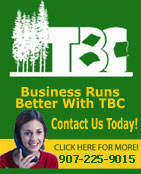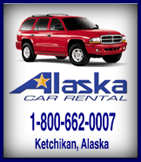 Contact


Webmail Letters


News Tips


Search Sitnews


Copyright Info


Archives
Today's News


Alaska


Ketchikan


Top Stories


U.S. News


U.S. Politics


Stock Watch


Personal Finance


Science News


US Education News


Parenting News


Seniors News


Medical News


Health News


Fitness


Offbeat News


Online Auction News


Today In History


Product Recalls


Obituaries
Quick News Search


Alaska


Ketchikan


SE Alaska


Alaska News Links
Columns - Articles


Dave Kiffer


Parnassus Reviews


Fish Factor


Chemical Eye On...


Bob Ciminel


Rob Holston


More Columnists
Ketchikan


Our Troops
Historical Ketchikan


June Allen


Dave Kiffer


Louise B. Harrington
Recognition


Match of the Month


Asset Builders
Ketchikan Arts & Events


Ketchikan Museums


KTN Public Library


Parks & Recreation


Chamber
Lifestyles


Home & Garden


Food & Drink


Arts & Culture


Book Reviews


Movie Reviews


Celebrity Gossip
On the Web


Cool Sites


Webmaster Tips


Virus Warnings
Sports


Ketchikan Links


Top Sports News
Public Records


FAA Accident Reports


NTSB Accident Reports


Court Calendar


Court Records Search


Wanted: Absconders


Sex Offender Reg.


Public Notices
Weather, Webcams


Today's Forecast


KTN Weather Data


AK Weather Map


Ketchikan Webcam


SE AK Webcams


Alaska Webcams


AK Earthquakes


Earthquakes
TV Guide


Ketchikan
Ketchikan Phone Book


Yellow Pages


White Pages
Employment


Employment
Government Links


Local Government


State & National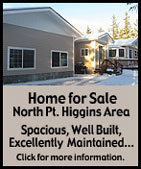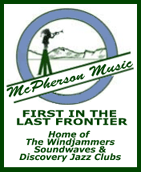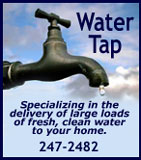 Tuesday
April 06, 2008


Connell Lake
Front Page Photo by Justin Benner

Alaska: Raise the issue of IUU fishing with the United Nations says Stevens - Senator Ted Stevens (R-Alaska) on Tuesday urged the National Oceanic and Atmospheric Administration (NOAA) to address the threat of illegal, unreported, and unregulated (IUU) fishing. He called on NOAA, the State Department, and the U.S. Coast Guard to meet with Congress and bring the issue to the United Nations.

Senator Stevens questioned Vice Admiral Conrad C. Lautenbacher, Jr. (Ret), the Under Secretary of Commerce for Oceans and Atmosphere and NOAA Administrator, about the steps being taken to prevent foreign fishing fleets from pillaging the world's oceans at today's NOAA oversight hearing.

"We've got to have legislation that's non-partisan, that's directed towards ending IUU fisheries, and if we don't, the fish that we get and we harvest for our nation off of Alaska are going to be gone," said Senator Stevens. "Already we're seeing runs completely disappear, as you know. We had areas that produced salmon for years and years and years, and all the sudden, bam, they're closed. No fish there at all. That's only coming about because of this IUU fishing. Now, I don't see a sense of urgency coming out of this plan, and I hope you would take that on. I really do. You have the capability to do it and I really think, somehow or other, we have to find a way to take this to the UN."- More....
Tuesday PM - May 06, 2008

Consumer Issues: Criminal attacks against Web sites proliferate By DEBORAH GAGE - Criminal attacks against major Web sites have grown so common that Internet users have no reliable way to know which sites are safe to visit, no matter how well known those destinations are, security experts say.

News of the latest attack comes from Finjan, an Israeli security firm, which is reporting that last month it found a large cache of information -- including confidential medical records, financial records and business e-mails -- sitting unprotected on a computer network server in Malaysia.

The data came from more than 40 major financial companies around the world, including the United States, and was stolen from computers belonging to doctors and home users conducting online banking and, in some cases, from machines inside corporate networks that the hackers managed to penetrate and infect. Finjan has notified the companies, which it declined to identify, as well as law enforcement agencies in several countries.

Included in the stolen information were medical diagnoses and insurance details, Social Security numbers, the recorded keyboard strokes of online shopping sessions and e-mails from businesses discussing an impending court case.

The largest banks "were not surprised we found this data," said Yuval Ben-Itzhak, Finjan's chief technology officer. "The second-tier banks were surprised and thanked us very much. Other businesses were also very appreciative -- overall, we had a very positive response." - More...
Tuesday PM - May 06, 2008

Alaska Science: Pollen season arrives; blame the trees By NED ROZELL - With your next breath of spring air, you'll pull dozens of invaders through your nose. These intruders may make your nose drip and your eyes red and watery.

The airborne invaders are grains of tree pollen, specks so small that it would take eight of them to cover the period at the end of this sentence. The air is rich with pollen because spring is the mating season for trees.

The first step in a tree's reproductive dance is to release sperm, safely held in the center of a pollen grain. Trees release an incredible amount of pollen to improve the odds of finding a female flower. One birch catkin (the cluster of tiny flowers that looks like a caterpillar) can release millions of pollen grains.

Birch is the worst of the Alaska pollen types for allergy sufferers, said the late Jim Anderson, former biosciences librarian for the University of Alaska Fairbanks. In addition to being a collector of neckties, teddy bears, typewriters, and other things, Anderson had a passion for pollen. He studied it for years with an air-sniffing instrument mounted on top of a building. Looking at years of data, he found a few trends in the way trees and other plants release pollen.
- More...
Tuesday PM - May 06, 2008

Ketchikan: Arson Awareness Week - May 4th through May 10th 2008 is "Arson Awareness Week", and this year's national theme is "Toy Like Lighters: Playing With Fire". Novelty lighters have become a serious problem throughout the country because of their toy like appearance. These lighters mimic common household items as well as children's toys. Many attract small children with their visual effects, flashing lights, and sounds. These lighters are not required to have child safety features like a standard lighter. Novelty lighters have been responsible for deaths, injuries, and property loss throughout the United States. Alaska State Fire Marshal David Tyler joins several other states in an effort to pass legislation banning the sale of novelty lighters.

Above and beyond the novelty lighter issue, Alaska is seeing an alarming increase in fires started by young children playing with matches and lighters. In Anchorage, a five year old boy lost his life in a fire that was started when children were playing with a lighter. Three months later in the village of Alakanuk, a sixty-four year old man died in a fire started by a four year old playing with a lighter. Three days later in the village of Wales, a five year old boy was playing with a lighter and destroyed his home. His father was injured in the fire.

Tyler said Alaskans need to step up and protect these precious kids from the devastation of fire. Young children are curious and don't understand the destructive potential of fire. Many times they are not supervised and the matches and lighters are within their reach. The following safety tips from the State Fire Marshal's Office can help protect our children. - More...
Tuesday PM - May 06, 2008

Columns - Commentary

Dave Kiffer: Real Answers to Real Questions - Spring is here!

Robins are chirping, skunk cabbage is flowering and street maintenance is being deferred once again.

And yes, visitors are asking all sorts of questions.

I like to think of myself as a pretty helpful kind of guy.

If someone asks for "a hand," I immediately start clapping.

And if someone asks me to "help them out," I immediately ask them "what way they came in."

So, with that in mind, here are the amazing, real, true answers to some of the many questions that you (as a similarly helpful kind of person who wants to show our fair Salmon City off in its most favorable light ) will encounter in the next five months. - More...
Tuesday PM - May 06, 2008

Preston MacDougall: Chemical Eye on Holey Water - I confess to a childhood curiosity about the holy water at my grandparents' Catholic church. I have the deepest respect and love for my 93 year-old grandmother Mazur, so if test-tubes were involved, it's a blessing that any such take-home experiments have been erased from my memory.

Polaroid chemistry, that I basically understand, captured the moment when I was baptized by the holy water at St. Gregory's as an infant. Later on, neuronal chemistry, that nobody understands, remembers asking for a lift so that I could spritz myself with it at the church entrance.

Chemistry is literally the scientific art of transubstantiation - turning one substance into another, usually crossing a barrier called the activation energy. But just because chemistry isn't miraculous doesn't mean it isn't mysterious. While I no longer believe that water can be holy, it was a joy to discover that it is in fact holey. - More...
Tuesday PM - May 06, 2008

Tom Purcell: Banking on Food - "I was upset about the rising cost of food, too. But then I got smart."

"Smart?"

"Look, when food costs began soaring, I complained as much as the next guy. I complained about fuel costs driving up shipping expenses, which drove up the cost of produce and meat. I complained about the emerging middle class in India and China."

"What's wrong with an emerging middle class?"

"Nothing, except that middle class folks have the means to eat well. They're driving up the demand for decent grub, which is also driving up costs. I spent a lot of time complaining about Congress."

"What does Congress have to do with rising food costs?" - More...
Tuesday PM - May 06, 2008




Public Meeting

Ketchikan

Ketchikan Police Report (Updated)
AK Troopers Daily Dispatch
Today's Forecast
Satellite
Today's Weather Images
Marine Forecasts
Ketchikan Weather Data
Current AK Weather Map

CLASSIFIEDS

Publish ad
Please select the proper category before posting.




CLASSIFIEDS' CATEGORIES

Announcements and
Help Wanted
For Sale / Free Stuff
Garage Sales
Homes / Apts/ Property
Pets
Wanted
Lost & Found
Local Services
Publish your ad

More Front Page Archives

Viewpoints
Opinions/Letters
Basic Rules

White Cliff not another Schoenbar By Lance Mertz - Reading comments about the White Cliff lease from Dawson Construction by the Borough makes me wonder if the people writing and complaining are discussing the same lease arrangement that I have read about and discussed with Borough staff. - More...
Tuesday PM - May 06, 2008

Herring Stocks and Mining By Michael Moyer - In response to Mr. Harris and his opinions concerning the decline of the Pacific Herring as a result of the release of hatchery fish, I find it strange that someone who has lived in Southeast Alaska for 60 years would have such little knowledge of the life cycle of these fishes and of the history of man's wide ranging impacts upon them. - More...
Tuesday PM - May 06, 2008

KPU Telecommunications By Dave Person - It appears that the web site address I provided concerning the city report on KPU telecommunications and union activities does not work properly. - More...
Tuesday PM - May 06, 2008

Right and Left Wings By Charlotte Tanner - I would like to point out to both Right and Left Wingers that it takes two wings to fly. - More...
Tuesday PM - May 06, 2008

THANK YOU By Jerry Cegelske- I would like to say "Thank you" to the groups that cleaned up along N. Tongass on the 19th of April. The highway looks nice in the areas they cleaned. - More...
Sunday - May 04, 2008

KPU telecommunications By Dave Person - Mr. Scott Willis made some very serious accusations recently concerning Ketchikan City senior management and the telecommunications division. I for one am very interested to know his source for that information. Please inform us Mr. Willis how you "know" certain managers near retirement are going to sell out the city, and take the money and run. Please tell us who these managers are and who informed you of their actions. Please tell us exactly what money is involved and how these senior managers plan to run with it. Before anyone should accept your comments, they should demand verification rather than believe another unfounded "Ketchikan" urban myth. I can understand your concern as a union employee about Ketchikan selling the phone company because any buyers likely would not hire union help. They cannot afford to and remain competitive with GCI, ACS, or AT&T. I am sure you are concerned that your job will disappear, which is probably why you wrote the letter to SitNews. - More...
Sunday - May 04, 2008

Sale of KPU Telecom By James Schenk - In my professional opinion the administrators of the public trust company should be ashamed of themselves for this despicable action of even considering the elimination, or sale of many good paying public union jobs for their own gain. This is a disturbing trend in Ketchikan and the public needs to rise up and voice their displeasure with any decision like this that would adversely affect the stability of our great city.These carpetbaggers have been a part of Ketchikan since its inception, but there is absolutely no reason to stand on the sidelines and watch these people sell our children's future. The industry as a whole in the electrical field grows by leaps and bounds with the telecommunications field leading the way. - More...
Sunday - May 04, 2008

THE LOWLY HERRING OF AK By Bill Harris - "HERRING" ALMOST THE LOWEST THING IN THE OCEAN FOOD CHAIN, UNTIL MAN MESSED WITH MOTHER NATURE AND DUMPED SEVERAL BAJILLION HATCHERY FISH INTO THE OCEAN, THEY DID FINE AND EVEN THRIVED. AS A KID IN SOUTHEAST AK. WE COULD ALMOST WALK ON WATER ON HERRING AND SALMON [OVER 60 YEARS AGO]. - More...
Sunday - May 04, 2008

Library and other offices By MJ Cadle - I would like to ask the city to re-open site selection for the library and to ask Joe Burns to offer the old hospital site as a potential location. This site has many positives going for it. It is downtown, it is located between 2 parking lots and could be built with additional parking either on the first level or on the top (challenging but do-able). The space could be 4 levels (not including parking) with floors for the city and borough offices. If the roof is not used for parking, it could be leased to private enterprise for a coffee stand with outdoor seating for those nice days or have a small green area for sitting. Access to Grant street parking achieved with a handicap accessible ramp and an elevator to all floors. The exterior design should be in keeping with the historic flavor of downtown just as downtown local business are required. - More...
Sunday - May 04, 2008

NEWTOWN PARKING By LAURIE PRICE - I AM CONCERNED WITH WHY THE NEWTOWN LACK OF PARKING IS A BOROUGH PROBLEM. I DID NOT RECEIVE ANY CONCERNED HELP FROM EITHER THE CITY OR BOROUGH WHEN TOTAL LACK OF PARKING PUT ME OUT OF BUSINESS IN 2007. - More...
Sunday - May 04, 2008

Aleutian Ballad Tour By Patrick Johnston - I just wanted to say thanks to the crew of the Aleutian Ballad for there hospitality last Saturday. I took several children to the boat for the open house. The kids loved it! - More...
Sunday - May 04, 2008

RE: Right Wing Conspiracy By Walt Bolling - I've ccome to realize that those on the LEFT WING are in fact stupid , as I previously thought. - More...
Sunday - May 04, 2008

City Council and Borough Assembly: Listen to the public By Charles Edwardson - To the citizens of Ketchikan, everyone including myself has the responsibility to vote in our public officials, and to run for public office if we think we can do a better job. - More...
Wednesday - April 30, 2008

RE: KPU SALE AND LIQUIDATION By Scott Willis - So who owns KPU?

The City Of Ketchikan dba Ketchikan Public Utilities. It is the City registered voters that can sell or stop the transfer of KPU Telephone in an election.

How much money are we talking about? - More...
Tuesday - April 29, 2008

Keep Asking Questions By Al Johnson - Ms. Dahl raised continued concerns regarding the mill site. As a wood burner, I too have taken to watching the clean up. - More...
Tuesday - April 29, 2008

Veneer Mill "Maintenance" By Jerilyn Lester - I agree, ENOUGH IS ENOUGH. How long are we going to put up with the KGB being soft where this mess is concerned? Although this is the same bunch that gave our emergency money to a group of men headed up by a man that never makes things work. This man had a logging company in the area and it went belly up after it wouldn't support his big salary. Again the venture went belly up when the very large salaries of the executives could not be supported. - More...
Tuesday - April 29, 2008

HELP WANTED By Bill Gass - One of the recurring themes in this forum has been the lack of recreational opportunities for young people in Ketchikan. Next week over 200 kids ranging from age 5 to 18 begin play in Ketchikan Little League and we are in need of umpires. Requirements include decent vision, selective hearing and a thick skin. Baseball knowledge is a plus. Compensation consists of a burger, fries, cold beverage and a heartfelt thank you. - More...
Tuesday - April 29, 2008

President Don Young By Peter Stanton - Browsing through the letters here I happened upon the idea that "What we need is someone like Don Young in the White House[.]" This idea truly struck me. It's amazing. A Don Young Presidency might be an unprecedented event in the history of these United States! - More...
Tuesday - April 29, 2008

More Letters/Viewpoints
Webmail your letter or
Email Your Letter To: editor@sitnews.us

---

E-mail your news tips, news
releases & photos to:
editor@sitnews.us

SitNews
Stories in the News
©1999 - 2008
Ketchikan, Alaska

M.C. Kauffman, Webmaster/Editor, &
Graphic Designer
webmaster@sitnews.us

In Memory of SitNews' first editor,
Dick Kauffman
1932-2007

Locally owned & operated.
Online since 1999

Articles & photographs that appear in SitNews are protected by copyright and may not be reprinted or redistributed without written permission from and payment of required fees to the proper sources.