Careers
A Success Story: Interview with Clint Shultz
By Dawn Rauwolf
June 03, 2008
Tuesday

Ketchikan, Alaska - Having served our country as a proud member of the United States Marine Corps, Clint Shultz well understands, and instinctually lives by, the guiding principles of honor, courage, and commitment. Because these values define the heart of his character, it is within his expectations to excel in his pursuit of higher education. Shultz attends the University of Alaska Southeast-Ketchikan where, in 2008, he graduated cum laude with his Bachelor of Liberal Arts degree with plans to go on to earn his Master's degree in Teaching. He is in his third year of working for the Ketchikan Gateway Borough School District as a para-professional in special education at Houghtaling Elementary School.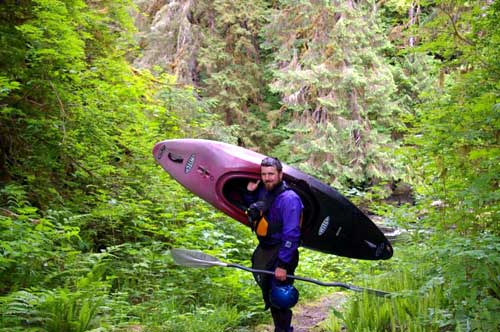 Clint Shultz
Photograph courtesy UAS Ketchkan

Shultz was raised in Unalakleet, Alaska, and graduated from high school in a class of only fifteen students. He exemplified the spirit of determination even before he decided to follow his grandfather and father in becoming a Marine. After the initial boot camp, Shultz received an additional six months of training in the firefighter academy. He then managed to complete a few college courses at the University of South Carolina after he was selected to serve as an aircraft rescue firefighter. Those freshman courses gave Shultz a taste of college life and eased the transition when he decided to continue his educational pursuits here at our Ketchikan campus.
Shultz has been diligently taking classes since 2003. He says, "It's been pretty much non-stop from the beginning. My mom and dad have always encouraged me and they knew I'd do well in education. They are both here in Ketchikan, working in education as well."
Shultz has spent the last six years as a college student, and he says, "I am excited about graduating. I like what I'm going to be." His excellent grades have earned him membership in Phi Theta Kappa, the two-year university honors society.
The life-skills he acquired in the Marine Corps, coupled with his inner strength, have served Shultz well in his educational career. He relates, "Although it has been strenuous, I figured that I went to school before, took classes all day, and studied in-between, and I knew I could do it again. In fact, being a civilian going to school is a lot easier than being a Marine and going to school! The Marine Corps helped me with my ability to concentrate and focus on the task at hand." Shultz has utilized the distance-delivered courses offered through our campus and feels he has benefited from the variety of learning methods, such as the Elluminate online classes, of which he has completed fifteen credits.
Courage, one of the core values upheld by the Corps, is ingrained in every Marine to carry him through challenges. It is the mental, moral, and physical strength that enables a Marine to go the next step and to lead by example. Shultz will do well in his chosen profession because of his unrelenting perseverance, absorbed as a child, and deftly honed in the Marine Corps. UAS-Ketchikan is proud to foster Shultz, a respected citizen and natural leader.

On the Web:
University of Alaska Southeast Ketchikan
www.ketch.alaska.edu/

E-mail your news & photos to editor@sitnews.us


Publish A Letter in SitNews Read Letters/Opinions
Contact the Editor
SitNews ©2008
Stories In The News
Ketchikan, Alaska