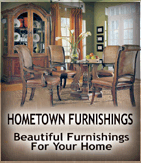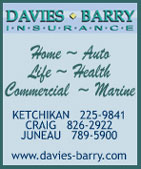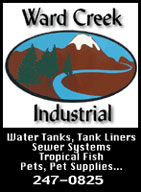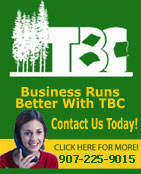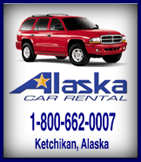 Contact


Webmail Letters


News Tips


Search Sitnews


Copyright Info


Archives
Today's News


Alaska


Ketchikan


Top Stories


U.S. News


U.S. Politics


Stock Watch


Personal Finance


Science News


US Education News


Parenting News


Seniors News


Medical News


Health News


Fitness


Offbeat News


Online Auction News


Today In History


Product Recalls


Obituaries
Quick News Search


Alaska


Ketchikan


SE Alaska


Alaska News Links
Columns - Articles


Dave Kiffer


Fish Factor


Career Success Stories


Parnassus Reviews


Chemical Eye On...


Bob Ciminel


Rob Holston


More Columnists
Ketchikan


Our Troops
Historical Ketchikan


June Allen


Dave Kiffer


Louise B. Harrington
Recognition


Match of the Month


Asset Builders
Ketchikan Arts & Events


Ketchikan Museums


KTN Public Library


Parks & Recreation


Chamber
Lifestyles


Home & Garden


Food & Drink


Arts & Culture


Book Reviews


Movie Reviews


Celebrity Gossip
On the Web


Cool Sites


Webmaster Tips


Virus Warnings
Sports


Ketchikan Links


Top Sports News
Public Records


FAA Accident Reports


NTSB Accident Reports


Court Calendar


Court Records Search


Wanted: Absconders


Sex Offender Reg.


Public Notices
Weather, Webcams


Today's Forecast


KTN Weather Data


AK Weather Map


Ketchikan Webcam


SE AK Webcams


Alaska Webcams


AK Earthquakes


Earthquakes
TV Guide


Ketchikan
Ketchikan Phone Book


Yellow Pages


White Pages
Employment


Employment
Government Links


Local Government


State & National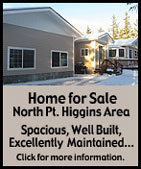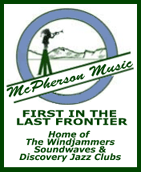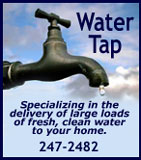 Thursday
May 22, 2008



Maritme and Building Construction Classes Put Skills To Work
The Ketchikan High School Maritme and the Building Construction classes are pictured with the Forest Services' cabin maintenance head, Eric Abel, at Phocena Bay last week. The maritime class provided transportation to Phocena Bay and the building construction class, along with forest service staff, replaced cabin windows, chopped wood, and performed general cabin maintenance.
Front Page Photo by Larry Jackson




Alaska: TransCanada for AGIA License Recommended by Governor & Commissioners - Alaska Governor Sarah Palin, Department of Natural Resources Commissioner Tom Irwin and Department of Revenue Commissioner Patrick Galvin today released the AGIA Findings and Determination of the natural gas pipeline project as proposed by TransCanada Alaska Company, LLC and Foothills Pipelines Ltd. (TC Alaska) to the State of Alaska.

The commissioners' conclusion and analysis of the natural gas pipeline project proposed by TC Alaska is that it merits issuance of the AGIA license because it maximizes the benefits to Alaskans. - More...
Thursday - May 22, 2008

Southeast Alaska: Pacific Salmon Treaty: Agreement on 10-year extension of fishery arrangements announced; Conservation organization calls the reissuing "a missed opportunity" - The Pacific Salmon Commission (PSC) today announced an agreement on a ten-year extension of fishery arrangements under the Pacific Salmon Treaty. The agreement addresses a number of salmon fisheries in Southeast Alaska, including those near the British Columbia/Alaska border and on several rivers that cross between the two countries.

The Pacific Salmon Treaty, first signed in 1985, is a bilateral agreement under which the U.S. and Canada co-operate on management, research and enhancement of Pacific salmon that swim through the waters of both countries. Under the treaty, fishery arrangements put in place in 1999 expire at the end of December, 2008.

"Ten years ago, the commission had a much more difficult time reaching agreement, and the final negotiations had to be conducted at a government-to-government level," David Bedford, Alaska's representative on the PSC, said. "This time, the Commissioners, along with stakeholders and fisheries management staff up and down the coast, worked hard to conclude an agreement within the Commission process, and this ensured participation by the state and the affected people, organizations and communities." - More...
Thursday - May 22, 2008

Alaska: State of Alaska to Sue Over Polar Bear Listing - Alaska Governor Sarah Palin announced Wednesday the state of Alaska intends to file suit in U.S. District Court for the District of Columbia challenging U.S. Interior Secretary Dirk Kempthorne's decision to list the polar bear as threatened under the Endangered Species Act.

"We appreciate the Secretary's recognition that oil and gas activities are already regulated under the Marine Mammal Protection Act to prevent impacts to the polar bear and do not pose a threat to the polar bear," Governor Palin said. - More...
Thursday - May 22, 2008

Alaska: Congress Passes Resolution Protecting Arctic Fisheries - Wednesday, Congress passed Senator Ted Stevens (R-Alaska) and Senator Lisa Murkowski's (R-Alaska) joint resolution (S.J. Res 17) directing the United States to negotiate an international agreement for managing fish stocks in the Arctic Ocean. The measure now heads to the President for his signature.

"Alaska has set the gold standard in ensuring robust fish stocks for commercial, recreational, and subsistence purposes," said Senator Stevens. "Science-based management has kept fisheries a cornerstone of our economy and preserved an important piece of Alaska Native culture. Global climate change is opening up the Arctic and we must act to protect its fisheries. After the President signs this resolution I will work with the State Department to bring this issue to the United Nations." - More...
Thursday - May 22, 2008

Alaska: Alaska judge wants murderer to taste freedom By LISA DEMER - A state judge is forcing Alaska Psychiatric Institute to plan for the release of a patient considered potentially dangerous by psychiatrists and not ready for life outside.

Brian Dussault, the last Alaskan found not guilty of murder because of insanity, has spent most of the last 24 years at the state mental hospital.

But his lawyer says he deserves a chance at freedom. - More...
Thursday - May 22, 2008

Alaska Science: What big teeth this dinosaur had By NED ROZELL - A long time ago, a dinosaur named Troodon lived in the area where Alaska's North Slope is today. Troodon was a meat eater that looked like an eight-foot bird, with the mouth and tail of an alligator. It stood on its hind legs and had short, muscular forearms that helped it clamp down on plant-eating dinosaurs, opossum-like creatures, and maybe fish. Compared to other dinosaurs, Troodon had very big eyes.

Two teeth from the dinosaur known as Troodon. A Montana Troodon, left, compared to a larger Alaska Troodon from Alaska's North Slope.
Photo by Tony Fiorillo

Troodon also had very big teeth. In fact, the Alaska version of Troodon had such large teeth that a scientist thinks it may have been the largest Troodon on the continent, and the dominant predator of the far north even though it wasn't the biggest meat-eater.

Tony Fiorillo has pondered the sharp, serrated teeth that he and other paleontologists have found on a dinosaur bone pit off the Colville River. Fiorillo, of the Museum of Nature and Science in Dallas, has compared them to teeth from Troodons recovered in Montana and southern Alberta, and he has found that Alaska Troodon's teeth were 50 percent larger than its Lower 48 relatives. Because tooth size relates to body size, Fiorillo thinks Alaska Troodon may have been twice the size of lower-latitude versions.

Why would a far north dinosaur be larger than its cousins further south? The question is even more intriguing when one considers that Troodon's home on Alaska's North Slope 70 million years ago was probably located even higher on the globe than it is today. That means it was even darker in winter than at present, when Barrow residents don't see the ball of the sun for more than a month. Though the swings of daylight were perhaps larger back then, the climate was much warmer. Today, the average temperatures along the North Slope are well below freezing, but Alaska Troodon probably experienced temperatures closer to what people feel today in the region stretching from northern Oregon to southern Alberta, Fiorillo said. - More...
Thursday - May 22, 2008

Alaska: The search is on for the new Ms. Wheelchair Alaska, USA! - Applications are now being accepted for the title of Ms. Wheelchair Alaska, USA. The winner will represent Alaska in August, competing against 50 other state representatives, for the national title of Ms. Wheelchair USA. The Ms. Wheelchair USA program is dedicated to celebrating the abilities and successful accomplishments of women with disabilities.

This year, one representative will be selected from each state based on the judging of their official State Representative Application Package. Judging of the Official Contestant Application, Contestant Platform Statement, two recommendation letters, and an overall impression score will result in the state titleholder selections. - More...
Thursday - May 22, 2008

Newsmaker Interviews

Bill Steigerwald: Bob Barr Leaps in as a Libertarian - With the announcement that he'll seek the Libertarian Party's 2008 presidential nomination, former Georgia Republican congressman Bob Barr has added another twist to an already crazy election year.

Barr, who hopes to win the LP's top spot at the party's convention that starts Thursday, May 22, in Denver, has an impressive resume that backs up his claim that he's the most qualified presumptive candidate of any party. - More...
Thursday - May 22, 2008

Columns - Commentary

Ann McFeatters: Real issues for real candidates - I, for one, never want to see or hear of Barack Obama's ex-preacher again. I will not countenance scurrilous talk about how John McCain adopted his daughter. I will protest vociferously any more stupid innuendo about Obama's middle name. I may punch in the nose anyone who questions the state of the McCains' marriage.

There are many -- MANY -- who will try to trivialize this election by smearing the other party's candidate with as much mud as possible. There have been many indications already of how ridiculously off-base some peripheral players want us to get and how low they are willing to go to win. - More...
Thursday May 22, 2008

Michael Reagan: Playing the Victim Card - Barack Obama, the left's new Moses, has come down from his lofty mount to proclaim a new commandment: "Thou shalt not criticize my wife, Michelle."

Appearing on ABC's "Good Morning America," Obama tried to remove a potentially troublesome issue from the campaign -- his wife. - More...
Thursday - May 22, 2008

Bonnie Erbe: Race, gender permeate presidential race By BONNIE ERBE - A victory in Oregon, yes, but a 35-point thrashing in Kentucky on Tuesday for presumptive Democratic nominee Barack Obama. Although both states are populated predominantly by white voters, together they prove white comes in many different shades. Oregonians are progressive to a fare-thee-well (I know, I spent two years at Reed College in Portland, Ore.) Kentucky voters are less affluent, less well-educated and considerably more conservative. - More...
Thursday - May 22, 2008

Floyd and Mary Beth Brown: Courageous Woman Dares to Reveal Democrats' Racist Past - Did you know Martin Luther King, Jr. was a Republican? Every civil rights law, beginning in the 1860s through the 1950s and 1960s, was fought against by Democrats? Or the KKK had links to the Democratic Party? Not only are these questions addressed by the National Black Republicans Association (NBRA), but also more surprising facts.

A few months ago, we had the privilege to meet the chairwoman of NBRA, a brave and gusty woman named Frances Rice. "The double standard looms large when Democrats practice racism," says Rice. "Those who search in the Republican Party haystack for the racist needles, ignore the mountain of evidence about racism in the Democrat Party." - More...
Thursday - May 22, 2008




Ketchikan

Ketchikan Police Report
AK Troopers Daily Dispatch
Today's Forecast
Satellite
Today's Weather Images
Marine Forecasts
Ketchikan Weather Data
Current AK Weather Map

CLASSIFIEDS

Publish ad
Please select the proper category before posting.




CLASSIFIEDS' CATEGORIES

Announcements and
Help Wanted
For Sale / Free Stuff
Garage Sales
Homes / Apts/ Property
Pets
Wanted
Lost & Found
Local Services
Publish your ad

More Front Page Archives

Viewpoints
Opinions/Letters
Basic Rules

Taking Care of Our American Heroes By Senator Ted Stevens - This weekend, we must take time to remember and honor those who have worn our country's uniform, particularly those who paid the ultimate price to preserve our freedoms. It is a chance to show our gratitude and deepest respects for generations of American heroes. - More...
Friday - May 23, 2008

Noise Pollution By Sharon Preston - Short term or impulse noise is becoming a bigger problem in Ketchikan all the time. Some examples include: whistles, horns, bells, sirens, fireworks, gunfire, blasting, pile-driving, aircraft flyovers, and dogs barking. - More...
Thursday PM - May 22, 2008

No Democracy among Democrats By Anita Hales - The Democrat primary has me feeling very ill at ease and leaving me wondering where the media is to protest the gross disenfranchisement that is happening in this primary. - More...
Thursday PM - May 22, 2008

Safety Issue for Kanayama Eject a Ruse By Kathleen Svenson - The best predictor of future behavior is past behavior. The child who was not allowed to go to Japan has never "disappeared" from school, nor anywhere else. I checked her attendance records. I also checked with the Troopers. No report of her missing. - More...
Thursday PM - May 22, 2008

Are Halibut, Chinook, and Coho Salmon populations in Southeast Alaska heading for a crash? By Andy Rauwolf - There are serious issues with the Southeast Alaskan marine ecosystem that have been steadily getting worse. For instance, the 2007/2008 winter King troll fishery just closed after harvesting only 45% of the 45,000 fish quota. Furthermore, for the first time in history both the halibut and summer Chinook commercial quotas have been cut by 48%. Sport and guided sport fishing have been severely restricted as well. - More...
Tuesday PM - May 20, 2008

Today is a Gift By Louise Clark - If you missed the Friday, May 16 band concert "Today Is A Gift" at Kayhi, you really missed something. The music was superb. I'm a big Glenn Miller fan so it was almost impossible not to get up and jitterbug during the "Glenn Miller in Concert" and "Wilson Suite For Euphonium And Band" was so incredibly beautiful, and "Today Is The Gift" was absolutely wonderful. - More...
Tuesday PM

We all wish Ted Kennedy well but he is no paragon of virtue! By Mark Neckameyer - When Senator Ted Kennedy had his stroke scare Saturday morning, all the TV networks including FOX News went on the air with a glowing obituary sounding retelling of the Senator's life. They lionized the man, made him sound like combination of George Washington and Saint Peter. Fortunately Kennedy's health issue was not as serious as it first appeared but I can't help comparing the reality of his life and works with the flowery garbage we have been hearing on TV all day. Here are the facts about his "accomplishments". - More...
Tuesday PM - May 20, 2008

Thanks for a Great Year By Patrick E Johnston - I just wanted to say thank you to all the people I have had the pleasure to work with and serve this past year. - More...
Tuesday PM - May 20, 2008

In support of Kanayama! By Amber Williams - Most of my friends will tell you how much I love Japan. Their points of view, clothing, music ect. are wonderful. That trip changed my life for the better. If I could, I would love to move there forever. Long have I said "If I go missing, I'm in Japan, don't come and find me" - More...
Tuesday PM - May 20, 2008

A GRADUATION MESSAGE FROM YOUR ALASKA STATE TROOPERS By Captain Kurt Ludwig - This is graduation time for high school seniors in Southeast Alaska. Most teens enjoy parties and other get-togethers, especially around graduation. And while celebrating this time is appropriate and natural, there are often decisions made by some parents and teens that are cause for concern for the public's safety. - More...
Saturday - May 17, 2008

Getting Spammed! By Scott Willis - Are you getting UCE or Unsolicited Commercial Email, better known as SPAM? Well, if you are a KPU customer with a .KPUNET.NET email account, then maybe I can help you filter some of that out. Here's what you do: - More...
Saturday - May 17, 2008

Stop the secrecy By Thomas Ferry - Regarding the participant that was just kicked out of the Kanayama program, Mr. Worrell cites that some unthinkable negative things have been said about the program in retalliation. This child had supposedly broken some rules of commitment and safety set down by the controlling committee. I, like many others would like to know exactly what transpired to get this child kicked out. As people gossip and retell stories, the truth sometimes gets lost in translation on both sides. - More...
Saturday - May 17, 2008

There's Nothing to Do in Ketchikan? NOT! By Bobbie McCreary - Come out Sat nite to have FUN & support our Youth Try this on for size: Skateboard contests, capture the flag, paintball target range, pie eating contest, kids corner with face painting, balloon animals, go fish, BBQ dinner, and a theme based auction. Fun for the whole family. - More...
Saturday - May 17, 2008

THANK YOU By Mindy Lloyd - I want to thank the gentleman who contacted the Shelter (animal )after my dog was hit. I'm sorry that you were the one. But I thank you so much that I know how she passed. To let you know the wind blew our front door open and our little dogs got out. They do chase cars that's why we normally have them tied out or in our home. - More...
Saturday - May 17, 2008

Attention dog walkers By Julia Guthrie - I have lived on Alaska Avenue for about 7 years now. I would just like to say that I am really tired of dog walkers letting their animals use my front yard as a dumping stop. My children play in my yard. - More...
Saturday - May 17, 2008

What he's trying to say By James Greenberg - I have a couple of places to find an answer to your question, first go into your bible and read Luke 21:10-11 also Mark 13:8. Another scripture of interest is 2 Timothy 3:1-5, it shows how people will be during what the bible calls the last days. - More...
Saturday - May 17, 2008

Is Somebody trying to tell us something? By Charlotte Tanner - In reply to another one of Mark Neckameyer's wonderful letters, I can only reply that perhaps we are being told to be better Stewards of the Earth, as the Bible commands us. - More...
Saturday - May 17, 2008

More Letters/Viewpoints
Webmail your letter or
Email Your Letter To: editor@sitnews.us

---

E-mail your news tips, news
releases & photos to:
editor@sitnews.us

SitNews
Stories in the News
©1999 - 2008
Ketchikan, Alaska

M.C. Kauffman, Webmaster/Editor, &
Graphic Designer
webmaster@sitnews.us

In Memory of SitNews' first editor,
Dick Kauffman
1932-2007

Locally owned & operated.
Online since 1999

Articles & photographs that appear in SitNews are protected by copyright and may not be reprinted or redistributed without written permission from and payment of required fees to the proper sources.