Courageous Woman Dares to Reveal Democrats' Racist Past
By Floyd and Mary Beth Brown
May 22, 2008
Thursday

Did you know Martin Luther King, Jr. was a Republican? Every civil rights law, beginning in the 1860s through the 1950s and 1960s, was fought against by Democrats? Or the KKK had links to the Democratic Party? Not only are these questions addressed by the National Black Republicans Association (NBRA), but also more surprising facts.
A few months ago, we had the privilege to meet the chairwoman of NBRA, a brave and gusty woman named Frances Rice. "The double standard looms large when Democrats practice racism," says Rice. "Those who search in the Republican Party haystack for the racist needles, ignore the mountain of evidence about racism in the Democrat Party."
Rice does not initially appear to be the type of person who would strike out and dare to challenge a giant, but that's just what this modern day "David" has done. Rice said her organization is working to set the record straight and "wake up" black voters and "shed the light of truth on the racist past and failed socialism of the Democratic Party."
Little did we know Rice would soon be feeling the intense, sizzling heat of the national spotlight for reminding people and speaking the truth that the Democratic Party wishes we would all forget.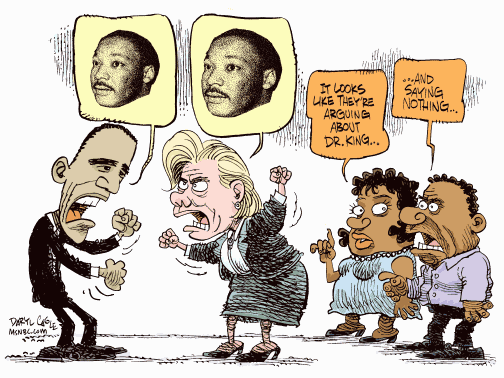 Dr.King, Hillary and Obama
Daryl Cagle, MSNBC.com
Distributed to subscribers for publication by Cagle Cartoons, Inc.

Recently, when Democrats became aware of NBRA's Fall 2007 magazine being distributed at a black-voter event in Tallahassee, the liberal media and Democratic Party giants alike began firing their attacks. One headline in a newspaper read, "Magazine stirs race politics" and wrote that the magazine "pushes racial buttons by highlighting low points in the history of the Democratic Party." A reporter from the The Miami Herald decried The Black Republican magazine, calling its comments "strident" and saying Democrats were "outraged."
Sometimes the truth hurts.
Rice cites renowned liberal historian and author Dr. Eric Foner in her well-documented expose, "The Ku Klux Klan was the Terrorist Arm of the Democratic Party". In "A Short History of Reconstruction," Professor Foner wrote: "Founded in 1866 as a Tennessee social club, the Ku Klux Klan spread into nearly every Southern state, launching a 'reign of terror' against Republican leaders black and white." Again, it was Foner who said, "In effect, the Klan was a military force serving the interests of the Democratic partyand all who desired the restoration of white supremacy."
Several other articles, including one titled "Why Martin Luther King, Jr. Was a Republican," also raised the ire of "giants." Frances Rice says she knew MLK's family and "there's no way they were Democrats" in the 1960s. Not only did King vote for Eisenhower in 1956, but this was a time when racist southern Democrats such as Bull Connor used vicious dogs and fire hoses to break up protests; after all, segregation and discrimination were the law of the land in the South.
One who saw firsthand Connor's atrocities was our nation's first female black secretary of state, Condi Rice. Not only did she witness the brutality inflicted on the peaceful protestors at the 1963 Children's March in Birmingham, but Condi's neighborhood experienced threats of violence. One of her childhood friends was killed in a church bombing by the Ku Klux Klan along with three other girls. Secretary Rice's family repeatedly faced discrimination. A prime example of this was when John, her father, tried to register to vote with the Democratic Party. They told him that to register as Democrat he must first guess the number of beans in their jar. Not one to accept such insulting treatment, John Rice headed over to the Republican register and promptly became a Republican.
"'Racism'" is the trump card in the indictment of Republicans," points out Dr. Thomas Sowell of the Hoover Institute. "But the cold fact is that the whole Jim Crow era in the South was dominated by Democrats."
The mission of the NBRA is "to be a resource for the black community on Republican ideals and promote the traditional values of the black community which are the core values of the Republican Party: strong families, faith in God, personal responsibility, quality education, and equal opportunities for all."
We saw evidence of one of their bold campaigns in Florida. Prominently displayed on a gigantic billboard was the proclamation that "Martin Luther King, Jr. was a Republican" along with a photo of the civil rights leader, the organization's name and Web site. It was hard to miss. Currently NBRA has identical signs in several other states and hopes to go nationwide. To help and donate go to: www.NBRA.info
The Republican Party, the party of Abraham Lincoln, fought to free blacks from slavery. Now the daunting goal of NBRA is to "return black Americans to their Republican Party roots by enlightening them about how Republicans fought for their freedom and civil rights and are now fighting for their educational and economic advancement."
Floyd and Mary Beth Brown are bestselling authors and speakers. Mary Beth's latest book is featured at www.condibook.com. Time magazine wrote of Floyd: "Brown has stature among devoted conservatives that almost matches his physical heft (6 ft. 6 in. and 240 lbs.)" Together they write a weekly column for www.caglepost.com and blog at www.2minuteview.com.
Distributed to subscribers for publication by Cagle Cartoons, Inc.

E-mail your news, photos & letters to editor@sitnews.us

SitNews ©2008
Stories In The News
Ketchikan, Alaska

Articles & photographs that appear in SitNews are protected by copyright and may not be reprinted or redistributed without written permission from and payment of required fees to the proper sources.