Viewpoints
Opinions/Letters
Political Cartoonists
Ketchikan
April 6, 2006, 7:00 pm - City Council Meeting - City Council Chambers


Agenda & Information Packet
April 7, 2006 @ 2:00pm - Teleconference meeting Friday, at the Legislative Information Office, 50 Front Street, Suite 203.
The Senate Finance Committee will meet to discuss HB365 - "An Act making appropriations for the operating and loan program expenses of state government, for certain programs, and to capitalize funds; making appropriations for state aid to public schools, centralized correspondence study, and transportation of pupils; and providing for an effective date."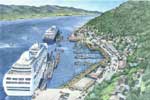 April 11, 2006 Special Election Port of Ketchikan Improvements Project - Detailed Project Description;
Ask A Question, Get an Answer; Special Election Information; and much more...
April 13, 2006 at 5:30 - Democratic caucus for those interested in developing a local platform and organizing the local democratic party - IBEW building on Stedman, contact Micheal Hyre 617-0238 for information.
April 2006
Click on the date to read the stories published on that day.

| | | | | | | |
| --- | --- | --- | --- | --- | --- | --- |
| S | M | T | W | T | F | S |
| 26 | 27 | 28 | 29 | 30 | 31 | 01 |
| 02 | 03 | 04 | 05 | 06 | 07 | 08 |
| 09 | 10 | 11 | 12 | 13 | 14 | 15 |
| 16 | 17 | 18 | 19 | 20 | 21 | 22 |
| 23 | 24 | 25 | 26 | 27 | 28 | 29 |
| 30 | 31 | | | | | |
Alaska: Governor Praises Passage of SB 218; Encourages conference committee action on meth/marijuana bill - Alaska Governor Frank H. Murkowski Wednesday praised House passage of Senate Bill 218. The legislation had previously passed the Senate, paving the way for transmittal to the governor's desk.
"I want to thank Senator Bunde for his tireless work on this critical issue. Keeping our children safe from sexual predators is one of the most important obligations of government and of society," said the governor. "I also want to thank the Departments of Corrections, Law and Public Safety for their roles in this process."
The legislation increases sentencing for the most egregious unclassified and Class A sexual felonies against a minor to a minimum sentence of 25 years and increases sentencing for unclassified and Class A sexual felonies against an adult to a minimum of 20 years. The bill also restructures and increases sentencing for Class B and Class C sexual offenses and requires periodic polygraph testing for sex offenders on probation and parole. - More...
Thursday - April 06, 2006
Alaska: Public information request turns up heat on Murkowski administration - Sen. Hollis French (D-Anchorage) on Wednesday delivered a public records request to Gov. Frank Murkowski, urging the administration to finally release the long-touted but as yet unseen natural gas pipeline contract.
Several legislators on both sides of the aisle have expressed frustration with the administration's refusal to release the pipeline contract. The frustration springs from the strong suggestions from Murkowski and others that the contract is linked to the historic oil tax reform legislation now being debated in House and Senate committees.

The governor announced that a pipeline agreement had been reached when he delivered his oil tax reform (PPT) bills to the Legislature in late February. Since that time, Murkowski has vacillated on the degree of linkage between the tax reform and the gas pipeline contract. The governor has also been ambiguous about whether or not the contract is actually complete. He has suggested that should the Legislature change the 20/20 tax to credit formula in his bill, the major producers would pull out of the gasline contract. At the same time, Murkowski has said he would release the contract to the Legislature only after the PPT vote is completed. He has claimed a confidentiality clause in the Stranded Gas Act prevents the administration from releasing the contract. - More...
Thursday - April 06, 2006
Alaska: Governor Announces Measures to Ensure Pipeline Integrity - Motivated by his visit to the North Slope last week to view cleanup at BP's GC-2 spill site, Alaska Governor Frank H. Murkowski directed the Department of Environmental Conservation to assemble an Arctic Pipeline Technology Team and called for a corrosion conference to ensure the integrity of oil pipeline infrastructure and continued crude oil production.
"Our North Slope pipelines must be monitored and maintained to the highest standards," said the governor. "These measurable steps will ensure the best minds, technologies and practices are employed in the design, operation and maintenance of these pipelines."
The Arctic Pipeline Technology Team will be created by a Memorandum of Understanding between the Department of Environmental Conservation, the Department of Natural Resources, the Alaska Oil and Gas Conservation Commission and the federal Office of Pipeline Safety. The team will work with industry and other government or non-governmental professionals with expertise in arctic pipeline engineering on leak detection, corrosion prevention, monitoring and inspection. The team will share technical resources and information related to pipeline integrity in arctic and sub-arctic climates. It will troubleshoot design, construction, operation and maintenance problems, validate engineering approaches, examine the regulatory regime and recommend changes to reflect latest technologies, and ensure the best available technology is being applied to Alaska's North Slope pipeline system. - More...
Thursday - April 06, 2006
Health-Fitness: Red hot chili peppers may help fight cancer, study finds By LEE BOWMAN - Researchers are rolling out the spice rack against cancer with studies showing that ginger and the "hot" element in red chili peppers induce tumor cells to die.
But a separate review of studies evaluating the use of soy supplements against breast cancer finds the evidence of benefit slight.
The ginger and chili-pepper studies were presented Tuesday during the annual meeting of the American Association for Cancer Research in Washington.
Researchers at the University of Pittsburgh did the chili-pepper study, working with mice to show that capsaicin, the active "hot" ingredient in the pepper, causes pancreatic cancer cells to die through the body's normal process for clearing defective cells.
"We discovered that capsaicin fed orally to mice with human pancreatic tumors was an extremely effective inhibitor of the cancer process, inducing apoptosis (natural cell death) in cancer cells," said Sanjay Srivastava, an assistant professor of pharmacology at Pitt and lead author of the study. - More...
Thursday - April 06, 2006
Health-Fitness: Want to feel better? Make some friends By LEE BOWMAN - There's tremendous comfort in having a family member or trusted friend around to help us through an illness, whether it's a ride to the doctor or just someone around to replenish the tissue box and check on us now and then.
The fact is, misery does love company. And the evidence has been mounting for some time that getting well and staying healthy are helped along by having strong social connections.
Consider three studies just out in a week's time:
- Breast cancer patients who lacked close relatives, friends or children were up to five times more likely to die of their breast cancer than women with breast cancer who had 10 or more friends of relatives or six or more children, found one analysis of 2,800 women diagnosed with breast cancer who took part in the Nurses Health Study. - More...
Thursday - April 06, 2006