Viewpoints
Benefit Dinner For Jessie Chapman
By Pat Chapman
April 03, 2006
Monday

Thanks is a small, insignificant word for the awesome job the Kayhi Girls Soccer team and the National Honor society did in putting on an awesome benefit dinner and auction for one of their own, Jessi Chapman.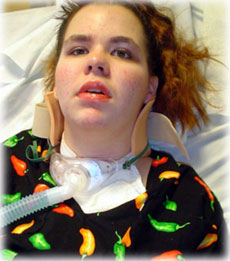 Jessie Chapman
Photo by Pat Chapman
Jessi was injured in a high-speed roll over in January; she was medivac'd to Harborview Medical Center in a coma where she was not expected to regain consciousness; however Jessi showed her Alaskan determination and spunk and regained consciousness! She was brought back to Ketchikan in mid February to continue her progress. Jessi is a strong young woman and she has shown remarkable gains since returning home. Once she reaches certain goals she will go off to an intensive rehabilitation center. She enjoys seeing her friends and listening to them tell of their experiences and class events while she recovers.
Her peers, spearheaded by Amy Wadley, decided to do a benefit for Jessi, to assist her family in the long haul of rehabilitation. These young adults in their teens put on a benefit dinner and auction that vies in quality to those put on by any older adult group. They as a team planned the event, figured out what they needed to do and each went out and did their part in the whole: getting donations that were fabulous and abundant, setting up the display of over 100 auction items, getting a facility from the city, finding an auctioneer, selling over 300 tickets for a dinner they cooked and served. All this while going full time to school, holding down jobs, and continuing their activity in sports and other activities in the community. This is an awesome group of young adults that has arisen in our midst and put forth such energy, not for their gain but for one of their own who can no longer help herself. The selfless compassion, caring and giving by these young adults in our community make me feel good about the future of our community. With competency like this shown going forward; Ketchikan can only benefit with their being a part of our future.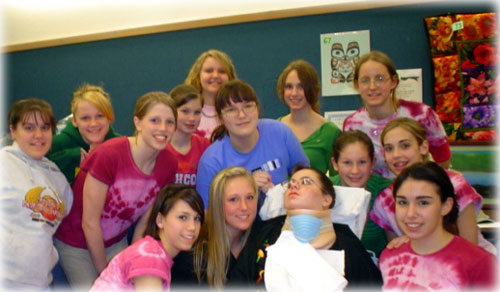 Jessie Chapman and her team mates.
Photo by Pat Chapman
I wish to thank the Kayhi Girls Soccer team, the Kayhi National Honor Society, The Rubber Band band, Jim Wingren, Ted Ferry Civic Center, the City of Ketchikan and the many, many individuals and businesses that donated items and participated in the auction. I know there are many individuals who volunteered to assist and helped with this event that are not mentioned; please know you are appreciated and my thanks also for your time and effort. I also want to thank the New Horizons for the van and driver that delivered Jessi to the event. Thanks to Brian, Monica and Kevin (OT/PT/RT care providers) who volunteered to attend with Jessi, just to be sure she was safe.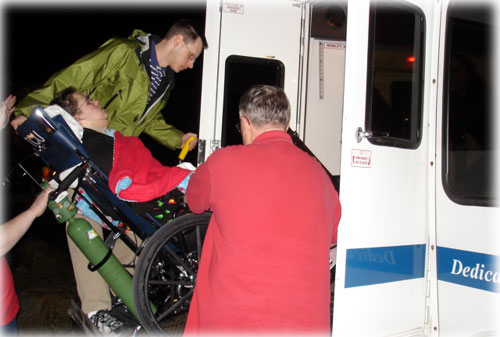 Thanks to the New Horizons for the van and driver that
transported Jessi to and from the benefit dinner.
Photo by Pat Chapman

Jessi surprised her caregivers and myself in her enjoyment of the event. Her first trip out of the health care setting went very well. She seemed to enjoy the music and Mr. Wingren's auctioneering spiel as well as seeing her friends.
With your kind of support, Jessi can only continue her in fight to regain her quality of life back. Each individual who encourages her aids in her determination to overcome all barriers. It's the love, support and prayers of her peers and community members that is assisting in her improvement. Thank you Ketchikan for your support.
Pat Chapman
Ketchikan, AK - USA
About: Pat Chapman is Jessie Chapman's grandmother.

Note: Comments published on Viewpoints are the opinions of the writer
and do not necessarily reflect the opinions of Sitnews.
Write a Letter -------Read Letters

E-mail the Editor

Sitnews
Stories In The News
Ketchikan, Alaska