Viewpoints
Opinions/Letters
Political Cartoonists
Ketchikan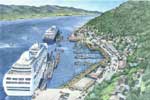 April 11, 2006 Special Election Port of Ketchikan Improvements Project - Detailed Project Description;
Ask A Question, Get an Answer; Special Election Information; and much more...
Alaska Permanent Fund filing deadline is midnight (Alaska Standard Time) on Friday, March 31, 2006.
Constituent meeting Tuesday, March 28, 2006 at 6:00pm. This is an informal teleconference for members of the community to discuss issues or concerns with Senator Stedman, Rep. Elkins and Rep. Wilson. For more information, call 225-9675.
April 13, 2006 at 5:30 - Democratic caucus for those interested in developing a local platform and organizing the local democratic party - IBEW building on Stedman, contact Micheal Hyre 617-0238 for information.
Alaska: Number of Alaska gun dealers in sharp decline By MEGAN HOLLAND - Wayne Anthony Ross says he held his federal gun dealer's license for 25 years so he could buy and sell thousands of firearms on the way to collecting a huge arsenal of weapons.
Sometime in the mid-1990s, though, the gun enthusiast and National Rifle Association board member turned in the license.
"It became not worth it to open your home to federal agents, be fingerprinted and spend (hundreds of dollars) for something that in effect you got for convenience' sake anyway," he said. - More...
Tuesday - March 28, 2006
National: Gas prices rising out of sight again By DAVID R. BAKER - Gasoline prices often rise in spring. Just not quite like this.
In the past month, the price of a gallon of regular has jumped about 25 cents nationwide. Americans on average now spend about $2.50, according to the AAA auto club.
Now analysts wonder whether prices will quickly peak or march steadily upward into the summer. Some speculate we may even see a return to $3 a gallon. - More...
Tuesday - March 28, 2006
Columns - Commentary
Wendy Williams: The waffle-stompers' windmills - For weeks now, journalists across America have been scratching their heads about out why the east end of Alaska Congressman Don Young's infamous "bridge to nowhere" appears to be ending up in Massachusetts's Nantucket Sound.
Young, a 17-term Republican, recently hit the national news because of his request for $223 million in federal funds to build a bridge from Ketchikan, Alaska, across the water to lovely Gravina Island, population about 50. Lawmakers, thankfully, balked.
However, Young, a silverback reminiscent of crotchety and vindictive old Sen. Seabright B. Cooley in Allen Drury's 1959 novel "Advise and Consent," will probably not give up on trying to obtain money for the span, not to mention innumerable other projects for America's pork-rich Last Frontier.
But meanwhile, Young has turned his attention across the continent to Ted Kennedy land: beautiful Nantucket Sound. In question is the proposal by Cape Wind Associates to build a 130-turbine, 468-megawatt wind-power project on a shoal in the middle of what has become for Cape Wind a Devil's Triangle - the sides being the rich southern coast of Cape Cod, the richer island of Martha's Vineyard, and the even richer island of Nantucket.
For months, Young has been trying to get an amendment attached to a Coast Guard funding bill to prohibit offshore wind turbines within 1-1/2 miles of a shipping channel or ferry route. This seems strange. Offshore oil- and gas-drilling platforms can be within 500 feet of such a route. - More...
Tuesday - March 28, 2006

Jay Ambrose: The wrong side of history? - Hillary Clinton recently did it, I learned on reading a newspaper article.
She's hardly the only one, but when she said that Republicans seeking some tough measures dealing with illegal immigration were "on the wrong side of history," I found myself suddenly wondering whether this expression is growing in popularity or I am just noticing it more. Either way, I think those who use it are on the wrong side of careful thought, and ought to cut it out.
What does it mean to say someone is on the wrong side of history? Something like this, as best I can tell: History is moving discernibly and inevitably in a uniform, progressive, good direction, and if you hold to ideas or purposes contrary to that direction, you will find yourself more or less discarded, left by the wayside, a fossil of an era that was happily wiped out.
Though my scouting about indicates conservatives may use the expression as often as leftists, it clearly has deep roots in the thinking of Karl Marx, who supposed there was an economically determined class struggle the consequences of which were clearly predictable. - More...
Tuesday - March 28, 2006

Dale McFeatters: No perfect solution for illegal immigration - As Congress wrestles with reform of immigration laws, it has become clear that there's no good, single solution to the problem of illegal workers entering the country.
A House-passed bill greatly steps up border enforcement, but this would only slow, not stop, the flow, and, as with previous crackdowns, only move the problem elsewhere. In boasting of his own efforts, President Bush notes that during his term more than 6 million illegal border crossers have been caught and sent home, but this speaks more to the size of the problem than its solution.
There is no way we are going to round up and deport 10 million to 12 million people, the estimated size of the illegal population. Any meaningful reform has to address their presence. - More...
Tuesday - March 28, 2006

Paul Campos: Immigration laws have lost their moral, practical force - A striking feature of Anglo-American property law is that one can acquire good title to land by trespassing on it for long enough. In seeking to explain this doctrine of "adverse possession" - which goes back to the 13th century - Oliver Wendell Holmes made an acute point about the relationship between legal rules and human psychology.
"I should suggest," Holmes wrote, "that the foundation of the acquisition of rights by lapse of time is to be looked for in the position of the person who gains them. The connection is further back than the first recorded history. It is in the nature of man's mind. A thing which you have enjoyed and used as your own for a long time, whether property or an opinion, takes root in your being and cannot be torn away without your resenting the act and trying to defend yourself, however you came by it. The law can ask no better justification that the deepest instincts of man."
In downtown Denver this past Saturday I saw 50,000 people illustrate Holmes' point. This immense crowd was only one-10th as large as that which gathered in Los Angeles to protest a bill that would, among other things, transform anyone in the United States without proper documentation into a felon. Gazing at that sea of brown faces, I got a certain grim amusement from the thought of the panic that these gatherings must produce in the likes of Rep. Tom Tancredo, R-Colo., and other demagogues who have been exploiting anxieties about illegal immigration. - More...
Tuesday - March 28, 2006