This Week At The Museums
For the week of March 19 - 25, 2006
Ketchikan, Alaska

Tongass Historical Museum
BOOMTOWN: KETCHIKAN IN THE 1950S
February 10 - April 16, 2006
Documentary photos by Paulu Saari

Winter Hours thru May 1st
Wednesday - Friday, 1:00 - 5:00 PM
Saturday, 10:00 AM - 4:00 PM
Sunday, 1:00 - 4:00 PM
Totem Heritage Center
Winter Hours thru May 1st
Monday - Friday, 1:00 - 5:00 PM
Upcoming Events
Totem Heritage Center

Advanced Northwest Coast Design
Instructor: Stan Bevan
April 23 - May 6
Sunday, 1:00 - 4 PM
Tuesday, Thursday, 6:00 - 9:00 PM
Saturday, May 6, 10:00 AM - 4:00 PM

Northwest Coast Carving: Portrait Masks
Instructor: Stan Bevan
April 24 - May 5
Monday, Wednesday, Friday, 6:00 - 9:00 PM
Saturday, April 29, 10:00 AM - 4:00 PM

Spruce Root Gathering Trip
Instructor: Delores Churchill
April 19 - 26, 2006
Queen Charlotte Islands


---
Past Exhibits & News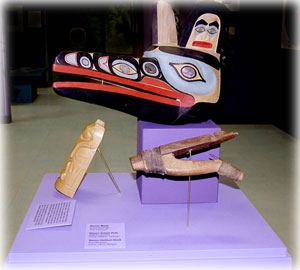 The exhibit offered the opportunity to learn about the important role of ravens in Northwest Coast Native and other cultures of the world.
Photos courtesy Ketchikan Museums
Raucous! Everything Raven, a celebration of Corvus corax in Art, History, and Legend continued through January 29th, 2006
This fall, ravens will rule the roost at the Tongass Historical Museum! October 14th marked the opening of Raucous! Everything Raven, an exhibit that celebrates Corvus corax in art, legend, and natural history.
Ketchikan linocut artist Evon Zerbetz is the originator and guest curator of Raucous! Her whimsical raven art-works (many created for her most recent book illustration project, Ten Rowdy Ravens) are featured in the show, along with raven art by other Alaska artists.
The sights and sounds of ravens in all their attitudes surround visitors as they explore raven-related subjects ranging from eating habits (French fries rank among their favorite foods) to their amazing intellect and their ability to solve complex problems. There will be raven games for children and challenges for young and old to solve, based on knowledge of all things raven. A comfort-able reading area, complete with an original, raven-design sofa and coffee table books, will be available for those wishing to expand their raven knowledge. - Read more...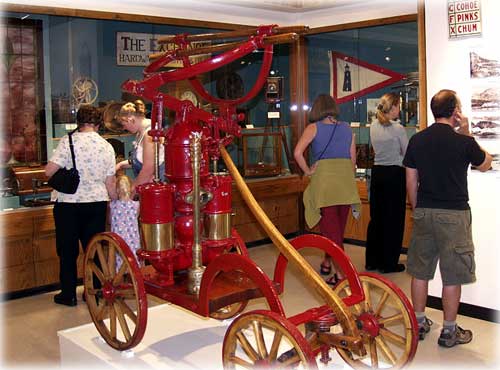 Tides of Change: The History of Ketchikan
Tongass Historical Museum: The 2005 Summer exhibit ended September 26, 2005.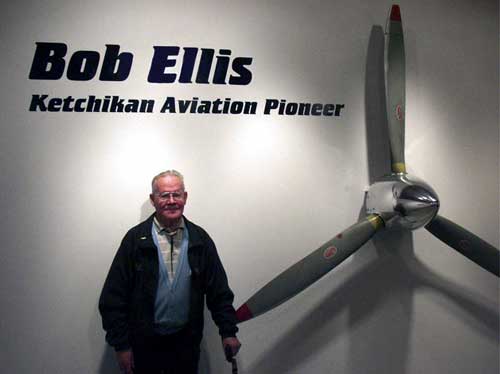 Bob Ellis: Ketchikan Aviation Pioneer Exhibit
Bob Ellis: Ketchikan Aviation Pioneer is on exhibit at the Tongass Historical Museum through December 31st. This historical exhibit features a collection of Ellis material from the Ketchikan Museums, the Alaska Aviation Heritage Museum, and photographs, memorabilia, and personal reminiscences from his family, friends, employees and associates.

Former Ellis Airline's chief pilot, Bud Bodding poses next to a three-blade Goose propeller that greets visitors to the Bob Ellis exhibit at the Tongass Historical Museum.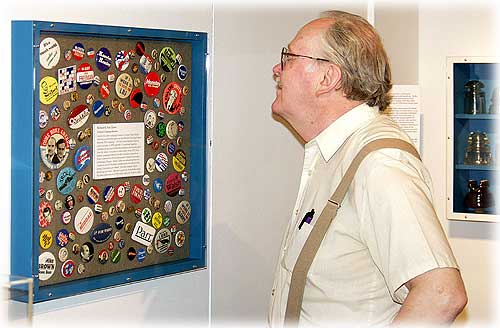 What Ketchikan Collects
Borough Assembly member and perennial campaigner Jack Shay studies political buttons from Richard Van Cleave's collection. "Where's my campaign button?" he quipped.
Photo courtesy Tongass Historical Museum

What Ketchikan Collects - The Tongass Historical Museum's summer exhibit, What Ketchikan Collects, opened Friday, May 7, with a public reception attended by more than 240 people. The new exhibit features samplings of the personal collections of 66 Ketchikan residents. Each collection is accompanied by a story or statement from the collector about its personal significance and special associations. - Read more and view photographs...
Thursday - May 27, 2004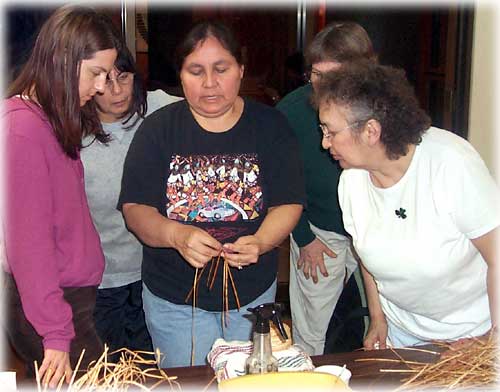 Cedar Bark Weaving
Totem Heritage Center instructor Diane Douglas-Willard demonstrates
a weaving technique to students during one of the class sessions. (L-R) Yasha Jaffuel, Catherine Young, Diane Douglas-Willard, Evelyn Voorhees-Brown, and Laverne John.
Photo Courtesy Ketchikan Museums

Expert Teaches Cedar Bark Weaving Skills - The pleasant, pungent smell of cedar bark filled the Totem Heritage Center in March as 13 students, from beginners to advanced weavers, worked on hats, clam baskets, and other weaving projects under the expert guidance of instructor Diane Douglas-Willard. Cedar bark and spruce root weaving are among the many traditional techniques taught in the Totem Heritage Center's internationally recognized Northwest Coast Native Arts program. - More photos...
Tuesday - March 30, 2004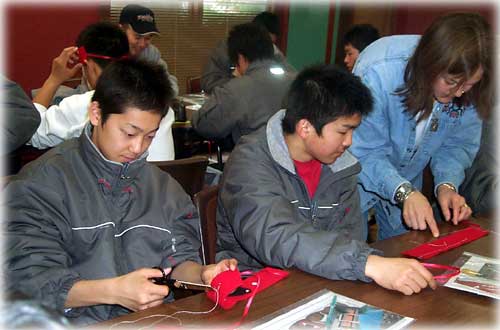 'Kanayama Students Visit Ketchikan'
Linda Schrack (right) assisting Kanayama students with a Northwest Coast Native
regalia project, an eagle design headband.
Photo Courtesy Ketchikan Museums

Ketchikan: Totem Heritage Center Kanayama Cultural Exchange Program - Since 1998, a favorite annual event at the Totem Heritage Center is a visit by the students from Ketchikan's sister city, Kanayama, Japan. This year Linda Schrack, Haida, and her family provided the cultural interpretation for this program.- More photos...
Wednesday - March 24, 2004 - 1:00 am
Tongass Historical Museum Film Series: Download a View Finders Film Schedule

Ketchikan: Concept for a new, expanded museum for Ketchikan - This concept for a new, expanded museum for Ketchikan, was developed by Anchorage architects Livingston Slone under contract to the City. The 30,000 square-foot structure would be built on the site of the existing Centennial Building, which now houses both the Tongass Historical Museum and the Public Library. - Read more and view the museum plan...
Thursday - March 25, 2004 - 12:15 am
Graphic Description: Interior Cross-section of the proposed building, facing north, showing the four levels.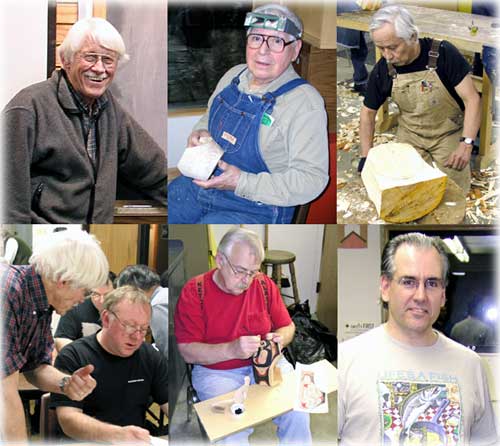 Advanced Classes Taught By Renowned Seattle Artist Bill Holm
Top L -R: Bill Holm; Ernie Smeltzer; Nathan Jackson
Bottom L-R: Bill Holm & Jack Navitsky of Sitka; Pete Richards; Bill Pfeifer
Photos courtesy Ketchikan Museums - Photo Essay
Published Tuesday - February 10, 2004
Eagle-Human Transformation Dance Rattle. Norman Jackson, 2003.
Carved yellow cedar, paint, creek pebbles, spruce root. 10.5 x 5 in.
Photo Ketchikan Museums

RASMUSON FOUNDATION AWARDS ART GRANTS TO KETCHIKAN MUSEUMS - Thanks to generous grants from the Rasmuson Foundation, three important artworks by Ketchikan artists have recently been acquired for the permanent collection of the Ketchikan Museums. Leaping Salmon Sharks, a diptych of mixed media drawings by Ray Troll; Eagle-Human Transformation, a painted, yellow-cedar dance rattle by Tlingit carver Norman Jackson; and Aleut Hunter, an oil painting by Mary Ida Henrikson, were all purchased through a new Rasmuson Foundation program, the Art Acquisition Initiative.
The Rasmuson Foundation created The Art Acquisition Initiative early in 2003 to encourage and support practicing Alaskan artists by helping museums within the state to purchase their work. The program is administered by Museums Alaska, the statewide association of museums.
Leaping Salmon Sharks is currently displayed at the Tongass Historical Museum, as part of Ray Troll's traveling exhibit, Sharkabet: A Sea of Sharks from A to Z. Norman Jackson's rattle was recently exhibited in the Totem Heritage Center's Student and Instructor Art Show. Mary Ida Henrikson's painting was shown at the Tongass Historical Museum in 1998, in conjunction with Qajaq: Kayaks of Siberia and Alaska, a traveling exhibit from the Alaska State Museum. It is currently at the Anchorage Museum of History and Art, where it is in consideration for inclusion in the upcoming All-Alaska Juried Art Exhibition. - View photos...
Friday - January 09, 2004

THC's Holiday Party Attended by Over 120 Kids and... Santa! - The Totem Heritage Center's Annual Holiday Party for preschoolers was held on December 9, 2003. Johnson O'Malley Cultural Instructors were on hand as well as a special visit from Santa Claus and his elf! - Read more and view the photo gallery...
December 11, 2003
---
Previous Exhibits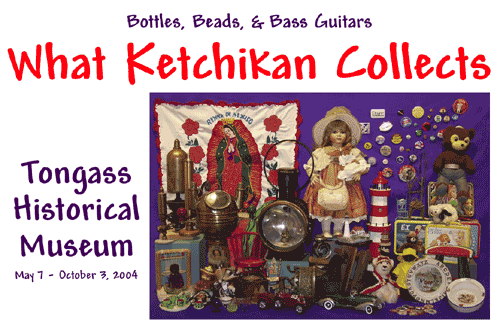 What Ketchikan Collects and The First People: Tlingit, Haida and Tsimshain Heritage are the exhibits currently on display at the Tongass Historical Museum.


Download a poster - What Ketchikan Collects
View Finders:
Ketchikan Photographers

View Finders: Ketchikan Photographers Photo Gallery: Exquisite photographs by some of Ketchikan's finest photographers! This exhibit featured a wide range of photographic styles, techniques and subject matter, taken with a variety of camera formats. The photographs displayed range from Bruce Schwartz's large-format color prints of African subjects to Paulu Saari's black-and white detail photo of rocks and pebbles on a Revilla beach. View Finders was on display until April 11, 2004.
Photo: Pat Schmidt, Amanda Welsh, Hall Anderson, and David Jensen discuss Paulu Saari's 1951 photograph of Barney Way and Creek Street at the opening reception. Photo courtesy Ketchikan Museums

Sharkabet Photo Gallery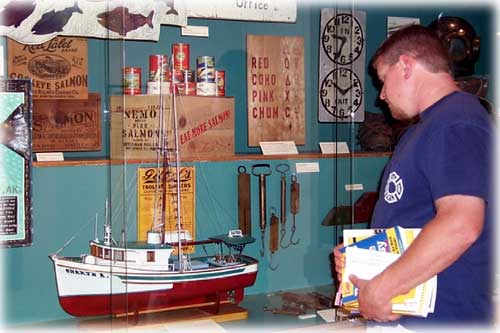 Some Things Fishy: Ketchikan and the Salmon
Ketchikan local, Hogan Zinn admires the model troller Sharyn A, built to scale
by Ketchikan resident Ed Allain, who fished the original Sharyn A. for many years.
photo by Frances Leach, Ketchikan Museums

Some Things Fishy photo gallery
Post a Comment View Comments
Submit an Opinion - Letter
Sitnews
Stories In The News
Ketchikan, Alaska