Photo Essay
Concept for a new, expanded museum for Ketchikan
March 25, 2004
Thursday - 12:15 am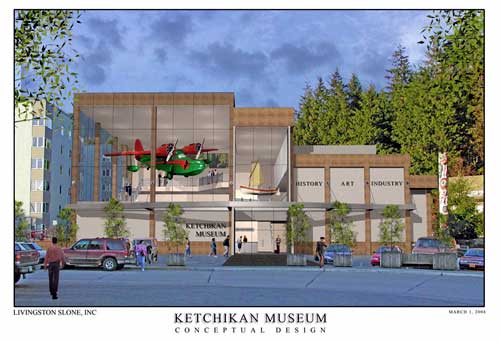 Ketchikan Museum Concept Plan, Architect's Rendering
This concept for a new, expanded museum for Ketchikan, was developed by Anchorage architects Livingston Slone under contract to the City. The 30,000 square-foot structure would be built on the site of the existing Centennial Building, which now houses both the Tongass Historical Museum and the Public Library.
The concept incorporates all of the requirements for a first-rate showcase of Ketchikan history and culture: downtown location; high visibility; ease of access; expanded exhibit space for permanent and temporary exhibitions; increased storage areas for artifacts and archives; a dedicated space for public programs, classes, and kids' activities; efficient work areas; appropriate environmental controls; dramatic views of Ketchikan Creek from inside the building; and a spectacular display of the Tongass Historical Society's restored Grumman Goose aircraft.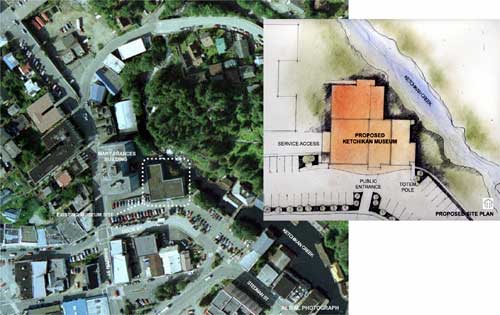 Aerial view of the existing Museum/Library site, with the Centennial Building highlighted. The inset drawing shows the outline of the proposed new Museum building, which conforms to the footprint of the existing structure, except for small additions along the north and east sides and on the inside of the "L", facing Ketchikan Creek.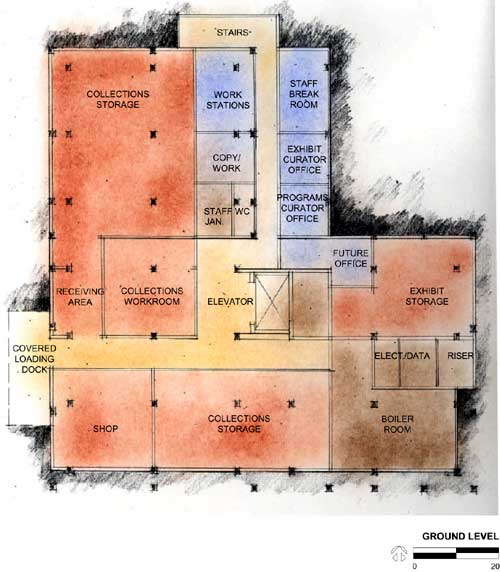 Ketchikan Museum Concept Plan, Ground Level
This plan shows the layout of the lower level (now occupied by the Children's Library, Museum offices, and collections storage.) In the new building, this floor would be dedicated to non-public museum functions, such as artifact storage, workrooms, offices, boiler room, etc. A large elevator is at center.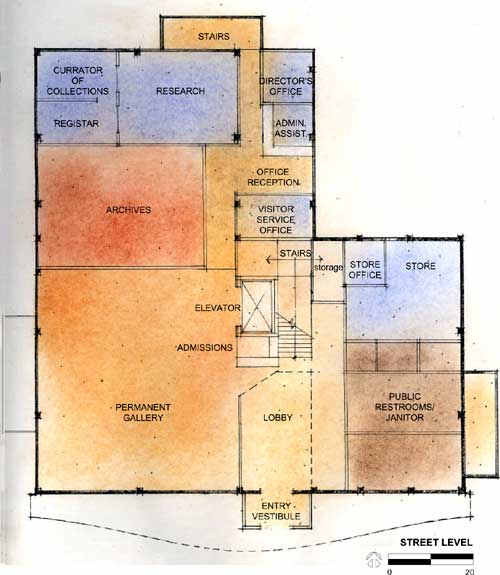 Ketchikan Museum Concept Plan, Street Level
Inside the main entry is a spacious lobby, partly open to the floor above. A stairway to the upper level, and the elevator, are opposite the entrance. Public restrooms and a museum store are on the right and the main exhibition gallery, featuring permanent Ketchikan history exhibits, is on the left. Administrative offices, a library/research room, and archival storage share the northern portion of this level.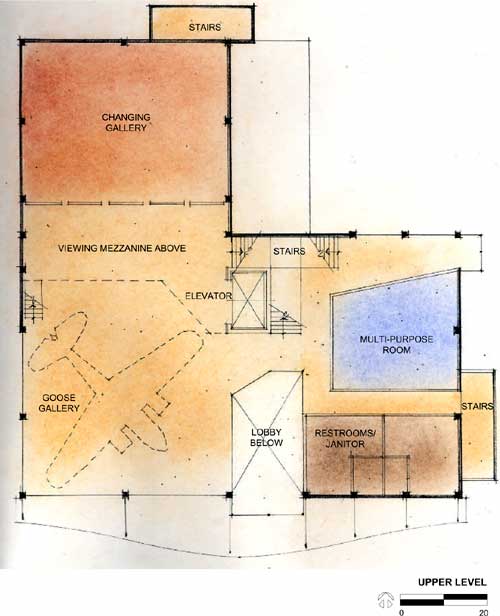 Ketchikan Museum Concept Plan, Upper Level
The main feature of the upper level is a spacious, open exhibit floor with the historic Ellis Air Lines Grumman Goose suspended overhead. Floor-to-ceiling glass walls on the south and west sides of this space make the plane appear to be encased in a giant display case, visible from much of the downtown area. Opening off this area is a changing gallery, where short-term exhibitions on a variety of themes will be mounted. On the east side of the building are restrooms and a classroom/program space where exhibit-related public programs, weekend activities for kids, and school group projects can take place. Outside the classroom, museumgoers will enjoy the view from a comfortable seating area with banks of windows overlooking Ketchikan Creek.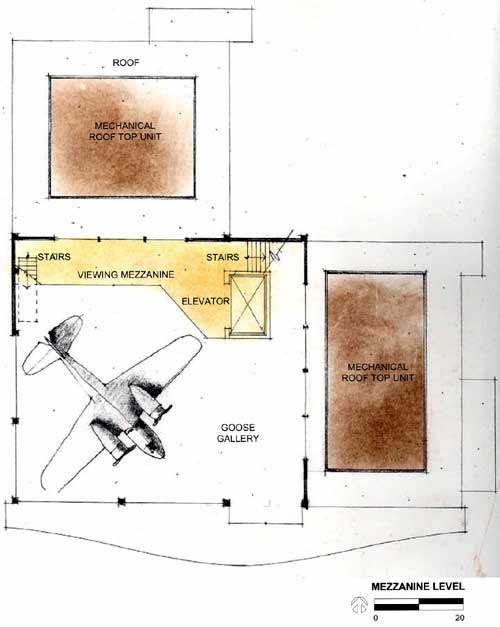 Ketchikan Museum Concept Plan, Mezzanine Level
From the mezzanine level over the "Goose Gallery", museumgoers will have an eye-level view of the airplane.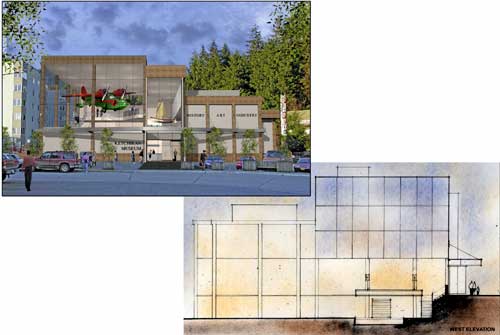 West elevation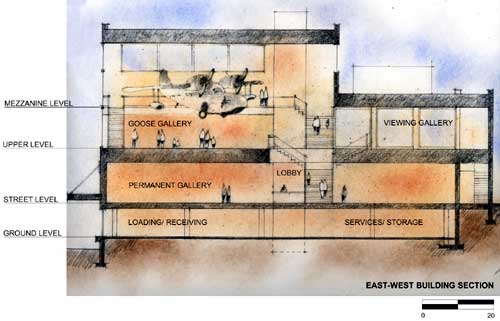 Ketchikan Museum Concept Plan, Interior Cross-section - This is a cross-section of the building, facing north, showing the four levels.
Source:
Graphics & Descriptions Courtesy Ketchikan Museums

Send your news and photos for publication to photos@sitnews.org
E-mail Dick Kauffman: editor@sitnews.org
Post a Comment View Comments
Submit an Opinion - Letter
Sitnews
Stories In The News
Ketchikan, Alaska