Photo Essay
Ray Troll's Sharkabet, A Sea of Sharks from A to Z
Photos courtesy Ketchikan Museums


October 29, 2003
Wednesday - 12:30 am

Ketchikan, Alaska - Ray Troll's Sharkabet, A Sea of Sharks from A to Z swam into the Tongass Historical Museum on October 17. More than 270 residents attended the Sharkabet opening, eager to see the bright and colorful exhibit. Thirty-seven original, large-scale color drawings are featured, each done in Troll's zany trademark style. Also in the exhibit are actual shark specimens, shark-themed Native Alaskan art, and photos of sharks found in the Ketchikan vicinity. Among the most dramatic displays are the jaws of a huge Great White shark found on Gravina Island in 1977, complete with razor-sharp teeth.
Sharkabet is educational and entertaining for adults and kids alike. In the days following the opening, the museum has been conducting special tours of the exhibit for local school classes. Excited students are learning about prehistoric sharks, as well as sharks still swimming in the world's oceans today. They leave the Museum with a great deal of shark knowledge, not to mention appreciation for Ray Troll's work as an artist. In conjunction with the exhibit, Troll has presented slide shows and shark workshops in most of the elementary schools in Ketchikan and Prince of Wales.
Sharkabet will be at the Tongass Historical Museum until February 1, 2004. Admission is always free to locals.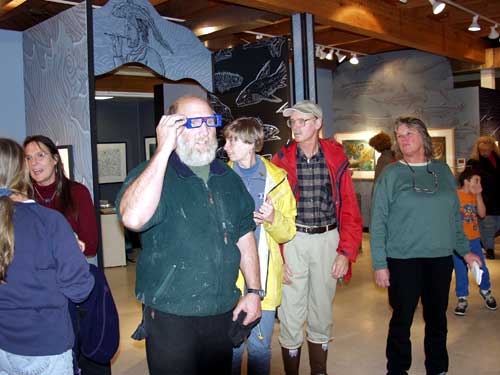 Bill Rotecki tries on 3-D glasses to view a Troll shark mural.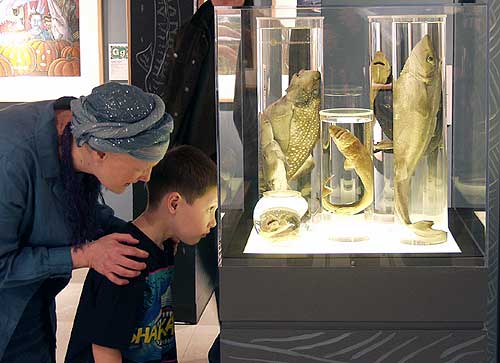 Carolyn Stallings and her grandson, Trenton, lean in to get a closer look at some of the shark specimens on display.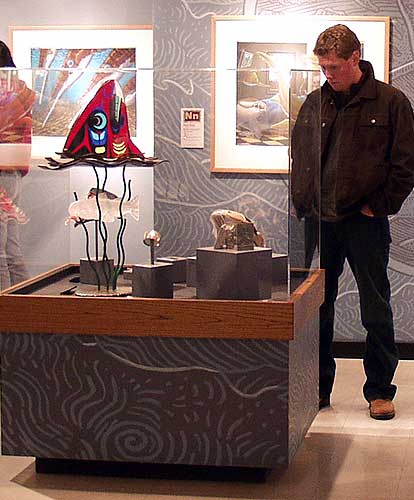 Haida artist Donny Varnell examines Alaska Native shark art on display.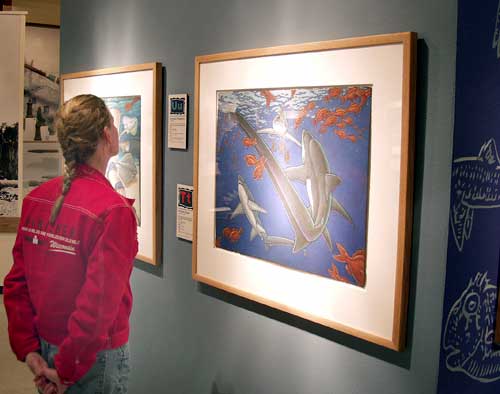 Susan Doherty studies Troll's drawing of the Thresher Shark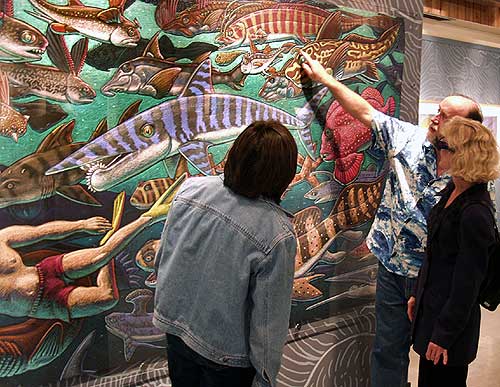 Ray Troll points out features his 3-D shark mural to Lynn Wadley and Linda Millard.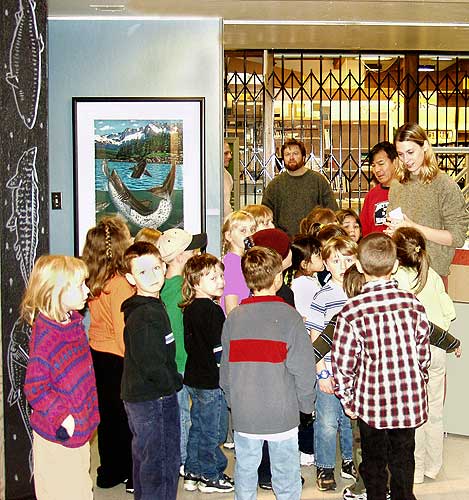 Mrs. Paulson's First Graders from White Cliff Elementary School listen to Program Coordinator Frances Leach before entering the exhibit.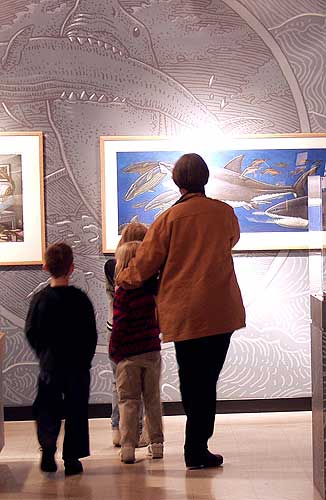 Teacher Cathy Paulson studies the Megalodon, a long-extinct,
60-foot shark, with some of her students.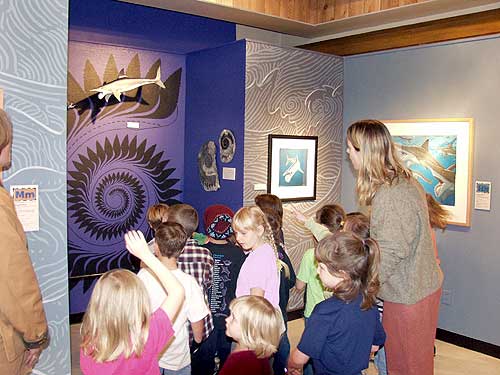 Students learn about the unique teeth structure of the Heliocoprion, a shark species that lived 250 million years ago.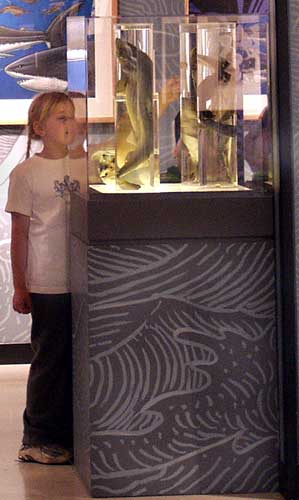 A young girl takes a closer look at sharks in the specimen case.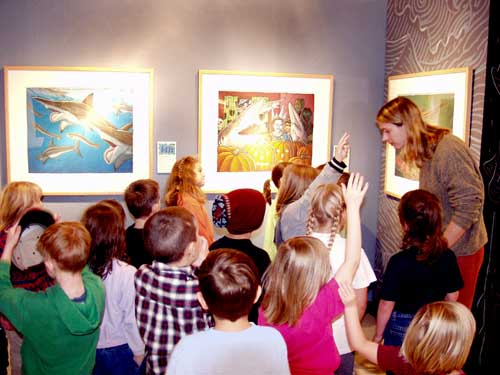 With Halloween approaching, students get excited about the Goblin Shark.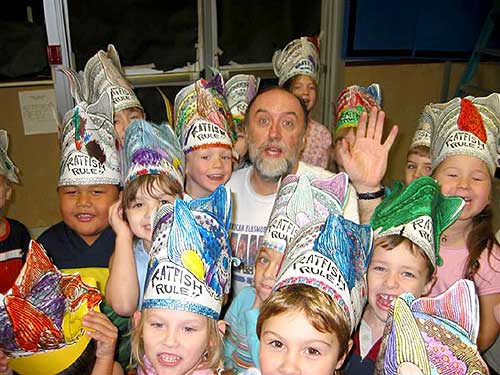 Ray Troll having fun with students at the Tongass School of Arts and Sciences.
Tongass School of Arts and Sciences kids attend a program presented by Ray Troll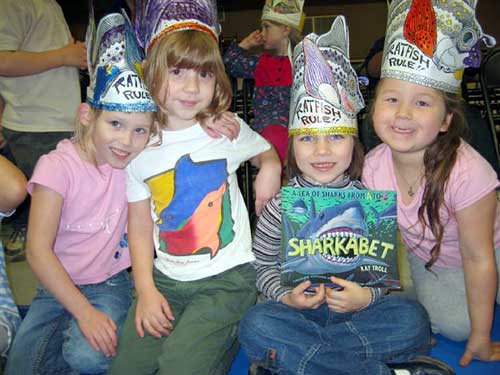 Addy Carraway, Juliene Gordanier, Ashlyn Harty and Daisha Mastapose from Mrs. Stanton's kindergarten class pose for a picture in their colorful ratfish hats.



Submit your photos for publication to photos@sitnews.org.
E-mail Dick Kauffman: editor@sitnews.org
Post a Comment View Comments
Submit an Opinion - Letter
Sitnews
Stories In The News
Ketchikan, Alaska