Photo Essay
Some Things Fishy: Ketchikan and the Salmon
at the Tongass Historical Museum!
by Frances Leach - Ketchikan Museums
August 19, 2003
Tuesday - 12:10 am

Ketchikan, AK - A colorful community exhibit, Some Things Fishy encompasses all things salmon, including antique and unusual fishing gear, cannery related items, salmon-inspired garments, King Salmon Derby photos, salmon artwork, "fish stories," and much, much more. Hundreds of fascinating objects and photos, selected from the Museum's collections and on loan from area residents, provide a fascinating view of our community, its rich history and our many connections to that most splendid of fish, the SALMON.
And remember. Ketchikan residents are ALWAYS admitted free! Some Things Fishy closes on September 30th. Don't miss it!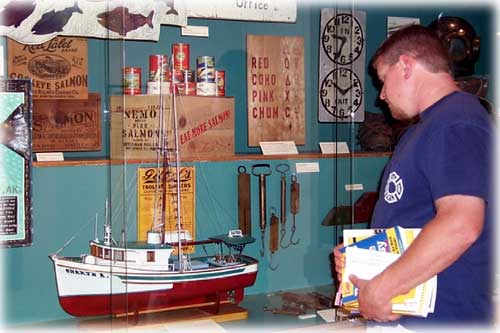 Ketchikan local, Hogan Zinn admires the model troller Sharyn A, built to scale by Ketchikan resident Ed Allain, who fished the original Sharyn A. for many years.
photo by Frances Leach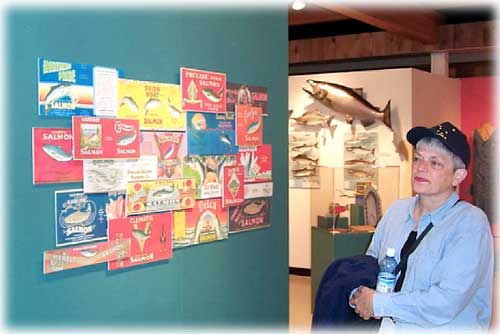 A Museum visitor looks at historic salmon can labels once used by Ketchikan canneries.
photo by Frances Leach
Nona Hamilton-Head's "Hoochie Dress" was created for Ketchikan's Wearable Art Show and is an example of how salmon are incorporated into everyday art and life.
photo by Frances Leach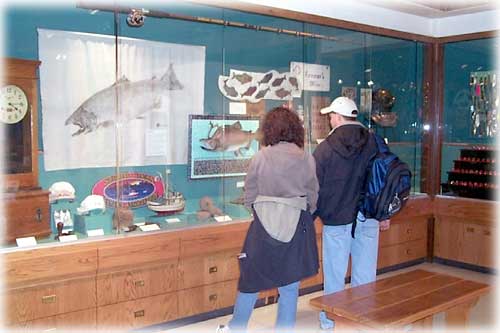 A visiting couple stops to read about Ray Troll's legendary "Humpalope".
photo by Frances Leach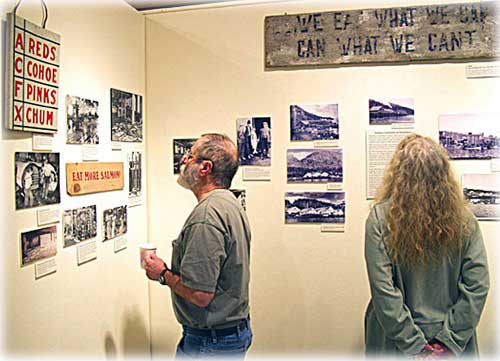 Dr. Phil Newman and his wife Phoebe discover more about historic canneries in Ketchikan.
photo by Frances Leach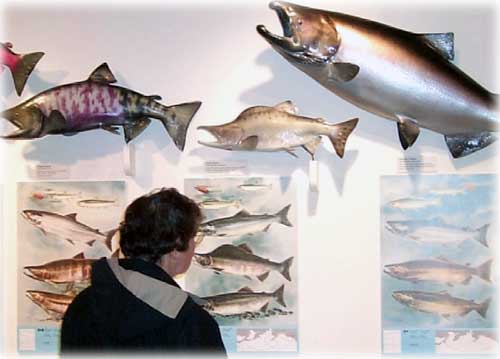 A recent museum visitor takes a close look at the
differences between the five species of salmon.
photo by Frances Leach
Some Things Fishy: Ketchikan and the Salmon can be seen at the Tongass Historical Museum through September 30. Call 225-5900 for more information.

Photos & text by Frances Leach - Ketchikan Museums
Submit your photos for publication to photos@sitnews.org.
Post a Comment View Comments
Submit an Opinion - Letter
Sitnews
Stories In The News
Ketchikan, Alaska