Photo Essay
View Finders: Ketchikan Photographers
Tongass Historical Museum
February 20 - April 11, 2004
Photo Essay courtesy Ketchikan Museums


March 02, 2004
Tuesday - 12:30 am

Ketchikan, AK - View Finders, the Tongass Historical Museum's latest exhibition, opened on Friday, February 20 with a public reception attended more than 190 local residents and visitors. The event provided an opportunity to visit with featured photographers, listen to live guitar and flute music provided by Harvey and Annette Hansen, and enjoy a tasty assortment of refreshments.
View Finders features 83 unique and wonderful pictures by 35 of Ketchikan's best photographers, including outstanding photography students from Ketchikan High School and University of Alaska Ketchikan Campus. The exhibit encompasses a variety of subject matter, from Paulu Saari's detailed study of the tideline at Mountain Point to Dr. Bruce Schwartz's color prints of Africa. Many of the images are hauntingly beautiful; others are zany and amusing. Every one demonstrates the impressive talent that abounds in our town.

View Finders will be on display until April 11th. Admission is always free to locals.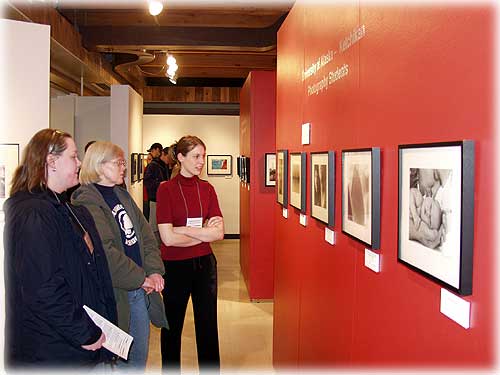 Jennifer Soderstrom and her mother, Donna Soderstrom, view photographs by Jennifer and her fellow UAS - Ketchikan students with the Museum's Program Coordinator, Frances Leach.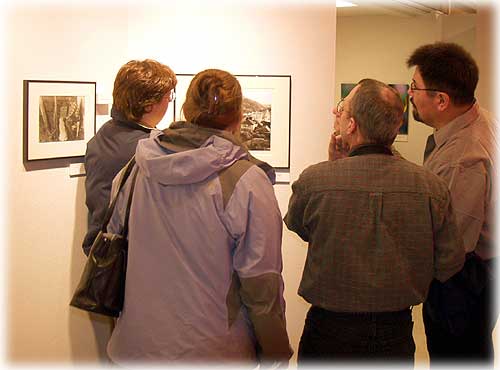 Pat Schmidt, Amanda Welsh, Hall Anderson, and David Jensen discuss Paulu Saari's 1951 photograph of Barney Way and Creek Street at the opening reception.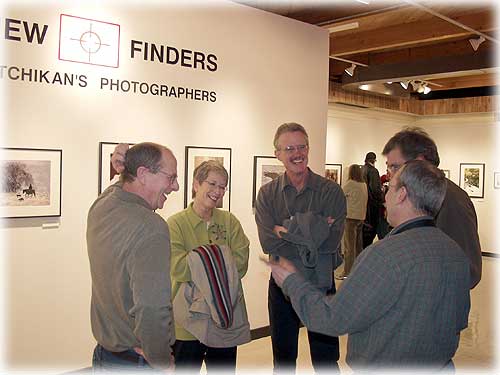 Museum Director Michael Naab, left, and Diane Naab share a laugh with View Finder photographers Chip Porter, Bruce Schwartz, and Hall Anderson.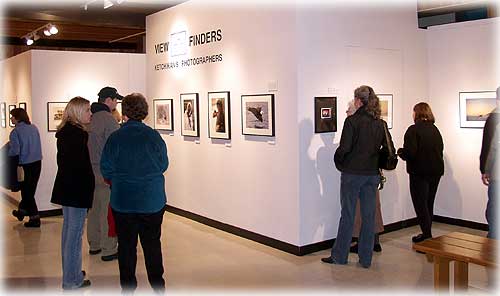 Opening night museumgoers enjoying their first look at the exhibit.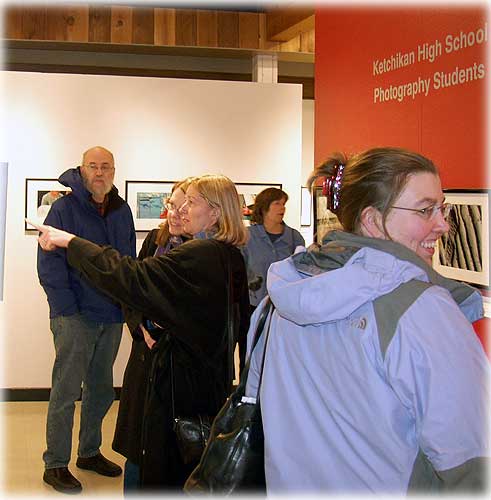 David and Karen Pitcher, Bev Laurance Davies, Ann Widness, and Amanda Welsh were among the many Ketchikan residents who attended the opening reception.


In conjunction with View Finders: Ketchikan Photographers, the museum department has scheduled an excellent series of films featuring famous photographers. The first film, Alfred Stieglitz: The Eloquent Eye, will be shown in the Tongass Historical Museum gallery on Sunday, March 14, at 2 PM. Admission is free.
View Finders Film Schedule

Send your news and photos for publication to photos@sitnews.org
E-mail Dick Kauffman: editor@sitnews.org
Post a Comment View Comments
Submit an Opinion - Letter
Sitnews
Stories In The News
Ketchikan, Alaska