Raucous!
Everything Raven
October 31, 2005
Monday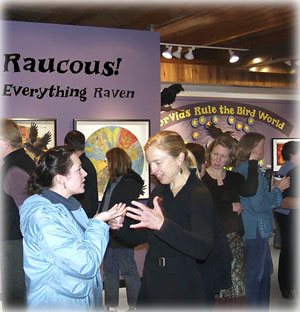 Evon Zerbetz chats with one of the over 225 people who attended the Raucous! Opening.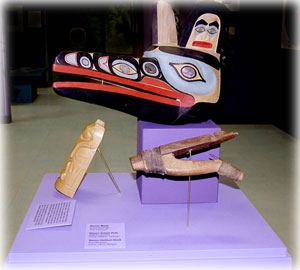 The exhibit offers the opportunity to learn about the important role of ravens in Northwest Coast Native and other cultures of the world.
Photos courtesy Ketchikan Museums
Ketchikan, Alaska - This fall, ravens will rule the roost at the Tongass Historical Museum! October 14th marked the opening of Raucous! Everything Raven, an exhibit that celebrates Corvus corax in art, legend, and natural history.
Ketchikan linocut artist Evon Zerbetz is the originator and guest curator of Raucous! Her whimsical raven art-works (many created for her most recent book illustration project, Ten Rowdy Ravens) are featured in the show, along with raven art by other Alaska artists.
The sights and sounds of ravens in all their attitudes surround visitors as they explore raven-related subjects ranging from eating habits (French fries rank among their favorite foods) to their amazing intellect and their ability to solve complex problems. There will be raven games for children and challenges for young and old to solve, based on knowledge of all things raven. A comfort-able reading area, complete with an original, raven-design sofa and coffee table books, will be available for those wishing to expand their raven knowledge.
In conjunction with the exhibit, a special, free "Funday at the Museum" program for kids will be held in the gallery on Saturday, November 5th, from 10:00 AM until 2:00 PM. The fun will include raven stories; raven show and tell; raven art and craft activities; and an "in-person" appearance by a live raven, courtesy of the Deer Mountain Fish Hatchery & Eagle Center.
On December 1st, Evon Zerbetz will speak about her art at a Brown Bag lunch program at noon in the museum gallery.
Dr. John Marzluff, professor of Wildlife Science at the University of Washington, will present an illustrated lecture on ravens at the Southeast Alaska Discovery Center on December 9th. Dr. Marzluff is co-author, with Tony Angell, of the soon-to-be- published book, In the Company of Crows and Ravens: A Fascinating Look at How Crow Culture Is Entwined with Our Own. Raven's Brew Coffee Company, the Alaska Natural History Association, the Discovery Center, and Ketchikan Museums are sponsoring the lecture.
The exhibit will run through Sunday, January 29th. You won't want to miss this wonderful show!
E-mail your news & photos to editor@sitnews.us


Publish A Letter on SitNews Read Letters/Opinions
Submit A Letter to the Editor
SitNews
Stories In The News
Ketchikan, Alaska