RASMUSON FOUNDATION AWARDS ART GRANTS
TO KETCHIKAN MUSEUMS

January 09, 2004
Friday - 1:30 am

Thanks to generous grants from the Rasmuson Foundation, three important artworks by Ketchikan artists have recently been acquired for the permanent collection of the Ketchikan Museums. Leaping Salmon Sharks, a diptych of mixed media drawings by Ray Troll; Eagle-Human Transformation, a painted, yellow-cedar dance rattle by Tlingit carver Norman Jackson; and Aleut Hunter, an oil painting by Mary Ida Henrikson, were all purchased through a new Rasmuson Foundation program, the Art Acquisition Initiative.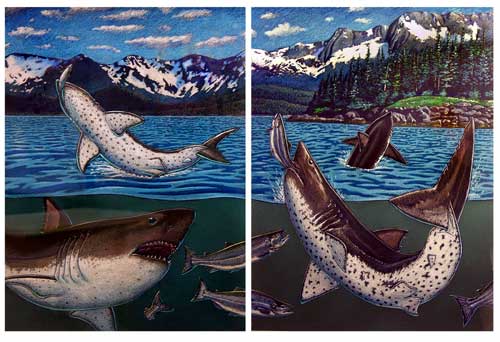 Leaping Salmon Sharks (diptych). Ray Troll, 2002.
Mixed media drawing on paper. 30 x 22.5 in.

The Rasmuson Foundation created The Art Acquisition Initiative early in 2003 to encourage and support practicing Alaskan artists by helping museums within the state to purchase their work. The program is administered by Museums Alaska, the statewide association of museums.
Leaping Salmon Sharks is currently displayed at the Tongass Historical Museum, as part of Ray Troll's traveling exhibit, Sharkabet: A Sea of Sharks from A to Z. Norman Jackson's rattle was recently exhibited in the Totem Heritage Center's Student and Instructor Art Show. Mary Ida Henrikson's painting was shown at the Tongass Historical Museum in 1998, in conjunction with Qajaq: Kayaks of Siberia and Alaska, a traveling exhibit from the Alaska State Museum. It is currently at the Anchorage Museum of History and Art, where it is in consideration for inclusion in the upcoming All-Alaska Juried Art Exhibition.
Photo Gallery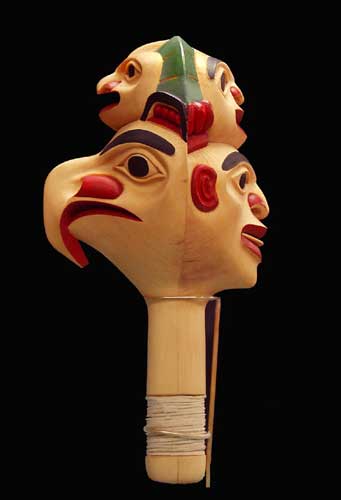 Eagle-Human Transformation Dance Rattle. Norman Jackson, 2003.
Carved yellow cedar, paint, creek pebbles, spruce root. 10.5 x 5 in.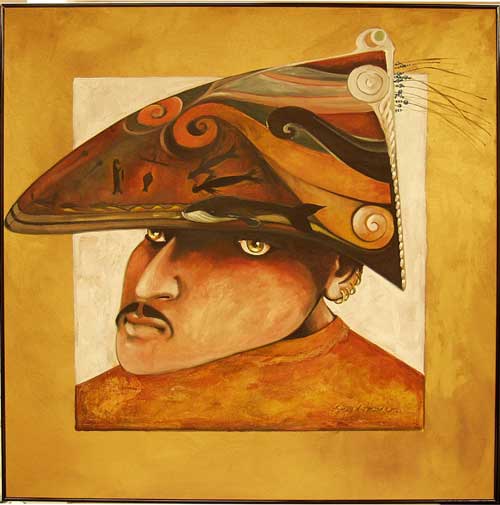 Aleut Hunter. Mary Ida Henrikson, 1998.
Oil paint and encaustic on canvas, with gold metallic pigment burnishing. 40 x 40 in.


Source of News & Photos:
Ketchikan Museums

Send your news & photos for publication to photos@sitnews.org.
E-mail Dick Kauffman: editor@sitnews.org
Post a Comment View Comments
Submit an Opinion - Letter
Sitnews
Stories In The News
Ketchikan, Alaska