Saturday Market Rapidly Gaining Popularity in Ketchikan
By Marie L. Monyak
April 06, 2006
Thursday

Ketchikan, Alaska - There was no shortage of excitement at the Plaza Mall this past Saturday as shoppers were surrounded by clowns, balloons, games, raffles, food sellers and craft booths.

The Plaza Mall merchants were holding their quarterly Customer Appreciation Day with super sales, coupons and prizes. Occurring simultaneously was a relatively new event which provided even more selection for local shoppers, known as the Saturday Market which is held the first Saturday of every month.
Todd Bright displayed his model rocket collection hoping to interest people in rocketry as a hobby and encourage people to sign up for a new rocketry club he's forming.
Photo by Marie L. Monyak

In addition to the well-known permanent merchants, craft sellers lined the aisles of the first floor with their tables brimming with handmade wares while food sellers tempted hungry shoppers with their tantalizing treats. The second floor was just as active where local residents set up tables laden with new and used items waiting to find a new home.

The Plaza Mall's Saturday Market (held the first Saturday of the month) is rapidly gaining popularity in Ketchikan. On the first floor, local crafters are able to rent space to display hand made treasures or food items for sale.

Crafters offered a wide variety of goods to satisfy the most discriminating taste. From crocheted blankets to Native art, beaded jewelry to hunting knives, there was something for everyone.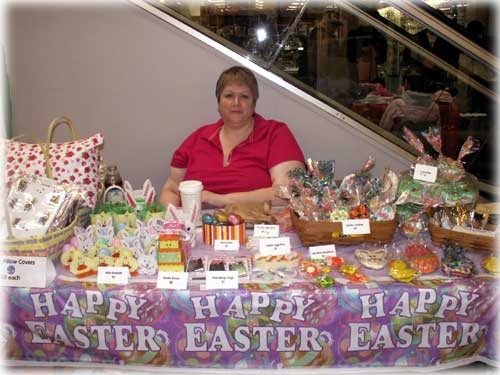 Mareen Gilmartin selling her Easter crafts and goodies
Photo by Marie L. Monyak

Mareen Gilmartin chose a holiday theme selling her handmade Easter jewelry, accessories, trinkets, decorations and homemade baked goods from a festively decorated booth. The tempting aroma of kabobs, lumpias and popcorn came from various booths not far away.

Jake Beilmer, owner of Bifrost Blacksmithing, is usually found during the tourist season at his smithy located between Salmon Landing Mall and the Great Alaskan Lumberjack Show. During the off-season, the Plaza Mall offers Beilmer and his apprentice Krystle DeCourcey a place to sell their hand forged knives, jewelry and decorations to the delight of shoppers.
One booth in particular offered items that bridged the generation gap. It may be the current trend for teenagers and with Ashley Glenn and Larissa Figley, the young proprietresses of Stellar Creations, but the tye-dyed clothing they sell is bound to transport baby-boomers to a time of flower power, love beads and Woodstock.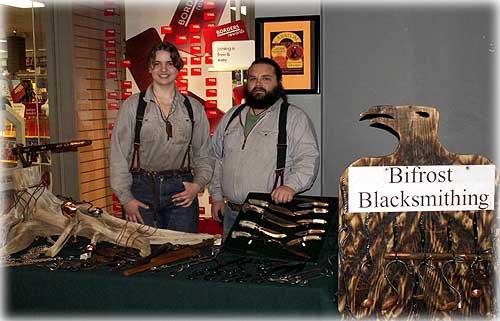 Jake Beilmer and apprentice Krystle DeCourcey of Bifrost Blacksmithing.
Photo by Marie L. Monyak

Some Saturday Market tenants had ulterior motives besides just selling their merchandise.
Todd Bright displayed his model rocket collection which included several over 5 feet in length. To attract even more attention, Bright was offering a free drawing for a ready to fly rocket kit. If you're asking why Bright would want attention, it was so he could interest people in rocketry as a hobby and encourage people to sign up for a new rocketry club he's forming. Sorry, but there were no live demonstrations inside the mall!
Cindi Byrd, known as The Bread Woman, had an ulterior motive as well but hers was an altruistic one. Selling her homemade cookies, flavored breads, cupcakes, popcorn balls, and serving fresh hot coffee, Byrd is raising money to assist the Tupelo Children's Mansion in Katrina ravaged Mississippi. The children's home for orphans and troubled youth is a charity generously sponsored by the United Pentecostal Church located on Fairy Chasm.

There was no loss of momentum when one ventured to the second floor of the plaza. Vendors selling used items or new merchandise that is not handmade had the opportunity to rent space upstairs to display their goods.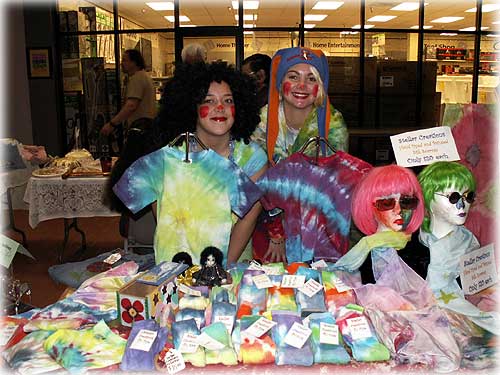 Ashley Glenn and Larissa Figley of Stellar Creations
Photo by Marie L. Monyak

The self-titled Frog Lady, Cynthia Carlson, offered candles, knick-knacks, housewares and numerous frog ornaments and decorations. Carlson, along with friend Charlotte Buchanan, were renting space for the second time at the Saturday Market and said it's been a successful event for them.
Many residents, tired of attempting to hold yard sales in the rain have found a refuge at the Plaza Mall. Warm and dry, locals can display items they no longer need or want and prove the adage, "One man's junk is another man's treasure."
Shoppers that are fond of garage and yard sales but prefer to stay dry were pleasantly surprised by the number of people utilizing the Saturday Market as a means of holding their sales regardless of the weather.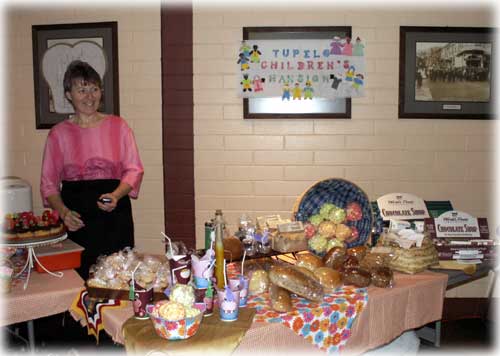 Cindi Byrd, The Bread Woman, raising money for Tupelo Children's Mansion.
Photo by Marie L. Monyak

Floor space, tables and walls were covered with second hand bargains. A canister set for the kitchen, a tea pot for mom, a plant stand, bookcase, lamp or electric mixer. Whatever one needed they surely could find it at the Saturday Market.
Katie Hunter, Marketing Events Coordinator for the Plaza Mall explained, "The Saturday Market is held on the first Saturday of the month and will continue through August and possibly longer. Next month we would like to incorporate the Celebration of the Sea theme with decorations and entertainment."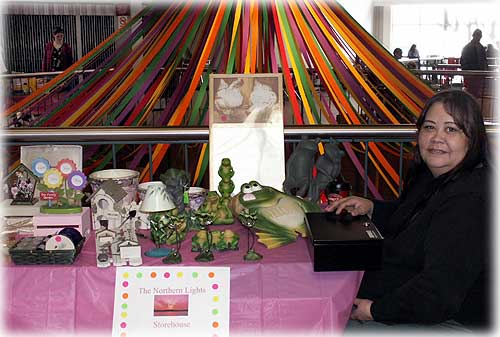 Cynthia Carlson, The Frog Lady selling her wares on the second floor.
Photo by Marie L. Monyak

According to Hunter, space rental on the first floor of the Plaza is for those vendors with handmade or homemade items whereas the second floor is for those with new and used merchandise.

Space rent is $10 for the 1st floor or $5 for the 2nd floor. Those vendors requiring the use of tables from the Plaza may rent them for $5. The Plaza has recently purchased more tables as they foresee the Saturday Market expanding to include even more vendors.

Shopaholics, garage sale queens, bargain hunters and social butterflies; mark your calendars for the next Saturday Market at the Plaza Mall on May 6th beginning at 9 AM!

For information on the Saturday Market, contact Katie Hunter at the Plaza Mall or visit their website: http://www.ketchikanplaza.com/

Marie L. Monyak is a freelance writer living in Ketchikan, Alaska.
A freelance writer is an uncommitted independent writer
who produces and sells articles to a publisher such as SitNews.
Contact Marie at mlmx1[at]hotmail.com
Send your story ideas to editor@sitnews us


Publish A Letter on SitNews Read Letters/Opinions
Contact the Editor
SitNews
Stories In The News
Ketchikan, Alaska