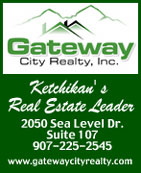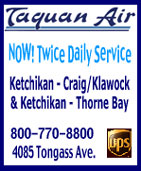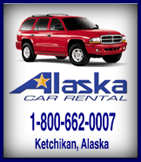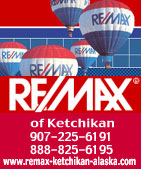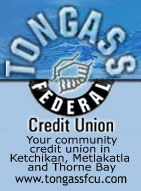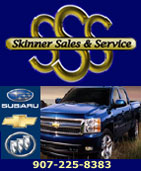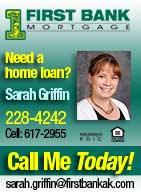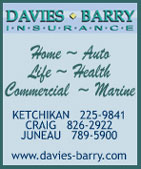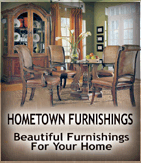 Contact


Call 254-1948


Webmail Letters


News Tips


Search Sitnews


Copyright Info


Archives
Today's News


Alaska


Ketchikan


Top Stories


U.S. News


U.S. Politics


Stock Watch


Personal Finance


Science News


US Education News


Parenting News


Seniors News


Medical News


Health News


Fitness


Offbeat News


Online Auction News


Today In History


Product Recalls


Obituaries
Quick News Search


Alaska


Ketchikan


SE Alaska


Alaska News Links
Columns - Articles


Dave Kiffer


Fish Factor


Chemical Eye On...


Parnassus Reviews


George Pasley


More Columnists
Ketchikan


Our Troops
Historical Ketchikan


June Allen


Dave Kiffer


Louise B. Harrington
Ketchikan Arts & Events


Ketchikan Museums


KTN Public Library


Parks & Recreation


Chamber
Lifestyles


Home & Garden


Food & Drink


Arts & Culture


Book Reviews


Movie Reviews


Celebrity Gossip
On the Web


Cool Sites


Webmaster Tips


Virus Warnings
Sports


Ketchikan Links


Top Sports News
Public Records


FAA Accident Reports


NTSB Accident Reports


Court Calendar


Court Records Search


Wanted: Absconders


Sex Offender Reg.


Public Notices
Weather, Webcams


Today's Forecast


KTN Weather Data


AK Weather Map


Ketchikan Webcam


SE AK Webcams


Alaska Webcams


AK Earthquakes


Earthquakes
TV Guide


Ketchikan
Ketchikan Phone Book


Yellow Pages


White Pages
Government Links


Local Government


State & National


Friday
May 08, 2009

A hummer of an experience
Photographer Scott Kemp poured some nectar in his hand and after about 15 minutes of patient posing, he got this little hummingbird to sit in his hand.
Front Page Photo SCOTT KEMP




Update

As of May 8th, the Alaska Department of Health and Social Services reports there are "still no confirmed cases of H1N1 (swine) flu in Alaska".

Announcement

The City of Ketchikan Public Works Department will again be closing a section of Park Avenue between Bawden Street and Harris Street at 9:00 am Friday, May 8th, 2009. The work area will remain closed until Monday morning May 11th at 6:00 am. The closure will allow for the final repairs to the sewer main and roadway. Please plan to use an alternate route thru the area, watch for and obey all traffic control signs and flaggers. Questions or concerns should be addressed to the City Public Works dept. at 228-4727.




Southeast Alaska: One Halibut per Day Rule Implemented; Change Necessary to Protect Halibut Resource in Southeast Alaska - In a new rule released Wednesday, NOAA's Fisheries Service reduced the number of halibut that charter vessel anglers in southeast Alaska can keep each day from two to one to protect the halibut stock. The rule is a response to ongoing concerns about the depletion of the halibut resource in the area.

"While today's rule addresses an immediate need to better manage the charter halibut fishery, we believe the long-term solution to sustainably managing the fishery is for the charter halibut fishery to join with the commercial halibut fishery in a catch share program," said Doug Mecum, acting regional administrator for NOAA's Fisheries Service in Alaska. "Catch share programs that allocate the total allowable catch to participants in the fishery give a strong incentive to fishermen to conserve fish stocks."

Halibut fishing along the Pacific Coast is managed under overall limits set for each fishing area. Sport charter halibut fishermen in Southeast Alaska have exceeded their assigned harvest levels for several years.

"Sport charter fishing has grown in southeast Alaska while halibut abundance has decreased," said Mecum. "With this rule, we are trying to reduce the charter halibut catch to ensure that we continue to fish sustainably. We want to work with the North Pacific Fishery Management Council on a long-term solution for sustainable fishing by both commercial and recreational fishing sectors."

Halibut Coalition members support the change and say it is a necessary step to conserve a threatened resource. "The charter industry in Southeast has been allowed to grow unchecked for too many years," said Wrangell fisherman Alan Reeves. "Now the one halibut bag limit is necessary to keep them within their allotted GHL. There's only so much resource, and so many people who can make a living off that resource. They have to become responsible users, and that means staying within their GHL."

The commercial longline fleet operates under strict individual fishing quotas (IFQs). The commercial longline quota in Area 2C has been cut 53% over the past three years to protect halibut stocks from overharvest. "As fishermen, we all have times when we have to suffer to keep the stocks healthy," said Kevin McDougall, a Juneau commercial fisherman. "The stocks are more important than the individual fisherman. It's time for the charter fleet to sacrifice some for the good of the halibut stocks, just as commercial fishermen have been sacrificing for years." - More...
Friday - May 08, 2009

Alaska: Alaska Highway Safety Office Launches Click It or Ticket To Help Save Lives - Alaska Department of Transportation and Public Facilities officials announced today that they are joining with other state and local law enforcement agencies and highway safety officials May 18 through May 31 to launch an aggressive Click It or Ticket seatbelt campaign. Police will be ticketing unbelted vehicle occupants around the clock.

In 2007, more than 14,000 people in passenger vehicles died in crashes while unbelted. About half of these lives could have been saved if seatbelts had been used at the time of the crash. Statistically, the numbers are worse at night than during the day, according to new figures released by the National Highway Traffic Safety Administration (NHTSA).
Also in 2007, 31 Alaskans, not wearing seatbelts, died in crashes.

2008 preliminary reports indicate that number dropped significantly when 21 people died who were not wearing their seatbelts. Seatbelt usage rate rose from 78.4 percent in 2005 to 84.9 percent in 2008.

"More motorists are buckling up since Alaska became a primary seat belt state in May, 2006," explained Cindy Cashen, Alaska Highway Safety Office administrator with the Department of Transportation and Public Facilities.

"Consistent research has shown that fewer people are buckling up at night when the risk of a being in a fatal crash is greatest." said Alaska State Trooper Colonel Audie Holloway. "That's why the Alaska State Troopers will be out in force at night as well as during the day to make sure drivers and passengers take seat belts, and seat belt laws, seriously." - More...
Friday - May 08, 2009

Klawock: Special pediatric clinics offered on POW - Pediatric nurse practitioner Nancy Cavanaugh will be on Prince of Wales Island during June to see patients ages 0-21 in four communities served by the SouthEast Alaska Regional Health Consortium (SEARHC).

Pediatric nurse practitioner
Nancy Cavanaugh
Photo courtesy SEARHC

Cavanaugh will see patients as part of the Hydaburg Community Health and Safety Fair on Monday and Tuesday, June 1-2, at the SEARHC Hydaburg Health Center; at the SEARHC Alicia Roberts Medical Center in Klawock on Wednesday through Friday, June 3-5, and Monday, Wednesday and Friday, June 15, 17 and 19; at the SEARHC Kasaan Health Center on Tuesday, June 16; and at the SEARHC Thorne Bay Health Center on Thursday, June 18.

While on POW, Cavanaugh will be able to provide well-child exams, sports physicals and school immunizations. These pediatric exams are available for all ages of youth, not just infants, and this is a good time to beat the back-to-school rush for physicals. A limited number of free bicycle helmets are available to children who have well-child exams, and they will be distributed on a first-come, first-served basis. - More...
Friday - May 08, 2009

National: Vietnam veterans are falling ill, but why now? By MAURA LERNER - In the past few years, Dr. Michael Koopmeiners has seen a surge in the number of veterans seeking help for war-related disabilities at the Minneapolis VA Medical Center.

At Koopmeiners' clinic, which evaluates new disability claims, business has more than doubled since 2004 -- from 6,800 to nearly 15,000 patients a year.

But only a fraction of the cases has anything to do with Iraq or Afghanistan.

Instead, most are Vietnam veterans who have waited until now, more than three decades after their war ended, to come forward and seek help. Vietnam veterans, he says, outnumber those of every other conflict combined.

Nationally, too, Vietnam veterans are coming forward by the tens of thousands with a vast array of medical problems, from hearing loss to cancer, that they believe are connected to their military service. In 2007 alone, a quarter-million veterans were added to VA disability rolls -- more than a third of them Vietnam veterans, according to a VA spokeswoman.

The question is: Why now? - More...
Friday - May 08, 2009

Health - Fitness: The dark side of more sunlight: Higher suicide rates By LEE BOWMAN - Can too much sunlight make people more inclined to take their own lives?

It seems counterintuitive to those who have endured long dreary winters that late spring and early summer are the height of suicide season in higher latitudes, including the United States.

But two studies from opposite ends of the world and six years apart seem to support the notion that longer days and more exposure to sunshine play a role in suicide rates.

A 2003 Australian study found that, over a 10-year period, the rate of suicide peaked in spring and summer in the state of Victoria and fell to the lowest level in winter.

And in a new study published online Friday, a team of Scandinavian scientists found that suicide rates in Greenland increase during the summer, peaking in June.

The leaders of both studies suspect that sunlight is the key factor, although for slightly different reasons.

For the Greenland study, published by BMC Psychiatry, Karin Sparring Bjorksten of the Karolinska Institute in Sweden and her colleagues looked at all suicides in the country between 1968 and 2002. The seasonal pattern was consistent and particularly notable in the northern part of the country.

"In terms of seasonal light variation, Greenland is the most extreme human habitat. We found that suicides were almost exclusively violent and increased during periods of constant day. In the north of the country, 82 percent of the suicides occurred during the daylight months,'' Bjorksten said.

Bjorksten speculates that insomnia caused by incessant daylight may be at least partly to blame. It may also be that constant daylight generates imbalances in the brain chemical serotonin, with spikes that lead to increased impulsiveness and even further disrupt sleep patterns.

"Light is just one of many factors in the complex tragedy of suicide, but this study shows there is a possible relationship between the two."

Except for parts of Alaska, there is no constant daylight in the summer for the United States, but suicide rates are consistently highest between May and July, a Scripps review of national suicide statistics for the two most recent years available, 2005-2006, showed. Contrary to popular belief, December, with the shortest days and presumed holiday-related stress and depression for many, is the month with the lowest suicide rate. - More...
Friday - May 08, 2009

Personal Finance: Home refinancing program a huge maze By MARCIE GEFFNER - The federal government's Home Affordable Refinance program is designed to help homeowners refinance their mortgages -- even if they owe slightly more than the current value of their homes.

For some borrowers, the program could be a boon. But many layers of rules may resemble one of those maddeningly complex contests that offer prizes to people who complete a maze of special offers.

The program is complicated because the federal government has a top-level set of rules; Fannie Mae and Freddie Mac have their own separate sets of rules and lenders, loan servicers and mortgage insurers generally have their own rules as well.

Borrowers may well wonder where to begin. Here's our guide to help you navigate through this labyrinth of rules:

The federal government's Home Affordable Refinance program is intended to help creditworthy homeowners whose homes have decreased in value refinance their mortgages to obtain lower interest rates or payments, lock in a fixed interest rate or eliminate onerous loan terms to improve their long-term stability as homeowners.

The program applies only to loans that are owned or guaranteed by Fannie Mae or Freddie Mac, the two secondary-market mortgage corporations that currently are operated under federal government conservator ships. - More...
Friday - May 08, 2009




Public Meetings & Info

Ketchikan




CLASSIFIEDS' CATEGORIES

Announcements and
Help Wanted
For Sale / Free Stuff
Garage Sales
Homes / Apts/ Property
Pets
Wanted
Lost & Found
Local Services
Publish Your Ad

Viewpoints
Opinions/Letters
Basic Rules

$414,000.00 plus $30,000.00 By Bob Jackson - The people I have talked with believe the council made a costly mistake in the decision to move KPU customer service out of its current location. - More...
Saturday - May 09, 2009

KPU Telecom Sale By Michael Naab - Reading the recent letters from Charles Edwardson and Rudy McGillvray, one might assume that the sale of KPU's Telecommunications Division is a foregone conclusion. Not so. Here are some facts: - More...
Saturday - May 09, 2009

Dungeness Crab in Southeast Alaska By Jackie Tyson - Briefly, I was at the Petersburg Board of Fish (BoF) meeting. I spoke for the people of Whale Pass who wanted to keep the little bay in front of their town closed to commercial crabbers. My husband was trying to get a small area in the Wrangell Narrows by Petersburg closed to Dungeness because it's so depleted. We were shot down. It was not pretty. - More...
Saturday - May 09, 2009

Foster Care in Alaska By Matt Jackson - Today, I learned what really makes the "youth treatment system" go 'round in Alaska. It's not love, it is not about the kids, and no one cares about us. It is the money. I won't go into the many grievances Residential Youth Care and foster care have committed against me. Rather, today I will only talk about the numbers. - More...
Saturday - May 09, 2009

Speed Limits By Libby Oaksmith - I have read the previous two letters and agree with both of them. In 2000, I wrote a letter to the Daily News asking drivers to please slow down. I too live in the same area as Jennifer, only right across from the ball park. - More...
Saturday - May 09, 2009

ON SECESSION By David G. Hanger - Eileen Small would have us believe that there exists a binding contract between the state of Texas and the United States that allows Texas to secede from the United States if it so desires. That so-called contract language dates to 1845 and was voided and superseded by what is known as the American Civil War. You might have heard of it, Eileen. - More...
Saturday - May 09, 2009

Our children's children's Forest By James Schenk - I have been to the Maybeso experimental forest! For such a place to be chosen as an example of a good one, is beyond my belief. The alder after 60 years in the Maybeso is still profuse, the reprod which was never properly thinned makes human and animal passage difficult at best. The reasoning of destroying our forest for profit of corporations and publicly funded logging should be as dead as a spawned out salmon. - More...
Saturday - May 09, 2009

Coastal Alaska forest regrowth By Louise Clark - I feel an obligation to add my opinion to this discussion of old growth ugly versus new beautiful human managed forests because it is refreshing to know that man in his ultimate wisdom is better at this than God or mother nature. - More...
Saturday - May 09, 2009

Coastal Alaska Forest Regrowth By Charlotte Tanner - Thank you Mr. Stump for your attempt at "enlightening" me. I tend to agree with you on your assessment of your grandmother, she is over mature. Just as a tree that has fallen and decayed on the forest floor for a few decades could be called over mature, but to call a standing tree "over mature" is rather pre mature in my humble opinion. - More...
Saturday - May 09, 2009

Sidewalk congestion By Julie Grimmer - This morning at the tunnel, I witnessed two women get on their small electric wheelchair-type vehicles and zoom on to downtown, using the sidewalk. Now, these 2 were not handicapped in any way. I saw both of them walking around their vehicles prior to using them, stooping down, one even running down the street to get something. - More...
Saturday - May 09, 2009

Slumlords By Cecelia Johnson - On rent and landlords I really need to add my two cents. I am a homeowner but have been involved with social services which I was an advocate. - More...
Wednesday - May 06, 2009

Coastal Alaska Forest Regrowth By Keith Stump - Charlotte Tanner has requested me to enlighten her with locations of "better, greener, healthier forests" in Southeast Alaska. OK. First, check out Maybeso Valley on POW where the Maybeso Experimental Forest is located. It was used for experimental logging by the U.S. Forest Service when large-scale logging first began to provide the timber contracted to the two long-term (50 year) sales to the two pulp mills build in the 1950's (Ketchikan and then Sitka). To evaluate and better understand the effects of more significant harvesting of timber (particularly the effects on salmon streams),and the natural regrowth capabilities and processes in Southeast Alaska, over four miles of forests on both sides of the Maybeso Creek were clear-cut logged, and within that area a square mile (after being was first clear cut logged) had all remaining trees (down to just sprouts) removed. In that regrowth (or second generation forest), you will uniformly find an overall "greener" forest canopy (over sixty feet tall about ten or twenty years ago) without the grey dead tops of dead or dying trees found in the or climax forest that was there when the logging began. - More...
Wednesday - May 06, 2009

Old Growth Trees - worthless? By Shelley Stallings - About the only sentence in Mr. Dornblasers letter I can find any agreement with is the one which states that trees, like all living things, grow, mature, then die. After that it becomes more complicated and most of these issues have be hashed and re-hashed many times over in the media and at countless USFS public meetings. - More...
Wednesday - May 06, 2009

Take the Money By Rick Ferguson - I think our governor should get off her high horse and take the money. - More...
Wednesday - May 06, 2009

HELP SAVE OUR DUNGENESS!!!!! By Kimberly Peters - The Alaska Board of Fisheries has decided to open commercial Dungeness fishing in the Ketchikan area on June 15th, 2009. This just happens to be when the crabs are breeding and have soft shells, this hasn't been done since the 80's because they almost WIPED the species OUT!! - More...
Monday - May 04, 2009

25 MPH speed limit neighborhoods By Michael Moyer - I will have to agree with Jennifer Tavares that there is no intelligent reason why the neighborhood streets of Ketchikan should have speed limits as high as 25 mph. I live on upper Water Street and I have witnessed near fatal accidents with pedestrians there including a child who was simply stepping out of his street side home directly into the path of an on-coming car. - More...
Monday - May 04, 2009

Re: KPU (Telephone Division) By Alan R. (Rudy) McGillvray - It has never been incumbent upon the City Council to do anything in governing Ketchikan that would REALLY benefit its citizens and or customers. KPU Telephone Division is the only division in KPU that makes more money than it spends; that would be called, by any other name, PROFIT. KPU Telephone Div, is constantly called upon to give monies to the Electrical Division, if you read the minutes of City Council Meetings very carefully you will note that on occasion the Council is asked by the Managers of KPU to do so and they do. - More...
Monday - May 04, 2009

RE: Enlightment By Jim Dornblaser - Ms. Tanner, I find your choice of words ironic. - More...
Monday - May 04, 2009

High Rent?? By Sonia Streitmatter - I am a homeowner who currently has renters in my home. I'm fairly new to the game (just a few months), but I have to say if anyone thinks I am making money off the deal, they are just plain wrong. The rent covers the mortgage payment, the property manager's fee and the little bit extra goes to paying the increase in insurance from a homeowner's policy to a landlord's policy. If there is anything left, it will go towards a fund for repairs/alterations. - More...
Monday - May 04, 2009

Ketchikan Tea Party By Eileen Small - I thought Mr. Hanger's tirade against Ms. Emmert's letter in support of the nationwide tea parties to be a tad elitist and unjust--a characteristic which that writer shares with many of our currently elected officials and a fact that helped incite the grass root protests leading to the tea parties. I know I am not a racist but I can see unnecessary spending occur and I hate to see my kids and others' kids paying for debts occurred in this generation. Frankly, I hate to pay for it either and if I wanted to own Chrysler or GM I'd buy stock personally! I guess I can determine right from wrong. Why is the "race card" always played when someone disagrees with liberal politics? I think it is silly--sort of like grade schoolers calling each other baby- name-insults on a playground! I don't think Ms. Emmert is a racist either and I am certain of one more thing that neither she nor I are: WE AREN'T SOCIALISTS!!! - More...
Monday - May 04, 2009

Iranian Nuclear Missile Threat By Donald A. Moskowitz - Iran tested the launch of a Scud missile from a ship in the Caspian Sea, which was designed to provide the capability of launching intermediate range missiles from cargo ships sitting off coastlines. Also, within a few years Iran will have long range missiles capable of striking North America. - More...
Monday - May 04, 2009

Airline Travel Costs By Jerilyn Lester - I have to agree with Chas Edwardson on this one, if Alaska Airlines thought in terms of volume instead of gouging each individual that crossed the Narrows it would be better all around. - More...
Monday - May 04, 2009

More Letters/Viewpoints
Webmail your letter or
Email Your Letter To: editor@sitnews.us

---

E-mail your news tips, news
releases & photos to:
editor@sitnews.us

SitNews
Stories in the News
©1999 - 2008
Ketchikan, Alaska

M.C. Kauffman, Webmaster/Editor,
Graphic Designer & Publisher
editor@sitnews.us
907 254 1948

In Memory of SitNews' first editor,
Richard (Dick) Kauffman
1932-2007

Locally owned & operated.
Online since 1999

Articles & photographs that appear in SitNews may be protected by copyright and may not be reprinted or redistributed without written permission from and payment of required fees to the proper sources.