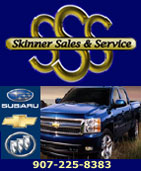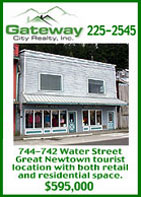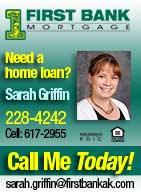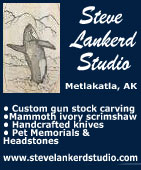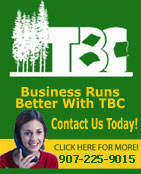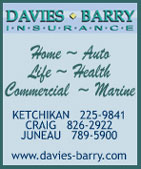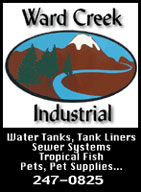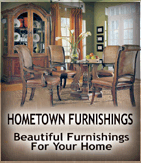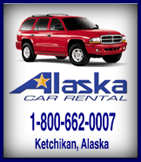 Contact


Webmail Letters


News Tips


Search Sitnews


Copyright Info


Archives
Today's News


Alaska


Ketchikan


Top Stories


U.S. News


U.S. Politics


Stock Watch


Personal Finance


Science News


US Education News


Parenting News


Seniors News


Medical News


Health News


Fitness


Offbeat News


Online Auction News


Today In History


Product Recalls


Obituaries
Quick News Search


Alaska


Ketchikan


SE Alaska


Alaska News Links
Columns - Articles


Dave Kiffer


Fish Factor


Career Success Stories


Parnassus Reviews


Chemical Eye On...


George Pasley


More Columnists
Ketchikan


Our Troops
Historical Ketchikan


June Allen


Dave Kiffer


Louise B. Harrington
Recognition


Match of the Month


Asset Builders
Ketchikan Arts & Events


Ketchikan Museums


KTN Public Library


Parks & Recreation


Chamber
Lifestyles


Home & Garden


Food & Drink


Arts & Culture


Book Reviews


Movie Reviews


Celebrity Gossip
On the Web


Cool Sites


Webmaster Tips


Virus Warnings
Sports


Ketchikan Links


Top Sports News
Public Records


FAA Accident Reports


NTSB Accident Reports


Court Calendar


Court Records Search


Wanted: Absconders


Sex Offender Reg.


Public Notices
Weather, Webcams


Today's Forecast


KTN Weather Data


AK Weather Map


Ketchikan Webcam


SE AK Webcams


Alaska Webcams


AK Earthquakes


Earthquakes
TV Guide


Ketchikan
Ketchikan Phone Book


Yellow Pages


White Pages
Employment


Employment
Government Links


Local Government


State & National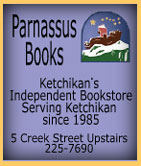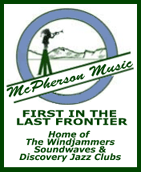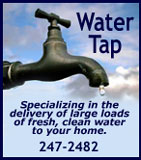 Tuesday
February 03, 2009



Sitka Black-tailed Deer
This Sitka Black-tailed deer enjoyed a winter's meal
around the Vallenar Lane area recently.
Front Page Photo by JIM LEWIS

Ketchikan: No injuries in duplex fire; Residence and personal property damage estimated at $50,000 - At 4:47 AM Tuesday morning, the Ketchikan Fire Department responded to a report of "a house filled with smoke"at 1931 First Avenue. Fire Department personnel arrived at 4:51 and found smoke coming from a downstairs apartment. The three-story duplex, owned by Sandra Johnson, was occupied with 3 tenants downstairs and 5 tenants in the upper apartment. The residents of the downstairs apartment were awakened by "a smoke detector going off and the sound of glass breaking." Everyone was safely evacuated from both units and no one was injured during the incident.

Fire Department personnel also rescued a dog and cat from the lower apartment and a rapid fire-attack by Fire Department personnel limited fire damage to a small area of the downstairs apartment with smoke damage to the entire lower unit. - More...
Tuesday PM - February 03, 2009

Alaska: Road to Nome -- not nowhere -- in Palin's sights By SEAN COCKERHAM - For decades, boosters have talked about building a road to Nome, an epic 500-mile plus project that would run through some of the most remote wilderness of forest, tundra, rivers and valleys in the world.

Now Alaska Gov. Sarah Palin, to the dismay of some state legislators, is making a push for what could be a $2 billion project.

Palin highlighted the project in her State of the State speech last month, declaring that she's pursuing the road -- even while acknowledging, in the same speech -- a possible budget shortfall of more than a billion dollars.

That has left some lawmakers are scratching their heads.

"I would say that with the limited amount of funds we have for projects I don't know how high that would rank," said Democratic Sen. Lyman Hoffman, a budget leader in the state Senate. "And if we did construct the road, what are the benefits Alaska would get for such a large-ticket item?"

Palin's transportation commissioner, Leo Von Scheben, gets a gleam in his eye when that question is posed.

"Look at the map of Alaska, and what do you see in terms of roads? North and south, north and south," he said. "We've got nothing going west. And look at what we've got out there. All kinds of resources."

He said the cost of the road would be about $3 million or $4 million a mile. - More...
Tuesday - February 03, 2009

Alaska: Governor Palin Reduces Current Year Spending; $268.6 million in budget reductions - Alaska Governor Sarah Palin submitted a supplemental budget to legislators today that reduces general funds by $268.6 million and seeks authorization to access savings to balance the budget at the end of the fiscal year.

"With changing market conditions and declining oil prices, our state agencies have been working hard to find savings and still provide needed public services," Governor Palin said. "Through savings targets we implemented at the beginning of the fiscal year and by efficiently managing our programs, we have been able to reduce the current budget and minimize supplemental funding. The more we reduce now, the less we will have to draw from savings at the end of the year."

The $268.6 million in reductions will bring the estimated revenue shortfall to $1.36 billion. Legislators will have to authorize the use of reserves or make additional reductions to balance the FY2009 budget.

"FY2009 has been a year of unprecedented revenue volatility," said Palin. "Due to the dramatic decline in oil prices, the estimated revenue of $7.5 billion in the spring 2008 forecast was lowered to $5.5 billion in the January 2009 interim forecast, making responsible reductions necessary." - More...
Tuesday - February 03, 2009

Alaska: Governor Continues to Express Serious Concerns with President's Stimulus Package - Alaska Governor Sarah Palin again today expressed her serious concerns with President Obama's proposed stimulus package. In a joint letter sent to Alaska's congressional delegation, Governor Palin, House Speaker Mike Chenault and Senate President Gary Stevens cautioned that unrestrained spending, initiation of new programs that the states may be asked to continue after the federal stimulus is gone, and the borrowing of hundreds of billions of dollars to pay for it may result in serious economic problems in the future.

Governor Palin recently traveled to the nation's capital to personally express her concerns with the stimulus package with business, economic and political leaders. Quoting a news release, the trip was not an effort to endorse or lobby for the current stimulus package now before Congress.

"I agree with the decision of Senator Murkowski and Congressman Young to vote NO on the package," Governor Palin said.

The governor has strongly supported funding for infrastructure that creates good American jobs and will have a positive effect on the nation for generations to come. - More...
Tuesday - February 03, 2009

Travel: Checking out bear territory in Alaska By BILL WAGNER - The summer run of pink salmon in southeast Alaska's Anan Creek attracts the bears.

The salmon carcasses the bears leave behind attract the eagles.

And all those salmon, bears and eagles attract the tourists.

It's a win-win situation for all involved, except those spawning "humpies" that are sacrificed for the greater good.

In midsummer, Anan Creek is the place to be, especially if you happen to be a hungry bear. Instinct drives several hundred thousand pink salmon (it used to be more than 1 million) to their spawning ground. Black and brown bears congregate to chow down on the humpies as they fortify themselves for winter.

While the U.S. Forest Service's Anan Wildlife Observatory is on Alaska's mainland, the only way in is via boat or float plane.

Brenda Schwartz-Yeager, a noted marine artist and owner of Alaska Adventures, is our guide. Her powerful jet boat has made short work of the 40-mile trip from Wrangell, a city on an island with the same name, to Anan Creek.

Once ashore, the ranger on duty at the head of the trail and Schwartz-Yeager are all business. The rules never change: Nothing edible in pockets or backpacks. That includes breath mints and gum. This is bear territory. Stay in a group on the trail and make lots of noise, so we don't sneak up on any of the hungry bears as they wander down to the creek for a snack. Bears have the right-of-way. In case of a close encounter of the bear kind, tourists must stop and let the hungry mammal make its way to lunch. - More...
Tuesday - February 03, 2009

Alaska: BBB Announces Top Inquiries and Complaints for 2008 - In an effort to guide consumers to make more-informed buying decisions, the Better Business Bureau announces the top industries that received the highest volume of consumer inquiries and complaints, for Alaska, in 2008.

BBB receives thousands of requests for information on local businesses and industries everyday. Each year, your BBB reveals lists of its top most-inquired-about industries and most-complained-about industries. With the release of these statistics, consumers are encouraged to get a BBB Reliability Report before doing business with a company.

The following lists represent the industries with the highest number of inquiries and complaints, for Alaska, in 2008: - More...
Tuesday - February 03, 2009

Consumer Issues: Tips on how to manage your cell phone bill By PATRICIA SABATINI - One of the biggest gripes heard by the consumer advocacy group Consumer Action is people feeling blindsided by cell phone fees.

Among the top booby traps are "out-of-control" text messaging fees and pre-paid calling card scams, according to the San Francisco-based group's hit list of top cell phone issues released last week.

The group wants consumers to understand the pitfalls so they can avoid being stung when selecting a cell phone plan, executive director Ken McEldowney said.

While major wireless providers have made some consumer-friendly improvements in recent years involving disclosures and early termination fees, people continue to fall prey to "little-understood and poorly disclosed fees and penalties," according to the group.

Here are Consumer Action's top five cell phone issues and advice on how not to get burned:

- Mandatory contract extensions. Under a growing number of plans, consumers who try to replace a lost or broken phone are forced to restart their contracts from the beginning.

Since teenagers tend to break their phones more often, parents may want to put children on prepaid cell phones to avoid the risk, Consumer Action said.

Another alternative is to remove the SIM card from the broken phone and put it into a cheap, unlocked phone without reporting it to the cell provider.

- Rising text messaging fees. A member of the Senate Judiciary Committee, Wisconsin Democrat Herb Kohl, last year noted that many consumers are paying more than 20 cents per message, up from an average 10 cents three years earlier. - More...
Tuesday - February 03, 2009




Public Meetings

Ketchikan

CLASSIFIEDS

Publish ad
Please select the proper category before posting.




CLASSIFIEDS' CATEGORIES

Announcements and
Help Wanted
For Sale / Free Stuff
Garage Sales
Homes / Apts/ Property
Pets
Wanted
Lost & Found
Local Services
Publish your ad




Dec. - Jan.
Front Page Archives

| | | | | | | |
| --- | --- | --- | --- | --- | --- | --- |
| S | M | T | W | T | F | S |
| 30 | 01 | 02 | 03 | 04 | 05 | 06 |
| 07 | 08 | 09 | 10 | 11 | 12 | 13 |
| 14 | 15 | 16 | 17 | 18 | 19 | 20 |
| 21 | 22 | 23 | 24 | 25 | 26 | 27 |
| 28 | 29 | 30 | 31 | 01 | 02 | 03 |
| 04 | 05 | 06 | 07 | 08 | 09 | 10 |
| 11 | 12 | 13 | 14 | 15 | 16 | 17 |
| 18 | 19 | 20 | 21 | 22 | 23 | 24 |
| 25 | 26 | 27 | 28 | 29 | 30 | 31 |
| 01 | 02 | 03 | | | | |

Viewpoints
Opinions/Letters
Basic Rules

Performing Arts Center By Lallette Kistler - I would like to thank the Borough Assembly for taking a giant step towards making a Performing Arts Center in Ketchikan a reality. They recently endorsed the contribution of $500,000 in cruise ship head tax funds to go towards the First City Players purchase of the old Fireside/Elks Club building. - More...
Tuesday PM - February 03, 2009

MIDDLE CLASS BAILOUT APPLICATION FORM By David G. Hanger - Realizing as they should have that the Congress of the United States forfeits both its moral authority and its actual authority to govern by representing only the one percent of this country that has managed to steal so much from everyone else, and in recognition of the precedent established that when the fox steals all the hen-house chickens, the U.S. Government gives the fox another hen-house full of chickens, we the vast physical majority of the U.S. citizenry do hereby apply for relief from impoverishment and from the need to support all these rich bastards who have lied, cheated, and stolen all of us into this abhorrent mess. Since the U.S. Congress has seen fit to finance the whims of the criminal elements of our society, indeed has seen fit to limit communication essentially to only the minions of that criminal element (lobbyists), and has seen fit to cater to their needs and not to the needs of the vast majority of the honest, hard-working citizens of this country, it is only appropriate that the precedents established to support this criminal element also be used to support the honest, ordinary citizens of this country. - More...
Tuesday PM - February 03, 2009

Sales Tax By Justin Carro - I noticed a lot of discussion about sales tax lately. Taxes are an unfortunate part of life and though necessary to run the parts of our government most of us appreciate. However, one thing that we need to keep in mind is that we have nearly the highest sales tax rates in the state. Let that sink in just a bit -- highest sales tax rates in the state, because that is exactly what we will have if we raise them at all. This is counter-productive to keeping our position as a regional hub. - More...
Tuesday PM - February 03, 2009

Offensive By Gerry Knasiak - First let me assure Mr. Rob Holston that should you have any opinions that are repugnant to me I would defend your right to have them; they belong to you. Having said that I would add that that right stops, as it should have at the Cabaret performance on Friday , January 23,, 2009, when you blatantly included as part of your act something that obviously reflects your opinion that can only be termed racist. - More...
Tuesday PM - February 03, 2009

Direction Please! By James Schenk - Thank you for this forum, I enjoy its content and our citizens participation in community concerns. What I don't understand is why all the negativity? If this forum is available why not utilize it to build our community, rather than criticize its failings? When you build something you take into account what that something's strengths and weaknesses are. Then you begin to find ways to change the weakness to strength. - More...
Tuesday PM - February 03, 2009

Poor Herring Stocks By John Arthur - This is in response to Larry Demmert's Letter to the Editor. You can sure tell Mr. Demmert knows "nothing" about healthy herring stocks. Maybe he should come to Sitka and visit the Pioneer Home and senior centers and learn all about "Healthy Herring Stocks" here in Sitka. - More...
Tuesday PM - February 03, 2009

The price of gas By Jim Dornblaser - The price of fuel (gas included) is regulated by the demand on a base amount of supply. We are living in a capitalistic free market society & I for one am GLAD, HAPPY, wouldn't want it any other way. - More...
Tuesday PM - February 03, 2009

Thank you for the help By Judith Green - This morning as I was trying to get out of my driveway, my car got high centered. SO the car was half in the drive and half on the South Tongass Highway, at the bottom of Shoup St. While standing there trying to figure out how to un-do, an AP&T employee saw the dilemma, turned around and stopped to assist. Then a neighbor on Shoup St saw, and stopped and came over to assist. Then a truck with a snow plow attahment stopped in the middle of the highway to stop traffic from both directions, and voila! the car was freed and I was ready to go. - More...
Tuesday PM - February 03, 2009

Underneath the Politics By Tim Reveri - When my Grandpa entered the hospital two weeks before my birthday, it was supposed to be for a simple operation. It was so minor that my parents almost forgot to tell me. The procedure went off without a hitch, and my dad visited him the next day, telling me later that my Grandpa was his normal, albeit incoherent, grouchy self. He spent his time in bed bemoaning the Yankees pitching staff to the family. Two days later, he suddenly fell into critical condition, he had been retaining fluid in his stomach but, since there were only two nurses tasked to the entire hospital floor, it had gone unnoticed. My grandpa had gotten up to go to the bathroom and ended up not seeing the next morning. - More...
Tuesday PM - February 03, 2009

Horrible Roads By Jerilyn Lester - I would like to inform Ms. Lawrence that as soon as the city could move the snow they did. The EPA has told them they could not dump it into the bay because of the chemicals that are put onto the road. When they remove the snow this time should we suggest that they dump it into your yard? Or is there somewhere else that you would like it put? I don't want it in my yard, but I have to agree with Mr. Young that for you to complain is completely uncalled for. - More...
Tuesday PM - February 03, 2009

More Letters/Viewpoints
Webmail your letter or
Email Your Letter To: editor@sitnews.us

---

Articles & photographs that appear in SitNews may be protected by copyright and may not be reprinted or redistributed without written permission from and payment of required fees to the proper sources.