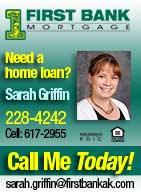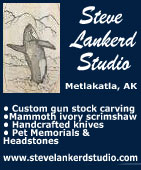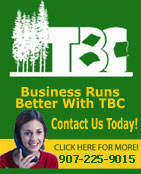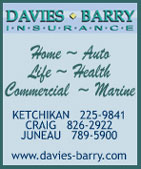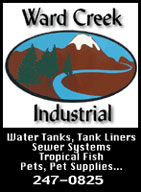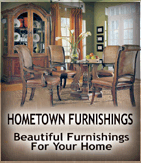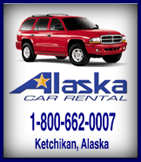 Contact


Webmail Letters


News Tips


Search Sitnews


Copyright Info


Archives
Today's News


Alaska


Ketchikan


Top Stories


U.S. News


U.S. Politics


Stock Watch


Personal Finance


Science News


US Education News


Parenting News


Seniors News


Medical News


Health News


Fitness


Offbeat News


Online Auction News


Today In History


Product Recalls


Obituaries
Quick News Search


Alaska


Ketchikan


SE Alaska


Alaska News Links
Columns - Articles


Dave Kiffer


Fish Factor


Career Success Stories


Parnassus Reviews


Chemical Eye On...


George Pasley


More Columnists
Ketchikan


Our Troops
Historical Ketchikan


June Allen


Dave Kiffer


Louise B. Harrington
Recognition


Match of the Month


Asset Builders
Ketchikan Arts & Events


Ketchikan Museums


KTN Public Library


Parks & Recreation


Chamber
Lifestyles


Home & Garden


Food & Drink


Arts & Culture


Book Reviews


Movie Reviews


Celebrity Gossip
On the Web


Cool Sites


Webmaster Tips


Virus Warnings
Sports


Ketchikan Links


Top Sports News
Public Records


FAA Accident Reports


NTSB Accident Reports


Court Calendar


Court Records Search


Wanted: Absconders


Sex Offender Reg.


Public Notices
Weather, Webcams


Today's Forecast


KTN Weather Data


AK Weather Map


Ketchikan Webcam


SE AK Webcams


Alaska Webcams


AK Earthquakes


Earthquakes
TV Guide


Ketchikan
Ketchikan Phone Book


Yellow Pages


White Pages
Employment


Employment
Government Links


Local Government


State & National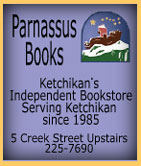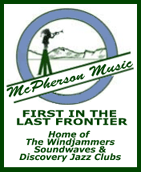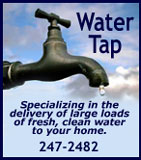 Saturday
January 03, 2008



Good Samaritans
12-year old Beau Albertson-Elliott and Aaron Tippets pitch in to shovel snow for a neighbor who - like most in Ketchikan - was way over his head in snow.
Front Page Photo By PATTY ELLIOTT




Announcement

Ketchikan Public Works crews are working around the clock to remove accumulated snow and snow berms from all areas of town. They are finding snow forts and tunnels built by children in some of those snow piles. Parents please advise your children not to build their forts in these snow piles. Families watching snow removal are advised to also stand clear of heavy equipment. These vehicles have limited visibility and are difficult to stop on snow and ice.





Ketchikan: Ketchikan Supported Alaska Statehood, Eventually; Chronicle, Daily News Fought The Battle Locally By DAVE KIFFER - Ketchikan, Alaska - When legislation creating the state of Alaska passed the US Congress on June 30, 1958, several hundred residents of Ketchikan gathered at the corner of Mission and Front Streets for an impromptu celebration.

Brailing Salmon From A Floating Fish Trap: Ca. 1938
Southeast Alaska
Historic Photo Courtesy of the U.S. Fish & Wildlife - Fisheries Collection -
Photographer: Archival photograph by Mr. Sean Linehan, NOS, NGS

Forty-nine toasts were made, a 49 gun salute was fired and a 49-vehicle parade circled the downtown area, according to a report the next day in the Ketchikan Daily News.

But Ketchikan hadn't always been so keen on the idea of self-determination for Alaska. In fact, in the early years of the decades-long battle for statehood, many local residents had been strongly opposed to the idea.

The battle for statehood in Ketchikan was also the battle - to the death eventually - between Ketchikan's two newspapers, the Daily News and the Chronicle.

Canned Salmon Industry Opposed Statehood

From the 1920s to the early 1950s, Ketchikan was the center of the Alaska canned salmon industry and the industry - and its lobbyists - were adamantly opposed to statehood, primarily because pro-statehood forces were opposed to the fish traps that were the economic engine of the industry.

Floating fish traps were placed at the mouths of creeks - and along other salmon migration paths ­ each summer. They funneled the returning salmon into holding pens from which they were scooped ­ or brailed ­ into the holds of large boats and taken to the canneries.

Federal laws required that the traps could only operate on limited hours to allow enough fish to get up the streams and ensure future runs, but those laws were widely ignored. At the height of the industry ­ in the mid 1930s ­ the traps provided enough fish to support more than a dozen canneries in Ketchikan alone and more than twenty other canneries in the rest of Southeast Alaska.

By the 1940s, the once spectacular salmon runs were rapidly decreasing. Statehood proponents seized on the issue as a sign that federal managers were "mismanaging" the resources and that Alaskans would do better.

The first person to suggest "statehood" for Alaska, was the person primarily responsible for the purchase of Alaska from Russia in the first place, US Sec. of State William Henry Seward.

In a speech given at Sitka on August 12, 1868, Seward said " the political society to be constituted here, first as a Territory, and ultimately as a state or many states, will prove a worthy constituency of the Republic."

The next person to pick up the banner of statehood was one of the first territorial governors, A.P. Swineford in Sitka in 1887.

Swineford was frustrated by having to manage the vast territory with limited federal resources in those years and already understood that economic interests ­ the large mining companies in those days ­ were asserting control over the resources of the territory. - More...
Saturday - January 03, 2009

Alaska: Governor Palin Welcomes International Diplomats - Alaska Governor Sarah Palin on Friday welcomed an international delegation of diplomats who travelled to Alaska to celebrate Alaska Statehood Day on January 3, 2009. Representatives from several Asian and European countries accepted Governor Palin's invitation to participate in weekend celebrations marking the 50th anniversary of Alaska being admitted to the Union.

"We welcome these representatives with our best Alaska hospitality. We are pleased with their recognition of the importance of our 50th anniversary," Governor Palin said. "It is a special honor to welcome Ambassador Kislyak and to showcase our state to this high-profile international group." - More...
Saturday - January 03, 2008

Alaska: PFD Application Period Opened Jan. 1st - The 2009 PFD application period opened January 1, 2009. To encourage more Alaskans to apply online, the PFD Division is continuing its commitment to pay early online filers first. Applicants who apply online in January, and qualify for direct deposit, will be paid in early October, 2009. The checks will be mailed in November, 2009.

Every Alaskan can apply online for their 2009 PFD. Alaskans who qualify and register through the myAlaska program can electronically sign theirs and their children's PFD applications. To quality you must have received a PFD in 2008, and have a valid AK Driver's License or Alaska ID. MyAlaska accounts are designed to that you only sign up once and use the account year after years for various State service. Applicants can opt to print and sign a signature page if filing online. - More...
Saturday - January 03, 2009

Alaska: Governor Palin Welcomes Her First Grandchild - Alaska Governor Sarah Palin has welcomed her first grandchild, Tripp Easton Mitchell Johnston, born to Bristol Palin and Levi Johnston on December 27.

"We are over the moon with the arrival of this healthy, beautiful baby," Governor Palin said. "The road ahead for this young couple will not be easy, but nothing worthwhile is ever easy. Bristol and Levi are committed to accomplish what millions of other young parents have accomplished, to provide a loving and secure environment for their child. They are both hard workers, they're very strong, and have faith they've made the right decision in setting aside their own interests to make this child their highest priority."

Palin added, "When Bristol and Levi first told us the shocking news that she was pregnant, to be honest, we all at first looked at the situation with some fear and a bit of despair. Isn't it just like God to turn those circumstances into such an amazing, joyful blessing when you ask Him to help you through?" - More...
Saturday - January 03, 2009

Alaska: Valkenburg, Rossi Join ADF&G Leadership Team - Alaska Department of Fish and Game (ADF&G) Commissioner Denby Lloyd announced Wednesday the appointment of Patrick Valkenburg as Deputy Commissioner and Corey Rossi as Assistant Commissioner in the Alaska Department of Fish and Game (ADF&G). "Patrick and Corey bring experience, expertise and leadership to the department as we work to expand our abundance-based wildlife management programs, said Lloyd. "We look forward to their contributions.

The two new team members have significant wildlife management expertise and reflect a renewed emphasis for the department on fulfilling their mission of conserving and enhancing Alaska,s wildlife and habitat. Increased funding in the Governor,s fiscal year 2009 budget allowed the department to begin an effort to better inventory and manage key populations, especially those that are important for human use. Subsistence and recreational hunters and wildlife viewers rely heavily on healthy wildlife populations and ADF&G provides research and management to sustain and rebuild these populations to robust levels. - More...
Saturday - January 03, 2008

Southeast Alaska: PRELIMINARY RESULTS: NO LINK YET TO ANCIENT HUMAN REMAINS - Preliminary results from DNA research on ancient human remains discovered in Southeast Alaska did not establish a genetic connection to potential living descendants from the region. However, scientists are not ruling out eventually finding a genetic link between Southeast Natives and the 10,300-year-old man, who was given the name Shuká Kaa (Man Before Us) by Native people in September at his burial.

"It is important to note that the mitochondrial DNA test only addressed direct maternal ancestry," said Washington State University Molecular Anthropologist Dr. Brian Kemp, lead researcher for the project. "It is still possible other DNA markers could connect present-day indigenous Southeastern Alaskans to Shuká Kaa. However, these were not tested for."

The results did not rule out a direct connection between Shuká Kaa and Southeast Natives along the paternal line. However, scientists know significantly more about mitochondrial DNA, which is passed through the mother, than they do about DNA in the Y chromosome, which is passed through the father. Although Y chromosome variation in some populations, such as among European males, has been fairly well established, little is known about the diversity in the Y chromosome in Native American males. Scientists are years away from being able to deduce relations on the paternal line in Native men with the precision that is available now on the maternal side, Kemp said. - More...
Saturday - January 03, 2008

Metlakatla: IFA to Serve Metlakatla - The Inter-Island Ferry Authority's M/V Stikine will be providing daily Ketchikan- Metlakatla- Ketchikan service from January 8 through January 12, announced IFA general manager Bruce Jones. Alternate service to the Annette Island community will be provided during the period when the M/V Lituya will be out of service for scheduled maintenance, said Jones.

The Stikine will depart Ketchikan at 11:30am, arriving Metlakatla at 2:00pm (Metlakatla time), departing Metlakatla at 2:30pm and returning to Ketchikan at 3:00pm (times are stated in Alaska Standard Time; Metlakatla observes Pacific Time). One way fares on the Stikine will be the same as those in effect on the Lituya. The IFA will collect fares aboard the vessel.

Arrangements for service to Metlakatla by the Stikine were made by the Metlakatla Indian Community. - More...
Saturday - January 03, 2009

Ketchikan: Alternative Health and Nutrition Interest Group Spearhead By Local - A local nurse plans to bring her interest in alternative medicine to others who want to add another component to their routine to stay healthy.

Registered Nurse Elise Burger is spearheading a monthly discussion group set to start in mid-January. Burger plans to provide information and support to encourage people to make healthy choices and take more responsibility for their health; "Especially" Burger says, "with the high cost of health care, preventative measures should, and could, play a huge role".

The "Alternative Health and Nutrition Interest Group" will meet for the first time Thursday, January 15 from 7-8:30 pm at Ketchikan General Hospital (specific venue to be announced). This is not a hospital-sponsored organization. - More...
Saturday - January 03, 2009




Public Meetings

Ketchikan

CLASSIFIEDS

Publish ad
Please select the proper category before posting.




CLASSIFIEDS' CATEGORIES

Announcements and
Help Wanted
For Sale / Free Stuff
Garage Sales
Homes / Apts/ Property
Pets
Wanted
Lost & Found
Local Services
Publish your ad




December 2008
Front Page Archives

| | | | | | | |
| --- | --- | --- | --- | --- | --- | --- |
| S | M | T | W | T | F | S |
| 30 | 01 | 02 | 03 | 04 | 05 | 06 |
| 07 | 08 | 09 | 10 | 11 | 12 | 13 |
| 14 | 15 | 16 | 17 | 18 | 19 | 20 |
| 21 | 22 | 23 | 24 | 25 | 26 | 27 |
| 28 | 29 | 30 | 31 | 01 | 02 | 03 |

Viewpoints
Opinions/Letters
Basic Rules

Thank you for your patience. With the snow still falling, snow removal is consuming a great deal of my time daily. Letters are in the publication file and will be published. All of your letters are appreciated. Thank you for understanding my time limitiations. Mary Kauffman, Editor, Webmaster, etc.

Thank you to N.T.V.F.D & Pt. Higgins Elementary By Jessica Peavey - I want to say a huge thank you to the North Tongass Volunteer Fire Department for adopting our family this year for Christmas. Also, a big thank you to Pt. Higgins Elementary for thinking of our family when it came time to choose! - More...
Tuesday AM - December 23, 2008

In the Eyes of Santa By Santa - I had the privilege of visiting your fair town of Ketchikan recently for a beautiful tree lighting ceremony! In this year of many firsts, it was wonderful to hear that Ketchikan was reviving a fabulous tradition inviting me to light the town Christmas tree! As I approached the dock in the city's fine Fire Engine, what to my wandering eyes appeared? A sea of smiles from children of all ages waiting in joyful anticipation. As Mayor Weinstein and Mayor Kiffer joined in, we three announced with glee the lighting of your most beautiful Christmas tree! - More...
Tuesday AM - December 23, 2008

Elections By Cecelia Johnson - The Indian Reorganization Act (IRA) council elections are upcoming and gives you a chance to have a voice in who you think could fulfill a leadership position. With this privilege think and vote for: - More...
Tuesday AM - December 23, 2008

Cheapest gas By Katie Parrott - Just FYI to those of you concerned with gas prices, Gas at Last by Tatsuda's has gas for $1.99/gallon, as of Monday night. (But they don't have a sign, so you have to look on the pumps to confirm the price.) It might be the cheapest gas on the Rock right now. Does anyone know of another station, out North or South maybe, with cheaper? I say let's only patronize those stations that are offering the lowest price. Maybe it will drive the other prices down even more. - More...
Tuesday AM - December 23, 2008

Keep Looking Up By Ardath Piston - I would like to thank all of the people involved in putting up the Christmas tree downtown. If one parks their car and walks over to it, they might be amazed at what they can see in our night sky. Just last week we were fortunate enough to view not only a magnificent full moon, but also a meteor shower. Such a display puts things in perspective. - More...
Tuesday AM - December 23, 2008

Ketchikan Community Chorus Chrismas Program By Judith Green - On Sunday afternoon, a lovely cold clear afternoon, and wonderful choral music was heard at the Presbyterian Church by the Ketchikan Community Chorus, directed by Steve Kinney.
There were solos and a men's quartet along with the full chorus. At the end of the program the audience was invited to join the chorus in singing Handel's Hallelujah Chorus and some traditional Chrismas songs. - More...
Tuesday - December 23, 2008

If You Don't Volunteer, You Can't Complain! By Charlotte L. Glover - I was glad to see Diane Naab's letter explaining the position of the downtown Christmas tree. I attended the tree lighting ceremony with two very excited little boys. We enjoyed the singing of the Tongass School, the free refreshments and we were happy to be out of the rain in the spacious covered shelter. The free holiday stockings full of fruit, nuts and toys were deluxe.Those of us who actually PARTICIPATED in the event had nothing but happy smiles on our faces. I think the Chamber of Commerce and the Downtown Steering Committee did a fabulous job at kicking off our holiday season. And I know Sockeye Sams and Tongass Trading sure did not mind the many of us who took time to shop that afternoon while we were on the dock! - More..
Tuesday AM - December 23, 2008

Christmas lights By Dalton Fox - I would like to express my apprieciation for the great job Northland services does in decking out there building for Christmas. I have always been an fan of their great decorations.I want to say I also enjoy so many of the beautifully decorated houses as we commute around Ketchikan. - More...
Tuesday AM - December 23, 2008

Christmas tree By Trygve Westergard - I would like to recommend a place for the Christmas tree if we have to move at again. What about the little park where the eagle is? That way it can be seen by both lanes of traffic. - More...
Tuesday AM - December 23, 2008

While you're talking about trees... By Kimberly Groves - I have read many letters concerning the placement of the town Christmas tree. This really has nothing to do with that, as I no longer live in Ketchikan, so I do not know the current location of the Christmas tree, as opposed to where it should be. - More...
Tuesday AM - December 23, 2008

Gas Prices By Travis Tippetts - How long have these high gas prices been the topic of every water cooler conversation? If asked, I dare say that most every resident would rate this as their number one issue. Is the gas issue not news worthy! How many powder puff articles have we been bombarded with while this "real" story is being ignored. I feel the media is negligent in the covering of this story. Where are the tough questions and raw information that will let us make an educated decision as to any price gouging? Power is in an informed public. People perpetuating injustices thrive in information vacuums. - More...
Tuesday AM - December 23, 2008

Price gouging-grab your ankles By Dr. Ed Fry - Even though we live in Florida, we often think about Ketchikan daily because we have a prestnet that started her life there. - More...
Tuesday AM - December 23, 2008

Price Gouging? By Robbie King - I just moved to Ketchikan from Minnesota in September. It is my understanding, (and I may be off here) that there was a petition and even a city council meeting talked about how high the prices were. The outcome of which was a few choice people saying that the gas stations wouldn't do that and then they quoted exactly what the people who mark the prices told them. - More...
Tuesday AM - December 23, 2008

Good Job By Cecilia DuPree - Way to go Ken Horn and supporters of lower gas prices! My pocket book thanks you! - More...
Tuesday AM - December 23, 2008

Protest By Jerilyn Lester - I want to thank Ken Horn for organizing the gas price protest and for calling me to let me know about it. It went off without a hitch in spite of the cold. There were lots of car horns in support and several people stopped to talk to us about their thoughts and to say thanks. Well it worked!!! - More...
Tuesday AM - December 23, 2008

Gas prices By Harold Carpenter - As a by-product of higher fuel prices, how have your other prices reacted? Here outside, groceries & other consumer prices all rose in proportion to fuel because of production & transportation costs. - More...
Tuesday AM - December 23, 2008

More Letters/Viewpoints
Webmail your letter or
Email Your Letter To: editor@sitnews.us

---

Articles & photographs that appear in SitNews may be protected by copyright and may not be reprinted or redistributed without written permission from and payment of required fees to the proper sources.