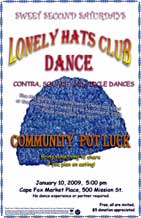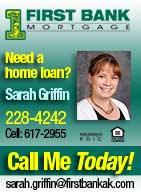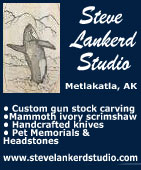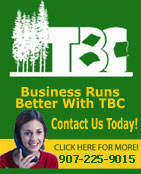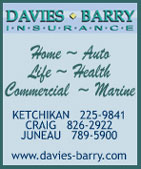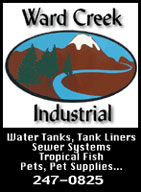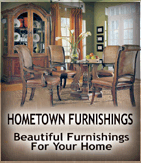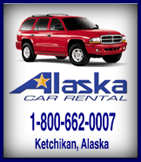 Contact


Webmail Letters


News Tips


Search Sitnews


Copyright Info


Archives
Today's News


Alaska


Ketchikan


Top Stories


U.S. News


U.S. Politics


Stock Watch


Personal Finance


Science News


US Education News


Parenting News


Seniors News


Medical News


Health News


Fitness


Offbeat News


Online Auction News


Today In History


Product Recalls


Obituaries
Quick News Search


Alaska


Ketchikan


SE Alaska


Alaska News Links
Columns - Articles


Dave Kiffer


Fish Factor


Career Success Stories


Parnassus Reviews


Chemical Eye On...


George Pasley


More Columnists
Ketchikan


Our Troops
Historical Ketchikan


June Allen


Dave Kiffer


Louise B. Harrington
Recognition


Match of the Month


Asset Builders
Ketchikan Arts & Events


Ketchikan Museums


KTN Public Library


Parks & Recreation


Chamber
Lifestyles


Home & Garden


Food & Drink


Arts & Culture


Book Reviews


Movie Reviews


Celebrity Gossip
On the Web


Cool Sites


Webmaster Tips


Virus Warnings
Sports


Ketchikan Links


Top Sports News
Public Records


FAA Accident Reports


NTSB Accident Reports


Court Calendar


Court Records Search


Wanted: Absconders


Sex Offender Reg.


Public Notices
Weather, Webcams


Today's Forecast


KTN Weather Data


AK Weather Map


Ketchikan Webcam


SE AK Webcams


Alaska Webcams


AK Earthquakes


Earthquakes
TV Guide


Ketchikan
Ketchikan Phone Book


Yellow Pages


White Pages
Employment


Employment
Government Links


Local Government


State & National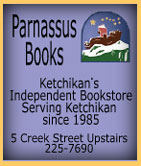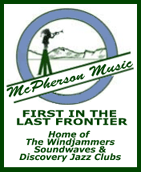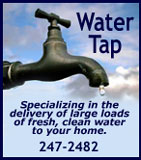 Tuesday
January 06, 2009



Plowing on a Winter's Day
Jerry Scudero plows the snow from the sidewalk along the by-pass. Riding with him is his grandson Kyan Scudero and their dog Michael.
Front Page Photo By CARL THOMPSON

Fish Factor: Alaska seafood industry highlights from 2008 By LAINE WELCH - Commercial fishing in Alaska remains a vibrant industry that each year provides more than half our nation's wild caught seafood. Alaska's fishery resources are the envy of other countries around the world, and its management programs are regarded as a model for sustainability. The seafood industry also provides more jobs than the oil/gas, mining, agriculture, forestry and tourism industries combined.

Here is a sampler of some seafood industry highlights from 2008, in no particular order or priority, followed by my annual picks and pans of fish stories -

High fuel prices that topped $5 per gallon idled 20 percent of Kodiak's trawl fleet, along with hundreds of local seafood workers. Salmon boats stayed out between fishing openers, hurting coastal economies.

A petition starting at Petersburg gathered thousands of fishing signatures asking Congress for a tax break from high fuel prices, to no avail.

New data from the state Dept. of Labor revealed the average age of Alaska commercial fishermen was 47; nearly 40 percent were non-residents.

Every month 7,260 fishermen were out on the water plying their trade. That number jumps to 20,137 per month at the peak of salmon season. Add in processing, transportation, management and support services, it adds up to at least 54,000 jobs a month. - More...
Tuesday - January 06, 2009

Southeast Alaska: CRAIG RESIDENT PLEADS GUILTY TO WILDLIFE VIOLATIONS - Acting United States Attorney Karen L. Loeffler announced that Christopher R. Rowland, resident of Craig, Alaska, pleaded guilty in federal court in Anchorage in December to violations of the Lacey Act and the Marine Mammal Protection Act. Rowland, age 41, pleaded guilty to four counts before Chief United States District Court Judge John W. Sedwick. In connection with the guilty plea, Special Assistant United States Attorney John C. Reardon advised the court that Rowland was involved in the illegal taking, transportation and sale of sea otters.

According to court documents, Rowland's guilty plea is in connection with an investigation in Southeast Alaska regarding the illegal hunting, killing, and export of sea otters, sea lions and harbor seals and the illegal sale of their pelts. Court testimony revealed that the investigation started as a response to a concerned citizen's tip that led to a two-year undercover operation into the illegal commercialization of sea otters, seals, and sea lions, all of which are protected by the Marine Mammal Protection Act. During the undercover operation, agents documented the illegal take of sea otters, the illegal sale of their pelts, and the failure to record and report harvest data as required by the Marine Mammal Protection Act. The undercover operation revealed suspected violations of the federal Marine Mammal Protection Act, the Lacey Act, and the Endangered Species Act. Search warrants were served in the communities of Ketchikan, Sitka, and Craig, Alaska. Interviews have been conducted in these communities, as well as in Edna Bay and Hoonah, Alaska, and Seattle, Washington. - More...
Tuesday - January 06, 2008

Winter Storm
This state DOT plow truck went off-highway last Tuesday morning (December 30th) about 11 am. No injuries were reported save that of the state trooper on-scene who slipped and reportedly broke his ankle.
Photographer Michael Keye Schuler
http://www.keyephotos.com


Ketchikan: DOT Selects New Regional Director for Southeast - Alaska Department of Transportation and Public Facilities Commissioner Leo von Scheben announced that he has selected Gary Davis as the regional director to lead the Department of Transportation and Public Facilities' Southeast Region. Davis began the position Monday, Jan. 5th.

The regional director is responsible for the overall management of the Southeast Region that includes oversight of the planning, design, construction, maintenance and operations for the state-owned highways, airports and public facilities in Southeast Alaska.

"Gary has been in the transportation industry for more than 30 years as a contractor, consultant and most recently as of the road service area director for the Kenai Peninsula Borough," said Commissioner von Scheben. "Adding Gary to our great team will benefit communities from Yakutat to Ketchikan and the employees that he will lead at the region's offices." - More...
Tuesday - January 06, 2009

Alaska: Alaska traffic fatalities at all time low - Fewer drivers on Alaska's roads perished this year, marking an all time low in traffic fatalities according to the Alaska Department of Transportation and Public Facilities (DOT&PF).

As of Dec. 31, 2008, there were 63 traffic fatalities statewide, compared with 82 in 2007. Fatal and major injuries have been on a mostly downward trend since 2003, although they ticked upward in 2007. The Seward Highway has seen a 77 percent reduction in fatal and major injury crashes since the establishment of a safety corridor in May 2006. The Parks Highway safety corridor has resulted in 37 percent decrease. The combination of double fines, reduced speed limits and increased enforcement has made the designation of safety corridors a successful tool in reducing injuries and death.

"We are pleased with the decreased number of traffic deaths this year, however 63 fatalities is still 63 too many," said Cindy Cashen, DOT&PF's Alaska Highway Safety Office Administrator.

"Impaired driving is the number one behavioral factor in traffic crashes. Eighteen lives were needlessly lost in 2008 due to alcohol-related crashes," Cashen said. - More...
Tuesday - January 06, 2009

Alaska: Gang problem in south-central Alaska grows By JAMES HALPIN - There's a gang problem in South-Central. But no, we're not talking about Los Angeles. This time, it's Alaska.

Documented gangs in Anchorage continue to swell, even as anti-gang officials have pledged to continue their 2-year-old effort to combat youth violence in the south-central region of Alaska.

To date, Alaska police say they have identified 112 suspected gangs in Anchorage operating with as many as 1,000 members. Of those, 49 gangs have been validated, including 237 confirmed members.

Those numbers are up significantly from past counts. For example, a report police released in late 2007 described 22 confirmed gangs with 150 validated members. In 2006, police counted roughly a dozen known gangs with about 115 validated members.

Anchorage police chief Rob Heun said this week that the increase does not necessarily mean there are more gangs, only that police are better at identifying them.

"We're becoming more sophisticated in the way we're looking at things," Heun said. "For instance, we're going back into old reports that we've done and we're vetting those to see if it involved gang activity. Let's put it into context: We've had 12 homicides this year; none of them have been gang-motivated."

Also, the special assignment unit responded to 755 suspected gang-related incidents in the past year, but only about a quarter actually involved gang members, Heun said. - More...
Tuesday - January 06, 2009

National: Richardson withdrawal taints Obama administration's debut By JOHN IBBITSON - The mess of Bill Richardson's resignation as commerce-secretary-in-waiting eats up more of the goodwill Barack Obama badly needs if he is to implement his audacious agenda -- an agenda that is being undermined by petty state-level scandals.

In a statement released to the press Sunday, the New Mexico governor announced that: "I have asked the president-elect not to move forward with my nomination at this time.

"I do so with great sorrow. But a pending investigation of a company that has done business with New Mexico state government promises to extend for several weeks or, perhaps, even months."

That company is CDR Financial Products, which contributed to Richardson's past campaigns, while also winning $1.5-million in consulting contracts with the state government. A grand jury is investigating whether there was a "pay-to-play" connection in the awarding of the contracts.

Richardson protested his innocence Sunday and Monday, declaring "unequivocally that I and my administration have acted properly in all matters and that this investigation will bear out that fact. - More...
Tuesday - January 06, 2009

Travel: What will the travel scene be like in 2009? By SALLY KALSON - To predict the hot travel destinations for 2009, just follow the money. Wherever Americans can get good value for their bucks, that's where travel experts expect them to be flocking in the new year.

For example: Iceland, which was so hard hit by the global credit squeeze that its financial system collapsed and the government wound up taking control of the major banks. The value of the krona has dropped precipitously -- a terrible turn of events for Icelanders, but their misfortune means Iceland is now one of the best travel bargains in Europe.

The country also happens to offer a bonanza of natural wonders -- glaciers, geysers, mountains, volcanoes, the midnight sun and the Northern Lights -- as well as picturesque fishing villages and the modern city of Reykjavik.

There's never been a better time to take it all in, said travel author Pauline Frommer. - More..,.
Tuesday - January 06, 2009

Health - Fitness: Asthma sufferers must switch to eco-friendly inhalers By LORA HINES - Beginning this month, asthma sufferers will have to switch to new, environmentally friendly inhalers to control their attacks.

The U.S. Food and Drug Administration has banned production of the old inhalers because they contain chlorofluorocarbons, or CFCs, which scientists say deplete the ozone. They are being replaced by hydrofluoroalkane inhalers, which doctors say give patients the same amount of medicine without harming the environment.

Thousands of asthma sufferers who already have switched to the new inhalers have two complaints: the new inhalers cost more money and don't provide as much medicine, doctors say. - More...
Tuesday - January 06, 2008




Public Meetings

Ketchikan

CLASSIFIEDS

Publish ad
Please select the proper category before posting.




CLASSIFIEDS' CATEGORIES

Announcements and
Help Wanted
For Sale / Free Stuff
Garage Sales
Homes / Apts/ Property
Pets
Wanted
Lost & Found
Local Services
Publish your ad




December 2008
Front Page Archives

| | | | | | | |
| --- | --- | --- | --- | --- | --- | --- |
| S | M | T | W | T | F | S |
| 30 | 01 | 02 | 03 | 04 | 05 | 06 |
| 07 | 08 | 09 | 10 | 11 | 12 | 13 |
| 14 | 15 | 16 | 17 | 18 | 19 | 20 |
| 21 | 22 | 23 | 24 | 25 | 26 | 27 |
| 28 | 29 | 30 | 31 | 01 | 02 | 03 |

Viewpoints
Opinions/Letters
Basic Rules

Thanks to the Snow Removal Crews By Chief Edward Talik - Weather, like we have had for the last couple of weeks, can be dangerous. It's a good idea to stay put while the plows make their first pass. Staying put; however, is not always an option. The men and women of public safety, for example, must continue to provide services regardless of the conditions. Last week's storm placed heavy demands on both police and fire. The dedicated Public Works snow removal crews made meeting those demands much easier and safer. - More...
Tuesday - January 06, 2009

Boys and Girls Club Seeks New Location By Chris Corrao - The Boys and Girls Club's First Avenue location closed this October due to building concerns, leaving many kids without a place to go after school. Staff is currently seeking a new location to house the Club. The support of parents and community members has always been a very important piece of our daily operations at the Club and we are open to any suggestions that the community may have as to a new location for the Club. - More...
Tuesday - January 06, 2009

Fuel Prices in Southeast Alaska By Capt. Dan Nutt - Having noticed a few letters concerning the fuel prices and how that is related to the barges that bring the fuel, I wanted to clarify a couple points and hopefully provide a better picture of the fuel transportation issue for you. - More...
Tuesday - January 06, 2009

Fish Traps By Rudy McGillvray - In light of the high price of deisel fuel for boats, perhaps fish traps are not a bad idea. They are and were the most efficient way to catch fish. They just need better management. - More...
Tuesday - January 06, 2009

50 Years By James Schenk - Well it's been fifty years since I landed in a PBY with my mom, I was born in Michigan, and now I was landing on the waterfront of Ketchikan, at a place called Ellis Air. I was going to learn what it meant to be an Alaskan over the next fifty years, I still wonder where those years went. - More...
Tuesday - January 06, 2009

Go Angie, Safe Trail, Mush Along!! By Sarajustine Black and Pam Christianson - Ketchikan's own Angie Taggart, daughter of John and Charlene Taggart, is in pursuit of one of her personal goals - the Iditarod 2010. The Delta Kappa Gamma International Society - Epsilon Chapter is happy to announce their full fledge support of one of their teacher sisters. Angie is a first grade teacher at Houghtaling Elementary School who left for Knik at the start of Christmas vacation. Our chapter members have contributed $700 towards her efforts and know that other groups are doing the same. Since being in Knik, she has been running dogs from Ray Reddington's kennel. Angie has completed the Aurora 40/40 race in December. - More...
Tuesday - January 06, 2009

Thank You Volunteers By Franny Weihing - I want to thank the four volunteers that gave my dad (Dale Gilmore) a ride to our house on Christmas day and picked him up and took him back to long term care. - More...
Tuesday - January 06, 2009

Investigation into Alaska gasoline prices By Ed Vitorino - As you know i've been posting comments on fuel prices a few times. Well, after writting to the State of Alaska's Office of the Attorney General, I got a response dated December 30th, 2008. The office is currently investigating Alaska gasoline prices and they hope to have some results for the investigation on their website by the end of this month. We'll see what happens. - More...
Tuesday - January 06, 2009

Cowards of Our Destiny, part two. By Don Hoff Jr. - The State of Alaska and the federal government like to blame the subsistence users for the exploitation and near extinction of our herring fisheries. Meanwhile, they allow the commercial fishing industry to over-harvest our fish. Picking seaweed is unlawful anywhere in Alaska except a few places in Southeast. How absurd is that? - More...
Tuesday - January 06, 2009

Let's be safe on our roads. By Kathleen Wendt - Winter is here and along with it comes poor driving conditions. It is the time for extra care and driving responsibly with patience and consideration. - More...
Tuesday - January 06, 2009

Time is running out and the solution is so simple... By John Kelsch - It's critical that Congress get the investors back into the markets! The only way to do that is to make the "capital gains tax" (a.k.a. "Investors Tax") permanent or something similar! - More...
Tuesday - January 06, 2009

Singing Christmas Tree By Al and Carol Johnson - I want to take the moment to express my thanks to the crew at Clover Pass Church for the again, wonderful Singing Christmas Tree program. To have this seasonal tradition repeated for the 27th year is a testimony to an expression for the Love of Jesus. - More...
Tuesday - January 06, 2009

Thank You By Liz Hook - The members of North Tongass Fire Volunteer Fire Department would like to thank the staff at North Point Higgins Elementary School for being our partners in "adopting a family for the holiday". Not only did the staff at North Point Higgins Elementary School help us find the Peavey's they also opened their hearts and joined NTVFD in their efforts to "adopt" a family for the holidays. They generously donated gifts for the whole Peavey family along with all the food items that were collected from this years "Breakfast with Santa". - More...
Tuesday - January 06, 2009

Gas Prices, You know it ! By Ed Vitorino - Yes, we are going to keep talking about it. This time I find it funny and very interesting of how these fuel stations are ripping off the tax payers (at the pump) and not to mention friends and neighbors of the fuel station owners. Are they really your friends at that point? - More...
Tuesday - January 06, 2009

Christmas Tree By M.J. Cadle - I am very glad to hear the Christmas tree will be back in its usual location next year bringing a smile to all who can so easily view it there. Thank you Diane Naab for filling us in on the reason. And thank you to all who make it happen! - More...
Tuesday - January 06, 2009

Better lives because of strong leaders By Shannon Nelson - January is the month we celebrate two great leaders Martin Luther King Jr and Elizabeth Peratrovich. I would like to ask whoever may be planning an event to please let the general public know when and where we can be a part of the celebration of these two wonderful people who set their lives apart to insure a better life for all of us. - More...
Tuesday - January 06, 2009

Complaints about roaming cats By Alice Bajno - I love my garden too. But I think a living, breathing creature is beautiful and I don't make a fuss when my neighbor's cat uses my garden as a litter box. I just clean it up and get on with life. There are many much more troubling, serious issues that could appear in your life at any moment. Something tragic could happen and you would find these little interruptions so trivial and ridiculous. Life is not meant to be perfect. Consider all the blessings in your life and learn to live with your neighbors and all of God's creatures. After all, they are here for our enjoyment. Trapping and removing someone's pet to a shelter is absurd. How about talking to your neighbor first. It is the spoiled brat mentality of so many Americans who live comfortably and forget all that is good in their lives that makes this type of behavior reprehensible. - More...
Tuesday - January 06, 2009

More Letters/Viewpoints
Webmail your letter or
Email Your Letter To: editor@sitnews.us

---

Articles & photographs that appear in SitNews may be protected by copyright and may not be reprinted or redistributed without written permission from and payment of required fees to the proper sources.