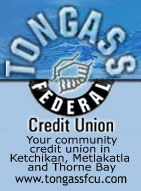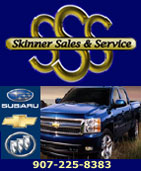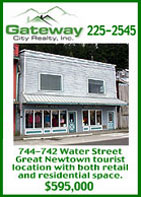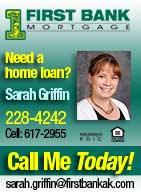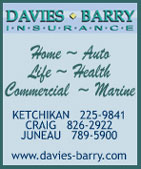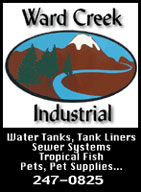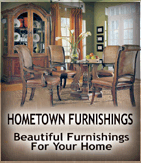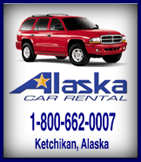 Contact


Webmail Letters


News Tips


Search Sitnews


Copyright Info


Archives
Today's News


Alaska


Ketchikan


Top Stories


U.S. News


U.S. Politics


Stock Watch


Personal Finance


Science News


US Education News


Parenting News


Seniors News


Medical News


Health News


Fitness


Offbeat News


Online Auction News


Today In History


Product Recalls


Obituaries
Quick News Search


Alaska


Ketchikan


SE Alaska


Alaska News Links
Columns - Articles


Dave Kiffer


Fish Factor


Career Success Stories


Parnassus Reviews


Chemical Eye On...


George Pasley


More Columnists
Ketchikan


Our Troops
Historical Ketchikan


June Allen


Dave Kiffer


Louise B. Harrington
Recognition


Match of the Month


Asset Builders
Ketchikan Arts & Events


Ketchikan Museums


KTN Public Library


Parks & Recreation


Chamber
Lifestyles


Home & Garden


Food & Drink


Arts & Culture


Book Reviews


Movie Reviews


Celebrity Gossip
On the Web


Cool Sites


Webmaster Tips


Virus Warnings
Sports


Ketchikan Links


Top Sports News
Public Records


FAA Accident Reports


NTSB Accident Reports


Court Calendar


Court Records Search


Wanted: Absconders


Sex Offender Reg.


Public Notices
Weather, Webcams


Today's Forecast


KTN Weather Data


AK Weather Map


Ketchikan Webcam


SE AK Webcams


Alaska Webcams


AK Earthquakes


Earthquakes
TV Guide


Ketchikan
Ketchikan Phone Book


Yellow Pages


White Pages
Employment


Employment
Government Links


Local Government


State & National


Tuesday
March 17, 2009



Inga (Hanson) Brinck
Pioneers Home Prom Queen approx 1999
Front Page Photo Courtesy Louise & John Harrington

Ketchikan: Centenarian Inga Brinck Recalls Ketchikan's Early Days A Feature Story By DAVE KIFFER - When Inga (Hanson) Brinck was born, Ketchikan itself was just a child.

Brinck was born on March 9, 1909 and recently turned 100, probably the first person to reach the century mark after spending her entire life in the city of Ketchikan.

Inga Hanson was the daughter of pioneer Ketchikan businessman Louis Hanson who moved with his family from Juneau to Ketchikan in January of 1900.

"I really don't know when my father first came to Ketchikan," Brinck recalled in the 1999 Ketchikan oral history book "Clams on the Beach and Deer in the Woods." "But he had a trading boat, the Nellie Belle, and he traded in all the little hamlets around here."

Brinck said that Hanson - an immigrant from Norway - went up down the coast for many years prior to 1900.

"So I don't know how they (her parents) met, how they got engaged, but they got married in Juneau on January 1, 1900 and they came right down to Ketchikan after the wedding ceremony, evidently, because all of the children were born here," Brinck said in the oral history book.

Her older sister Louise was born in November of 1900.

The Hanson family had a store called the US Store that was located on Front Street in what is now the oldest commercial building in Ketchikan. Inga was born upstairs in the family living quarters in 1909.


"My Dad was a trader, he had the trading boat and he traded with the Indians, and that's how he got Native curious and stuff," Brinck said in 1999. "Then he'd take trips back to Chicago and sell them. My mother ran the store while he was gone."

Fairly soon, Louis Hanson realized his store needed space to expand. He looked at property near the mouth of Ketchikan Creek and eventually purchased a piece of land on Mission Street, across from the St. John's Episcopal Church in 1913 and built what eventually became known as Ketchikan's Bon Marche.

"Hanson carried general merchandise, everything from housewares to rubber boots and oilskin raingear, yard goods and the new-fangled "ready-made clothing" that was gaining popularity at the time - to the dismay of tailors and seamstresses," Ketchikan historian June Allen wrote in SITNEWS in 2003. "He planned to add a second section to the store plus a third story, a goal accomplished in 1919. A long stairway leading up to the apartments bisected, and still does, the two sides of the store. The expanded business had ample space for a full grocery store."

In the 1920s and 1930s, Hanson faced intense competition, particularly from catalog stores like Sears and Wards. Allen wrote that Hanson felt that his competition got favorable treatment from the city newspaper, the Ketchikan Chronicle.

"So he decided he'd start his own newspaper and even bought a press," Allen wrote. " But he had no place to put it. So he decided to build a basement under the Bon Marche, in spite of the tides! At first, in the 20s, the new basement was a newspaper office. The press was moved in and efforts were made to launch a second newspaper failed. It wasn't until the early 1930s that newspaperman Sid Charles approached Hanson and leased the basement premises. And from that business arrangement came today's Ketchikan Daily News."

Brinck loved her time growing up in the apartments upstairs from the Bon Marche.

"We had a great big porch on the back," she said in 1999. "We used to go out there and watch the ball games played on the tidelands when the tide was out, of course. We had a rowboatwhen the tide was high, we'd climb in and go across the bay and have lunch."

Brinck said that her parents had a difficult relationship because they were so "different."

"He loved to play and she loved to pray," Brinck said. "They were not suited at all for each other. They never quarreled but they never talked to each other either and never had a room together. And of course we had the big building, the Bon Marche, so my dad lived in one end and my mom lived in the other." - More...
Tuesday - March 17, 2009


Alaska: State, Borough and Place 2008 Populations Released - Alaska's statewide population is 679,720 as of July 1, 2008, based on new population estimates released Monday by the Alaska Department of Labor and Workforce Development. This is a 52,187 or 8.3 percent increase in population since July 1, 2000.

Alaska's growth was almost the same as the 8 percent increase for the United States as a whole during the eight year period. The 2008 estimates are provisional.

The number of people living in Alaska climbed from 627,533 in 2000 to 679,720 in 2008 (See Table 1). Alaska's average annual rate of population change was 1.1 percent during the 2000-2008 period and 0.8 percent for the 2007-2008 period. Alaska remains the 47th most populous state, and is larger than North Dakota, Vermont, the District of Columbia and Wyoming.

Currently, growth in Alaska as a whole is primarily through natural increase. From 2000 to 2008, Alaska's natural increase (births minus deaths) added 58,094 people, while net-migration (inmigration minus out-migration) accounted for a loss of 5,907 people. During 2007-2008, Alaska added 7,770 people through natural increase and lost 2,560 people to net out-migration.

When international and domestic migration are considered separately, the loss of 2,560 migrants between 2007 and 2008 breaks down to a gain of 810 international migrants and a loss of 3,370 domestic migrants. Thus, international migration is currently compensating for some of the outward domestic migration. About 92,500 people now migrate to and from Alaska each year. In- and out-migration are nearly equal at about 45,000 in and 47,500 out. - More...
Tuesday - March 17, 2009

Alaska: Alaskan Delegation Works With USPS; Reaches Agreement On Future Of Bypass Mail Program - Alaska's Congressional Delegation anounced Monday that an agreement has been reached with the Postmaster General over bypass mail rates. Included in an 84 page report from the Postal Regulatory Commission is the acknowledgment that the Alaska Congressional Delegation has expressed concern with the pending rate increase. In response, "the Postal Service indicates that it is working with shippers and air carriers in Alaska to change and simplify the acceptance of bypass mail." The Alaskan Congressional Delegation requested that mail be charged at a maximum of the 70 lb rate, and this is what has been delivered by the Postmaster General.

Currently, bypass mail parcels in Alaska are either bundled and charged at their bundled rate or simply charged at their individual rate and loaded on pallets. With the May 11 price increase, those same parcels would cost $15.37 per parcel, up from the previous price of $11.54. Under the new plan, bypass mail parcels will not be bundled or individually metered, but rather presented to USPS on a full pallet with the weight being divided by the 70 lb rate to determine the postage. By unbundling the packages, the price will only increase by roughly 12-17% as opposed to the 40% rate increase originally anticipated. - More...
Tuesday - March 17, 2009

Alaska: Are Bristol Palin, Levi Johnston doing the right thing in separating? By L.A. JOHNSON - Few are surprised that Bristol Palin and Levi Johnston, the strapping, hockey-playing father of her 2-1/2-month-old baby Tripp, broke off their engagement last week.

"It's just us not, me not being mature enough, or something, and having a kid and thinking ... it could be better -- better for us to separate for a while," the 19-year-old Johnston said Monday in a "Good Morning America" interview. He and Palin, 18, remain friends and he hopes they eventually reconcile.

For now, many think the young couple is doing the right thing.

"I think it's a good idea if things weren't working out, it's time to move on," said Breanne Skultety, a political-science major at Point Park University in Pittsburgh. "I'm 19 and I wouldn't be ready to raise a child either." - More...
Tuesday - March 17, 2009

National: Bill would combat 'nature deficit disorder' in school children By PRISCILLA CHAVEZ - Imagine disappearing green spaces, empty playgrounds and children genetically capable of outsmarting the natural world.

Hundreds of organizations and lawmakers across the country want to reverse what they see as a trend towards the virtual world becoming more popular for children than the natural one.

In the coming weeks, the "No Child Left Inside Act," which passed the U.S. House of Representatives last year, will be reintroduced in the House and Senate. Last year, Congress ran out of time to finish work on the measure.

The bill, if passed by Congress and signed by the president, would introduce environmental education as a subject in grades K-12. The act would also require school systems to build environmental literacy, strengthen teacher training and provide federal grants to help schools pay for outdoor education, according U.S. Rep. John Sarbanes, D-Md., lead sponsor of the House bill. This year, the Senate sponsor of the bill is Sen. Jack Reed, D-R.I.

Sarbanes said the backers of the bill are working towards getting environmental education into schools so that kids can learn in nature, not just learn about nature. - More...
Tuesday - March 17, 2009

Business - Economy: Even the affluent now doubt they have saved enough By TIM GRANT - The poor and middle class aren't the only ones sweating bullets over their ability to retire when their working days are done. Even the wealthy are worried about their financial future, according to a recent study.

A survey released by PNC Wealth Management of people with at least $500,000 in investable assets dashes many stereotypes about the wealthy and illuminates how times of unprecedented economic hardship have caused even the affluent to doubt they will have enough stashed away.

The analysis of 1,263 wealthy Americans showed 34 percent reporting they are behind schedule, do not believe they will meet their goal or have no retirement goal at all. Fifteen percent had assets of more than $5 million. - More...
Tuesday - March 17, 2009




Public Meetings & Info

Ketchikan




CLASSIFIEDS' CATEGORIES

Announcements and
Help Wanted
For Sale / Free Stuff
Garage Sales
Homes / Apts/ Property
Pets
Wanted
Lost & Found
Local Services
E-mail your ad to
editor@sitnews.us

Feb. - March 2009
Front Page Archives

| | | | | | | |
| --- | --- | --- | --- | --- | --- | --- |
| S | M | T | W | T | F | S |
| 01 | 02 | 03 | 04 | 05 | 06 | 07 |
| 08 | 09 | 10 | 11 | 12 | 13 | 14 |
| 15 | 16 | 17 | 18 | 19 | 20 | 21 |
| 22 | 23 | 24 | 25 | 26 | 27 | 28 |
| 01 | 02 | 03 | 04 | 05 | 06 | 07 |
| 08 | 09 | 10 | 11 | 12 | 13 | 14 |
| 15 | 16 | 17 | | | | |

Viewpoints
Opinions/Letters
Basic Rules

Buffett Not Good Enough By Chris Elliott - Another ridiculous editorial in The Seattle Times. This one, Gates Foundation should open up, by Pablo Eisenberg, a senior fellow with the Georgetown Public Policy Institute, was published March 17. Mr. Eisenberg states that while the Gates Foundation will increase its giving by an additional $500 million in 2009, it would be well-advised to have an enlarged board of four to eight additional members who are not part of the Gates family or their personal advisors and retainers to assure public accountability and because the decision-making process (deciding where the money goes) requires broad perspectives, a wealth of experience and interests beyond family concerns. Warren Buffett is a member of the Gates Foundation board. There's a guy we all know is clueless. - More...
Tuesday PM - March 17, 2009

TIME FOR SOME CLIMATE REALISM By Rep. Carl Gatto - We try to stay informed, read the newspapers, watch the news on TV, and still we missed a major event that affects our future and our pocketbooks. 700 scientists, economists, and public policy experts from 20 countries met in New York City in early March of this year. They concluded that global warming, if it is occurring at all, is probably natural rather than man-made. - More...
Tuesday PM - March 17, 2009

Dog poop on the sidewalks - GROSS!!! By Carrie Mueller - I would like to confront dog owners in downtown Ketchikan. Since I never actually see them when it counts, I will hopefully reach all of you inconsiderate, so called "dog owners" here. - More...
Tuesday PM - March 17, 2009

A Trillion Dollars By Ken Leland - A Trillion Dollars is a Million Million Dollars.Imagine all the wealth of a million Millionaires confiscated by the government and handed out by Congress to spend however they want. - More...
Tuesday - March 17, 2009

Letters of Support for EPA Assessment By Kenneth Carpenter - Our nonprofit received as a donation the 347 Bawden Street property. As you all know, this was your former hospital and was built with asbestos in the building. The asbestos has hampered the development of the property for several owners. The first step in rehabilitating this property is to remove the asbestos. Remodeling or demolition legally requires abatement, which is removal of the asbestos and other hazards such as lead. Your health is our #1 priority with this project, the health of the future sites occupants is our second, and meeting the best needs of the community is our third. Our immediate goal is abatement, however assessment must take place first. For nearly a year we have been working with the EPA to achieve this goal. Currently the EPA is evaluating our request for Site Assessment of the building. Abatement funding is dependent on assessment, and assessment funding is based on community support. All they need is a letter of support for our project from your City Mayor, KGB Mayor, Tribal Council or Governor in order for assessment and abatement to begin. I wrote to all of your elected government leaders and they all have not responded to date. - More...
Monday - March 16, 2009

Trillion-Buck Rogers of the 21st Century By Al Johnson - As a senior citizen looking at the fiscal shenanigans being fostered on the American Public by the uncertified holder of the Office of President, my frustration on how this reckless future debt will be paid was antagonizing. - More...
Monday - March 16, 2009

Understanding Million, Billion, and Trillion By Charlotte Tanner - We read about how billions, and trillions are being thrown around as "bail-outs", etc. I have never had one inkling what these figures actually meant. They are much too large for my mind to grasp, so I did some googling. This one website had these neat definitions, they kind of give me a feeling for what our government is promising various corporations, and other entities. WOW! - More...
Monday - March 16, 2009

PEPPERMINT PATTIES By David G. Hanger - On a nice, sunny day a rich man goes for a walk down a sandy beach. The wind gusts suddenly, and up ahead are three children; a middle class child, an upper middle class child, and a lower middle class child; who in the course of playing five feet off the shore have fallen over a shelf into deep water and are drowning. Noticing that the gusting wind has chilled him a bit, the rich man turns and goes home to get a sweater. Once home he gives his dog a bone, just for being such a good, good boy. The three children, of course, drowned. - More...
Thursday - March 12, 2009

Native Oratory Contest: THANK YOU! By Cara Wallace - Thank you to everyone who made Ketchikan's first Native Oratory Contest (held on February 16) a success! The Native Oratory Contest was a contemporary way of celebrating Alaska Native peoples' oral traditions. Oral traditions tell us who we are and where we come from, they connect us to our ancestors, affirm our relationships with one another, and help us navigate the future. One of Alaska's most famous orators was Elizabeth Peratrovich, who spoke with conviction, honesty, poise and eloquence when she addressed the territorial legislature to advocate for our collective civil rights. It was especially fitting that we celebrated the exchange of Native knowledge, ideas and history on the same day Alaska honors Elizabeth Peratrovich's legacy. - More...
Wednesday - March 11, 2009

Southeast CHAMPS scrounging for money By Charles Edwardson - I have written about the activities' fund in this publication more than a few times and as predicted I did not actively do anything about it, or think about it much until the time came when my kid needed support for her extracurricular activity. Guilty as charged and so is the school board. So I reached into my wallet and slapped down another thousand bucks as do many parents and faithful fans. - More...
Monday - March 09, 2009

Ketchikan to Hyder link By Gary Benedict - Pete Cessnun and Ken Eichner told me years ago about a route up to LeDuc Glacier from around the Rudyard Bay area. At the start of the work on what was to become the Granduc Copper mine there was a road grubbed out from the Behm Canal to where there is now the head of an 11.5 tunnel that comes out at the Granduc mill site. - More...
Monday - March 09, 2009

Let's get real!! By Robert D. Warner - Recently there have been several letters to SitNews pushing this issue of building a hard link to the mainland. - More...
Monday - March 09, 2009

Re: Over the Horizon By Alan R. (Rudy) McGillvray - Well, as I said before, we have many more ridges that the wind blows across than we do lakes that drain into our inland waterways. Also, we have many more inland waterways that have a lot of tidal action. Both may be used to generate electricity, and in the case of wind-power, could be online before the permitting process for a new expensive dam is even read by the permitting authority. - More...
Monday - March 09, 2009

Financial crisis explained in simple terms By Al Johnson - There was a time when you couldn't find anybody that voted for Jimmy Carter. It seems to becoming that way for "Dear Leader". - More...
Monday - March 09, 2009

AMHS Survey By Kristine Bellanich - Anyone interested in voicing their opinion about the AMHS, new Alaska class ferries, I urge you to take the survey. The state is trying to switch over all newer ferries brought online into 'daytime' ferries with no staterooms, sitting room only and what seems to be switching from kitchen/ cafeteria stlye to vending for meals. - More...
Monday - March 09, 2009

GUN BILL GOING NOWHERE By Donald Daugherty - I'm glad to see opposition to the gun bill. Americans have every right to bear arms to protect themselves. IF every law abiding citizen in the country were to turn their guns in, only the criminals would have them. - More...
Monday - March 09, 2009

Gun bill By Richard Lippart - I'm sorry to say that our country is coming to this, thanks to anti-gun people. But, I can say that as a service-member and avid hunter, if you dare think you can make me turn in my guns and wait for the local law enforcement, you're sadly mistaken. - More...
Monday - March 09, 2009

Economy By Robert McRoberts - Every one is losing their job. We have messed up our economy so bad. What happened? Being a contractor, I can see how we can not afford to hire help. I wish I could hire help but I hate the idea of putting so much money out to hire other people. I get so little in return. If they have an accident I end up paying. I lose by putting out so much for just the pride to be a employer. Maybe it's just a little guy theory, but if every one was responsible for their safety we would all work safer. - More...
Monday - March 09, 2009

More Letters/Viewpoints
Webmail your letter or
Email Your Letter To: editor@sitnews.us

---

E-mail your news tips, news
releases & photos to:
editor@sitnews.us

SitNews
Stories in the News
©1999 - 2008
Ketchikan, Alaska

M.C. Kauffman, Webmaster/Editor,
Graphic Designer & Publisher
editor@sitnews.us
907 254 1948

In Memory of SitNews' first editor,
Richard (Dick) Kauffman
1932-2007

Locally owned & operated.
Online since 1999

Articles & photographs that appear in SitNews may be protected by copyright and may not be reprinted or redistributed without written permission from and payment of required fees to the proper sources.