Centenarian Inga Brinck Recalls Ketchikan's Early Days
By DAVE KIFFER
March 17, 2009
Tuesday

Ketchikan, Alaska - When Inga (Hanson) Brinck was born, Ketchikan itself was just a child.
Brinck was born on March 9, 1909 and recently turned 100, probably the first person to reach the century mark after spending her entire life in the city of Ketchikan.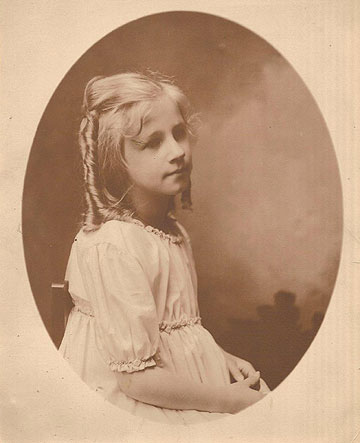 Inga (Hanson) Brinck
5-years of age
Photo courtesy Louise & John Harrington
Inga Hanson was the daughter of pioneer Ketchikan businessman Louis Hanson who moved with his family from Juneau to Ketchikan in January of 1900.
"I really don't know when my father first came to Ketchikan," Brinck recalled in the 1999 Ketchikan oral history book "Clams on the Beach and Deer in the Woods." "But he had a trading boat, the Nellie Belle, and he traded in all the little hamlets around here."
Brinck said that Hanson - an immigrant from Norway - went up down the coast for many years prior to 1900.
"So I don't know how they (her parents) met, how they got engaged, but they got married in Juneau on January 1, 1900 and they came right down to Ketchikan after the wedding ceremony, evidently, because all of the children were born here," Brinck said in the oral history book.
Her older sister Louise was born in November of 1900.
The Hanson family had a store called the US Store that was located on Front Street in what is now the oldest commercial building in Ketchikan. Inga was born upstairs in the family living quarters in 1909.
"My Dad was a trader, he had the trading boat and he traded with the Indians, and that's how he got Native curious and stuff," Brinck said in 1999. "Then he'd take trips back to Chicago and sell them. My mother ran the store while he was gone."
Fairly soon, Louis Hanson realized his store needed space to expand. He looked at property near the mouth of Ketchikan Creek and eventually purchased a piece of land on Mission Street, across from the St. John's Episcopal Church in 1913 and built what eventually became known as Ketchikan's Bon Marche.
"Hanson carried general merchandise, everything from housewares to rubber boots and oilskin raingear, yard goods and the new-fangled "ready-made clothing" that was gaining popularity at the time - to the dismay of tailors and seamstresses," Ketchikan historian June Allen wrote in SITNEWS in 2003. "He planned to add a second section to the store plus a third story, a goal accomplished in 1919. A long stairway leading up to the apartments bisected, and still does, the two sides of the store. The expanded business had ample space for a full grocery store."
In the 1920s and 1930s, Hanson faced intense competition, particularly from catalog stores like Sears and Wards. Allen wrote that Hanson felt that his competition got favorable treatment from the city newspaper, the Ketchikan Chronicle.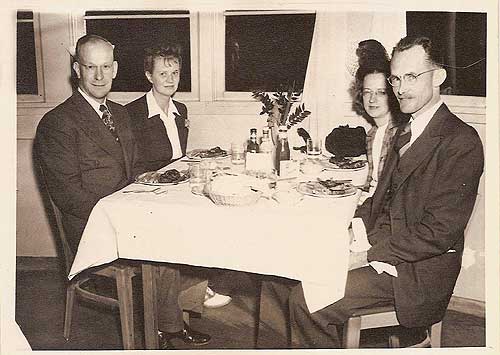 George and Inga Brinck (right) with an unidentified couple. Honeymoon 1946.
Photograph courtesy Louise and John Harrington

"So he decided he'd start his own newspaper and even bought a press," Allen wrote. " But he had no place to put it. So he decided to build a basement under the Bon Marche, in spite of the tides! At first, in the 20s, the new basement was a newspaper office. The press was moved in and efforts were made to launch a second newspaper failed. It wasn't until the early 1930s that newspaperman Sid Charles approached Hanson and leased the basement premises. And from that business arrangement came today's Ketchikan Daily News."
Brinck loved her time growing up in the apartments upstairs from the Bon Marche.
"We had a great big porch on the back," she said in 1999. "We used to go out there and watch the ball games played on the tidelands when the tide was out, of course. We had a rowboatwhen the tide was high, we'd climb in and go across the bay and have lunch."
Brinck said that her parents had a difficult relationship because they were so "different."
"He loved to play and she loved to pray," Brinck said. "They were not suited at all for each other. They never quarreled but they never talked to each other either and never had a room together. And of course we had the big building, the Bon Marche, so my dad lived in one end and my mom lived in the other."
Brinck worked in the clothing department of the Bon Marche. The store was half groceries and half what used to be called "dry goods." In those days, stores delivered items to customers and her brothers Paul and Ben made deliveries. Brinck also remembered an old store deliveryman named Ed Robinson who never learned how to drive and therefore made all his deliveries around town with a wheelbarrow.
Although Creek Street had the reputation of being Ketchikan's "wild neighborhood," Brinck said that the Mission Street area was also pretty "wild."
"There were some high faluting girls, girls who were a little free," she said in the oral history book, adding that many of them lived at the Rex Hotel which was adjacent to the Bon Marche but on Main Street.
"Respectable people would walk down our hall - which was reliable and sensible and of no ill repute - and then they would go out our back door and get out on the porch and get into these other people's (the girls) windows," Brinck said. "and if we knew who they were, we'd start yelling at them."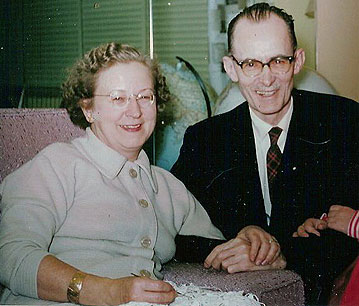 George and Inga Brinck
Photograph courtesy Louise and John Harrington
Brinck also said that there was plenty of liquor around the neighborhood, even in the days of Prohibition. There was even a trap door at the Bon so that boats come under the building and "unload" at high tide
"And during Prohibition people made homebrew," Brinck said. "I remember going with my brothers to deliver supplies to bootleggers at Bugge Beach. Ben and Paul didn't do anything really illegal as such. They just supplied the sugar, yeast, malt and whatever else the bootleggers needed."
Brinck said that her father had a strict rule against the family using competitors stores, including J.R. Heckman's ("My dad would have spanked me") or Sears ("My dad would have shot me").
"Competitors weren't friendly at the time," Brinck said. "We never associated with our competitors."
She said the only time that she shopped "around town" was when the family needed meat.
"I always did the shopping for my mother and I always paid cash," Brinck said. "She taught me not to buy anything unless I could pay for it. She belonged to the old school and she never used credit."
Brinck said she also liked to frequent La Follette's ice cream parlor and since she was working in her parent's store, she always treated her friends.
Brinck attended school at the original Main School through her freshman year in high school in 1924. But then the city tore down the wooden school building to replace it with a concrete one.
"So while that was going on we went to classes downtown," she said. "We went to the Elks Club for Latin and St. John's Church for English and we went all over town."
Brinck said she liked going back and forth for classes because she could stop at the library on Main Street and get books or stop at the Bon and get candy bars.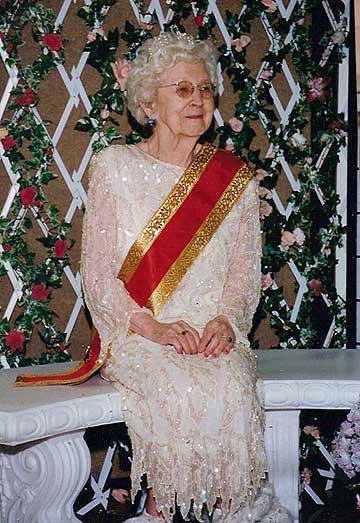 Inga (Hanson) Brinck
Pioneers Home Prom Queen approx 1999
Photograph courtesy Lousie and John Harrington
After high school, Brinck attended University of Washington and received a bachelor's degree in business. At different times, she worked for the US Customs in Ketchikan and for the first local television station, KATV.
She met her husband George when he came to the store as an electrician, working first for Citizens Light and Power (the forerunner of Ketchikan Public Utilities) and later for Smith Electric. He was older and was a friend of her sister, Louise.
"He always liked me though," she said. "He'd come in the store and tell me how cute I was and he'd tell everyone around 'this is the cutest little kid in Ketchikan.' So he had a soft spot for me over the years."
More than 21 years after first meeting, they were married, in 1946. That was more than a decade after George Brinck had taken over management of a "competitor," the Revilla Apartments.
"It's funny how things turn out," Brinck said in 1999. "When people would move out of the Bon (which had apartments above the store) into the Revilla (which was built on Grant and Main in 1927) I thought they were just plain traitors and the Revilla was skunk cabbage, because of the competition."
But Brinck then found herself living for many years in the Revilla. It was only a decade ago that she moved to the Ketchikan Pioneer's Home.
Oddly enough, Brinck never lived in a house in Ketchikan. Going from above the US Store and the Bon to apartments at the Revilla and the Louise Apartments (now the Deer Mountain Apartments).
"Ketchikan has always been a nice place to live," Brinck said in 1999. "It's a good little town. I had a good little childhood. We used to play in the streets - baseball and hopscotch - because there was no traffic or anything. I never minded the prostitutes or the bootleggersthey were good neighbors."
On March 9, 2009, the Ketchikan Pioneer's Home held a 100th birthday celebration for Mrs, Brinck. Proclamations were read by both the city and borough mayors declaring March 9th as Inga Hanson Brinck day in Ketchikan. She was joined by many community and family members including grand and great-grandchildren.
Cake and ice cream was served and Brinck joined the well-wishers in a spirited rendition of one of her favorite songs, "Alaska, My Alaska."

On the Web:
Historical Ketchikan... Historical Alaska - More Feature Stories by Dave Kiffer


Dave Kiffer is a freelance writer living in Ketchikan, Alaska.
To republish this article, the author requires a publication fee.
Contact Dave at dave@sitnews.us

Dave Kiffer ©2009

Post a Comment View Comments
Submit an Opinion - Letter

Sitnews
Stories In The News
Ketchikan, Alaska