Viewpoints
Opinions/Letters
Political Cartoonists
Ketchikan
July 2006
Click on the date to read the stories published on that day.

| | | | | | | |
| --- | --- | --- | --- | --- | --- | --- |
| S | M | T | W | T | F | S |
| | | | | | | 01 |
| 02 | 03 | 04 | 05 | 06 | 07 | 08 |
| 09 | 10 | 11 | 12 | 13 | 14 | 15 |
| 16 | 17 | 18 | 19 | 20 | 21 | 22 |
| 23 | 24 | 25 | 26 | 27 | 28 | 29 |
| 30 | 31 | | | | | |
National: Scientists split on heat wave cause By KEAY DAVIDSON - In the past, most weather experts hesitated to blame short-term weather events - say, a terrible winter storm or a nasty heat wave - on longer-scale climate shifts like global warming.
But this week - as many people flee to air-conditioned theaters to watch Al Gore's global warming film, "An Inconvenient Truth" - the latest sweltering weather is starting to look to many like a calling card of global warming. - More...
Wednesday AM - July 26, 2006
National: Ready for disaster? Feds, locals disagree By MARISA TAYLOR - Contractors from the Department of Homeland Security fanned out across the country in April, asking state and local officials alarming questions about how ready they were for new natural disasters or terrorist attacks.
If another hurricane like Katrina hit, the contractors asked, how would thousands, even millions, of people evacuate? Would a warning system alert the entire state? What would happen to the bodies of the dead? - More...
Wednesday AM - July 26, 2006
Ketchikan: The Arts This Week - An evening with storyteller Joy Steiner happens at the Library on August 1st. Joy Steiner turns language into a celebration. Meet silly tricksters from around the world. Hear about the lively adventures of small brave heroes. Remember the gentle contagious power of kindness. Join in the fun of the rhythm and the rhyme. Joy's Isoka flute will tickle your ears. Her voice and expressions will make you smile. Come celebrate storytelling. Listen to stories with Joy! Call the Library for more information 225-3331.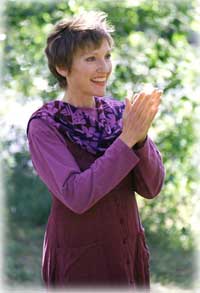 Storyteller Joy Steiner
Shakespeare Workshops: Acting Shakespeare workshop with Ketchikan raised Ty Hewitt will explore the meaning in the works of Shakespeare through acting. This workshop runs July 25, August 1, and August 8 from 7-10pm at the Creek Side Meeting Center (formerly the Wellness Center) at 640 Park Ave. The fee for all three workshops is $50, and actors 15 yrs. and older with or without experience are welcome. Contact the First City Players to sign up or for more info: 225-4792.
Lighting Workshops. Learn about dance lighting design and basic lighting instrumentation by a visiting professional Lighting Designer. Lighting Design 101 takes place Wed. July 26 and Thurs. July 27 from 6-9pm in the Kayhi Auditorium. These workshops are free and open to the public. Call the Arts Council for more information at 225-2211. Sponsored by the Arts Council with generous support from the Alaska State Council on the Arts.
Summer Family Films featured at the Library every Wednesday in July at 3pm. The final viewing will be on Wednesday, July 26th with "Homeward Bound". Join the fun with Family film afternoons.
The Fish Pirate's Daughter, Ketchikan's original musical melodrama plays again for its final weekend this Friday and Saturday, July 28th and 29th at the Ted Ferry Civic Center with an All-You-Can-Eat crab feed starting at 7:30pm. A First City Players production, Fish Pirate's is back for its 40th season. For more information call First City Players at 225-4792. Sponsored by SE Sea Pilots Association, SE Stevedoring and First City Players.
Blueberry booths still available! From now until July 28th or until space is filled, those interested in holding a booth for the 2006 Blueberry Arts Festival can register by phone at 225-2211, in person at 716 Totem Way, or download a form online to fax to 225-4330 at www.ketchikanarts.org. Don't wait these booths spaces will not last.
From the Tongass to the Arctic in Oil, on display at the Mainstay Gallery through July 28th, 2006, features oil paintings by local artist Diane Burton. The Mainstay Gallery is open Monday- Friday, 10am-6pm located at 716 Totem Way.
Dance! Dance! Dance! Every Friday night from 7-9pm is your opportunity to cut a rug with your fellow dancers. Enjoy salsa or ballroom at various locations around town. Call Tina Mander at 617-1284 for exact location information.
Brian Straw, the Stack Brothers and Chris Corrao in concert Sunday, July 30th at 7pm, at That One Place at the New York Hotel. The kitchen will be closed, but the bar will be open, $5 at the door. This show is open to all ages, a guaranteed good time! - More...
Wednesday PM - July 26, 2006