Viewpoints
Opinions/Letters
Political Cartoonists
Ketchikan
April 6, 2006, 7:00 pm - City Council Meeting - City Council Chambers


Agenda & Information Packet
April 7, 2006 @ 2:00pm - Teleconference meeting Friday, at the Legislative Information Office, 50 Front Street, Suite 203.
The Senate Finance Committee will meet to discuss HB365 - "An Act making appropriations for the operating and loan program expenses of state government, for certain programs, and to capitalize funds; making appropriations for state aid to public schools, centralized correspondence study, and transportation of pupils; and providing for an effective date."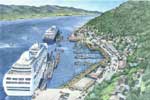 April 11, 2006 Special Election Port of Ketchikan Improvements Project - Detailed Project Description;
Ask A Question, Get an Answer; Special Election Information; and much more...
April 13, 2006 at 5:30 - Democratic caucus for those interested in developing a local platform and organizing the local democratic party - IBEW building on Stedman, contact Micheal Hyre 617-0238 for information.
April 2006
Click on the date to read the stories published on that day.

| | | | | | | |
| --- | --- | --- | --- | --- | --- | --- |
| S | M | T | W | T | F | S |
| 26 | 27 | 28 | 29 | 30 | 31 | 01 |
| 02 | 03 | 04 | 05 | 06 | 07 | 08 |
| 09 | 10 | 11 | 12 | 13 | 14 | 15 |
| 16 | 17 | 18 | 19 | 20 | 21 | 22 |
| 23 | 24 | 25 | 26 | 27 | 28 | 29 |
| 30 | 31 | | | | | |
Columns - Commentary

Dave Kiffer: Suddenly Over the Hill - I had a weird experience in the aisles of Safeway recently.
Yes, I know that's not usual, but this was even more disconcerting than the normal, run-of-the-mill run ins with the usual wackos and miscreants that grocery shop after normal hours.
A couple of missionaries, female ones, flirted with me.
Okay, maybe they were just being really friendly.
I was in the cold remedy aisle, pondering just how it could be that a single medicine could cure both runny and stuffy noses.
Suddenly, I noticed a young woman was standing fairly close to me. In fact, she was staring over my shoulder and at the package I was holding in my hands. I looked up and she gave me a great big smile. I smiled back, she smiled back. I smiled. She smiled. I got nervous and dropped the cold medicine into my basket. - More...
Sunday - April 09, 2006

Michael Reagan: The USA - Love It or Head South - There's a constant drone about the "Nation of Immigrants" America has always proudly claimed to be, but now it's being used as a slogan for those who believe we should accept absolutely anybody - even if they have absolutely no legal right to be here.
Yes, we are a nation of immigrants - all our ancestors came here from someplace else - but the difference is they all came here legally and came to be American citizens.
The illegals that come here for a job or for some other reason don't come to become American citizens.
In 1919 Theodore Roosevelt said it best: "In the first place we should insist that if the immigrant who comes here in good faith becomes an American and assimilates himself to us, he shall be treated on an exact equality with everyone else, for it is an outrage to discriminate against any such man because of creed, or birthplace, or origin. But this is predicated upon the man's becoming in very fact an American, and nothing but an American," Roosevelt said... - More...
Sunday - April 09, 2006

John Hall: Finding the door knob in Iraq - U.S. casualty rates in Iraq leveled to about one a day in March - better than any month in two years.
But 14 died in the first three days of April. The sight of the smoking body of an American helicopter crewman being dragged out of the wreckage by gleeful Mujahideen insurgents last week was posted on the Internet. In New England another young mother was left to raise her daughter alone.
A departing British general created a stir in Iraq when he said withdrawal of United Kingdom troops would begin in weeks and most could be home by summer. It proved to be a contingency plan based on many optimistic scenarios.
Nonetheless, it is clear that the British are thinking in terms of strategies to garrison their troops and turn matters over almost entirely to their Iraqi replacements. They are looking for the first opportunity to pull out. - More...
Sunday - April 09, 2006

Preston MacDougall: Chemical Eye on the Atomic Deficit - The first rule of holes is: If you are in one, stop digging.
This bit of folksy wisdom came to mind when I heard that President Bush selected the current Director of the Office of Budget and Management, Joshua Bolten, to be the new White House Chief of Staff.
You have probably also heard that, in order to accommodate continuing near-record budget deficits, Congress was recently obliged to raise the federal debt ceiling to $9 trillion.
Any more digging, and we will have to add another zero to the federal debt. For those who are counting, that would be the thirteenth.
There isn't a superstitious bone in my body, but something tells me that 13 zeros on the federal debt will not bring good fortune to future generations. Cost them a fortune? Undoubtedly.
As astronomical as this debt is, it is the atomic deficit that has me more concerned. I refer to the teeter-tottering imbalance in the international trade of the U.S. chemical industry. - More...
Sunday - April 09, 2006

Bob Ciminel: Drivers' Test - The traffic problems around Atlanta are monumental. I've been driving through Atlanta for over 30 years and have lived in the metro Atlanta area for 12 years, and it has only gotten worse with every passing year. Atlanta's roads and streets are in much better condition than most cities, and particularly cities in the northeast, because it is a young city, relatively speaking. Many of our most heavily populated areas only recently transitioned from dirt roads to paved roads, but not so much because of progress. It's difficult to sell land for $350,000 and acre and homes for $500,000 and expect people to drive around on gravel-topped red clay roads, particularly people who routinely drive through residential areas at 55 mph.
What follows are some of the unwritten rules I've learned to live with while driving in Atlanta. - More...
Sunday - April 09, 2006

Dick Morris: Hillary Leaves Room For Gore - Hillary Clinton made a fundamental decision in 2002 to support the invasion of Iraq. In doing so, she sought the center of American politics, reacting to issues much as her husband had throughout his ascent to the presidency.
But times have changed, and the center is not what it used to be. In the highly partisan and charged environment of politics in 2006, what has become of the centrist doctrines that reelected Bill Clinton and brought George W. Bush, the compassionate conservative, to the White House? Is the center still the place to aim in getting votes?
At the White House, I described the Clintonian brand of centrism as triangulation, with the polarized, partisan participants in the dialectic aligned to the left and the right at the base of the triangle and the centrist synthesis atop the apex, embracing the best of both arguments and rejecting the worst. - More...
Sunday - April 09, 2006