Grad student completes milestone glacier study
By Ned Rozell
April 07, 2006
Friday

Traveling from all over the world to study at the Geophysical Institute at UAF, graduate students liven up the place for a few years before dispersing and taking their new, larger brains with them. Anthony Arendt grew up in Edmonton, but during the last five years he has pedaled Alaska on his road bike, climbed mountains in the Wrangells, and studied glaciers all over the state. He recently defended his doctorate thesis in front of an auditorium of his peers and professors, and gave a conclusion that's worth repeating: Alaska's glaciers are getting smaller, fast.
The news has been out for a while. In 2002 the journal Science printed an article that became the first chapter in Arendt's thesis. Back then, big-time reporters quoted him and other members of the Geophysical Institute glacier team, which currently includes Keith Echelmeyer, Will Harrison, By Valentine, Sandy Zirnheld, Craig Lingle, Brent Richie, Chris Larsen, and Reggie Muskett.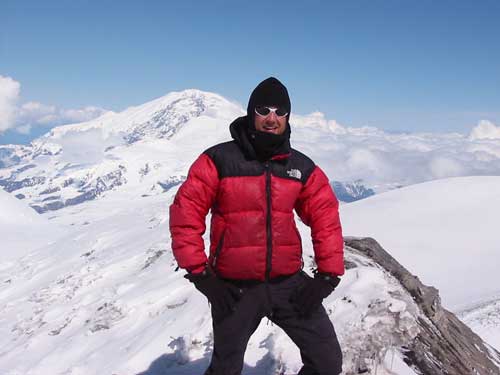 Anthony Arendt exploring a crater on Mount Wrangell, with
Mount Sanford in the background.
Photo by Martin Luthi.

The team has measured some of North America's hardest-to-reach glaciers using a sensitive altimetry system mounted on the back of Echelmeyer's Super Cub and later on the turbo Otter flown by Paul Claus of Ultima Thule Outfitters.
By flying the same paths again and again over dozens of glaciers from the Brooks Range to Washington state, the pilots captured precise elevations along the glaciers' slopes. Other members of the team compared the elevations of glaciers along the flight paths to topographic maps and to flight tracks from previous years. They found the majority of those glaciers thinned dramatically from the 1950s to the 1990s and that rate almost doubled from the 1990s to 2001. The team figures the meltwater from those glaciers has contributed to about 10 percent of the rate of global sea level rise in the last 50 years.
The recent accelerated melting of Alaska's glaciers is part of a worldwide trend scientists have noticed in the High Arctic of Canada, the icefields of Patagonia, Greenland, and Antarctica, Arendt wrote in his thesis.
After the Science article appeared, Arendt dug a bit deeper, looking at Alaska temperature records to see if there might be a warming pattern to help explain the loss of ice. Arendt found there were few weather stations near Alaska glaciers, because most Alaska towns are near rivers, coastlines, or other low places. He went on with his analysis to see if there still might be a connection, and he found an increase of both winter and summer temperatures (about 0.4 degrees Celsius per decade in winter and about 0.2 degrees per decade in summer).
Arendt showed that summer temperature increases accounted for much of the glacier melt, but he also found the warmer winter temperatures intriguing. Much of Alaska's current ice loss is from low-lying glaciers like Malaspina and the icefields east of Yakutat.
"We find that maritime glaciers are sensitive to changes in the winter freezing level heights . . . and might be causing increased melting and reduced snow accumulation during the winter," Arendt wrote in his thesis.
It's not often that a graduate student gets to speak to reporters from the Washington Post, USA Today and the BBC. Arendt's conclusions are the result of years of work by many people, especially Keith Echelmeyer, his advisor and a glaciologist who figured out a way to combine his love of flying with his passion to find out more about glaciers. As Keith introduced Anthony at his thesis presentation, he spoke of a student who came along at the right time to be part of something big, but also had the talent to make the most of his moment:
"After all he's done, why does he even have to be here (defending his thesis)?" Echelmeyer asked the crowd.
Nobody answered. We all wanted to hear the story again.
This column is provided as a public service by the Geophysical Institute, University of Alaska Fairbanks, in cooperation with the UAF research community. Ned Rozell [nrozell@gi.alaska.edu]is a science writer at the institute.

Publish A Letter on SitNews Read Letters/Opinions
Contact the Editor
SitNews
Stories In The News
Ketchikan, Alaska