Friday
April 23, 2004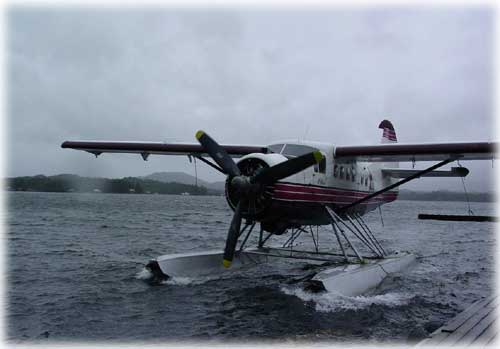 First Known PZL In Southeast AK Arrives In Ketchikan
Front Page Photo by Wade Jardine
Ketchikan: First Known PZL In Southeast Alaska Arrives In Ketchikan - The first known PZL Polish powered Dehavilland DHC3 Otter in Southeast Alaska landed under less than desirable weather conditions in Ketchikan Thursday afternoon with owner Kirk Thomas at the controls. - Read more & view photos...
Friday - April 23, 2004
Ketchikan Charter Commission

Information - Forum
Viewpoints
Opinions/Letters

Senate Proposal Is Key To Local Responsibility by Edgar Blatchford - AK - 04/23/04


Time to be thankful, but work to be done by Lawrence "Snapper" Carson - Ketchikan - 04/23/04


RE: Trash disposal - a different approach by M.L. Dahl - Ketchikan - 04/23/04


No Justice. "Just us" for Indigenous People. by Don Hoff Jr. - Hixson, TN - 04/23/04


RE: Trash disposal - a different approach by Glen Thompson - Ketchikan - 04/23/04


Thanks and Cheers by Jerry A. Cegelske - Ketchikan - 04/23/04


Litter disposal... by Dominica Doud - Carlsbad, CA - 04/23/04


Read more Viewpoints


Publish A Letter
April 2004
Click on the date to read the stories & to view photos published on that day...

| | | | | | | |
| --- | --- | --- | --- | --- | --- | --- |
| S | M | T | W | T | F | S |
| | 29 | 30 | 31 | 1 | 2 | 3 |
| 4 | 5 | 6 | 7 | 8 | 9 | 10 |
| 11 | 12 | 13 | 14 | 15 | 16 | 17 |
| 18 | 19 | 20 | 21 | 22 | 23 | 24 |
| 25 | 26 | 27 | 28 | 29 | 30 | |
Alaska: HB546 Puts Alaskans in Charge of Wastewater Permitting for Timber - The House Finance Committee passed House Bill 546 Wednesday, which allows the state to seek primacy for permitting timber related waste discharges under the federal National Pollutant Discharge Elimination System (NPDES) discharge permitting program. Finance Committee Co-Chair Bill Williams (R-Saxman) said the bill would begin the process of giving Alaska authority over federal wastewater permitting of timber related activities. "This proposal brings Alaska's wastewater permitting program closer to home. We should be in charge of these types of permits, not out-of-state bureaucrats. No one cares more about Alaska's environment than Alaskans." - Read more...
Friday - April 23, 2004
Alaska: Alaska founding partner in first-ever Medicaid multi-state drug purchasing pool - Alaska Department of Health and Social Services Commissioner Joel Gilbertson announced Thursday that Alaska, working in concert with Vermont, Michigan, Nevada, and New Hampshire, has established the nation's first multi-state prescription drug purchasing pool to save money on Medicaid drug costs and protect access to care. U.S. Department of Health and Human Services Secretary Tommy Thompson approved the plan today for the drug purchasing pool. Hawaii has also applied to join the multi-state pool. - Read more...
Friday - April 23, 2004
Alaska: Environmental Center Should Withdraw Pogo Appeal - Thursday, Alaska Governor Frank Murkowski added his voice to those of the Alaska Legislature's Interior Delegation in asking the Northern Alaska Environmental Center to withdraw their permit appeal on the Pogo Mine. - Read more...
Friday - April 23, 2004
Alaska: Interior Delegation Reacts to Environmental Center's Appeal - Members of the House and Senate Interior Delegation held a press conference Thursday requesting the Northern Alaska Environmental Center to withdraw its appeal of Pogo Mine's Environmental Protection Agency wastewater permit. - Read more...
Friday - April 23, 2004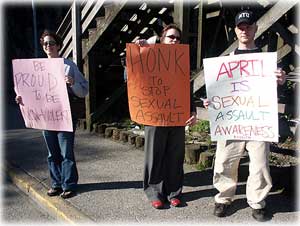 Sexual Assault Awareness Month
VISTA members rally to promote awareness & recognition of sexual assault...
Sara Todd, Gwendolyn Elliott & Amos Hopkins
Photo by Dick Kauffman
Ketchikan: Sexual Assault Awareness Month - April is Sexual Assault Awareness Month and Amos Hopkins, Gwendolyn Elliott and Sara Todd rallied at the tunnel Tuesday in an effort to promote awareness and recognition of sexual assault. Hopkins, Elliott and Todd are Volunteers In Service To America (VISTA).
Gwendolyn Elliott said, "Sexual Assault is a serious health concern around the world. Only 1/3 of rapes are reported, and rape remains the most under-reported of all major crimes. In Alaska, our rape rate is 2.4 times the national average and the number of reported child sexual assault cases is 6 times the national average." Elliott said, "80% of all rapes are committed by someone known to the victim." - Read more...
Friday - April 23, 2004
Alaska: Governor Lauds House for Passing Spending Limit - Governor Frank H. Murkowski congratulated members of the Alaska House of Representatives for "doing the right thing" in passing HJR9, which proposes a constitutional spending limit based on population growth and the consumer price index. The resolution passed by a vote of 27-13 Thursday afternoon. - Read more...
Friday - April 23, 2004
Alaska: Where science and high adventure meet by Ned Rozell - Lonnie Thompson once spent 53 consecutive days at 20,000 feet, about the height of Mt. McKinley. While there, on an icefield in the Peruvian Andes, a fierce wind lifted Thompson's tent. To prevent a 6,000-foot plunge off the mountain, he jabbed his ice axe through the tent floor.
"It was not a storm-this was the jet stream coming down and hitting the mountain," Thompson said while visiting Fairbanks recently. "I spent the night in this collapsed tent, but at least it wasn't moving because it had an ice axe through it." - Read more...
Friday - April 23, 2004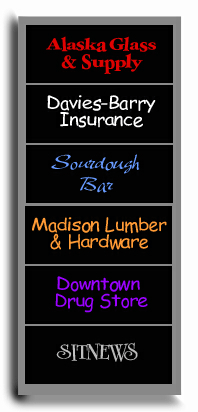 The June Allen Column
is made possible in part by these sponsors. Cick on each name to visit each web site.
June Allen Column

Ketchikan's Cruise Ship Industry; A light-hearted look at its origins - Tourists are nothing new to Ketchikan. These seasonal visitors have been spilling out onto the downtown docks for more than a century now. They share certain traits: They're thrilled to find themselves in distant, exotic Alaska; they find Ketchikan quaint and charming; and, they are wide-eyed and excited as they board charter fishing boats, or climb into sightseeing coaches to rumble off over the city's trestle streets. The basic awe most people feel when seeing our little town remains constant, even after a century. The things that have changed over the years are the much larger numbers of ships and visitors visiting each summer and the numbers of attractions available to them.
At the turn of the 20th century, brand new Ketchikan was even then being visited by tourists and journalists. In The Ladies World Magazine of March 1905, travel writer Myra Drake Moore described the Ketchikan she visited the summer of 1904: "[Ketchikan] is the port of entry into Alaska it and its sister towns of Juneau and Skagway are all very much alike in architecture, and seem to be 'happen-so's'. Ketchikan," she archly wrote, "has accumulated itself." - Read the rest of this story by June Allen...
Saturday - April 17, 2004

Ketchikan's First City Players; Did you hear that applause?

A biography of Alaska's herring: A little fish of huge importance...

Read more stories by June Allen...
---
E-mail your news tips, stories, news releases & photos to:
editor@sitnews.org

E-mail large photo files to
photos@sitnews.org

Edited by Dick Kauffman:
editor@sitnews.org

E-mail the Webmaster:
webmaster@sitnews.org

Copyright Applies - Please obtain written permission before reproducing photographs, features, columns, etc. that are published on Sitnews.

Published online since
August 2000

Sitnews
Stories in the News
©1999 - 2004
Ketchikan, Alaska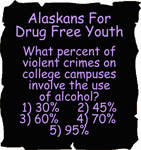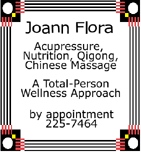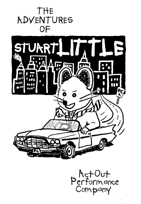 Ketchikan: Listen to this story... Members of First City Players Act Out Performance Company have been busy putting the finishing touches on their production of "The Adventures of Stuart Little". As Maria Dudzak reports, the show is slated to open this weekend at the Kayhi auditorium.
KRBD - Ketchikan Public Radio - linked Friday - April 23, 2004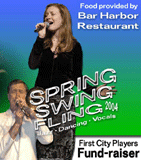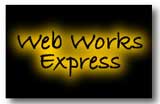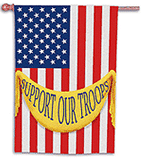 'Our Troops'
Publish Your Ad On Sitnews
For more information about how to publish your ad on the front page of Sitnews, call 247-8590
or e-mail the editor@sitnews.org