People of Ketchikan
My Sisters' Place
by Gigi Pilcher
July 15, 2003
Tuesday - 12:55 pm

The next time you feel the need to lose yourself in a shopping experience that offers a colorful and splendid surrounding, try My Sisters' Place located in Ketchikan at 2600 Tongass Avenue.
Owner and operator, Licha Kelley-King describes her shop as "Haight Ashbury meets Antiques Road Show". The classy and traditional items displayed at My Sisters' Place does give one the feeling of stepping back in time to the days when ladies wore frilly feathered hats, had tea on beautiful flowery dishes, and covered their furniture with lace dollies. Try on one of the lovely feather hats at My Sisters' Place and who knows where your imagination will lead you - perhaps to thoughts of Matahari or perhaps to thoughts of dancing with Humphrey Bogart. If your imagination leads you to more exotic destinations, there are silk Indian saris that you can wrap yourself in.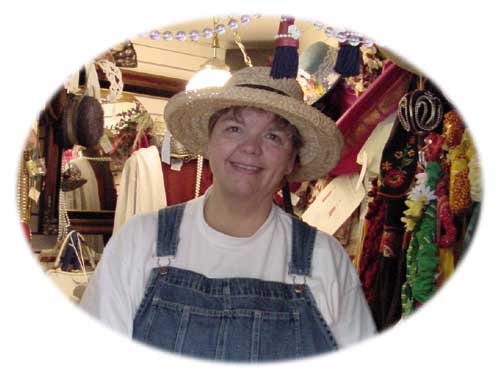 Licha Kelley-King owner & operator of My Sisters Place

My Sisters' Place place is a great shop in which to find presents for those hard to buy for relatives or friends who have "everything" because so much of what is found at My Sisters' Place is unique and special. If you have friends that are Elvis Presley's fans, Kelley-King has an entire set of dishes dedicated to the 'King of Rock and Roll'. If you're shopping for a handmade heirloom quality Christening gown - then look no further than My Sisters' Place.
Kelley-King finds items from far and wide to add to the "collectibles" for her shop. She said she is aided in finding treasures by her family of six sisters and two brothers who are scattered across the United States - including her sister, Jennie Hill, who is now living here in Ketchikan. Kelley-King says her siblings are constantly sending her their "finds" from estate sales from all across the country. She said they also call her frequently to offer their advice on the store. Kelly-King says she grew up in a large loving family in rural Iowa and all of the siblings have remained close over the passage of time and the geographical distances.
July marks the one year anniversary of My Sisters' Place and Licha Kelley-King plans to expand her shop after the construction of the new building for Alaska Glass and Supply which is owned and operated by her husband, Bruce King. She hopes the additional space will allow for a table and chairs so visitors can stop in and have a cup of coffee. She said, "God has been so good to me and I am so grateful for His kindness".
In addition to the delightful collectibles from by-gone eras that are on display, there are many new pieces of art and crafts created by local artists whose works are not found in the downtown Ketchikan shops. Some of the artists displaying their works at My Sisters' Place include:
Gary Werner: exotic wood boxes, vases and pens
Diane Guzman: Whimsical dolls and crafts
Cherrie Peavey: Crochet items
Harriet Zerbetz: Jewelry, unusual gifts
Kay Guymon: "Renewed" candle sticks, bird feeders
Pam Petersen: Bear and pillows of antique lace
Michelle Cook: Remarkable pillows
Sherrie Preston: New things from old things
Gwen Person: One of a kind lamps
Betty Jane Lee: Needle point items

Photo Gallery

Click here to view photographs of My Sisters' Place...


gigi@sitnews.org
Gigi Pilcher ©2003
Submit your photos for publication to photos@sitnews.org.
If you have a business, event, or hobby of interest you would like featured in a photo essay, e-mail the Sitnews editor at editor@sitnews.org.
Post a Comment View Comments
Submit an Opinion - Letter
Sitnews
Stories In The News
Ketchikan, Alaska