Tuesday
March 30, 2004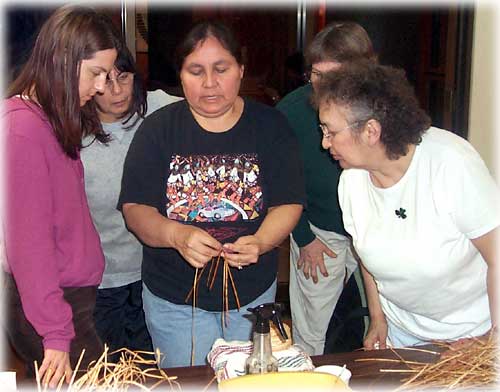 Expert Teaches Cedar Bark Weaving Skills
Totem Heritage Center instructor Diane Douglas-Willard demonstrates a weaving technique to students during one of the class sessions. (L-R) Yasha Jaffuel, Catherine Young, Diane Douglas-Willard, Evelyn Voorhees-Brown, and Laverne John.
Front Page Photo Courtesy Ketchikan Museums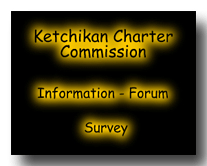 Ketchikan: Ketchikan Charter Commission Conducts Survey - In an effort to reduce the cost and size of government in a fair and equitable manner, the Ketchikan Charter Commission is asking you to fill out a questionnaire. For your convenience you may fill out the questionnaire online. This is a chance to help mold the future of Ketchikan. - Fill out the survey...
Published Tuesday - March 23, 2004 - 1:15 am
Viewpoints
Opinions/Letters

Re: It's that time again... by David Martin - Ketchikan - 03/30/04


Re: It's that time again.... by Neil Gray - Lakeside, CA - 03/30/04


Re: Ferry Administration Move by Dave Kiffer - Ketchikan - 03/30/04


Democracy Behind Closed Doors is Dead by Samuel Bergeron - Ketchikan - 03/30/04


AMHS Headquarters Move Is Good Policy & Leadership by Senator Bert Stedman - AK - 03/30/04


Re:"What does Ketchikan get out of the Kanayama exchange program?" by Cameron Mackey - Ketchikan - 03/30/04


RE: "Move the museum, enlarge the library" by June Allen -Palmer, AK - 03/30/04


Re: It's that time again... by Shauna Lee - Ketchikan - 03/30/04


Read more Viewpoints


Publish A Letter

Ketchikan: Expert Teaches Cedar Bark Weaving Skills -The pleasant, pungent smell of cedar bark filled the Totem Heritage Center in March as 13 students, from beginners to advanced weavers, worked on hats, clam baskets, and other weaving projects under the expert guidance of instructor Diane Douglas-Willard. Cedar bark and spruce root weaving are among the many traditional techniques taught in the Totem Heritage Center's internationally recognized Northwest Coast Native Arts program. - View the photo gallery...
Tuesday - March 30, 2004

Ketchikan: Listen to this story... The State Department of Fish and Game issued a statement Friday outlining conservation efforts the department will undertake during the impending West Behm Canal sac roe herring fishery. As Deanna Garrison reports, opponents of the controversial fishery say the state has done a poor job of managing herring stocks in the past and they they don't believe fish and game will do enough this time around.
KRBD - Ketchikan Public Radio - linked Tuesday - March 30, 2004

Hydaburg: Listen to this story... The Hydaburg Cooperative Association has passed a resolution opposing the spraying of herbicides on Long Island. The herbicides would make the Island's high value timber grow faster. But as Jay Marble reports, the Cooperative Association remains concerned that the herbicides pose health hazards.
KRBD - Ketchikan Public Radio - linked Tuesday - March 30, 2004
Alaska: House Acts to Deter Underage Access to Alcohol - The House of Representatives unanimously passed a measure Monday that allows licensees to seek a $1000 civil penalty against adults who buy alcohol for minors and also for minors who solicit adults to purchase alcohol for them.
Sponsored by Rep. Kevin Meyer (R-Anchorage), HB 428 mirrors an Anchorage ordinance that is already being used to successfully deter misguided adults from purchasing alcohol for minors. "Because of the success of the Anchorage ordinance and the alcohol education training programs that are being used, licensees across the state want to be more proactive in keeping underage kids away from alcohol," Meyer said.
HB 428 relies on a community policing philosophy, which promotes organization strategies, outside of State and Municipal involvement, to address community problems such as underage access to alcohol. "HB 428 implements a zero-cost enforcement policy. We can't have a police officer at every liquor store in this state, so the more help we can get from businesses and citizens, the better," stated Meyer. "It is optional for licensees to seek these civil penalties against the adults and the minors, however, I hope that more businesses statewide will take advantage of this measure." - Read more...
Tuesday - March 30, 2004
Fish Pirate's Daughter - 1966
A group picture taken at Petersburg when the First City Players took the show on the road in 1966 - Seated in front are (unidentified), Arlene Crawford and (unidentified). In the middle row from left, Tom Kelley (is it?), Bob Allen, Jack Shay, Chuck Maniscalco, Mary Kinerk and Maureen Karlson. Back row from left, (unidentified), June Allen, Margot Shay, and Jim Alguire... Photo courtesy First City Players
Digital conversion by Sitnews....
June Allen Column

Ketchikan's First City Players ; Did you hear that applause? - The 40th anniversary of the founding of Ketchikan's renowned First City Players is fast approaching. That community theater of volunteer actors, directors and stage hands laid the foundation of a tradition that has become the city's longest-lived, continuously active thespian society. It began when a small group of amateur actors with a little theater experience got together and said, "Let's put on a show!" And did so, and then put together another show, and another to become in time Ketchikan's first long-term little theater group as well as one of Alaska's most respected amateur theater organizations. In the larger picture and looking back to the town's beginnings, the First City Players added their talents to a long tradition of drama and comedy in the story of the small town on the shores of Tongass Narrows. - Read the rest of this story by June Allen...
Tuesday - March 30, 2004
The June Allen Column
is made possible in part by these sponsors. Cick on each name to visit each web site.
More stories by June Allen...
---
E-mail your news tips, stories, news releases & photos to:
editor@sitnews.org

E-mail large photo files to
photos@sitnews.org

Edited by Dick Kauffman:
editor@sitnews.org

E-mail the Webmaster:
webmaster@sitnews.org

Copyright Applies - Please obtain written permission before reproducing photographs, features, columns, etc. that are published on Sitnews.

Published online since
August 2000

Sitnews
Stories in the News
©1999 - 2004
Ketchikan, Alaska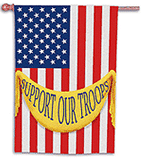 'Our Troops'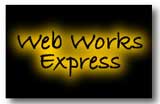 Wanted
Freelance Writers
Sitnews is interested in purchasing news and human interest stories about Ketchikan. E-mail the editor or call 247-8590.