Thursday
March 25, 2004
'Bear Valley Rainbows'
Front Page Photo by Carl Thompson
Ketchikan: Ketchikan Charter Commission Conducts Survey - In an effort to reduce the cost and size of government in a fair and equitable manner, the Ketchikan Charter Commission is asking you to fill out a questionnaire. For your convenience you may fill out the questionnaire online. This is a chance to help mold the future of Ketchikan. - Fill out the survey...
Published Tuesday - March 23, 2004 - 1:15 am
Viewpoints
Opinions/Letters

Re: Revilla Students by Marcia Hilley - Ketchikan - 03/25/04


Move the museum, enlarge the library by P. J. Travis - Ketchikan - 03/25/04


Revilla Students by Rick Grams - Ketchikan - 03/25/04


Read more Viewpoints


Publish A Letter
March 2004
Click on the date to read the stories & to view photos published on that day...

| | | | | | | |
| --- | --- | --- | --- | --- | --- | --- |
| S | M | T | W | T | F | S |
| | 1 | 2 | 3 | 4 | 5 | 6 |
| 7 | 8 | 9 | 10 | 11 | 12 | 13 |
| 14 | 15 | 16 | 17 | 18 | 19 | 20 |
| 21 | 22 | 23 | 24 | 25 | 26 | 27 |
| 28 | 29 | 30 | 31 | | | |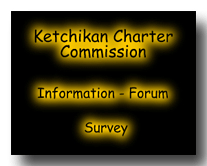 Ketchikan: Listen to this story... Wards Cove Packing has struck a deal with Boyer Towing to sell the Wards Cove Cannery in Ketchikan. As Deanna Garrison reports, Boyer says it is not sure what it is planning to do with the historic cannery building.
KRBD - Ketchikan Public Radio - linked Thursday - March 25, 2004

Ketchikan: Listen to this story... Weather in Southeast Alaska this spring is expected to be slightly warmer that usual, according to a forecast released recently by NOAA.
KRBD - Ketchikan Public Radio - linked Thursday - March 25, 2004

Hydaburg: Listen to this story... Last week a canoe of Haida design was put on a barge in Seattle and shipped to Hydaburg. It was built by students at Alternative School Number One, a Seattle Public School for children in grades kindergarten through eighth. Jay Marble recently spoke with the school's principal, Ron Snyder, about the canoe project.
KRBD - Ketchikan Public Radio - linked Thursday - March 25, 2004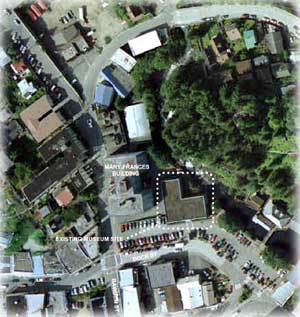 Aerial view of the existing Museum/Library site, with the Centennial Building highlighted.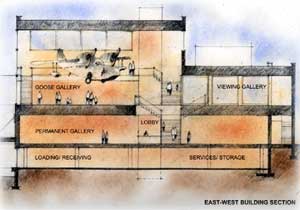 Interior Cross-section of the proposed building, facing north, showing the four levels.
Concept for a new, expanded museum
Ketchikan: Concept for a new, expanded museum for Ketchikan - This concept for a new, expanded museum for Ketchikan, was developed by Anchorage architects Livingston Slone under contract to the City. The 30,000 square-foot structure would be built on the site of the existing Centennial Building, which now houses both the Tongass Historical Museum and the Public Library.
The concept incorporates all of the requirements for a first-rate showcase of Ketchikan history and culture: downtown location; high visibility; ease of access; expanded exhibit space for permanent and temporary exhibitions; increased storage areas for artifacts and archives; a dedicated space for public programs, classes, and kids' activities; efficient work areas; appropriate environmental controls; dramatic views of Ketchikan Creek from inside the building; and a spectacular display of the Tongass Historical Society's restored Grumman Goose aircraft. - Read more and view the museum plan...
Thursday - March 25, 2004 - 12:15 am
NW: Underwater lumberjack harvests flooded forests - A CHAINSAW-WIELDING robotic submarine is roving beneath Lois Lake in British Columbia, Canada. But it's not a prop left over from a sci-fi movie. Rather, it's chopping down a forest that was left submerged decades ago when the valley was flooded by a hydroelectric dam. After it cuts the trees, they are floated to the surface, where they are dried out and sold to mills for use in furniture and construction, like any other lumber. - Read more...
Thursday - March 25, 2004 - 12:15 am
Alaska: Unemployment insurance frauds trigger federal prison sentence, jail terms, stiff fines - U.S. District Court Judge John W. Sedwick has imposed an eight month federal prison sentence on a former Kodiak school bus driver found guilty of 21 felony counts of mail fraud. - Read more...
Thursday - March 25, 2004 - 12:15 am
The Robert Atwood Building, 20 stories above Anchorage. Seismic instruments are placed throughout the building and in boreholes in nearby Delaney Park.
Photo by Ned Rozell.
Alaska: Anchorage high-rise wired for motion by Ned Rozell - Over thousands of years, the toes of five glaciers have advanced and retreated over what is now the Anchorage bowl, leaving behind deposits of water-saturated clay. Upon that clay sit Anchorage's largest buildings.
Large earthquakes can cause this soil to act like a liquid, which is why scientists recently outfitted the Robert W. Atwood state office building with one of the densest clusters of seismic instruments in the country. - Read more...
Thursday - March 25, 2004 - 12:15 am
Columnists
Dick Morris: A Blowout In The Making - The Bush ads are working: Two weeks ago, the Washington Post poll showed Sen. John Kerry ahead of President Bush by 11 points, and the Gallup Poll had him up by 8, while more recent polls reflect a dead heat between the two. - Read more...
Thursday - March 25, 2004 - 12:15 am
Michael Reagan: Chasing our Tails - As I write this the commission studying the 9/11 disaster is seeking to get to the bottom of the matter, when we already know what the bottom is - the failure of the CIA and the FBI and their refusal to share intelligence. - Read more...
Thursday - March 25, 2004 - 12:15 am
---
E-mail your news tips, stories, news releases & photos to:
editor@sitnews.org

E-mail large photo files to
photos@sitnews.org

Edited by Dick Kauffman:
editor@sitnews.org

E-mail the Webmaster:
webmaster@sitnews.org

Copyright Applies - Please obtain written permission before reproducing photographs, features, columns, etc. that are published on Sitnews.

Published online since
August 2000

Sitnews
Stories in the News
©1999 - 2004
Ketchikan, Alaska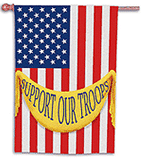 'Our Troops'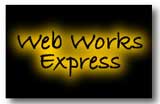 Wanted
Freelance Writers
Sitnews is interested in purchasing news and human interest stories about Ketchikan. E-mail the editor or call 247-8590.