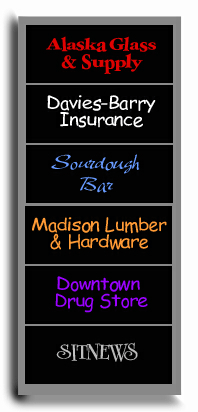 The June Allen Column
is made possible in part by these sponsors. Cick on each name to visit each web site.
June Allen Column
A biography of Alaska's herring: A little fish of huge importance

In general, not many people are interested in herring. It's not exactly a glamour fish. You won't see a snapshot of a grinning fishermen posing for the camera while holding up a trophy eight-inch goggle-eyed herring by the tail. And when was the last time you had baked, fried, roasted, grilled or pickled herring? The only time most people come in contact with herring is when they skewer a chunk of it onto a hook for bait when salmon fishing. - Read the rest of this story by June Allen...
Sunday - March 14, 2004 - 12:40 am

Nulato AK: a small village but big in history...

Ketchikan's Creek Street Dance Hall; echoes of music from the past...

A Story of an Unfriendly Arctic Island And the heroine who survived it...

Ketchikan's Volunteer Legacy; Buckets to hydrants to hi-tech...

Thanks, Ladies, for the Library - From Bookcase to Building(s)...

KETCHIKAN COLD STORAGE and colorful Mgr. Jim Pinkerton...

Read more stories by June Allen...