Viewpoints
Northend Serious Dumpers burying Southend Litterbugs
by Jerry A. Cegelske
March 22, 2004
Monday

Last weekend after seeing what a great job the Society of American Foresters did cleaning up mile 6 of North Tongass, I was positive the Great Littering Citizens of the Borough would not disappoint me- AND they didn't. They came through in fine style. In less than a week they deposited a coke can, a plastic bag, a coil of blue foam, pieces of flooring, and numerous styrofoam bowls right at the turn prior to the bridge as you're heading North. Thanks to the litters, they will never disappoint us by failing to do their part to keep Ketchikan a dirty place.
Much of this is because they did not cover their load of trash or purchased materials (new styrofoam bowls) as required by law. It is much more than a littering problem, it is a safety issue. The section of flooring was six by four feet. Imagine if this had hit your car or someone elses. An aquaintance of mine was in Minnesota on vacation when a door left the bed of a truck and went through the windshield of their vehicle causing neck injuries to the person. They are lucky to be alive and still suffer physically from the accident.
In our Sport's section today the Northend Serious Dumpers are burying the Southend Litterbugs in a mountain of trash over the last few weeks. It is unknown if the Litterbugs will be able to withstand the continued onslaught of freshly dumped trash and appliances. There were some heavy hits this week with the dumping of a freezer and refrigerator to which the Litterbugs have not replied. The score is now 35 to 4 and it is not known if the Litterbugs can respond in kind. Last week all they could hit back with was a few bags of trash along the road compared to the flooring, appliances, a blue foam coil, burn piles and styro bowls the Northend Serious Dumpers were able to generate. It is obvious that some of the players fall into two catagories. There are the major professionals dedicated to their work and the others that don't care what happens to their trash. This late breaking report from our newsroom- The troopers just reported a junk vehicle dumped by a pro, at Mile 16 North Tongass, which means a heavy hit for the Northenders as they continue to pound the Southend Litterbugs.
The Borough League managers have been watching the scoring and have issued some penalties due to illegal practices to the Northenders which may slow some of them down. In talking with League managers, several more penalties are yet to be issued to some of the unsuspecting players caught after the fact. It is expected that the penalties will slow the Northenders continued onslaught but do little to stop it. It is not expected to matter to those that refuse to care about what they are doing to the League as a whole community. With summer tourist season coming on, and the caring citizens having to face this trash dumping all the time, they are the major losers because they seldom get to play directly against their opponents in a fair game. It is expected at this time that the Northend Serious Dumpers will continue to dominate the League through the forseeable future. It is a sad day for all of us who believe in playing by the rules.
Jerry A. Cegelske
Code Enforcement Officer
Phone(907)228-6621
Ketchikan, AK - USA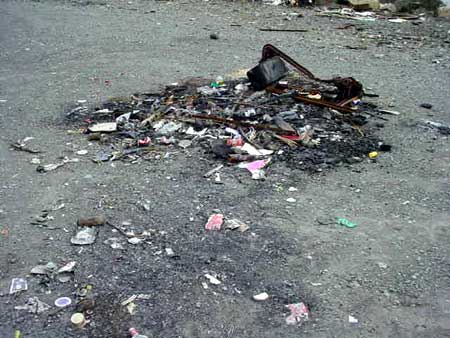 A burn pile at Mile 4.2 Revilla Road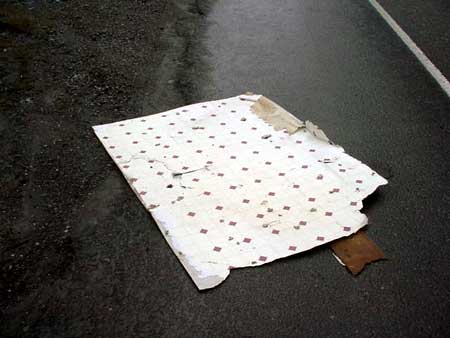 Vinyl flooring blown out of a truck at mile 6.5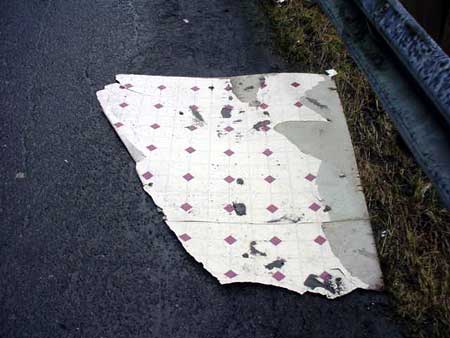 Vinyl flooring blown out of a truck at mile 6.5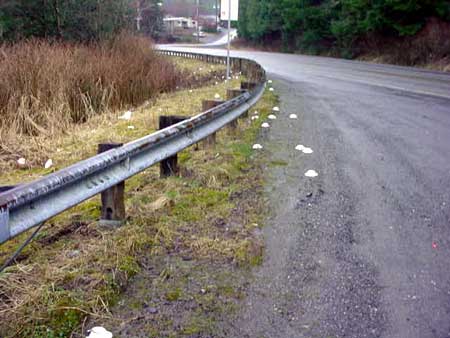 Styrofoam cups at mile 6.7 N Tongass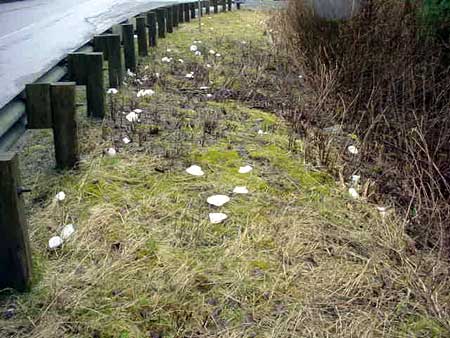 Styrofoam cups at mile 6.7 N Tongass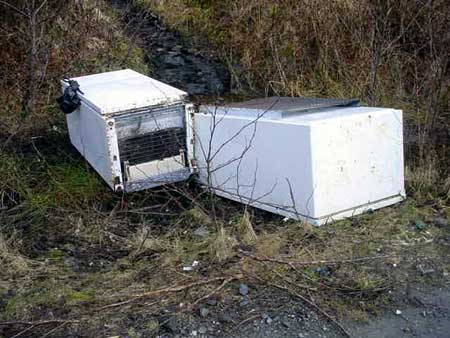 Freezer and refrigerator dumped off Revilla Road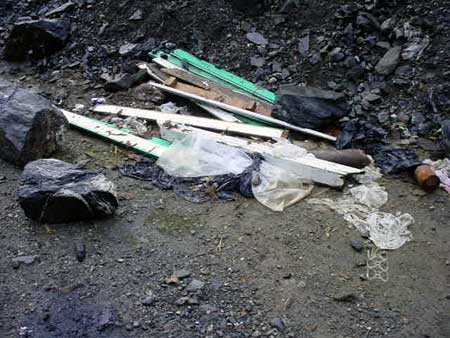 Piles of construction renovation debris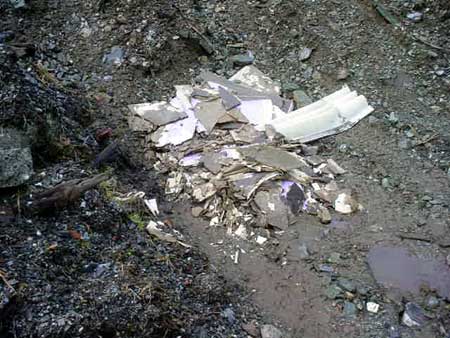 Piles of construction renovation debris
Note: Comments published on Viewpoints are the opinions of the writer
and do not necessarily reflect the opinions of Sitnews.
Post a Comment -------View Comments

Submit an Opinion - Letter

Sitnews
Stories In The News
Ketchikan, Alaska