'Experience Ketchikan'
Front Page Photo by Chris Wilhelm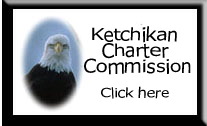 Viewpoints
Opinions/Letters

Fresh Air For All by Lallette Kistler - 03/01/04


Secondhand Smoke
by Jerry Primmer - 03/01/04


Litter problem by Karen Ramsey - 02/29/04


Let the slaughtering begin by Don Hoff Jr. - 02/29/04


Republican Guarantees Dividend by Sen. Lyda Green - 02/28/04


Session should resolve budget issues by Gov. Frank Murkowski - 02/28/04


Read more Viewpoints


Publish A Letter
Ketchikan

Previous Stories & Photos

Ketchikan: Autopsy shows child likely did not die from physical trauma - An autopsy of a 22-month-old child found deceased last week at the home of her father shows that the child likely did not die from physical trauma. - Read this story...
KRBD - Ketchikan Public Radio - linked Monday - March 01, 2004

Ketchikan: Listen to this story... The Ketchikan Gateway Borough Assembly will consider a proposed lease of borough office space in Ward Cove to the Alaska Marine Highway System. As Deanna Garrison reports, the State Department of Transportation appears primed to make a recommendation soon on whether the state should move the AMHS administrative offices from Juneau to Ketchikan.
KRBD - Ketchikan Public Radio - linked Monday - March 01, 2004
Southeast: Don Kubley Selected As A Businessman Of The Year - National Republican Congressional Committee (NRCC) Chairman Congressman Tom Reynolds of New York announced the selection of Juneau business leader Don Kubley as a 2003 Businessman of the Year.
Quoting a news release, "Kubley was selected for involvement as a community and business leader in the Juneau area, steadfast support for Republican ideals such as lower taxes and limited government and for generous support for the Republican Party." - Read more...
Monday - March 01, 2004 - 12:15 am
Alaska: Senate Takes Up K-12 Education Funding; Discussion Will Also Include PERS/TRS - The Alaska Senate turns its attention to K-12 education funding this week with bills that would increase the per-student allocation.
"The Senate Majority is looking forward to beginning the discussion on education funding and what changes need to be made to respond to all the information we have received so far," said Sen. Lyda Green (R-Wasilla), who is co-chairman of the Senate Finance Committee and vice-chair of the Health, Education and Social Services Committee. - Read more...
Monday - March 01, 2004 - 12:15 am
Alaska: Bill proposes making criminal nonsupport and aiding & abetting nonpayment of child support felonies - HB 514, sponsored by Representative Pete Kott (R-Eagle River), passed out of the House Judiciary Committee late Friday evening. The bill calls for modifications to the current child support system.
Among the changes proposed by the legislation are provisions to make both criminal nonsupport and aiding and abetting nonpayment of child support felonies. The bill would also give the department the authority to negotiate state debt through settlements or approved payment plans. - Read more...
Monday - March 01, 2004 - 12:15 am
Alaska: In Alaska, Getting There Is Half the Fun- ...In the southeast part of the state, at Ketchikan High they frequently offer teams $3,000 and throw in harbor tours, halibut feeds and a promise to put up every visiting athlete in a private home. - Read this story...
New York Times - linked Monday - March 01, 2004 - 12:15 am