Friday
February 20, 2004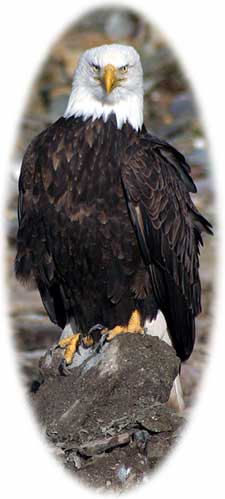 'Eagle'
Front Page Photo
by Carl Thompson


Petersburg: Long-time Petersburg resident retires from Forest Service - A long-time Petersburg resident recently retired after working more than 26 years in the Tongass National Forest.
Everett Kissinger, a soil scientist, arrived in Petersburg 26 years ago and served his entire Forest Service career in the largest national forest in the United States.
When Kissinger retired in January, he had accrued more than 36 years of public service. Before arriving in Southeast Alaska, he worked 10 years for the Soil Conversation Service in Wisconsin.
Kissinger said it feels good to be retired but it is "too early to tell" what he'll miss most about working on the forest.
But, it's not too early for Tongass employees to tell they already miss Kissinger.
"You really can't replace that kind of corporate knowledge," said Forrest Cole, Tongass National Forest supervisor. "Everett has many years of experience working in the Tongass. Although we wish him all the best we've lost an important member of our team. I'm just glad he's staying in Petersburg we may have to consult with him once in a while." - Read more...
Friday - February 20, 2004 - 12:10 am

Ketchikan: Listen to this story... The Ketchikan Gateway Borough Assembly on Tuesday, directed borough staff to pursue having the state take over the borough's debt guarantee for the Inter-Island Ferry Authority. As Deanna Garrison reports, state officials say it is unlikely the state would agree to such a request.
KRBD - Ketchikan Public Radio - linked Friday - February 20, 2004 - 12:10 am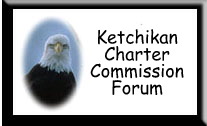 KCC Information
Agendas, Minutes,
Informational Packets,
Commissions' Comments
Public Comments
Last updated Feb. 20, 2004
February 2004
Click on the date to read the stories & to view photos published on that day...

| | | | | | | |
| --- | --- | --- | --- | --- | --- | --- |
| S | M | T | W | T | F | S |
| 1 | 2 | 3 | 4 | 5 | 6 | 7 |
| 8 | 9 | 10 | 11 | 12 | 13 | 14 |
| 15 | 16 | 17 | 18 | 19 | 20 | 21 |
| 22 | 23 | 24 | 25 | 26 | 27 | 28 |
| 29 | | | | | | |
Arctic Science: Polar bear headed for extinction, says scientist - Unless the pace of global warming is abated, polar bears could disappear within 100 years, says a University of Alberta expert in Arctic ecosystems.
While it has been known for some time that the polar bear is in trouble, new research shows that Arctic ice--the polar bear's primary habitat--is melting much faster than scientists had believed, says U of A biologist Dr. Andrew Derocher.
"The climate predictions coming out are showing massive changes in sea-ice distribution," said Derocher, who follows polar bears to see how they adapt to changing conditions. If the predictions are correct, he says, "we'll certainly lose polar bears in a lot of areas where we currently have them." Ice conditions in the Beaufort Sea, for example, are already changing dramatically.
The world's largest terrestrial carnivores, polar bears rely on sea ice to survive, using it to pass between forest dens and hunting grounds where they prey on seals. There are about 15,000 polar bears in northern Canada, accounting for about two-thirds of the world's total population.
Derocher shared his views Jan. 6 at a symposium on Arctic biology in Toronto. It was the biggest gathering of Canadian Arctic biologists in more than a decade, says co-chair Dr. David Hik, also of the U of A. Many of the talks addressed the impact of climate change on northern ecosystems. - Read more...
Friday - February 20, 2004 - 12:10 am
Wrangel Island, which is located off the northern coast of Eastern Siberia and straddles the East Siberian Sea and the Chukchi Sea.
Credit: Jacques Descloitres, MODIS Land Rapid Response Team, courtesy NASA...
June Allen Column
A Story of an Unfriendly Arctic Island
And the heroine who survived it
There is a desolate island in the Chukchi Sea on the frigid top of the planet. It is 83 miles north of the coast of Siberia and it is named Wrangel Island - Wrangel with one L. It is roughly kidney-shaped and said to be about 80 miles long and 18 to 30 miles across, with a cluster of low mountains at its center. During the warmth of its very brief summer, rivers flow north and south over rolling tundra to the sea. Along the frosty riverbanks are buried the bones of a race of woolly mammoths, evidence of dwarfed survivors of a larger race of Russian Steppe mammoths of perhaps 20,000 or 30,000 years ago. The island today is inhabited by a tiny Russian-Eskimo settlement and is largely visited by polar bears, seals, foxes, ducks and geese and the occasional scientist from around the world. - Read the rest of this story...
Monday - February 02, 2004 - 1:00 am

Read more stories by June Allen...
June Allen's Column Is Made Possible In-Part By These Local Sponsors:
Madison Lumber & Hardware, Inc. ~ Downtown Drugstore ~ Alaska Glass & Supply ~ Sourdough Bar Liquor Store ~ Davies-Barry Insurance ~ Sitnews...
Weather

---

E-mail your news tips, stories, news releases & photos to:
editor@sitnews.org

E-mail large photo files to
photos@sitnews.org

Edited by Dick Kauffman:
editor@sitnews.org

E-mail the Webmaster:
webmaster@sitnews.org

Sitnews
Stories in the News
©1999 - 2003
Ketchikan, Alaska

Published online since
August 2000

'Our Troops'


---

Copyright Applies - Please obtain written permission before reproducing photographs, features, columns, etc. that are published on Sitnews.

Sitnews is not a
commercial web site.