Tuesday
February 03, 2004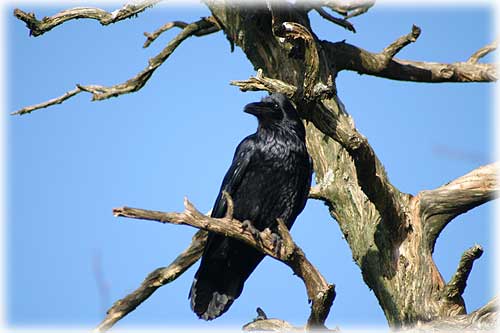 'Raven'
Front Page Photo by Carl Thompson... More
Alaska: Formal Hearings On Cape Fox Land Bill, Craig Land Exchange Wednesday - U.S. Sen. Lisa Murkowski reminded Alaskans Monday the Senate Energy and Natural Resources Committee will hold a formal subcommittee hearing on Wednesday, Feb. 4 to take testimony on four bills, including two of specific interest to Southeast Alaskans: the Cape Fox land exchange (S. 1354) and the Craig land exchange (S. 1778).
The hearing by the Senate Public Lands and Forest Subcommittee and its chairman, Sen. Larry Craig, R-Idaho, will start at 2:30 p.m. on Wednesday in Senate Dirksen Room 366. Those who will testify on the Cape Fox bill include Marilyn Blair, President of the Cape Fox Corp.; Buck Lindekugel, conservation director of the Southeast Alaska Conservation Council, and Troy Fierro, vice president of Coeur d'Alene Mines Corp; in addition to an Administration witness, Undersecretary of Agriculture Mark Rey. Craig Mayor Dennis Watson will testify on the Craig land bill, as will the Bush Administration. - Read more...
Tuesday - February 03, 2004 - 12:40 am
Ketchikan: KFD Gives Winter Fire Safety Reminders - This year's cold wave brings snow to the Ketchikan area. Although a welcomed change by many from our usual damp conditions, the cold and snow can also bring hidden dangers to local businesses and homeowners. The Ketchikan Fire Department would like to give you a few tips to help prevent damage to your homes or businesses from unwelcome water or fire and the danger to your family from toxic carbon monoxide (CO) fumes. - Read more...
Tuesday - February 03, 2004 - 12:40 am
2003 Coast Guard's Seventeenth District Coast Guardsman of the Year
Avionics Electronics Technician First Class Petty Officer William J. Minik of Air Station Sitka.
(Official U.S. Coast Guard photo courtesy Lt. Doug Atkins, Air Station Sitka)
Alaska: Coast Guard Alaska Enlisted Coast Guardsmen of the Year announced - Three Alaska-based Coast Guardsmen are named as Enlisted Persons of the Year. Boatswain's Mate 2nd Class Michael T. Fletcher, of the Coast Guard Cutter Alex Haley, is the 2003 Alaska Coast Guardsman of the Year; Marine Science Technician 2nd Class Bryan Stachura, at the Marine Safety Office in Valdez, is the 2003 Reserve Alaska Coast Guardsman of the Year; and Avionics Electronics Technician 1st Class William J. Minik, at Air Station Sitka, is the 2003 Coast Guard's Seventeenth District Coast Guardsman of the Year.
Petty Officer Michael T. Fletcher, of Gray Court, S.C., was nominated by his command for his distinguished and outstanding performance in military leadership, dedication to self-improvement and unselfish service to the Coast Guard and local community. Fletcher serves as a helicopter landing signal officer, a safety and law enforcement boarding team member, a small boat coxswain and an underway Officer of the Deck, in addition to his daily deck-force duties. Fletcher has also become an expert in marlinspike seamanship - a tradition that is fast becoming a lost art - and passed this skill on to junior members of the Alex Haley's crew. As a small boat coxswain he is responsible for navigating, piloting and the safe embarkation and debarkation of personnel during at-sea boardings. "Petty Officer Fletcher is an expert small boat handler and is often called upon for difficult missions in the small boat," according to Cmdr. Craig Lloyd, the commanding officer. "His ability to handle a boat at night or during rough weather makes him an invaluable asset to the Alex Haley." - Read more...
Tuesday - February 03, 2004 - 12:40 am
Wrangel Island, which is located off the northern coast of Eastern Siberia and straddles the East Siberian Sea and the Chukchi Sea.
Credit: Jacques Descloitres, MODIS Land Rapid Response Team, courtesy NASA...
June Allen Column
A Story of an Unfriendly Arctic Island
And the heroine who survived it
There is a desolate island in the Chukchi Sea on the frigid top of the planet. It is 83 miles north of the coast of Siberia and it is named Wrangel Island - Wrangel with one L. It is roughly kidney-shaped and said to be about 80 miles long and 18 to 30 miles across, with a cluster of low mountains at its center. During the warmth of its very brief summer, rivers flow north and south over rolling tundra to the sea. Along the frosty riverbanks are buried the bones of a race of woolly mammoths, evidence of dwarfed survivors of a larger race of Russian Steppe mammoths of perhaps 20,000 or 30,000 years ago. The island today is inhabited by a tiny Russian-Eskimo settlement and is largely visited by polar bears, seals, foxes, ducks and geese and the occasional scientist from around the world. - Read the rest of this story...
Monday - February 02, 2004 - 1:00 am

Read more stories by June Allen...
June Allen's Column Is Made Possible In-Part By These Local Sponsors:
Madison Lumber & Hardware, Inc. ~ Downtown Drugstore ~ Alaska Glass & Supply ~ Sourdough Bar Liquor Store ~ Davies-Barry Insurance ~ Sitnews...
Weather

---

E-mail your news tips, stories, news releases & photos to:
editor@sitnews.org

E-mail large photo files to
photos@sitnews.org

Edited by Dick Kauffman:
editor@sitnews.org

E-mail the Webmaster:
webmaster@sitnews.org

Sitnews
Stories in the News
©1999 - 2003
Ketchikan, Alaska

Published online since
August 2000

'Our Troops'


---

Copyright Applies - Please obtain written permission before reproducing photographs, features, columns, etc. that are published on Sitnews.

Sitnews is not a
commercial web site.