Tuesday
January 06, 2004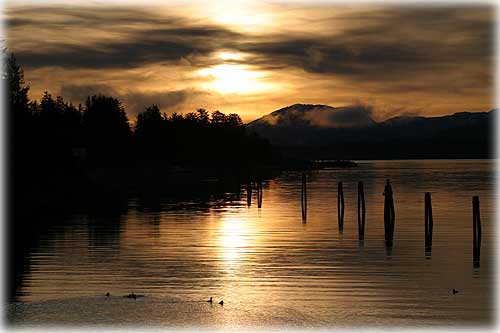 'Sunrise'
photo by Carl Thompson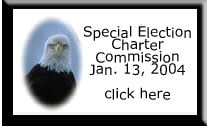 Candidate Forum
Wednesday, January 7th
6:00 - 8:00PM
Ketchikan High School Auditorium
Hosted by the
Chamber of Commerce
January 2004
Click on the date to read the stories & to view photos published on that day...

| | | | | | | |
| --- | --- | --- | --- | --- | --- | --- |
| S | M | T | W | T | F | S |
| 28 | 29 | 30 | 31 | 1 | 2 | 3 |
| 4 | 5 | 6 | 7 | 8 | 9 | 10 |
| 11 | 12 | 13 | 14 | 15 | 16 | 17 |
| 18 | 19 | 20 | 21 | 22 | 23 | 24 |
| 25 | 26 | 27 | 28 | 29 | 30 | 31 |

Ketchikan: Listen to this story... During a quick swing through Ketchikan Monday, the Alaska Commissioner of Education and Lieutenant Governor met with Ketchikan School District employees. As Deanna Garrison reports, the duo discussed the state's efforts to comply with the federal No-Child-Left-Behind Act, state education funding and the high school exit exam.
KRBD - Ketchikan Public Radio - link posted Tuesday - January 06, 2004 - 12:55 am
Alaska: KNOWLES: "NO OUTSIDE THIRD-PARTY ADS"; Challenges Other Senate Candidates to Join Him in Lessening Outside Influence in Alaska Politics - In a bid to lessen outside influence on Alaska elections and unclutter the airwaves, U.S. Senate candidate Tony Knowles on Monday blasted the use of outside third party ads in election campaigns and publicly rejected any such "soft money" ads sponsored by outside third parties on his behalf. Knowles also challenged other candidates for Alaska's Senate seat to join him in doing the same. - Read more...
Tuesday - January 06, 2004 - 12:55 am
Alaska: Software upgrade may cause week delay in unemployment insurance processing - Software upgrades to state labor department computers may delay processing of unemployment insurance claim checks for up to a week later this month. - Read more...
Tuesday - January 06, 2004 - 12:55 am

Ketchikan - POW: Listen to this story... The Inter-Island Ferry Authority Vessel Prince of Wales has gone into dry-dock for regular maintenance and for a Coast Guard inspection. In December, IFA traffic was heavy. As Jay Marble reports, the IFA is considering adding more winter runs next year.
KRBD - Ketchikan Public Radio - link posted Tuesday - January 06, 2004 - 12:55 am
Ketchikan: Firm asks for incentives, land; Home manufacturer is shopping for the sweetest deal - A California-based manufacturer of pre-formed homes is making a pitch to the Ketchikan borough for tax incentives and land, promising a business that could provide more than 40 jobs. - Read this story...
Anchorage Daily News - link posted Tuesday - January 06, 2004
Health: United States has highest prevalence of overweight teens in 15 country study - In a study of adolescents across 15 countries, adolescents in the United States had the highest prevalence of overweight, according to an article in the January issue of The Archives of Pediatrics & Adolescent Medicine, one of the JAMA/Archives journals.
Overweight and obesity have increased worldwide among children, adolescents and adults, according to the article. The World Health Organization has designated obesity as one of the most important public health threats because of the significant health impact of diseases associated with obesity. Obesity in adults increases the risk of cardiovascular diseases and diabetes. Obesity in adolescents is associated with obesity-related health problems in adulthood, with 50 percent to 80 percent of obese teenagers becoming obese adults. For children and adolescents, a body mass index (BMI, calculated as weight in kilograms divided by the square of height in meters) at the 85th to 94th percentile for age generally is considered "at risk for overweight" and a BMI at or above the 95th percentile for age is generally considered "overweight." - Read more...
Tuesday - January 06, 2004 - 12:55 am

More Health News
A star that may be the biggest and brightest in the universe dwarfs the sun in this artist's depiction, drawn to scale to demonstrate the star's massive size.
Courtesy University of Florida/Meghan Kennedy
Science: Astronomers: Star May Be Biggest, Brightest Yet Observed - A University of Florida-led team of astronomers may have discovered the brightest star yet observed in the universe, a fiery behemoth that could be as much as much as seven times brighter than the current record holder.
But don't expect to find the star -- which is at least 5 million times brighter than the sun -- in the night sky. Dust particles between Earth and the star block out all of its visible light.
Whereas the sun is located only 8.3 light minutes from Earth, the bright star is 45,000 light years away, on the other side of the galaxy. It is detectable only with instruments that measure infrared light, which has longer wavelengths that can better penetrate the dust.
In a National Science Foundation-funded study scheduled to be presented today at the American Astronomical Society national conference in Atlanta, the team says the star is at least as bright as the Pistol Star, the current record holder, so named for the pistol-shaped nebula surrounding it. Whereas the Pistol Star is between 5 million and 6 million times as bright as the sun, however, the new contender, LBV 1806-20, could be as much as 40 million times the sun's brightness. - Read more...
Tuesday - January 06, 2004 - 12:55 am

More Science News
Courthouse Hill, 1912
Photographer: Harriet Elizabeth Hunt; Donor: Ketchikan Public Library;
Courtesy Tongass Historical Society
June Allen Column

Thanks, Ladies, for the Library; From Bookcase to Building(s) - One thing Ketchikan's founding fathers didn't think of was a library. In their 1900 petition for Incorporation of the city - and thereby for the ability to qualify for outside assistance as well as the right to raise local taxes to pay for community needs - one of the first things those men had been thinking of was the need for a school. In fact, there were those fellows who were certain their down-south sweethearts or wives would refuse to join them in the wilds of Revilla Island if there were no school for their children! And so the first schoolhouse was promptly built. As mothers arrived with their children and newcomer families also began to arrive, Ketchikan promised to grow. And it was the women of Ketchikan who thought immediately of the need for a library. - Read the rest of this story by June Allen...
Thursday - January 01, 2004 - 1:00 am

Read more stories by June Allen...
June Allen's Column Is Made Possible In-Part By These Local Sponsors:
Madison Lumber & Hardware, Inc. ~ Downtown Drugstore ~ Alaska Glass & Supply ~ Sourdough Bar Liquor Store ~ Davies-Barry Insurance ~ Sitnews...