'Pukeko'
Front Page Photo by Terry Roberts - More photos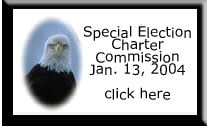 Candidate Forum
Wednesday, January 7th
6:00 - 8:00PM
Ketchikan High School Auditorium
Hosted by the
Chamber of Commerce
January 2004
Click on the date to read the stories & to view photos published on that day...

| | | | | | | |
| --- | --- | --- | --- | --- | --- | --- |
| S | M | T | W | T | F | S |
| 28 | 29 | 30 | 31 | 1 | 2 | 3 |
| 4 | 5 | 6 | 7 | 8 | 9 | 10 |
| 11 | 12 | 13 | 14 | 15 | 16 | 17 |
| 18 | 19 | 20 | 21 | 22 | 23 | 24 |
| 25 | 26 | 27 | 28 | 29 | 30 | 31 |
Parenting News: The Sixth Grade Conundrum: A Parent's Guide - Some of them weigh 200 pounds, stand six-feet high and wear size 11 shoes. Others are barely tall enough to reach over the lunch counter at school. Most are still losing their last baby teeth. A few shave regularly.
More are becoming sexually active, yet some still trot home after school to play with dolls or toy trucks. Some begin to experiment with alcohol and tobacco while others are perfectly happy with juice boxes and snack packs.
According to a study conducted by Southwestern University, educators agree: About the only generalization that can be made about sixth graders is that they are remarkably diverse. Teetering on the age of adolescence, sixth graders stand smack dab at a major crossroads in their development.
This age, between 10 and 12, when girls begin to use makeup and wear bras and boys begin to notice girls, is what education theorist Jean Piaget called the "formal operational" stage of development, when their capacity for abstract and critical thought reaches new heights.
"They are at that age when they're beginning to experience a lot of adult-type feelings, but they're still trying to comprehend through the mind of a child," explains former middle school teacher Jim Hunt, now provost and dean of the faculty and professor of education at Southwestern University in Georgetown, Texas. - Read more...
Monday - January 05, 2004 - 1:00 am