Wednesday
January 28, 2004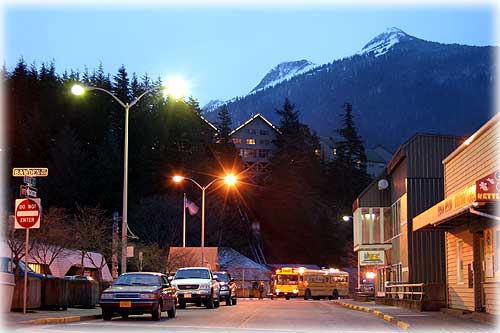 Cutter Acushnet patrols the Bering Sea.
Official U.S. Coast Guard file photo
Ketchikan: Acushnet celebrates 60th year of service - The Coast Guard cutter Acushnet celebrates its 60th birthday Feb. 5, 2004.
Acushnet was originally commissioned as the salvage ship USS SHACKLE (ARS 9) for the U.S. Navy Feb. 5, 1944. On August 23, 1946, Acushnet was commissioned as a Diver Class Cutter in the US Coast Guard. That same year, two other vessels of the same class: the Escape (ex-ARS 6) and Yokona (ex-SEIZE ARS 26) also joined the Coast Guard fleet as Diver Class Cutters.
Acushnet is designated as a tug (WAT), an oceanographic vessel (WAGO), and a medium endurance cutter (WMEC). It is the second Coast Guard cutter to bear the name Acushnet and is the second oldest medium endurance cutter still in operation, the oldest being the Storis (61 years of service) in Kodiak, Alaska. - Read more...
Wednesday - January 28, 2004 - 12:50 am
KFD firefighter respond to a fire call on Water Street Monday afternoon...
Photo by Chris Wilhelm
Ketchikan: KFD Responds To Water Street Fire - The Ketchikan Fire Department received a report of a fire at a home located at 1028 Water Street around 2 pm Monday afternoon. Within approximately a half hour the fire had been extinguished.
A portable heater placed outside the brown-shingled residence to thaw frozen water pipes was thought to be the cause of the fire. No injuries were reported.Ketchikan's temperatures on Monday ranged from a low of 10º to a high of 18º according to Flight Service Station staff. Water running under the fire trucks quickly froze to the street.
Assistant Fire Chief Jim Hill noted, "With all the frozen pipes we're getting, people are using all available means to keep the water flowing. They need to be very careful and always make sure heat and electrical sources are used safely. Heat tapes are also a frequent cause of fires during the winter months. They need to be installed properly and maintained regularly to make sure they don't contribute to or cause a fire."
Located next to the Senior Center, this residence at one time housed the Rainbird Flowers' shop and later a real estate company. - Photos...
Wednesday - January 28, 2004 - 12:50 am
Ketchikan Volunteer Fire Department
circa 1905 - Photographer: Harriet Hunt
Donor: Bertha Hunt Wells,
Courtesy Tongass Historical Society
June Allen Column
Ketchikan's Volunteer Legacy; Buckets to hydrants to hi-tech

A fire department in any community, large or small, commands citizen respect. When fire sirens blare, traffic obediently tries to pull over and people hold their breaths - hoping it's not their house, their business, their school or anyone they know. Fire has been a frightening scourge in history from Nero in Rome to Chicago's Mrs. O'Leary to Ketchikan's Bill Mitchell. As new American communities sprang up in the "Go west, young man" spirit of the nineteenth century, one of the first things responsible pioneers did was establish fire departments. When the westward-ho movement reached the Pacific coast and the settlement-surge angled north, fire departments were among the very first organizations founded in Alaska. - Read the rest of this story...
Thursday - January 15, 2004 - 12:50 am

Read more stories by June Allen...
June Allen's Column Is Made Possible In-Part By These Local Sponsors:
Madison Lumber & Hardware, Inc. ~ Downtown Drugstore ~ Alaska Glass & Supply ~ Sourdough Bar Liquor Store ~ Davies-Barry Insurance ~ Sitnews...
Weather

---

E-mail your news tips, stories, news releases & photos to:
editor@sitnews.org

E-mail large photo files to
photos@sitnews.org

Edited by Dick Kauffman:
editor@sitnews.org

E-mail the Webmaster:
webmaster@sitnews.org

Sitnews
Stories in the News
©1999 - 2003
Ketchikan, Alaska

Published online since
August 2000

'Our Troops'


---

Copyright Applies - Please obtain written permission before reproducing photographs, features, columns, etc. that are published on Sitnews.

Sitnews is not a
commercial web site.